Sample the Wines from the Alpilles Landscape that Inspired Vincent Van Gogh
Contributor blog post by Jill Barth:
Driving the D99 into Saint-Rémy-de-Provence may be one of life's most charming travel pleasures. The roadway is lined with iconic, cicada-filled Plane trees and in the distractingly near distance are the limestone-rich Alpilles, a preserved and biodiverse mountain range where civilization has persisted for 4,000 years. Scattered along the route are ancient Roman and Greek archaeological sites and the luminous landscape that inspired Vincent Van Gogh in the last years of his life.
…Continue reading here for Jill's article previously published in Forbes.
Vineyards of the Alpilles
The Alpilles Regional Natural Park (Parc Naturel Régional des Alpilles) covers a protected swath of landscape that includes meadows, soaring limestone cliffs, olive groves, fruit orchards (plums, peaches, apricots, apples and pears) and vineyards.
The Appellation d'Origine Protégée (AoP) Les Baux-de-Provence is relatively new (23 years) and covers a small geographical territory. There are 11 wineries in the AoP (website: Les Vins des Baux) and several others that have opted not to include their wines under the banner. The vineyards are located on both sides (north and south) of the mountain range and each one enjoys unique aspects of the landscape which contributes to the unique terroir you will discover as you sample these wines. The vineyards within the AoP cover 243 hectares of land, and all of these winemakers follow organic, and in some cases biodynamic practices. Discover the Lady Wine Makers of Les Baux de Provence.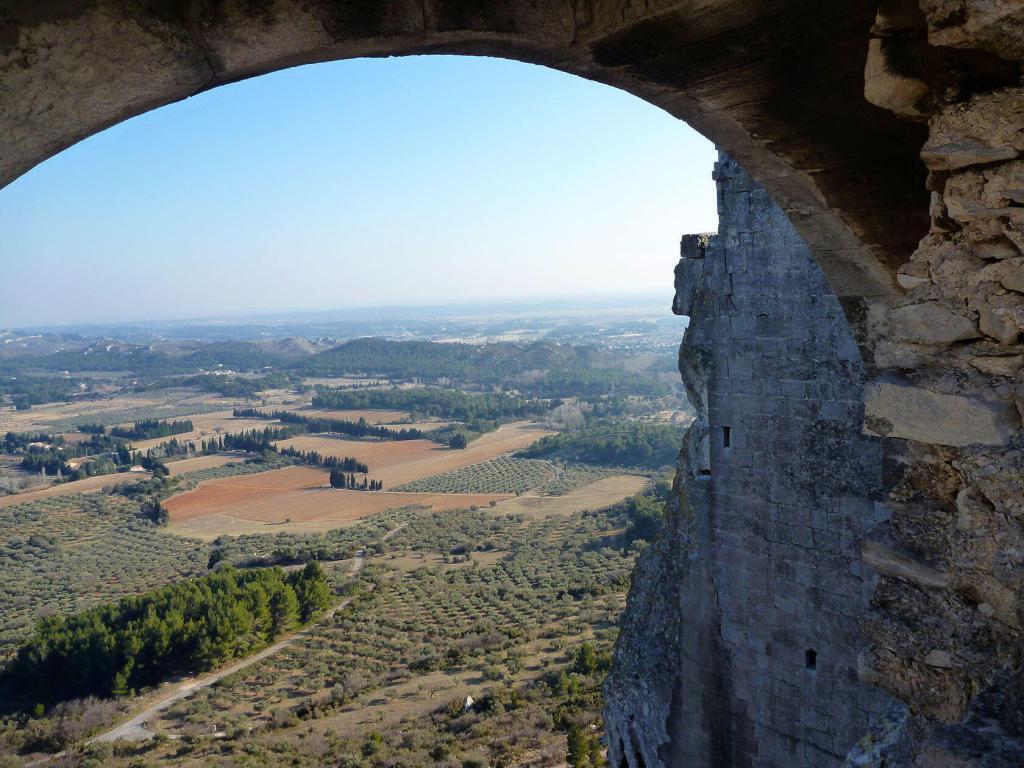 Wines and Villages of the Alpilles
This is a quick reference list the vineyards that you may want to visit while you tour the Alpilles, the village name is in bold.
Fontvieille: 
Château d'Estoublon (AoP)
Route de Maussane
13990 Fontvieille
Tel: +33 (0)4 90 54 64 00
estoublon@estoublon.com
Saint-Etienne-du-Grès: 
Domaine Dalmeran (AoP)
45 Avenue Notre-Dame-Du-Château
13103 Saint-Etienne-du-Grès
Tel : +33 (0)4 90 49 04 04
info@dalmeran.fr
Domaine de Trevallon
13103 Saint-Etienne-du-Grès
Tel: +33 (0)4 90 49 06 00
St Rémy de Provence:
Domaine Henri Milan
Via Aurelia – la Galine
13210 – Saint-Rémy-de-Provence
Tel: +33 (0) 4 90 92 12 52
Near St Rémy de Provence:
Domaine Hauvette (AoP)
Quartier de la Haute Galine – Voie Aurelia
13210 Saint-Rémy-de-Provence
Tel : +33 (0)4 90 92 03 90
domainehauvette@wanadoo.fr
Château Romanin (AoP)
Route de Cavaillon
13210 Saint-Rémy-de-Provence
Tel : +33 (0)4 90 92 69 57
contact@chateauromanin.fr
Near Eygalières:
Domaine des Terres Blanches (AoP)
Route de Cavaillon RD99
13210 Saint-Rémy-de-Provence
Tel: +33 (0)4 90 95 91 66
info@terresblanches.com
Domaine de la Vallongue (AoP)
Route de Mouriés
13810 Eygalières
Tel: +33 (0)4 90 95 91 70
contact@lavallongue.com
Domaine de Valdition
Route d'Eygalières
13660 Orgon
Tel: +33 (0)4 90 73 08 12
valdition@valdition.com
Mouriès:
Domaine de Lauzières (AoP)
Lieu-dit le Destet
13890 Mouriès
Tel: +33 (0)4 90 47 62 88
contact@domainedelauzieres.com
Mas de Gourgonnier (AoP)
Le Destet
13890 Mouriès
Tel: +33 (0)4 90 47 50 45
contact@gourgonnier.com
Les Baux de Provence:
Mas de la Dame (AoP)
Chemin Départemental 5
13520 Les Baux de Provence
Tel: +33 (0)4 90 54 32 24
masdeladame@masdeladame.com
Mas Sainte-Berthe (AoP)
Départementale 27
13520 Les Baux de Provence
Tel: +33 (0)4 90 54 39 01
info@mas-sainte-berthe.com
L'Affectif (AoP)
Mas de Carita
13520 Les Baux-de-Provence
Tel: +33 (0)4 90 54 56 52
Eyguieres:
Domaine Vallon des Glauges
Voie d'Aureille 13430 Eyguieres
Tel: +33 (0)4 90 59 81 45
Via:: L'occasion