Provencal Cookbooks, Culinary and Wine Guides
These titles are a mix of traditional cookbooks and culinary guides to the Provencal lifestyle. The following list of books is far from exhaustive, but rather a few of the ones in our personal collection. Some are cookbooks, some are culinary guides to the Provencal lifestyle and others are invaluable resources for navigating the tantalizing markets.
The books are listed in alphabetical order (by author's last name).
To order a copy, please click on the book cover images or titles. As an Amazon Associate, the site earns from qualifying purchases. Note: if you purchase a book via these links we receive a small commission that does not impact the price you pay. Thank you in advance for supporting the work we do to maintain Perfectly Provence.
---
Göran Boman, the author of The Wines of Provence – Tricolour, is based in Sweden, far from Provence's vineyards. However, Göran is a wine lover in this book. He covers 58 wine producers and recommends 338 wines, not just rosé wines. Use the book as a guide to discovering these wines and the producers. His goal is to deepen your knowledge of everything worth knowing about the wines of Provence.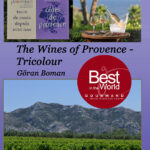 The layout of The Wines of Provence – Tricolour is traditional, starting with geography and wine history in the first section. Read about the success of Provencal rosé and the wide range of associated colours and aromas. Chapter 5 covers the positive developments in the last 30 years and those organizations supporting the wine industry. There is also a feature interview with Lars Torstenson, a famous Swedish winemaker in Provence.
Terroir – the importance of geology, soil and climate – follows the book's introduction. The Wines of Provence – Tricolour has information on grape varieties and wine-making. I also include advice on finding your favourite wine and a vintage assessment.
The remaining 60% of the book covers all wine regions, the so-called appellations, and wine producers. Details about the 58 wine producers and my tasting records of 338 wines. At the end of the section is a summary of each wine producer, making it easier to find your favourite wine. Read more about Göran Boman here.
---
Jean-Andre Charial's book Lunch in Provence is recommended by Chef François de Mélogue of Pistou and Pastis. This book will transport you and make you hungry at the same time.
---
Luke Barr's Provence, 1970: M.F.K. Fisher, Julia Child, James Beard, and the Reinvention of American Taste. It sounds melodramatic, but these people had an enormous impact on the way we eat today.
---
Colin Duncan Taylor's second book, Menu from the Midi, explores a full spread of gastronomic discoveries such as Armagnac, the black Gascon pig, and pink garlic soup exclusive to this part of France. If you like food, drink, and travel, Menu from the Midi is one book you must add to your reading list.


---
Made in Marseille: Food and Flavors from France's Mediterranean Seaport by Daniel Young, a cookbook with 120 traditional recipes from France's second-largest city and gorgeous photography.
---
Vérane Frédiani – author, filmmaker, journalist, food lover, and feminist – is a Marseille native fascinated with the multicultural diversity and culinary innovation in this 2600-year-old city. When you think of global food capitals and delicious street food, does Marseille spring to mind? If not, Taste the World in Marseille: Marseille Cuisine by the Marseillais will convince you to book a trip and stay long enough to explore the city's neighbourhoods and discover the innovative chefs and cheffes using ingredients from around the world for their recipes.


---
Elizabeth Gabay, a Master of Wine, sipped hundreds of rosés to write – Rosé: Understanding the pink wine revolution (The Classic Wine Library).


---

Published in 1990, French Country Kitchen is available through some resellers (and Amazon for a crazy price). Geraldene Holt writes of life in Provence and the Ardeche along with some traditional recipes.
---
Talented New York-based sommelier Victoria James wrote Drink Pink a Celebration of Rosé, a rosé backgrounder, and why she feels that appreciation for this wine is not a trend.


---
Margo Lestz published Berets, Baguettes, and Beyond: Curious Histories of France in 2018. It is a collection of stories from her blog  "The Curious Rambler," which all relate, in one way or another, to things that are symbolic of France.
---
François de Mélogue grew up in Chicago, where his immigrant parents first met. He credits early experiences with food with his lifelong obsession with cooking and local ingredients. A graduate of the prestigious New England Culinary Institute would understand that with food the effort is worth the result. His culinary CV includes work in several renowned kitchens in the US and France (read more). His cookbooks Cuisine of the Sun, A Ray of Sunshine on Your Plate and French Cooking for Beginners, 75+ Classic Recipes to Cook like a Parisian are full of the right ingredients – humour, culinary tips, and delicious recipes.
"Cuisine of the Sun is a savoury collection of over 60 classic and reimagined Provençal recipes peppered with anecdotes that will cast a ray of sunshine onto your plate. It's a beautifully photographed, edible love letter to the South of France. Savour rustic dishes like Olive Tapenade, Marseille Fish Soup and a Rosé scented Daube of Lamb that will transport you back to the French countryside."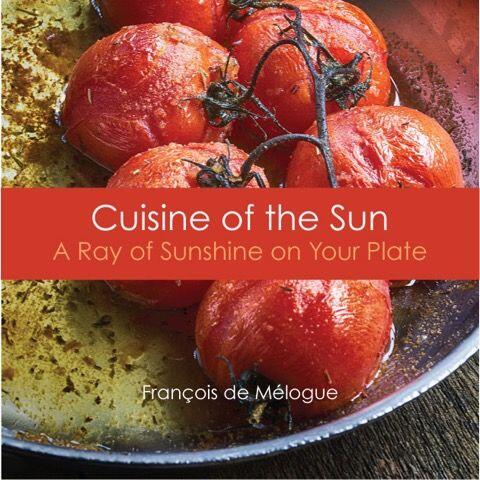 In his second cookbook, Chef François invites you on a culinary journey well beyond the streets of Paris. Along the way, he demystifies myths about French cooking and eating habits. His humour sparkles throughout the pages as you discover the secrets behind a French pantry and wine pairing.
---
Richard Olney's Lulu's Provençal Table: The Exuberant Food and Wine from Domaine Tempier Vineyard was published in 1994. This book is a collection of recipe favourites from the kitchen of Lucie Tempier.
---
Jill Paider and Tasha Powell combined their photography, writing and food styling talents to create a stunning art book. Cuisine Libre: A Gluten-Free Journey with Reine & Nadia Sammut at La Fenière.
Please read our book review here.

---
Viktorija Todorovska has published several culinary books. Multi-lingual and multi-talented Todorovska is a cookbook author, college instructor, sommelier, and occasional tour guide.
Provence Food and Wine: The Art of Living explores food, wine, and the culinary traditions of the region. The book includes 47 Provencal recipes, from some that are classics such as aioli, to others that are more contemporary.


Nice Cuisine and the Art of Living is an e-book available on iBooks. Inside the 115 pages, Todorovska and photographer Francois Millo invite you to explore the typical culinary treats associated with Niçoise cuisine.


---
Patricia Wells is a culinary icon for food lovers. She has lived in France with her husband, Walter, since 1980.
However, Patricia Wells at Home in Provence (1999) and The Provence Cookbook (2004) invite you on a culinary journey through her favourite Provencal recipes, the ones that students can prepare in her cooking classes.
Here is our review of  The Provence Cookbook.
---
Markets of Provence is the second book by author Marjorie Williams. The book is small enough to slip in your purse or market bag, but its 300 pages are filled with essential details you do not want to leave at home. Please read Exploring the Markets of Provence with Marjorie Williams for more detail on this must-have guide.