Provence climate is Mediterranean with warm, dry summers, primarily mild winters, and well-suited soil for vineyards, olive groves and lavender. So it's no wonder that the wine regions of Provence are well known for producing some of the best wines in France – and around the world. The following reference guide highlights Provence's wine regions and wineries.
Wines of Provence Understanding the Colours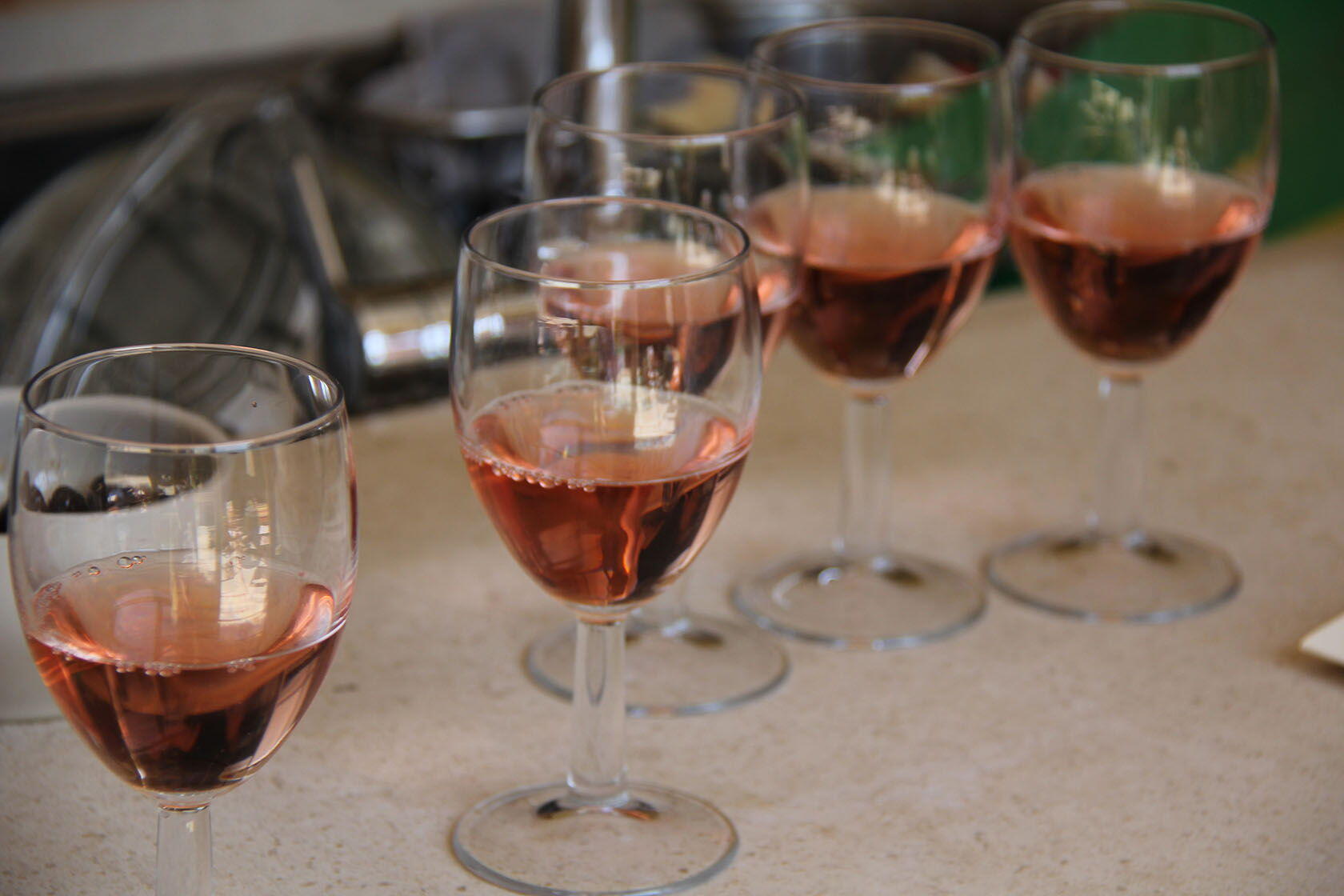 History of Wine in Provence
There is evidence the ancient Greeks who founded Marseille 2600 years ago started producing wine in the area. Over the centuries, the Romans, Gauls, Catalans and Savoyards introduced grape varieties to Provence. The Great Wine Blight almost destroyed the wine industry in the late 19th century, but slowly, the region recovered to become one of the top wine-producing regions in the world.
Provence has nine wine regions under appellation d'origine contrôlée (AOC) (or appellation d'origine protégée, AOP). The AOC/AOP label guarantees that all stages of wine production occur in a specific area. Each AOC in Provence produces delicious yet different wines depending on the varieties of grapes and the winemaking methods. The wine regions of Provence are listed alphabetically below.

---
Bandol
Bandol AOC produces some of the best wines in Provence – especially the rich, full-bodied Mourvèdre varieties. Although the AOC is named after the town of Bandol, it includes eight communes and has about 1,500 hectares of vineyards. The vineyards and wineries are in the countryside on the slopes of the Massif de la Sainte-Baume. The hill creates a natural amphitheatre to protect the vineyards from the Mistral winds. Along with limestone soil and plenty of sun, this region has an ideal climate for producing white, rosé, and red wines. However, for a wine to earn the Bandol AOC label, the red and rosé blends must contain at least 50% Mourvèdre grapes.
More reading about Bandol AOP wines:
Tasting Bandol Wines at Domaine de Terrebrune
Domaine de Terrebrune
724 Chemin de la Tourelle
83190 Ollioules
The boutique is open Monday-Saturday for wine tasting.
Domaine Tempier Wine Estate in Bandol AOC
Domaine Tempier
1082, chemin des Fanges
83330 Le Plan du Castellet
Open to the public: Monday to Friday from 9h – 12h and 14h to 18h
Wine Tasting and Vineyard Walks Spring 2023 in Provence
---
Les Baux de Provence
Located in the heart of the Alpilles mountain range, Les Baux-de-Provence was granted AOC status in 1995. The region experiences a typical Mediterranean climate of hot, dry summers, mild winters, and Mistral winds. These factors and the limestone soils in the area create an ideal environment for growing grapes. Additionally, all the vineyards in Les Baux de Provence adhere to organic viticulture practices to preserve and support the biodiversity in the Alpilles.
Visitors exploring the picturesque Alpilles will enjoy visiting the wineries in the AOC Les Baux-de-Provence for tours and tastings. Interestingly, women own or manage several wineries in Les Baux de Provence, which is unique in this traditionally male-dominated industry.
Most wines in this region are reds and rosés comprised of Syrah, Mourvèdre and Grenache grapes, although other varieties are added to blends. Cinsault grapes are generally used to produce the rosé wines. White wines from this region have become more common recently and are as delicious as the famous reds and rosés.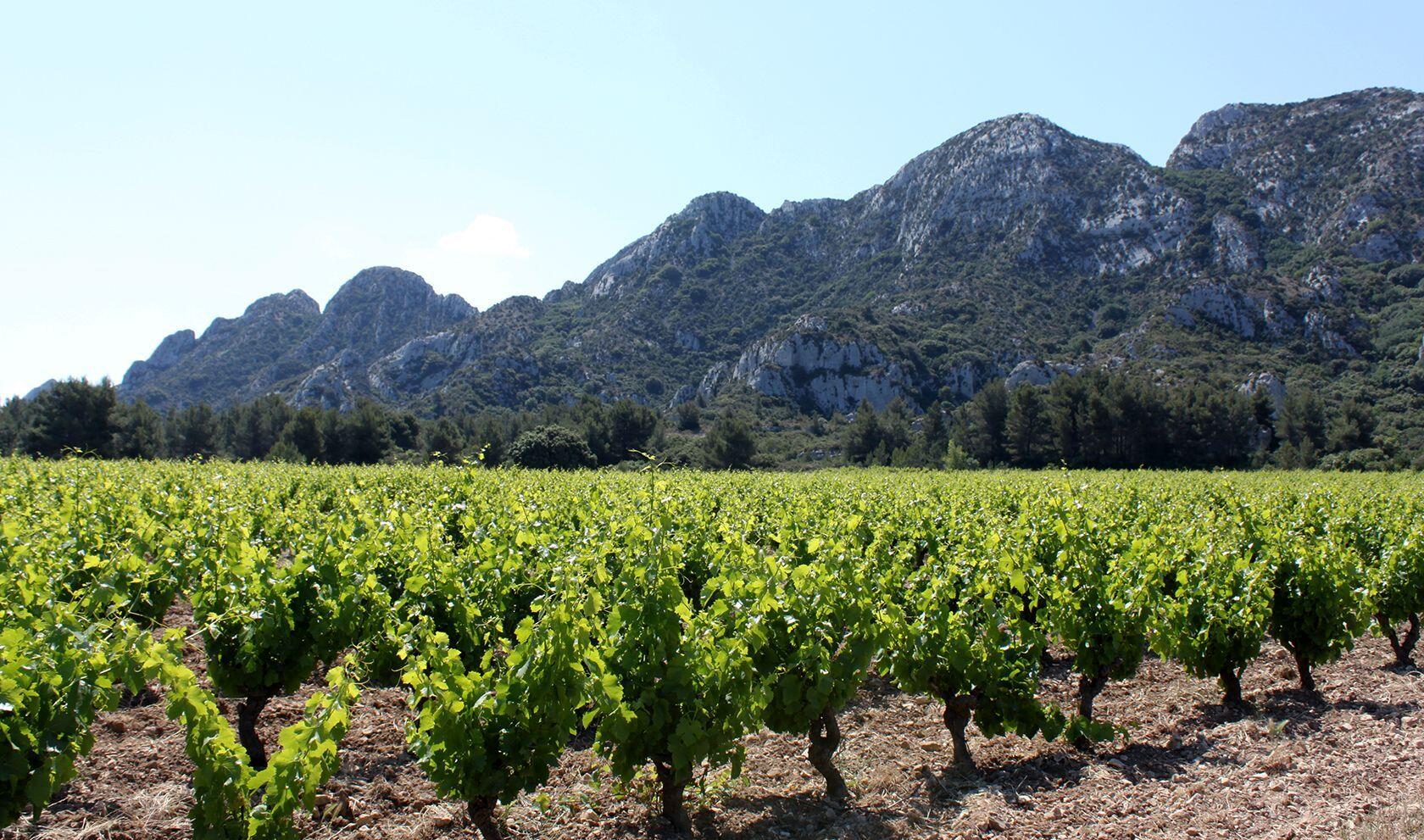 Read more about Les Baux de Provence AOP vineyards:
Exploring the Vineyards of the Alpilles in Provence
Lunch and 3 other reasons to visit Chateau d'Estoublon
Château d'Estoublon
Route de Maussane
13990 Fontvieille
The Lady Wine Makers of Les Baux de Provence
12 Reasons to Visit the Vineyards of Les Baux de Provence
Domaine Dalméran
45, Avenue Notre-Dame-Du-Château
13103 Saint-Etienne-du-Grès
Domaine de Lauzières
Lieu-dit Le Destet
13890 Mouriès
Telephone: +33 (0)4 90 47 62 88
Domaine Mas de Gourgonnier
Le destet, D78,
13890 Mouriès
Domaine des Terres Blanches
Route de Cavaillon RD99
13210 Saint-Rémy-de-Provence
Domaine de La Vallongue
Route de Mouriés
13810 Eygalières
Our 7 Favourite Villages and Vineyards of the Alpilles
At the foot of Les Baux sits the pretty little winery of Mas Sainte Berthe. Inside is a tasting room with a knowledgeable English-speaking staffer, ready to pour tastes and answer your questions. You can also buy olive oil, unique soaps, and other goodies in the adjoining boutique.
Mas Sainte Berthe
Chemin de Sainte-Berthe
13520 Les Baux-de-Provence
Telephone: +33 (0)4 90 54 39 01
Just down the road from Mas Sainte Berthe is the Mas de la Dame, with delicious wines of all colours. It sits in the middle of beautiful vineyards and boasts one of the best views of the Alpilles. Back in the Middle Ages, it was marked by a tall stone called a stele, and Nostradamus predicted that the seas would one day rise and come up to this stele. Let's hope it doesn't happen soon!
Mas de la Dame
Chemin Départemental 5
13520 Les Baux de Provence
Château Romanin: Two Millennia of Wine and Mystery
Château Romanin
Route de Cavaillon
13210 Saint-Rémy-de-Provence
Visits and Tasting: Tel:+33 (0)4 90 92 69 57
---
Bellet
Bellet is one of the smallest wine regions of Provence, and it was the first to receive the AOP status in Provence (1941). This appellation is unique because the vineyards of Bellet are within the city limits of Nice. Located between the city on the coast and the foothills of the Southern Alps, it's a perfect microclimate for grape growing. This area produces several uncommon varietal wines and is the only AOC in Provence permitted to use Chardonnay grapes. However, it is famous for its rosé wines with a rose petal fragrance.
More details about Bellet AOP wines:
Bellet Vineyards So Close to Nice, France
Wine Tasting at the Vineyards of Bellet in the City of Nice
The vineyards in Bellet are listed below:
Château de Bellet
482, Chemin de Saquier,
06200 Nice
Telephone: +33 (0)4 93 37 81 57
13 hectares of vines
Wine tasting in the deconsecrated 19th-century chapel
Château de Crémat
442, chemin de Crémat,
06200 Nice
Telephone: +33 04 92 15 12 15
12 hectares of vines
Book a guided experience of the vineyard, vinification cave, and the furniture from the Coco Chanel suite at the Ritz in Paris.
Clos Saint-Vincent
Collet des Fourniers,
Saint-Roman de Bellet,
06200 Nice
Telephone: +33 04 92 15 12 69
Ten hectares of vines with an annual production of roughly 30,000 bottles.
The vines are planted on three (3) hills: Crémat, Saint-Roman-de-Bellet, and Saquier.
Collet de Bovis
Le Fogolar
370, Chemin de Cremat,
06200 Nice
Telephone: +33 04 93 37 82 52
4.5 hectares of vines
Guided tours with tasting by appointment.
Domaine de la Source
303, Chemin de Saquier,
06200 Nice
Telephone: +33 06 17 77 87 98
7 hectares of vines
They offer wine tasting from Monday through Saturday and food and wine experiences.
Domaine de Toasc
213 Chemin de Crémat,
06200 Nice
Telephone: +33 04 92 15 14 14
8 hectares of vines (they also have an additional 1.5 ha of vines about 10 kilometres from Nice Pays des Alpes Maritimes IGP)
Open for wine tasting from Monday through Saturday
Domaine de Vinceline
305 bis, chemin de Saquier,
06200 Nice
Telephone: +33 06 62 07 10 32
This micro-winery is a Dauby family affair.
Book in advance for a wine tasting.
Domaine St Jean
34 Chemin de la Pouncia,
06200 NICE
Telephone: +33 06 08 28 08 74
4 hectares of vines
Reserve a wine tasting in advance.
Via Julia-Augusta
Saint-Roman de Bellet,
06200 Nice
Telephone: +33 06 08 07 65 65
1.5 hectares of vines
If you are visiting Nice, head to the hills behind the city to see this small wine-growing area or hire a local guide to take you on tour.
---
Cassis
Of all the wine regions in Provence, Cassis AOC is often considered the most beautiful. It is a short drive east of Marseille, located along the Mediterranean coast between calanques (small coastal fjords with tall cliffs). It is said that ancient Romans planted vines on the sunny slopes beside the town over 2600 years ago. The entire region is now part of the Calanques National Park.
Unfortunately, the Great Wine Blight almost decimated the industry in the 19th century, but it recovered well and now produces some of the best white wines in the world. The varietals planted after the blight (Marsanne and Clairette) produce dry wines with mineral notes due to the rocky limestone soil. Cassis AOC white wines tend to have citrus, dried herbs, peach, and honey fragrances. They pair well with fish, seafood, and vegetarian dishes.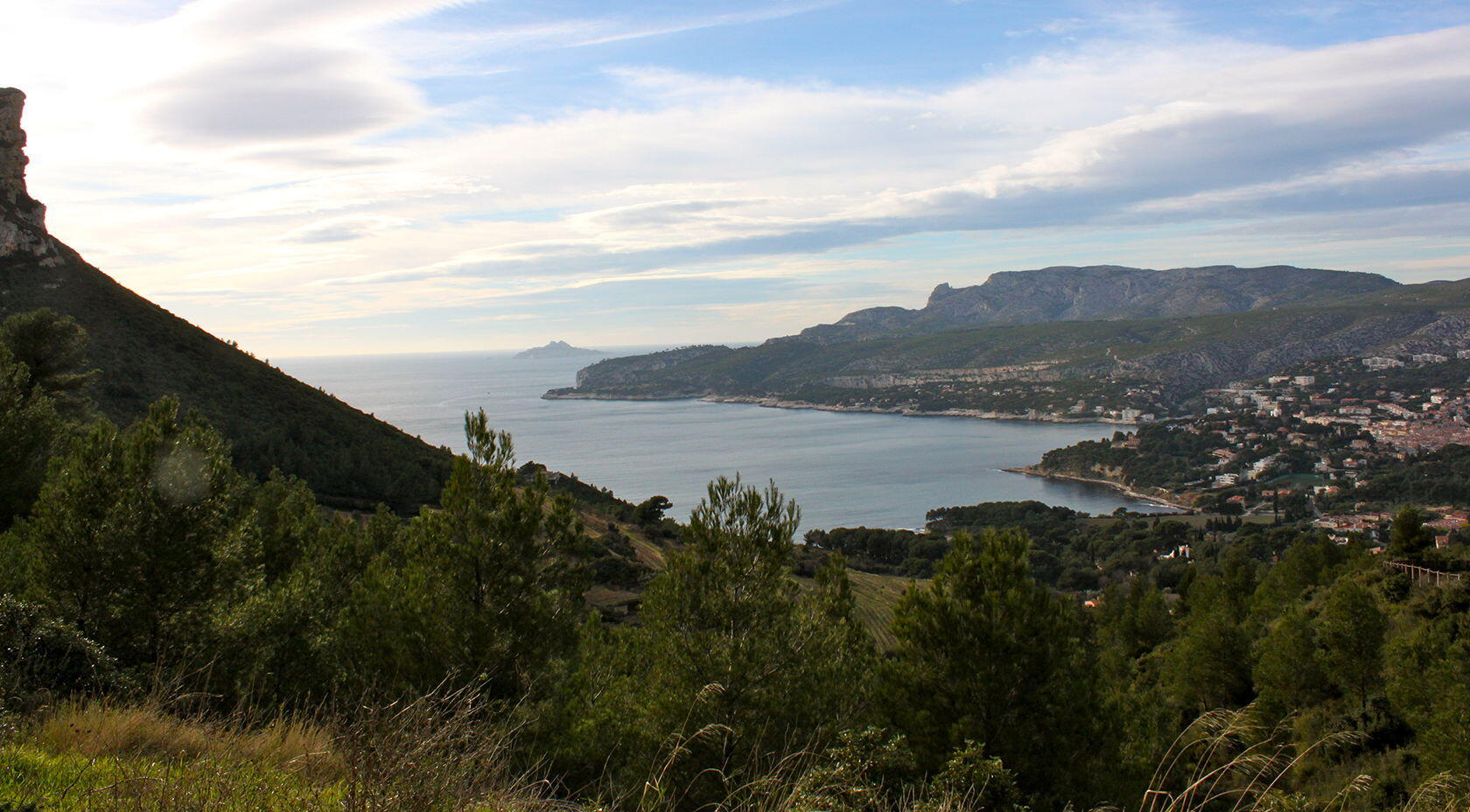 Read more about Cassis AOP
Seaside Cassis Wines and Other Reasons to Visit
Reasons to Visit Picturesque Seaside Cassis Anytime
---
Coteaux d'Aix-en-Provence
AOP Coteaux d'Aix-en-Provence received its designation in 1985. It is the second-largest appellation in Provence and the furthest west. The region is named after Aix-en-Provence but comprises 49 towns dispersed among the vineyards. Although it has a typical Mediterranean climate of long, dry summers, spring and fall storms bring significant rainfall in those seasons. However, the Mistral winds dry the soil relatively quickly, which prevents the vines from fungal rot.
In this appellation, rosé is the predominant wine (86%). Red wines comprise only about 8% of production, while white wines comprise 6%. AOP Coteaux d'Aix-en-Provence wine blends must contain at least 50% of the main varietals. The region produces dry wines (4g sugar/L). However, the rosés are considered light, fruity, and floral, while the reds are balanced with floral notes that evolve into richer flavours on aging. Coteaux d'Aix-en-Provence white wines tend to be fresh, fruity, and floral.
Read more about AOP Coteaux d'Aix-en-Provence
My 4 Favourite Vineyards Near Aix-en-Provence
Château Grand Boise
RN7, Quartier Mévouillon
13790 Rousset
Mas de Cadenet
D57
13530 Trets
Domaine Terre de Mistral
Route du Regagnas
CD56b 13790 Rousset
Château de la Galinière
D7N
13790 Châteauneuf-le-Rouge
1 Domaine 1 Chef Gatherings for Wine and Food Lovers
Aix-en-Provence and Its Wine Shops
Head to Chateau La Coste for Wine, Art and Architecture
Wine and Dine Francis Mallmann's Restaurant at Chateau La Coste
Château la Coste
2750 Route de la Cride
13610 Le Puy-Sainte-Réparade
A Visit to Château Barbebelle Wine Art and Charity
Château Barbebelle
D 543, 13840 Rognes
This 4th generation vineyard is one of the oldest wineries near Aix-en-Provence. Surrounded by 300 hectares of nature, 45 hectares of grapevines are nurtured into lovely wines of all three colours.
---
Coteaux Varois-en-Provence
AOP Coteaux Varois-en-Provence is surrounded by mountains, Sainte-Baume to the west, Bessillons to the north and Barres de Cuers to the south. As a result, the vineyards, each nestled in a valley area, produce wine that reflects the local microclimate. Generally, this area experiences relatively hot summers and colder winters, but the spring and fall are mild.
The rosé and red wines are made with Cinsault, Grenache, Mourvèdre, and Syrah, the typical grape varieties in Provence. The rosés tend to be clear, pale salmon coloured, with citrus, tropical fruit, and red fruit flavours. The reds range in colour from garnet to ruby, with tasting notes of dark red fruit and spices.
The principal grapes for white wine production include Clairette, Grenache Blanc, Rolle, Sémillon and Ugni Blanc. The white wines range are generally pale yellow, and some have greenish highlights. Their flavours include yellow and exotic fruit, with floral and even menthol-like notes.

More about the Coteaux Varois-en-Provence AOP
Château Margüi Rosé Wine Pairing
Domaine de Château Margüi is located in the Haut-Var, also known as Provence Verte. The soil is a mix of clay and limestone, and the estate benefits from the drying effects of the mistral wind when it blows from the north.
Boutique du Château Margüi
83670 Châteauvert
Telephone: + 33 (0) 9 77 90 23 18
Easy Wine and Cheese for Relaxed Entertaining
How to Make a Charcuterie Cheese Board
---
Côtes de Provence
Côtes de Provence is the largest appellation in Provence, covering over 20,000 hectares over 84 communes in three departments: the Var, the Bouches-du-Rhône, and one village in the Alpes-Maritimes. Because of its size, it is divided into four sub-regions and eight different production zones, each yielding wines with distinct characteristics.
This appellation produces 92% rosé wine and only 4% each of red and white wines. Almost 50% is organically produced. The main red grape varieties are Cinsault, Grenache, Mourvèdre Syrah, and Tibouren. The principal white types include Clairette, Rolle, Semillon, and Ugni Blanc. The vineyards must plant a specific percentage of the main grape varieties used in production (encépagement) to meet the AOC/AOP criteria. Additionally, some AOC/AOP regulations require vintners to use a specific percentage of varieties in blends (assemblage).
Côtes de Provence's wines are well known worldwide for their high quality – especially the rosés. Generally, Côtes de Provence rosé wines are varied in colour, nose, and palette of wines, which means you can pair these wines with many dishes.
Read more about Côtes de Provence AOP
12 Wineries Grape Reasons to Visit Lorgues Terres de Vins
Château de Berne
Chemin des Imberts
83780 Flayosc
Château L'Arnaude
Route De Vidauban
83510 Lorgues
Château la Martinette
4005 chemin de La Martinette
83510 Lorgues
Château les Crostes
2086 Chemin de Saint-Louis
83510 Lorgues
Château Mentone
401 Chemin de Mentone
83510 Saint-Antonin du Var
Domaine des Sarrins
897 Chemin des Sarrins
83510 St Antonin du Var
Château Roubine
4216 Route de Draguignan
83510 Lorgues
Sainte Béatrice
491 Chemin des Peiroux
83510 Lorgues
Château Sainte Foy
4013 Route de Saint Antonin
83510 Lorgues
Domaine des Aumèdes
297 Chemin des Pailles
83510 Lorgues
Domaine Estello
838 Chemin de Bélinarde
83510 Lorgues
Domaine Le Clos d'Alari
717 Route De Mappe
83510, Saint-Antonin-du-Var
Sub-appellations of Côtes de Provence: Sainte Victoire
Côtes de Provence Pierrefeu Rosé 2015
Professional Rosé Wine Tasting is Hard Work in Provence
Cooked Wine Provence's Vin Cuit is Steeped in Tradition
Côtes de Provence Wine Pairing with Salmon
---
Palette
Just to the southeast of Aix-en-Provence, you'll find the AOP Palette. The appellation is named after the small town of Palette, located in the commune of Le Tholonet, home of post-Impressionist artist Paul Cézanne.
Situated at the foot of Mont Sainte-Victoire, the vineyards in the valleys are exposed to hot summers moderated by cool Mediterranean breezes. This creates a unique microclimate. As a result, the wines are quite different from others in Provence – and arguably some of the best wines in France.
There are four prominent wineries in AOC Palette. They produce aromatic white wines, fruity rosés, and red wines that age well. The principal grape varieties include Cinsaut, Grenache, Mourvèdre, Syrah for the reds and rosés, and Araignan, Bourboulenc, and Clairette for the whites. Interestingly, Terret Gris, a secondary variety, can be used in all three types of wine but must not make up more than 20% of white wine. The grapes are handpicked, and vinification takes place within the AOC.
Explore Palette AOC
Château Simone
Chemin de la Simone,
13590 Meyreuil
Château Henri Bonnaud
585 Chemin de la Poudrière
13100 Le Tholonet
Mont Sainte-Victoire Celebrate and Revered in Provence
---
Pierrevert
Within the wine regions of Provence, Pierrevert received its AOC designation relatively recently in 1998 and its AOP in 2011. With vineyards at altitudes of over 450m, this appellation is the highest in France. Nestled next to the Parc naturel régional du Luberon, Pierrevert is the wine-growing capital of the Alpes de Haute Provence.
Guide to the Alpes de Haute Provence
Due to its elevation, this region experiences harsher winters, more rainfall and frequent frosts than the rest of Provence. However, the local wineries produce excellent wines. Most wines are rosé (60%), with about 25%-30% red wines. White wines make up the balance. Interestingly, at least 50% of the rosé wine in this region must be made using the "saignée" method.
Known for their smoothness, Pierrevert wines have notes of blackberries and currents. The rosés are fresh with citrus notes, and the whites have subtle citrus flavours too. Rarely marketed outside France, visiting the Pierrevert region is the best way to enjoy these wines.

Read more about Pierrevert AOP
Our Top Touring Ideas for the Alpes-de-Haute-Provence
Visitor Guide Alpes-de-Haute-Provence
Domaine La Blaque
Route de la Bastide des Jourdans
04860 Pierrevert
Telephone +33 (0)4 92 72 39 71
Domaine de Régusse
Route de la Bastide des Jourdans
04860 Pierrevert
Telephone +33 (0)4 92 72 30 44
Chateau de Rousset
1267 route D4 (between Manosque and Vinon sur Verdon)
04800 Gréoux les bains
Monday to Friday from 9h
Saturday from 9h30 to 19h
Château Saint Jean Lez Durance
Chemin du Lac des Vannades
04100 Manosque
Telephone +33 (0)4 92 72 50 29

Domaine des Bergeries de Haute-Provence
Organisme de Gestion et de Défense
des Alpes du Sud
2, rue Osco Manosco
04860 Pierrevert
The wine regions of Provence offer something for everyone. Whether you're an experienced oenophile or simply seeking a sensory journey through the flavours of Provence, these appellations d'origine controllée promise sensory delights that will entice you into returning again and again.