Lavender fields and rosé are among the hundreds of reasons to book a trip to Provence. A visit to the region often revolves around seeing all the main sights to "tick the boxes." Don't make that mistake! Provence is also the perfect choice for a relaxing spa break, a yoga retreat, and a place to focus on wellness.
Provence Spa Guide
The following spas and practitioners in Provence offer treatments ranging from 5-star to affordable. Our list of the best spas in Provence for relaxing is broken down by regional departments. 
Have we missed your favourite spa?
Please contact us with suggestions on other spas and service providers to include.
---
Bouches du Rhône
Aix-en-Provence (and nearby)
Energy en Provence: Caroline Guyot is trilingual (French, English and Russian). After selling advertising space for European luxury products, she called it quits and headed to Provence. In 2014, Guyot launched Energy en Provence in the historical centre of Aix-en-Provence. Guyot is a certified therapist in Reiki, magnetism and hypnotherapy (for adults and teens). The company name reflects her philosophy. She is focused on well-being, and a desire to help clients overcome anxiety and emotional disorders. Discover more on her backstory in this article 24-Hours in Aix Relaxing with Energy en Provence.
Energy en Provence
37 Avenue Victor Hugo,
13100, Aix-en-Provence
Telephone: +33 (0)6 87 70 25 91
Email: contact@energy-enprovence.com
Flairesse Massage & Aromatherapy: Claire McAlpine is a transplanted New Zealander who lives in Provence. After hands-on work experience in London, she determined that the best treatments are "90-minutes of pure bliss in your own home." Her studies in holistic massage, soul, and energy work guarantee relaxation. The Flairesse signature treatment combines Swedish massage and acupressure.
Flairesse Massage & Aromatherapy
Home-based massage treatments up to 30 km from Aix-en-Provence (minimum two (2) people).
If your location is more than 30 km from Aix, add + €10
Telephone: +33 (0)6 17 92 81 09
Email: flairesse@gmail.com
SR Mazarine: Located in the heart of Aix-en-Provence's chic Mazarine neighbourhood is a serene day spa. Designed for detox, the 400 m² space has a central aquamarine pool, a sauna, and a couple of treatment rooms. The SR Mazarine spa treatments include massages, facials, scrubs, nails and make-up sessions. They use top-rated cosmetic brands and customize the spa services to suit your request. Book a treatment for a quick city break.
SR Mazarine
27 rue Mazarine
13100 Aix-en-Provence

Open Monday – Saturday 10h – 19h

Thermes Sextius: The city of Aix-en-Provence was first known as Aquae Sextiae, the waters of Sextius, after the highly respected Roman consul Caius Sextius Calvinus. The Thermes Sextius spa is at the site of the original Roman baths. The facility benefits from a natural, underground water source heated to 33°C. This day spa has a large footprint with an indoor pool and several treatment rooms. Their services menu ranges from massage to detox packages.
Thermes Sextius
55 Avenue des Thermes
13100 Aix-en-Provence
Open Monday – Saturday 10h – 17h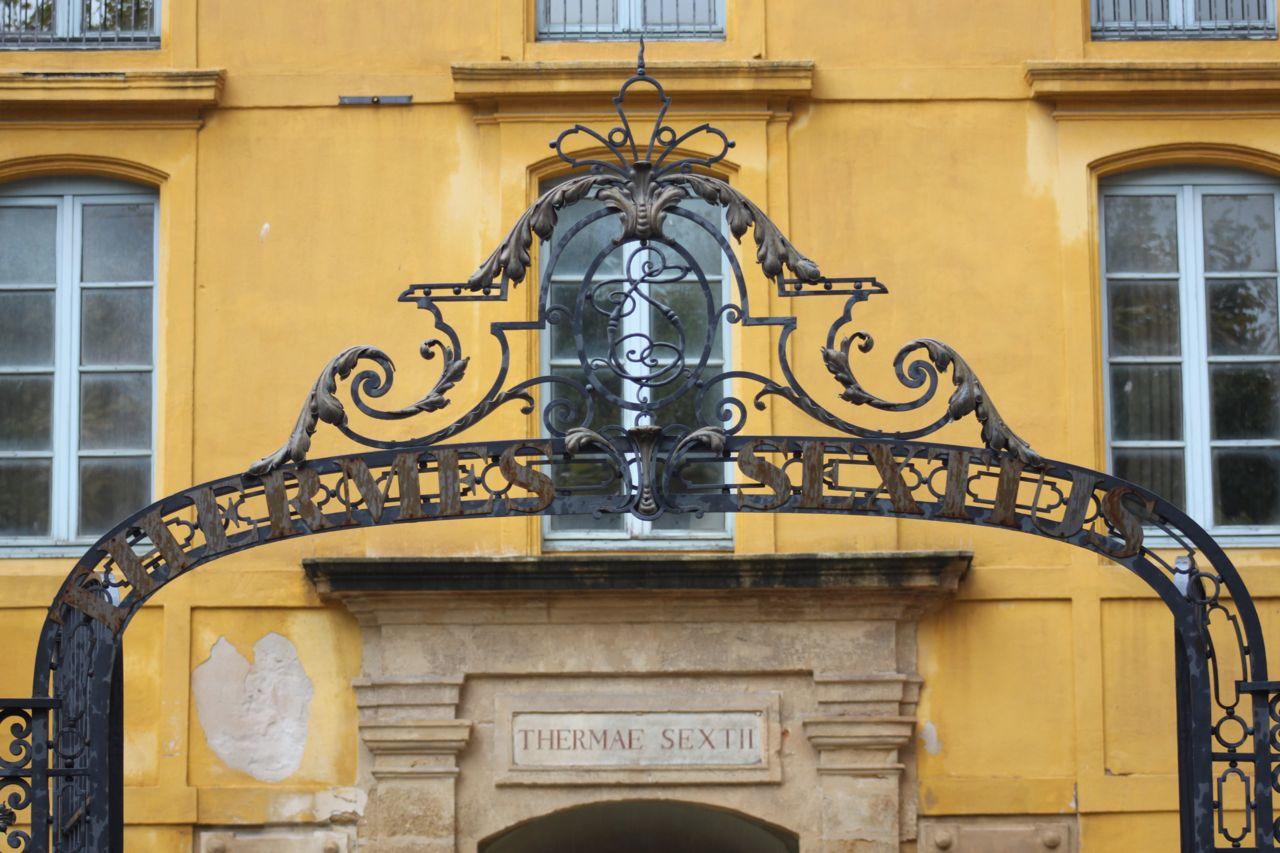 Les Lodges Hotel & Spa: A luxury hotel property located in le Tholonet minutes from downtown Aix-en-Provence. Enjoy the outdoor pool with views of Cézanne's mountain – Mont Sainte-Victoire. The hotel opened in 2013, along with its tempting spa. The 250 m² facility includes two heated pools (indoor and outdoor), a sauna, hammam, and treatment rooms. The spa staff are ready to take your worries away with a full menu of relaxing options and Cinq Mondes products. Book a treatment, stay over, enjoy a meal. You won't regret it.
Les Lodges Hotel & Spa
2250 Route Cézanne
13100 Le Tholonet
Discover the top sites in Aix-en-Provence with our city guide. 
Villa la Coste at Château la Coste: Minutes from Aix-en-Provence outside the village of Le Puy-Sainte-Réparade, this property delivers pure escapism. The vineyard is well-known for its contemporary architecture and art walk. The 5-star luxury hotel spa has seven (7) treatment rooms. The problem is choosing between the wellness menu items, which include salt treatments, mud baths and aromatherapy massages. Enjoy the sauna, hammam, or Vichy shower. Spend a day, a half-day or become a member.
Villa la Coste Spa
2750 Route de la Cride
13610 Le Puy-Sainte-Réparade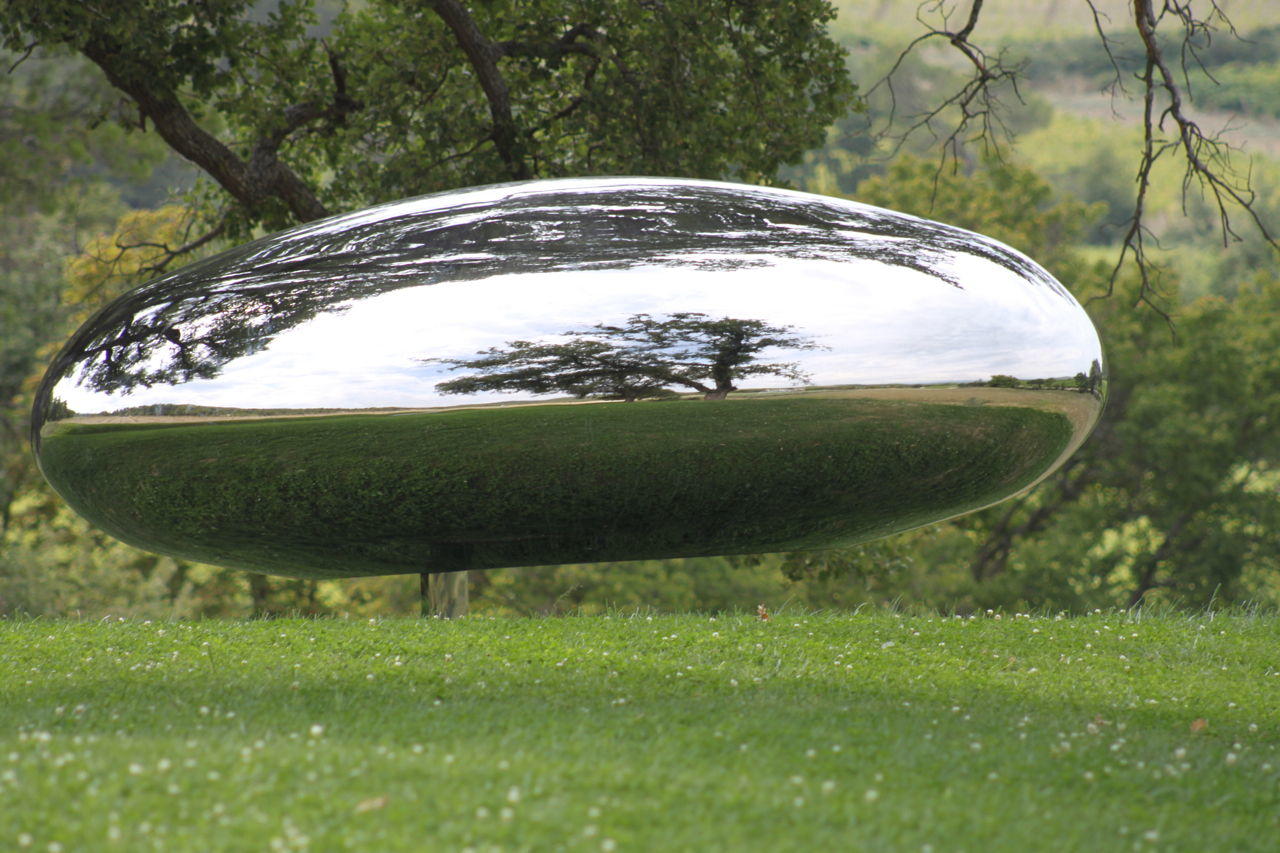 Explore Château la Coste for art, food, and wine.
---
Avignon
Auberge de Cassagne & Spa. Most people think of Le Pontet for its big-box shopping centres or for that trip to Ikea. Auberge de Cassagne & Spa will change your mind about this suburb of Avignon. This 5-star property is minutes from the Papal Palace and Pont d'Avignon is a secluded hideaway during the Festival d'Avignon. The location is excellent for exploring the Côtes du Rhône vineyards or the perched villages of the Luberon.
Or perhaps you want to unwind and relax in the 500 m² spa. The spa has an indoor pool, jacuzzi, sauna, and steam bath. They use HORMETA skin care products from Switzerland for body treatments. Book the 50-minute INSTANT SUBLIME GOLD treatment. This instant beauty treatment will add a touch of radiance to smoothen, brighten and revive the complexion. Emerge refreshed, to discover fine gold particles bringing a luxurious touch and glowing skin.
Auberge de Cassagne & Spa
450 Allée de Cassagne
84130 Avignon – Le Pontet
---
Marseille
Intercontinental Marseille – Hôtel Dieu is a name synonymous with luxury, and the Marseille location is no exception. This hotel sits on the edge of the old Le Panier district of Marseille, a part of the city bathed in history. Hotel guests enjoy a sweeping view of Marseille's dynamic Vieux Port (old port) with the Notre Dame de la Garde Basilica. The Hotel's 1000 m² – Spa by Clarins – includes five (5) treatment rooms, an indoor swimming pool, a solarium, and a fitness room. The spa menu has many detoxifying treatment options.
Book the popular Rebalancing Massage with Essential Oils. Allow this massage to wrap your body in a cocoon of exceptional well-being. Ask your therapist for Clarins Tonic Oil to stimulate the body and mind, or Clarins Relax Oil for a sensation of ultimate relaxation.
Intercontinental Marseille Spa by Clarins
1 Place Daviel
13002 Marseille
Open daily from 8h – 19h
Beauty treatments are carried out between 10h – 20h
There is also a 3-hour pass to access the spa facilities
The pool is open daily from 7h – 19h, with free access for hotel guests.
Les Thermes Marins Promicea is a wellness centre located in the heart of Marseille, just steps from the Mediterranean. This spa specializes in seawater-based treatments, and thalassotherapy (thalassothérapie in French). Under new ownership, the 700 m² space reopened its doors and treatment rooms in 2018. Within four (4) months Les Thermes Marins Promicea received the recognition as a SPAS DE FRANCE© one of approximately 200 facilities in the country that merit this prestigious label.
The staff focus on a wide range of body treatments, including facials, scrubs, and massages. Book a service, spend the day and take advantage of warm seawater treatments such as the marine shower or steam bath with Eucalyptus essential oils.
Les Thermes Marins Promicea
281 Corniche Kennedy
13007 Marseille
Open Monday – Saturday 9h30 – 18h30
---
Alpilles
Les Baux de Provence
Domaine de Manville Golf & Spa – Patience, vision and exquisite taste converted a run-down 250-acre agricultural property, outside of Maussane des Alpilles, into a 5-star luxury resort — Domaine de Manville. Edith and Patrick Saut purchased the land, the associated ragtag collection of farm buildings, and a 9-hole golf course in 2007. The transformation is incredible. This resort should boast about divine accommodation, a beautiful pool terrace, gourmet dining and a challenging 18-hole golf course. All that before we even mention the 580 m² spa with a full menu of treatment options. We recommend the spa and lunch package. Read more about the experience here.
Domaine de Manville
13520, les Baux de Provence
Open daily
St Rémy de Provence
The chic 5-star Hôtel Le Saint-Rémy is in the heart of town, and they opened the doors to La Maison du Tui Na spa in 2019. The spa and wellness centre includes a heated pool, steam bath and three (3) therapy rooms. Open daily from 10h – 20h, trained therapists are ready to welcome hotel guests and visitors with reservations. The hotel is also home to Yoga Saint Remy, where you can participate in a range of classes (booking in advance is required).
Hôtel Le Saint-Rémy (Spa)
16, Boulevard Victor Hugo
13210 Saint-Rémy de Provence
Le Vallon de Valrugues & Spa – Located a quick walk from the old centre of Saint Rémy de Provence, this luxury property has two heated pools (indoor and outdoor). The hotel is part of a group of luxury hotel properties and is listed among the Small Luxury Hotels of the World. The spa facility is generous at 500 m² with seven (7) treatment rooms, a steam room, a swimming basin with a counter-current flow and a fitness centre.
Discover the world of customized skin care products from CODAGE Paris with any of the body treatments at this spa. Feel like you are floating, without getting wet, in their Plénitude bed. Or, book one of the signature services a facial (30 minutes) or massage (80 minutes) inspired by the Alpilles.
Le Vallon de Valrugues & Spa
9 Chemin Canto Cigalo
13210 Saint-Rémy-de-Provence
Here is our list of nine (9) fun things to do in St Rémy de Provence. 
Mas de l'Amarine: Is a hidden gem, a boutique hotel on the outskirts of St Rémy with a focus on wellness. Whether you need a break to detox or want to spend a quiet moment to recharge, the team at Mas de l'Amarine is ready. Their seasonal menu will tempt even the staunchest carnivore. They serve only healthy, seasonal food handpicked by local producers. There is one small treatment room at the hotel where you will float away to the sounds of the birds chirping outside. Treatments are scheduled on a request basis and tailored to your specific needs.
Mas de l'Amarine
517 Ancienne Voie Aurelia
13210 Saint-Rémy-de-Provence
Interested in a yoga retreat in Provence? La Belle Vie Project creates programs that include yoga, culture and much more discover these escape retreats at Mas de l'Amarine.
---
Alpes d'Haute Provence
Gréoux-les-Bains
Gréoux-les-Bains is a mid-size town in the heart of the Provencal countryside. The town's architecture is typical of the region where stone buildings have barrel-tile roofs. Human settlement, in the area, dates back to the Celtic period, and the remains of medieval ramparts point to an active period in local history. There are several reasons to visit Gréoux-les-Bains, but one is to experience the therapeutic magic of the Roman baths – les Thermes – the thermal waters. Book a single package or register for a cure this centre operated by Chaîne Thermale du Soleil focuses on health, well-being and recovery.
Thermes de Gréoux
04800 Gréoux-les-Bains
Open from May through the end of December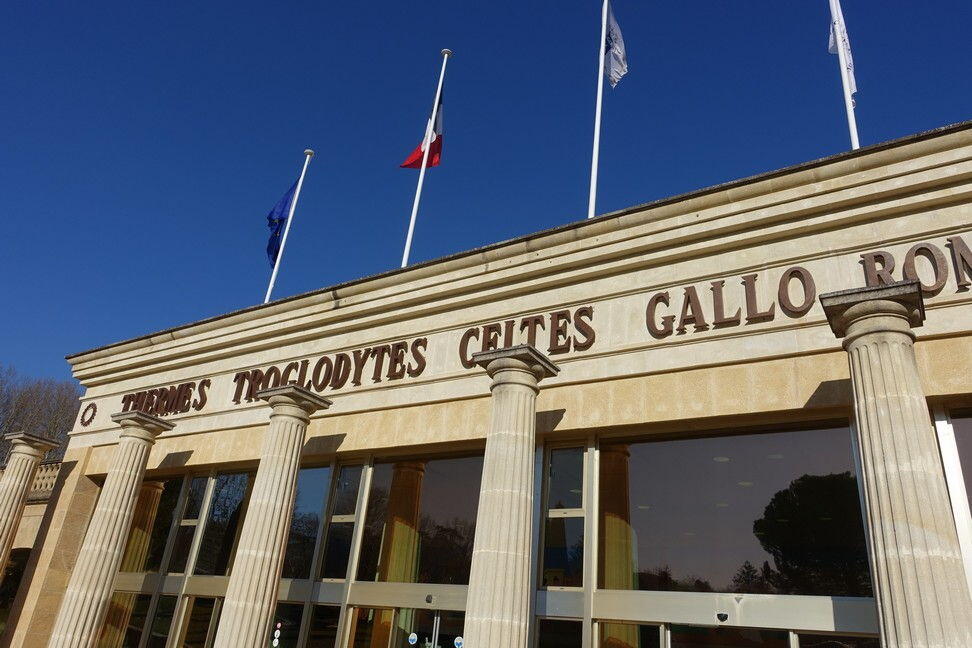 ---
Cote d'Azur and Alpes Maritimes
We are out spa-ing…
Please send along any suggestions that you might have.
---
Luberon
Lauris
Le Domaine de Fontenille has it all a vineyard, gastronomic food, luxurious guest rooms and a wellness centre. According to Mary Kay Seales, it's a place to dream in French during your stay. The spa facility is open to hotel guests and external visitors. The bright space is equipped with treatment rooms, a menu of relaxing services and a hammam.
Domaine de Fontenille
84360 Lauris

Gargas
La Coquillade Village is a hamlet of escapism. This 5-star luxury resort nestled in the Luberon delivers a suite of options for activities, gourmet dining, lounging poolside and a 1500 m² spa. The problem might be convincing yourself to leave this magical property. The hotel offers several packages, including yoga retreats. Bathed in natural light, the wellness centre has ten (10) treatment rooms (including some doubles), an indoor pool, a sauna, a steam bath and a long list of delightful sounding treatments.
Try the signature "Serenity at the Heart of the Vineyards" special which includes a scrub, hydrating wrap, and full-body massage. This service is 120-minutes of pure relaxation.
Coquillade Village Spa
Le Perrotet
84400 Gargas
Opening hours:
November to March 10h – 18h
April to October 9h – 20h
External guests are welcome.
Gordes
La Bastide de Gordes is a 40-room luxury hotel (34 rooms and six suites) in the Luberon, the result of a long-term real estate project. The original hotel opened its doors in 1980 with only 12 rooms in what was once the 16th century home of an aristocratic family. Slowly adjacent buildings were purchased to add guest rooms, restaurants, a spa and a conference centre. This sublime Airelles property is crazy glued to a rock face and built on the stone foundations of ancient ramparts, which once protected the medieval town of Gordes. Ranked as one of the "Leading Hotels of the World," La Bastide de Gordes has a spa to match its status, a 1600 m² facility featuring Sisley products and treatments.
La Bastide de Gordes
Rue de la Combe
84220 Gordes
Open daily 10h – 20h
Find out why Gordes is one of les Beaux Villages de France.
Hotel les Bories & Spa is an estate with groves of olive and cypress trees, and aromatic herbes including lavender, rosemary, and thyme. Guests at this secluded retreat outside of the perched village of Gordes enjoy the natural beauty of the protected natural reserve the Parc Naturel régional du Luberon. Les Bories is a centre of luxury, a 5-star hotel with 34 rooms (including suites) and a Michelin-star restaurant and a relaxing 300 m² spa.
La Maison d'Ennea spa includes a heated indoor pool, dry sauna, steam room and five (5) treatment rooms.  The foundations of the Spa are aromatherapy and albatherapy with a focus on preventive, curative and regenerative techniques.
Hotel les Bories & Spa
Route de l'Abbaye de Senanque
84220 Gordes
Open daily:
Monday: 9h30 – 12h30 and 13h30 – 18h30
Tuesday to Saturday: 9h30 – 12h30 and 14h30 – 19h30
Sunday (mornings): 9h30 – 13h30
Spa packages are available with or without accommodation.
Join a serenity workshop. Since 2019, the hotel offers offer yoga classes every Saturday and detox/yoga retreats twice a year.
Le Petit Palais d'Aglaé: Hotelier Sarah Lauferon named her boutique hotel after the Greek goddess of splendour, Aglaea. Located less than two kilometres from Gordes' village core, the 16-room hotel invites guests to relax. The property has unobstructed views of the Luberon and Mont Ventoux. Hotel guests and visitors can indulge in relaxing day spa services at Les Moment de Thalie. There are also yoga classes available on demand.
Hotel Le Petit Palais d'Aglaé
Route de Murs
84220 Gordes

Open daily 13h – 21h
Mane
Le Couvent des Minimes Hotel & L'Occitane Spa: This 5-star resort in the Luberon enjoys the Alpes of Haute Provence as a backdrop. The 750 m² light-filled facility offers a full range of treatments with L'Occitane products. There are six (6) treatment rooms and a menu of body and facial treatments options. The entire experience at the spa aligns with l'Occitane's three fundamental values: authenticity, respect and sensuousness.
L'Occitane Spa
Chemin des Jeux de Mai
04300 Mane
---
Var
Flayosc
Château de Berne is a hamlet of 5-star luxury near Draginan. The Romans planted the original vines along the Via Aurelia. In the 12th century, a Cistercian Order of monks worked the land that had been donated to them. Over the centuries, the Château changed hands a few times before the current owner acquired the property in 1995, and the modern transformation began.
The Château's décor successfully combines Provencal country style with French urban chic. The 27 rooms (including suites) are light-filled, and crisp white bed linens offset traditional terracotta tile floors. Comfortable furnishings follow the classic Provencal style without being frumpy. There is gourmet food, and as mentioned, the Château is in the heart of the vineyard, so there is wine. The 800 m² Cinq Mondes Spa is a highlight of the Château. Whether you swim in the indoor pool, lounge in one of two jacuzzis or indulge in a tailored massage; you will emerge transformed.
Château de Berne
Chemin des Imberts
83780 Flavosc
---
Vaucluse
Crillon le Brave
Hotel Crillon le Brave is practically a village onto itself. Located in the rolling landscape of the Vaucluse, Crillon-le-Brave is a hilltop hamlet with views of Southern Rhône Valley vineyards. Contemplate Mont Ventoux, the highest mountain in the South of France, from the hotel's pool terrace. Inside the caramel-coloured walls of the Spa des Écuries, there are three (3) comfortable treatment rooms. It is hard to imagine that this beautiful, relaxing space was previously a horse stable. 
Hotel Crillon le Brave Spa 
Place de l'Eglise
Crillon le Brave
Open daily 10h – 20h
Seasonal closing the spa reopens in April 15, 2020
The spa is open to external guests, however, the pool is for hotel guests only.
---
Did we miss your favourite spa in Provence?
Please contact us with suggestions on other spas and service providers to include.
If you looking for more guides on things to do and see in Provence please contact us: