Inntravel 10 Secrets of Authentic Provence
Steve Jack is the Communications Manager for Inntravel a company that has been offering self-guided walking and cycling discoveries of rural Provence for many years. We asked Steve if he would share his favourite spots in Provence with readers.
Here, is his guest post on where to discover the secrets of authentic Provence.
During my teenage years, while I was learning French at school, I had the good fortune to watch the duo of films by French director Claude Berri, Jean de Florette and Manon des Sources, based on the novels of the same name by Marcel Pagnol.
They remain two of my favourite films even now, and besides the wonderful characterisation, they seemed to capture and bring alive for me a corner of the world that I was hitherto unaware of. Sure, I knew of the allure of the Côte d'Azur (I had even visited Nice on holiday), but these films evoked a sheer timelessness and sense of place that were as far removed from the the glitz and glamour of the French Riviera as it is possible to imagine.
Here in the rural heart of Provence is a land of gently rolling hills and pretty villages where that quintessentially French notion of terroir – whereby nuanced flavours reflect the land from which they came – rules the roost. And Pagnol's hilarious episode in which the Parisian interloper Jean (played by Gérard Depardieu) aims to 'cultiver l'authentique' – to go 'back to nature' in his new-found rural idyll – but is misunderstood by the malevolent-but-clueless Ugolin (who believes 'othentics' are some kind of exotic new vegetable!) underscores the importance of 'keeping it real' to all who live here.
Since first watching those films, I was determined to discover this world for myself; and even when I visit nowadays, I am immediately transported into the milieu and the atmosphere so memorably evoked on screen. The visitor here cannot help being surrounded by all the fruits, flavours and scents of the land, all of which are brought vividly to life as you wander or meander around. Fragrances of lavender, rosemary and wild thyme pervade the air, while a deliciously simple cuisine – centering on plump red tomatoes and creamy goat's cheese – seduces the palate.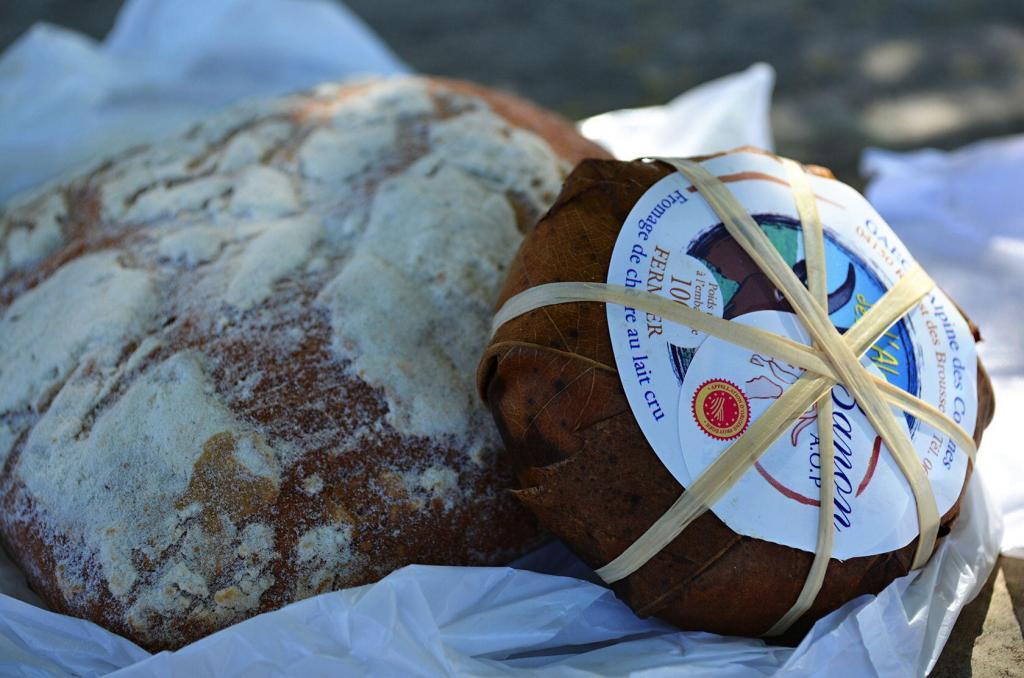 Such is my love for this corner of Provence that I thought I would share my top 10 'secrets', so that Perfectly Provence readers can, if you wish, uncover the true spirit of this remarkable area for yourselves…
LA CAMPAGNE BERNE
Despite its idyllic location amid rolling, golden Provençal hills, it's the combination of congenial hospitality and fabulous cooking that will be your abiding memory of this ravishingly attractive home-from-home close to the small village of Pierrerue.
HILL-TOP LURS
When visiting this charming hamlet, follow a ridge-top path to a tiny chapel, where splendid views open up: east over the Durance Valley; south-west across sunflower and lavender fields; and north beyond the Montagne de Lure towards snow-capped Alpine peaks.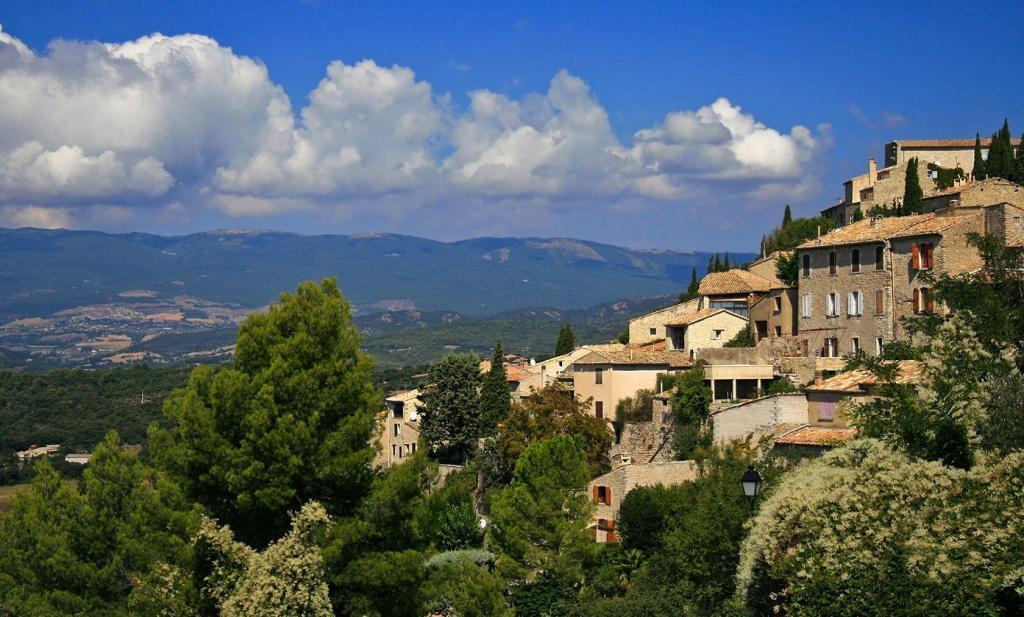 FORCALQUIER'S MONDAY MARKET
Here, in the main square of this attractive hill-top town, you will find Provençal life laid out before you: cheeses, meats, roast chickens, fruit, vegetables, clothes, crafts and antiques for sale; sacks of the ubiquitous Herbes de Provence; and terraces crowded with coffee, beer and Pastis-sipping locals.
NOTRE DAME DE SALAGON
As well as admiring the gardens here, it's worth forking out a few euros to investigate the interior of this beautiful church and priory, and to learn about lavender oil production and traditional forms of agriculture in the small accompanying museum.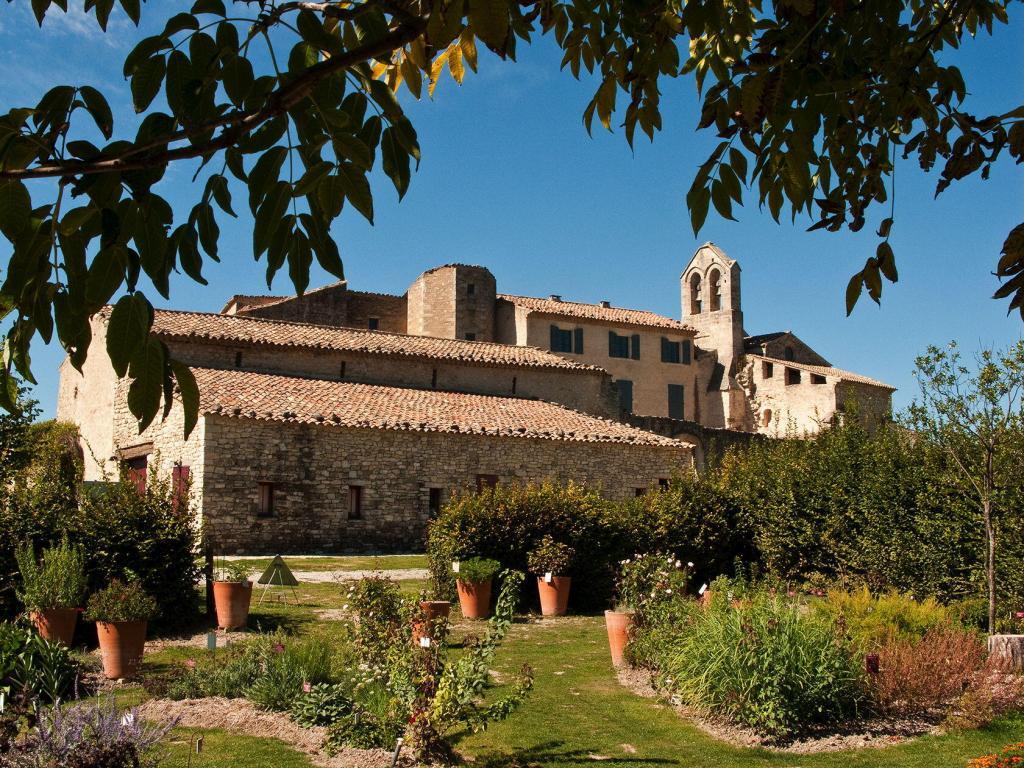 UZÈS
Uzès, 'the first Duchy of France', is renowned for its graceful Renaissance architecture, a reminder of the days when it was an important trading centre – especially for silk, linen and, bizarrely, liquorice. Take in the Ducal Palace and relax amid elegant squares shaded by 60-foot plane trees.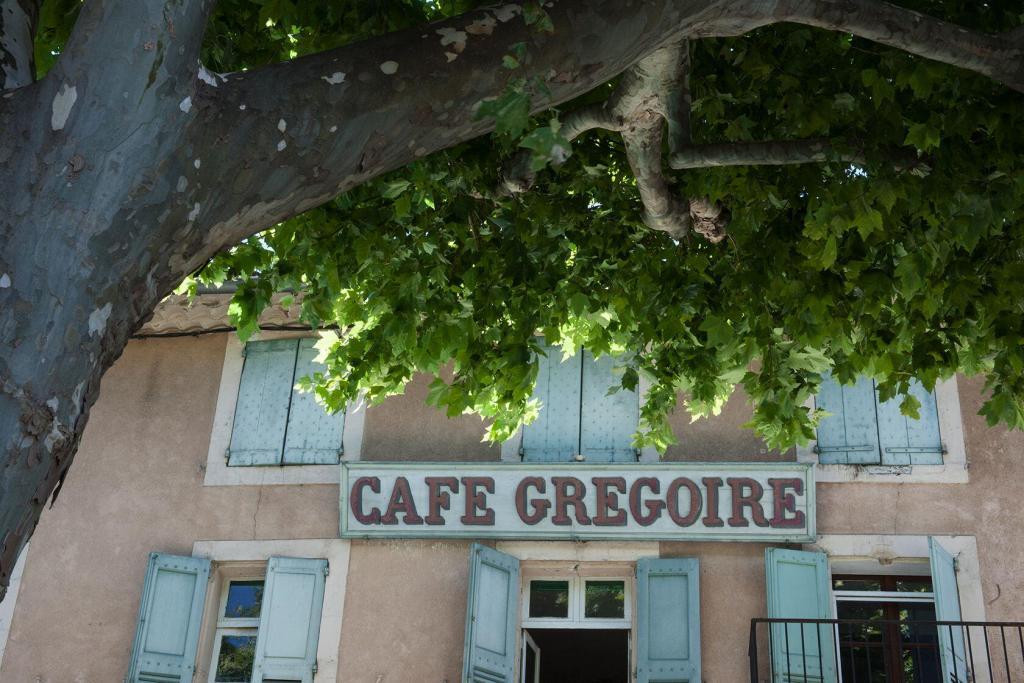 PONT DU GARD
For compagnons, the travelling stonemasons who were apprenticed to master craftsmen before the time of the French Revolution, this magnificent Roman aqueduct became the symbolic end of their travels. If you look closely, you will find their initials and personal symbols – a kind of ancient graffiti – carved into the stonework.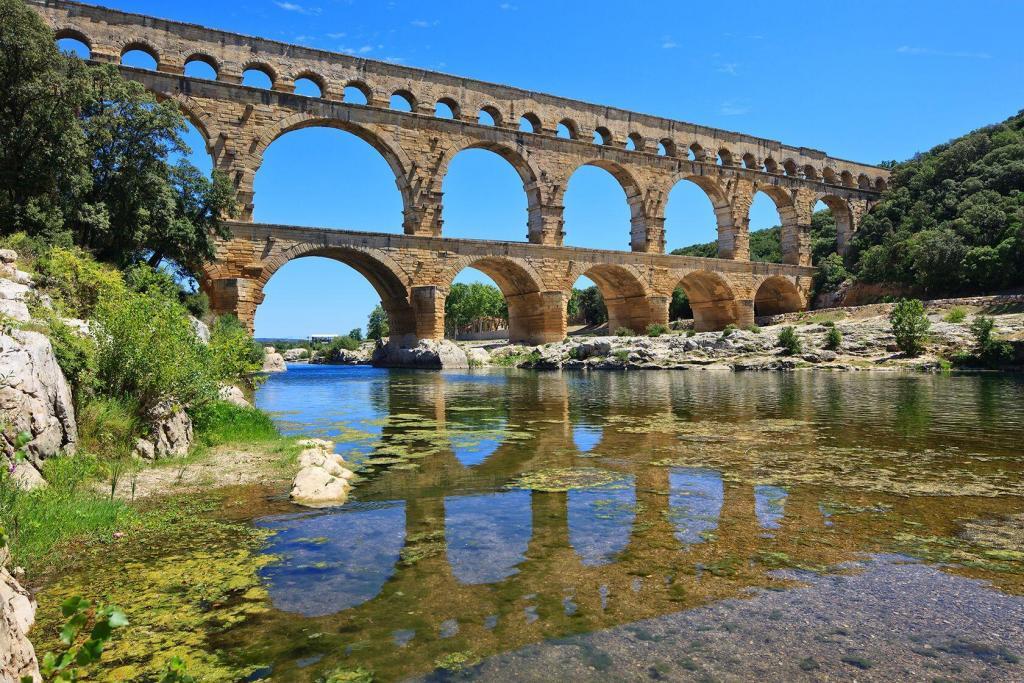 HOTEL DU POÈTE
This converted 19th-century watermill sits in perfect harmony with its surroundings on the banks of the River Sorgue, right in the heart of picturesque Fontaine-de-Vaucluse. Relax in the serene garden with its small bridges and fig trees, and seek out a shady corner with a favourite book.
ART & LIGHT IN LES BAUX-DE-PROVENCE
A visual feast that will surpass even the expectations of the most seasoned art lover is the quite astonishing Carrières des Lumières ('Quarry of Light') at Les Baux-de-Provence. The stone walls and floors have been transformed into a gigantic canvas using 70 video projectors – magnifique!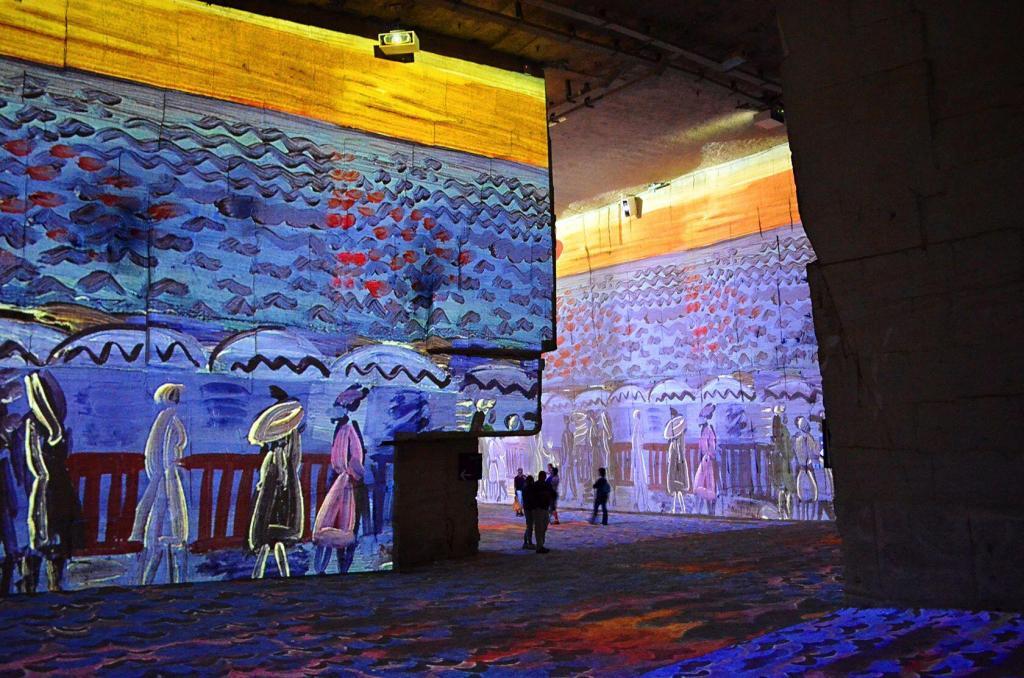 THE OCHRE CLIFFS OF ROUSSILLON
The beautiful village perché of Roussillon has a unique colour palette of 17 shades, ranging from yellow through to deep red, that radiate from the walls and roofs of houses built on the largest ochre deposits in the world. A stroll through the cliffs along the Sentier des Ocres is an absolute must!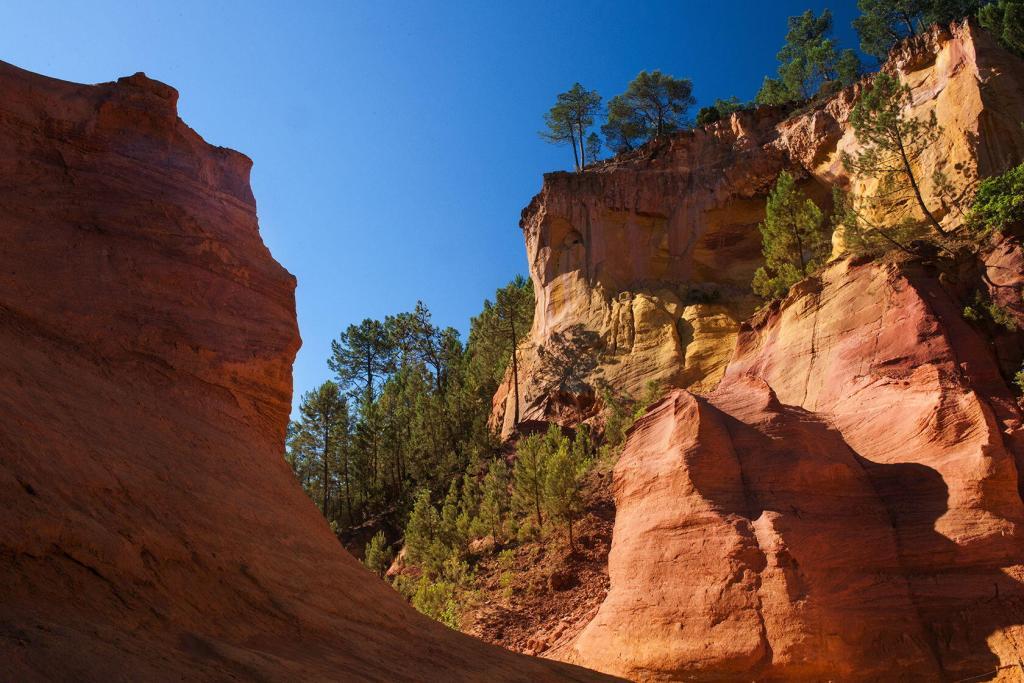 BANON
Not only is the village of Banon home to Le Bleuet, a fabulous bookshop that would be the pride of much larger towns or cities, it is also where you will find the eponymous local goat's cheese – discs of artisan delight, hand-wrapped in chestnut leaves, that go perfectly with a hunk of French bread and a glass of Provençal rosé.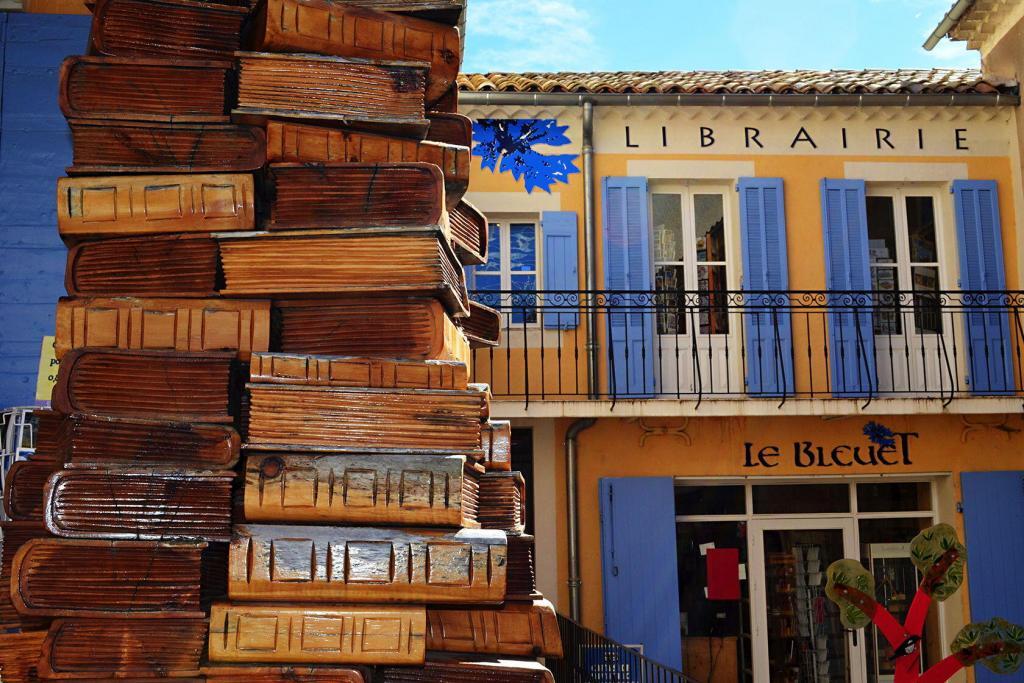 Now that you are tempted by Steve's 10 secret places in Provence, it might be time to consider booking a trip… Take a look at their Scents & Flavours of Provence walking holiday (from £585pp, including 6 nights' accommodation, your luggage transported between hotels, plus walking routes & maps); or Heart of Provence, an 11-night, self-drive SlowMotion journey – new for 2016.
Image credits: all photos were provide by and published with the permission of Inntravel
Please share this with friends and family.