What to Eat in Provence? Paradise for Food Lovers
Provence is a buffet for food lovers. There are markets every day of the week. Chefs find inspiration in seasonal fruit and vegetables, Mediterranean seafood, and free-range lamb. A suitable climate and good soil mean an array of locally produced almonds, cheese, wine, olives and olive oil. In the spring and fall, there's a good chance you will see sheep and goats grazing in the fields before black truffle season. Provence is a food lover's paradise.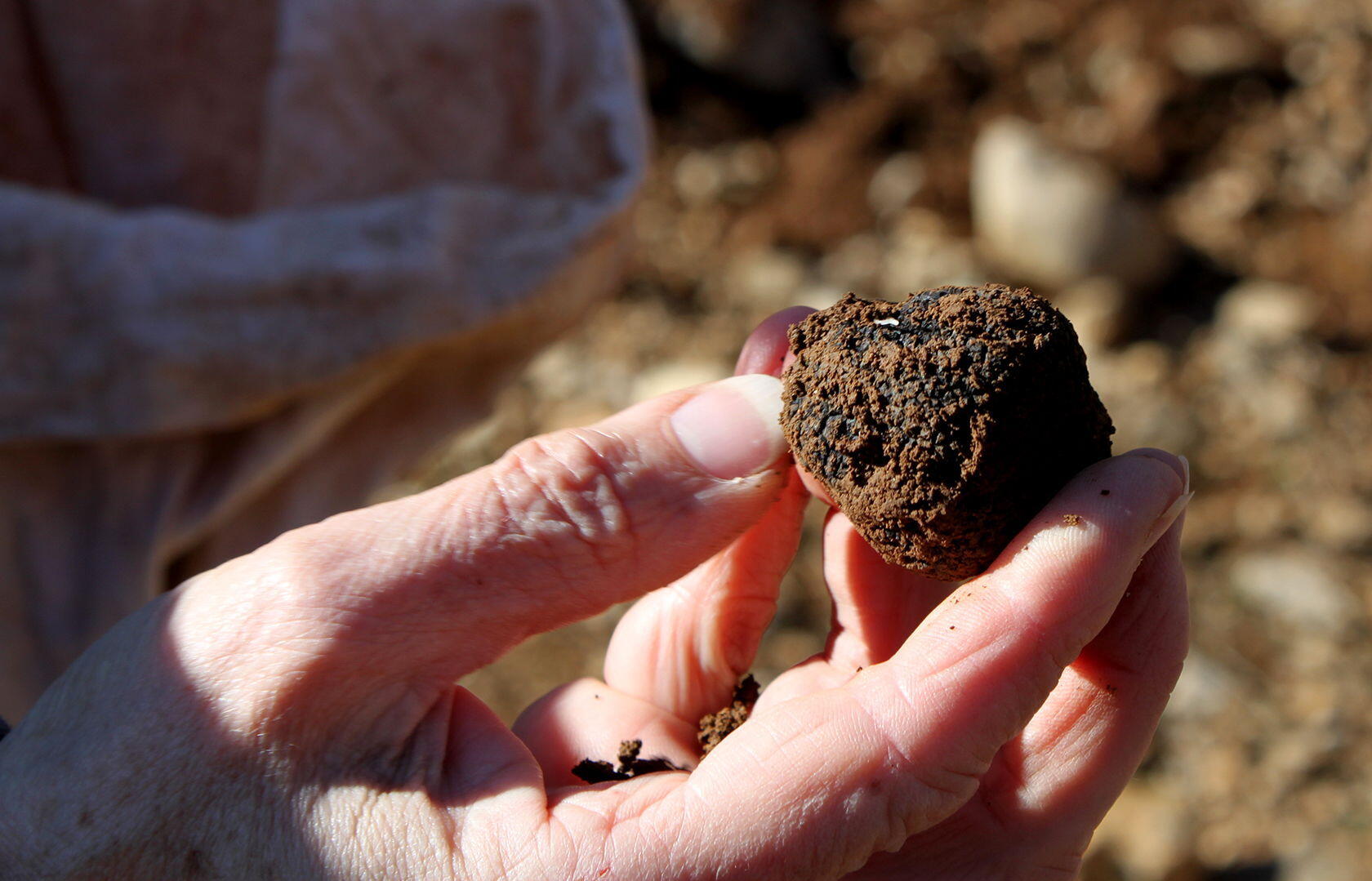 Provence Market Days
Provencal markets, like French cheeses, come in many sizes and varieties. For food lovers, selecting just-picked produce, fresh fish, local meat, and cheeses is a culinary delight. This is often precisely how local chefs decide their daily menus and the signature plat du jour.
In addition, to markets, watch for signs along your travels that read "vente directe" or "vente des champs" or the like. This is your chance to buy directly from the farmer. The hours and selection may be limited at these farm stalls, but rest assured, you are buying just-picked produce at the height of the season.
No matter where your "home" base is in the region, rest assured that the local market will not be far away. There is a market day in almost every city, town, and village in Provence. Large cities such as Aix-en-Provence, Avignon, Marseille, and Nice benefit from daily markets. Most markets start around 8:00 am and end by 1:00 pm. During the summer, there are also several evening markets throughout the region.
Shop Our Top 10 Markets in Provence Côte d'Azur.
Here is our resource guide for the Markets of Provence and the Côte d'Azur. This reference directory to better-known markets, producers' markets, and more. It would be impossible to list every market in the region, and at the end of the day, the best market is the one you have a chance to visit.
Black Truffle Markets
It is more common to see summer truffles in the markets than in the past. However, this summer tuber may be related to the "Black Diamond," but the taste is certainly not as distinctive. There is also a significant price differential between the summer and winter varieties. In peak months, the black truffle will command about 10 times the price (per kilo) compared to summer truffles.

The black truffle is typically harvested between November and early March in Provence. During these months, you will find weekly truffle markets in the following locations, but arrive early!
The Truffle Markets in Provence
Restaurants and Michelin Stars
The first Guide Michelin appeared in 1900 when bicycles greatly outnumbered cars on French roads. It was a brilliant marketing plan by André and Édouard Michelin, brothers and owners of the tire manufacturing company. Their idea was to increase demand for cars and specifically tires, by encouraging French drivers to get out on the road and drive, maybe to a restaurant or hotel. At first, the guidebook was offered for free, and it included helpful tips for car travel, including mechanics, gas stations and maps.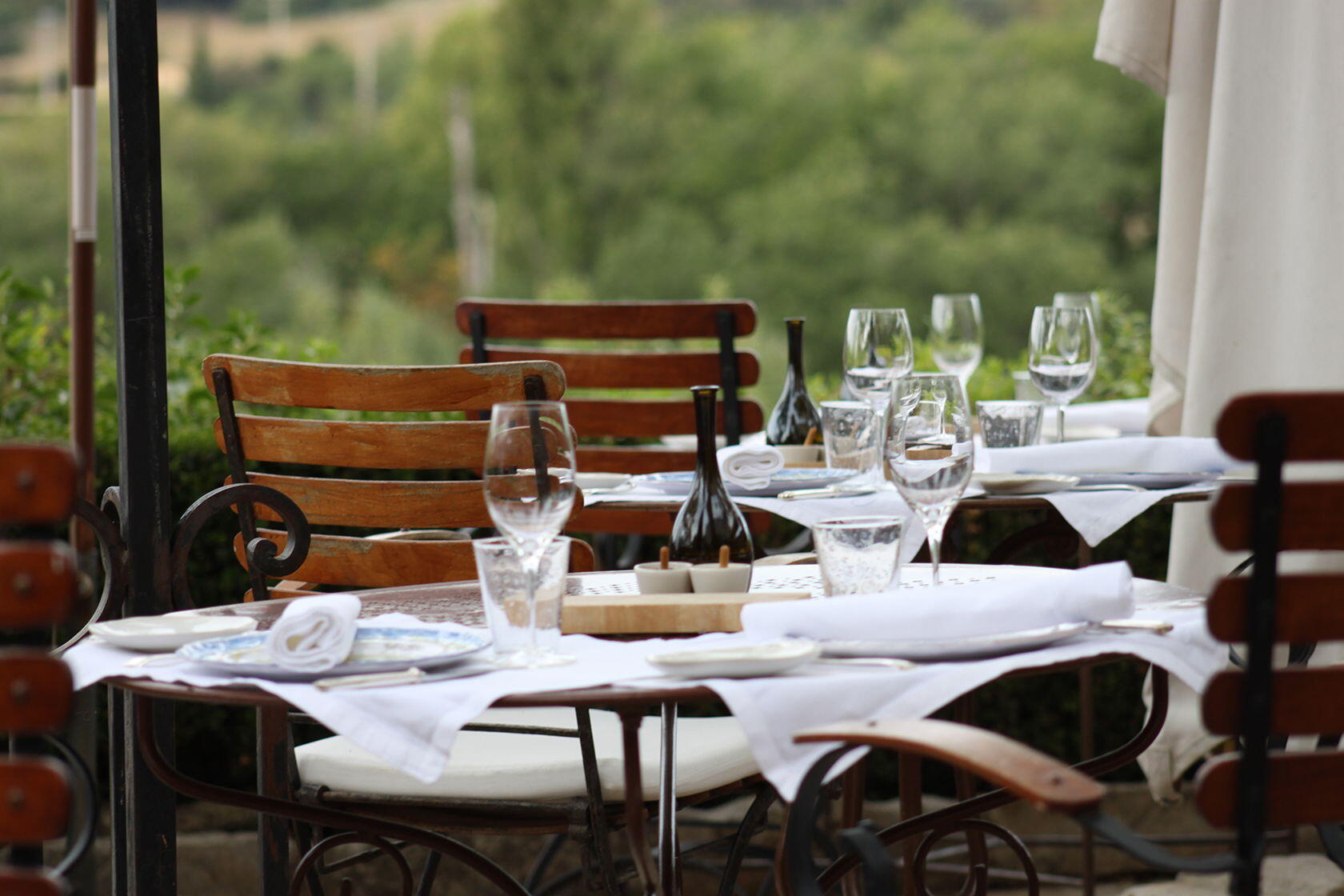 Starting in 1920, the Michelin Guide was no longer free; it cost seven francs. The idea of awarding stars to restaurants began in 1926. By 1936 the ranking system of one, two, or three stars was established:
1 Star: A very good restaurant in its category. (Une très bonne table dans sa catégorie)
2 Stars: Excellent cooking, worth a detour. (Table excellente, mérite un détour)
3 Stars: Exceptional cuisine, worth a special journey. (Une des meilleures tables, vaut le voyage).
Acknowledging that many restaurants serve "Exceptionally good food at moderate prices," the company began publishing the Bib Gourmand in 1955.
Read: Top-quality Restaurants in Provence
Where to Eat in Provence?
Provence is filled with dining possibilities, from picnics to Michelin-starred tables. The good news is it is hard to get a bad meal if you follow your nose and a few ground rules.

Cafés offer table service for coffee and other beverages (think rosé and pastis) throughout the day. Typically cafés have long open hours to serve espresso drinkers in the morning and alcohol at any time. In addition, most cafés serve light snacks – croissants and baguettes in the early hours, chips and peanuts later.
Café-restaurants and brasseries are one step fancier where the proprietors offer a limited menu. A safe bet is the plat du jour, the dish the chef prepared that day in theory with the freshest, in-season ingredients. These establishments might be open most of the day. However, menu service is limited to meal times (12-14h for lunch, 19-22h for dinner). You can almost always drink.
Salon de thé is a tearoom or coffeehouse. Usually, they serve sweet treats along with your drink of choice. On the other hand, a salon de thé might be part of a patisserie where you have a wide selection of sweet temptations – thankfully, only for limited hours.
What to Eat in Provence?
There are many traditional recipes from Provence, and many households have perfected their variation on a classic recipe. If you get an invitation to eat at someone's home, do not pass up teh opportunity! Most of these dishes are easy to prepare and do not require extensive ingredient lists. Let your taste buds explore this digest of traditional Provencal recipes and innovative culinary twists using regional, seasonal ingredients from the South of France.

Starters and Snacks
Fried Panisse – Panisses Frites
Panisse is best eaten very hot with a bit of salt and pepper, accompanied by a green salad, as an accompaniment to a dish or as an appetizer, or as a snack instead of socca. Panisse can also be rolled in powdered sugar at the end of cooking for a delicious dessert.
Check out this recipe

Panisse (Panelle, Sicilian-style) or Chickpea Fritters   
Panisse is very popular in Provence, although a similar recipe can be found in other places along the Mediterranean as I discovered in Sicily. Impress your guests with this salty, yet slightly sweet nibble with cocktails.
Check out this recipe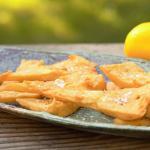 Olive Tapenade, Caviar d'Aubergine and Goat Cheese and Basil Dips
These three dips include classic ingredients from Provence. Each one is very easy to make, all you need (besides the ingredients) is a blender.
Check out this recipe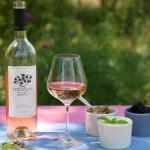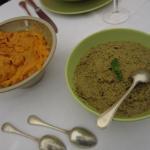 Tarte Soleil - Puff-Pastry Appetizer
From the chef, "Provençals like things sunny and pretty, so this is a popular take on the local, traditional fougasse. It can be filled with any strong-flavoured spreadable mixture such as tapenade or anchoiade or a sundried-tomato paste or even a spinach/ricotta or goat cheese." 
Check out this recipe

Marseille Fish Soup - Soupe de Poissons
You will want to make a big batch and freeze what you don't eat. Making fish soup at home can be a very messy, labor-intensive process. Trust me, you will thank me later for this advice. I usually make a few gallons and then freeze leftovers in quart sized mason jars ready to use at a moments call.
Check out this recipe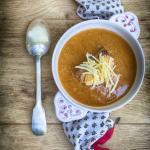 Soups and Salads
Salade Niçoise - La Salada Nissarda
This salad is presented flat with the ingredients arranged artistically on the mesclun lettuce. The presentation of this salad is important because it is only mixed before serving.
Check out this recipe

Salade Niçoise
My version of this meal-sized salad from Nice for the purists and the rest of us.
Check out this recipe

Bourride Mediterranean Fish Soup
Bourride is similar to bouillabaisse, a seafood soup flavoured with garlic aïoli.
Check out this recipe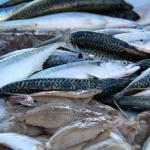 Soupe au Pistou
A delicious soup in the middle of summer with lots of broth is surprisingly refreshing. Important: Pistou should never be cooked. It should be added to the soup as a finishing touch for flavouring before serving once the pot is off the heat.
Check out this recipe

Provencal Soupe au Pistou
A traditional soup filled with tomatoes, potatoes, green beans, and more can be served for lunch with a fresh loaf of bread! 
Check out this recipe

Provencal Chickpea Soup (Fourmade)
Easy to master Provencal chickpea soup is so surprisingly rich and luxurious tasting, that even my 9-year-old son is convinced it has cream in it.
Check out this recipe

Mains Courses and Sides
Marseille Classic Bouillabaisse
A Bouillabaisse, to be served in perfect conditions, should be prepared for a party of at least 6 to 7. This allows the cook to purchase a wider variety of fish. You will have to be persevere to find all the different types of fresh Mediterranean fish. If you are far from the Mediterranean, use your local white fleshed fish. The recipe proposed here, consists in poaching the bigger fish into the small fish soup. It is the luxury version of the recipe, as it differs from the original fishermen who were simply recuperating the damaged and unsold parts. Follow the steps to create this a gastronomic recipe.
Check out this recipe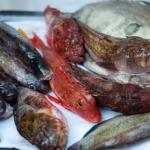 Lemon, Garlicky, Rosemary Lamb Shoulder
Cooked over hot coals (or a gas BBQ), the lamb shoulder is infused with a lemon, garlic, and rosemary mixture before cooking. Enjoy this epaule d'agneau au citron, ail et romarin from the French Grill cookbook by Susan Herrmann Loomis.
Check out this recipe

Provencal Lamb Daube 'Gui Gedda'
This slow-cooked daube is just the thing for cold winter nights. These wonderful aromas wafting through your kitchen as tender lamb cooks gently in a rich, savoury rose and herb-infused broth. And if you have the willpower not to eat it right away, it truly is best made a day in advance and then reheated upon serving.
Check out this recipe

Daube of Beef a la Provencale
If you are looking for a new way to make a beef-based dinner, you should try this recipe! 
Check out this recipe

Lamb Stew a Daube with Côte du Rhône Red Wine
A Provencal daube is like most stews, easy to prepare and best if left to cook slowly for a long period until the meat is tender.
Check out this recipe

Provençal Beef or Bull Stew (Gardiane de Taureau)
A traditional French stew from Provence served with beef or bull meat. Make sure to allow enough time for marinading.
Check out this recipe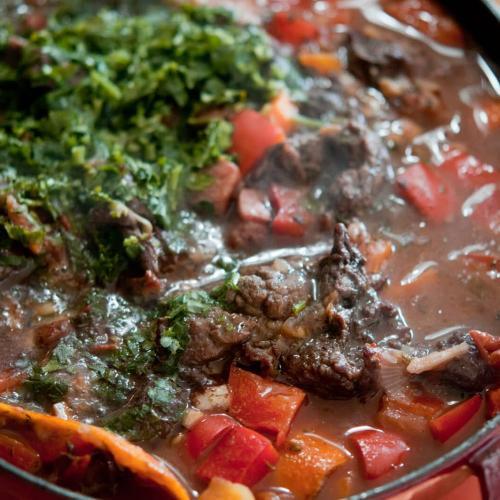 Niçoise Ratatoille - La Ratatouia Nissarda
The secret of a good ratatouille is to fry each vegetable separately before the onion and tomato are added. The talented cook obtains a mixture of tender vegetables and not oily mush. Prepare ratatouille in large quantities because it can be eaten hot or cold. Serve as a main course with meat or fish, a side dish, or an omelette. While ratatouille can be eaten cold, it is best reheated.
Check out this recipe

Mama Régine's Ratatouille from Cassis Bistro
Ratatouille is a delightful aromatic casserole. This bright and chunky summer vegetable blend will compliment any roasted or barbecued meat dish.
Check out this recipe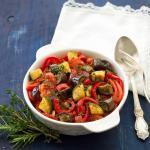 The Sweet Stuff
Galette des Rois (King's Cake)
A delicious cake filled with almond cream. Try this recipe for your next dinner party!
Check out this recipe

Tarte Tropézienne Recipe
Because the brioche rises overnight, allow two (2) days to make your Tarte Tropéziennes. I make the pastry cream and whipped cream while the dough rises on day two (2), so the project takes a bit of time management!
Check out this recipe

Pine Nut Tart (Tarte aux Pignons)
This recipe includes the pie crust, which is easy to make. However, if you would rather skip that step you can buy a prepared pie crust. If you like shortbread cookies, you will like this crust, and the sweet filling speaks for itself.
Check out this recipe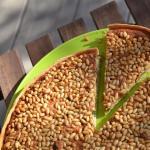 Swiss Chard Pie - Tourta de Blea - Tourte aux Blette Sucrée
This delicious dessert contains raisins, dry cheese, pinenuts, and apples. Enjoy! 
Check out this recipe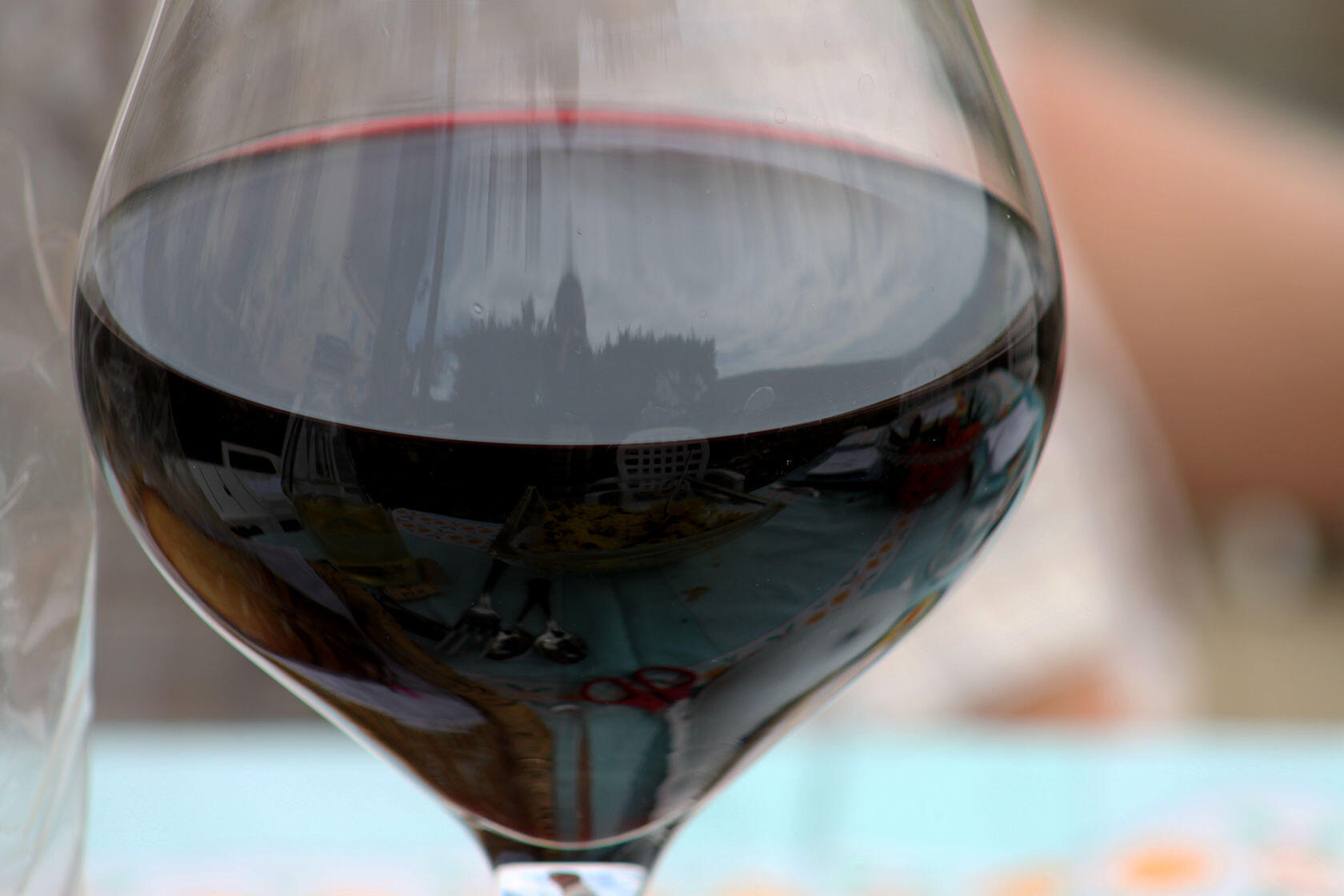 Wine Villages in the Rhône Valley
If you like French wine, there is a good chance that you have sampled some vintages from the Rhône Valley. Some vineyards in the southern Rhône are near the famous Mont Ventoux – PProvence'sgiant mountain. This article focuses on six (6) villages in the Côtes du Rhône wine region. These six (6) towns are only some of the 51 villages surrounding Mont Ventoux, each with a distinctive character. While these villages share the same geography and historical background, each town is unique and worth visiting.