Marseille Fish Soup – Soupe de Poisson
Marseille Fish Soup
~ Roger Verge
Nothing could be more Provençal than to eat a fish soup, whether it's in the form of bouillabaisse, bourride or this simple rustic soup. Marseille fish soup, or soupe de poissons as it's known, is something I crave all the time, the assertive flavors redolent with the very soul of Provence transports me back to the old port of Marseilles where I first tried it many decades ago.
The Body of the Fish has Gone. The Soul Remains.
Author Waverly Root writes at length about his frustrating search for an authentic fish soup in 'the Food of France'. He narrowed it down to a version served in Saint Tropez, 65 miles east of Marseilles, largely because of the addition of a local chemical green colored fish.  Finding the elusive fish was maddening "because the mistral had been blowing without a let-up during the whole period. This is supposed to discourage the fish, or at least some of the fish, which do not allow themselves to be caught in weather they feel unsuitable for the purpose. The effect of the mistral on the fish may be a legend, but the effect on the fishermen was observable. They preferred to stay ashore and play petanque…" Finally, on his last day in Saint Tropez he is blessed with not one, but two offerings of soupe de poissons.
Further, in Waverly Root's narrative, he provides a compelling argument as what should be the correct title. Soupe de poissons implies a soup with fish floating inside. "A dish providing soup and fish is not the genuine article, as the Riviera understands it. In soupe aux poissons, no fish is visible. It is there all right, but it has disappeared into the liquid. The body of the fish has gone. The soul remains. The fish is ground, crushed, pulverized, and then cooked until it has become liquid itself, and the soup is then strained to eliminate any telltale traces of the ingredients that provides its greatness."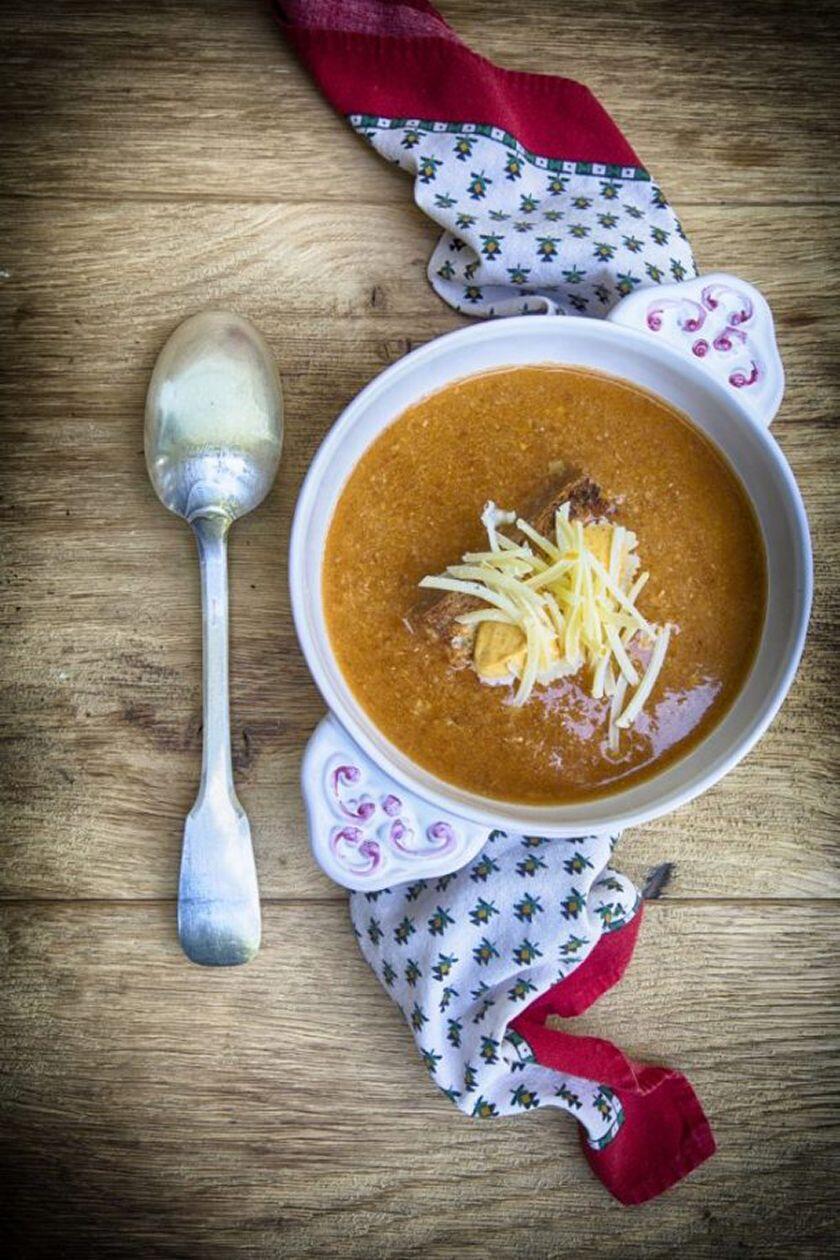 Marseille Fish Soup - Soupe de Poissons
You will want to make a big batch and freeze what you don't eat. Making fish soup at home can be a very messy, labor-intensive process. Trust me, you will thank me later for this advice. I usually make a few gallons and then freeze leftovers in quart sized mason jars ready to use at a moments call.
Ingredients
For the Soup Base:
1/2

cup

olive oil

2

Onions sliced

1/2

Bulb Fennel

chopped

6

Garlic Cloves

mashed

1

Hot Pepper

1

Bay Leaf

2

tsp

Saffron

1

Dungeness Crab

crushed

28

oz can

San Marzano Tomatoes

2

lbs

Fish Fillets

see note

Water

1/4

cup

Pastis
For the Rouille:
1/4

cup

Egg Yolks

3

tbsp

garlic

crushed

2

large pinches

Saffron

1

tbsp

Paprika

1/2

cup

Sriracha

Red Rooster Hot Sauce

3

tbsp

Red Wine Vinegar

2

cup

olive oil
Finishing the Soup:
1

cup

Rouille

16

Croûtons rubbed with garlic

1

cup

Grated Gruyère
Instructions
For the Soup Base:
Heat the olive oil in large, heavy gauge pot. Saute sliced onions and fennel until softened and translucent, about five minutes.

Add mashed garlic, hot pepper, bay leaf, saffron, and crushed Dungeness crab. Continue cooking till the pleasant aromas of garlic fill your kitchen and the crab shells begin to turn red.

Crush the tomatoes and add along with their juice, fish fillets and top with enough cold water to cover by an inch.

Bring to boil, then lower to a simmer for thirty minutes.

Strain your soup. Run all the solids through a food mill to extract every ounce of flavor. The body of the soup comes from what gets passed through the mill and is added back to the broth. NOTE: I generally discard the harder crab shells as they tend to get stuck in the food mill.
To make Rouille:
Puree everything except olive oil in a food processor.

Add oil slowly like you were making mayonnaise or aioli.

Taste and adjust seasonings as needed
Serving the Soup:
Adjust the seasonings and serve in heated bowls with grated Gruyère, croûtons, and plenty of rouille on the side. FLAVOR NOTE: Fish soup should be strongly flavored and assertive. There should be a slight heat, lots of saffron, and a touch of Pastis. If your broth is too thin you can thicken slightly with cornstarch though that is completely non-Provencal.
Notes
Fish: Make sure to use at least one fish that has some gelatin in it. I use rockfish from the Pacific Northwest to give the soup the body it needs.Rouille: There are a million variations of rouille. The version listed below will give you the same flavors found at most restaurants serving rouille. Remember, people eat results — not methods. I sometimes add some boiled potato for adding body. In the end, whisk in a touch of your fish soup to give more flavor to your rouille. Make a big batch of rouille and try eating it with almost everything you can imagine — vegetables, cold roast pork, chicken, on sandwiches.