Make the Perfect Salade Niçoise
A debate is raging over what constitutes a "correct" salade Niçoise. To the purists, the rules are clear: no vinegar, no lettuce, no fresh tuna, and no boiled vegetables, like potatoes or green beans. If you add any of these, you will be labelled as a heretic and sent to hell for your sins. To everyone else, any additions are fair game. And so the war rages on between the classicists and the non-conformists.
Like many traditional recipes from Provence, and in this case, Nice, this salad came from humble beginnings. Today, salade Niçoise is served worldwide, but many of these salads have little to do with traditional roots. The Niçoise salad began appearing on menus in the late 1800s after Nice finally became part of France.
The Cuisine Nissarde label was established in 1995 by Cercle de la Capelina d'Or. Madame Renee Graglia was the organization's president at the time. Today, Nice Tourism awards the label to restaurants that meet several criteria, including cooking three traditional recipes and using local products. Read more here.

Salade Niçoise
My version of this meal-sized salad from Nice for the purists and the rest of us.
Ingredients
4

Ripe Tomatoes

sliced

Sea Salt and Freshly Ground Black Pepper

1

Green Bell Pepper

seeded and cut into thin strips

8

Radishes

trimmed and thinly sliced into rounds

1

Seedless Cucumber

peeled and thinly sliced into rounds

8

Oil-packed Anchovies

8

oz

Canned Tuna packed in olive oil

1/2

cup

Pitted Niçoise or Kalamata Olives

10

Fresh Basil Leaves

shredded

4

Hardboiled Eggs

peeled and cut in half

1/4

cup

Extra-Virgin Olive Oil

2

Romaine Hearts

bottoms trimmed and separated into leaves

8

New or small Waxy Potatoes

boiled until tender and cooled

24

Green Beans

blanched until crisp-tender and cooled

1

cup

Celery

chopped

1/2

cup

Fava Beans

shucked and blanched

4

Artichoke Hearts

cooked and cut into 4
Instructions
Arrange the tomatoes on a large platter. Season them with salt and pepper to taste. Over the tomatoes, arrange the bell pepper, radishes, cucumber, anchovies, tuna with the oil, olives, and basil in that order. Decoratively arrange the hardboiled eggs around the salad and drizzle with olive oil.

Now that you have made a purist's version of Salade Niçoise, to make it as you would like, divide the romaine, potatoes, green beans, celery, fava beans, and artichokes onto 4 plates. Serve with the purist's version as an optional topping.
Notes
TIP: I'll leave you with two last thoughts: It's virtually impossible to mess this salad up, and rules are meant to be broken. Add whatever you'd like to it—it will be fantastic no matter what.
---
This recipe appears in French Cooking for Beginners, which includes chapters on Parisian Home Cooking 101, Breakfast & Eggs, Main Courses and Desserts. The first section, Cuisine à la Maison, provides a list of essential ingredients found in a French pantry. There are also details on key equipment and a quick guide to French wines. The other chapters contain delicious recipes arranged in an easy to read fashion along with cooking tips. Antidotes from tasty memories are sprinkled liberally like icing sugar. Here is the review of this cookbook.
---
More Niçoise Favourites
Salade Niçoise
A lovely collection of fresh potatoes, tomatoes, olives, beans, herbs, and tuna on a delightful bed of crisp green lettuce dressed with a light and tangy vinaigrette and anchovy filets.
Check out this recipe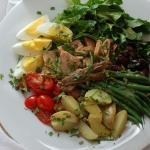 Warm Salad Nicoise from Provence
This warm salad is quick to prepare for lunch or a light dinner. Serve with some crusty baguette. For a larger crowd, simply double the quantities.
Check out this recipe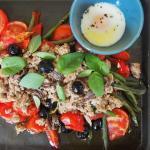 Niçoise Salad
What is a true Niçoise salad? An authentic Niçoise is made with raw vegetables; only the eggs are cooked. You have anchovies or tuna, never the two. This salad can be a complete meal with some good bread and a glass of rosé!
Check out this recipe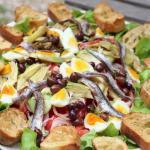 Pan Bagnat (a Niçoise Tuna Sandwich)
This sandwich is often described as salad Niçoise on bread. It's delicious, quick to make and best consumed right away. (Photo by David @Cocoa&Lavender)
Check out this recipe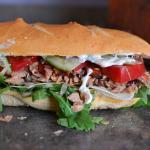 Pan Bagnat
This sandwich is quick to prepare and versatile. Add any extra ingredients that you like and enjoy a taste of the French Riviera in every bite.
Check out this recipe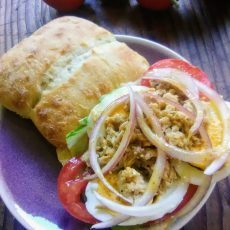 All rights reserved. Perfectly Provence articles and other content may not be published, broadcast, rewritten (including translations into other languages) or redistributed without written permission. For usage information, please contact us.
Syndication Information
Affiliate Information
As an Amazon Associate, this website earns from qualifying purchases. Some recipes, posts and pages may have affiliate links. If you purchase via these links, we receive a small commission that does not impact your price. Thank you in advance for supporting our work to maintain Perfectly Provence.