Provencal Chickpea Soup Satisfying for Everyone
Last spring, during the COVID-19 pandemic, we were all craving warm, comfort food. This Provencal Chickpea Soup seemed the perfect answer to the strange environment we were suddenly facing. Also known as Fourmade, it is at its very core a hearty soup made by impoverished people to provide an inexpensive and healthy filling meal. This soup is surprisingly rich and luxurious tasting. Once you make the basic recipe, try embellishing it with leeks, chickpeas, grated Parmesan, cooked rice or even croutons fried in olive oil. My inspiration for this delicious creation came from two sources: Soupo de Cece (from Chef J.B. Reboul) and Marcella Hazan's version (see note below).  Suitable for vegetarian, vegan and gluten-free diets, the recipe ingredients are few, and you can play with additional toppings.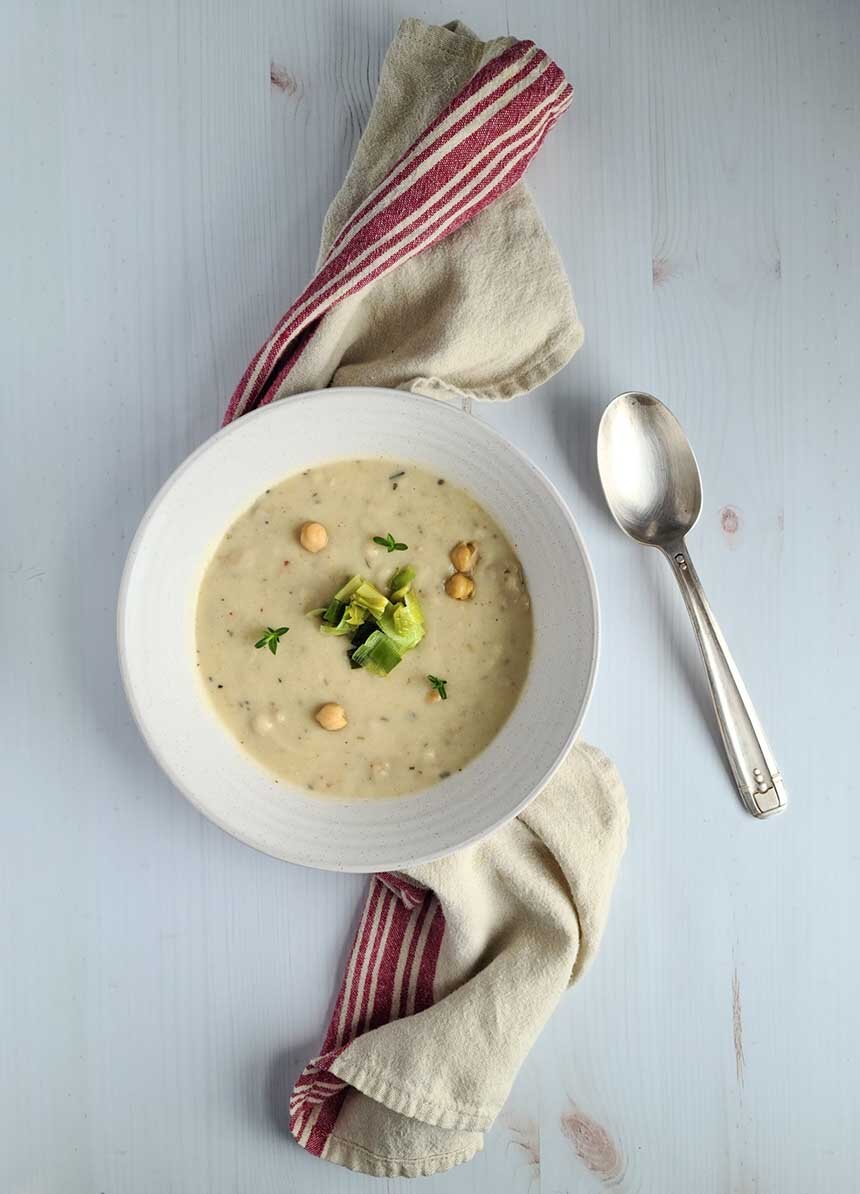 Provencal Chickpea Soup (Fourmade)
Easy to master: Provencal chickpea soup is so surprisingly rich and luxurious tasting that even my 9-year-old son is convinced it has cream.
Ingredients
1

cup (128g)

Chickpea Flour

2

quarts (1.9L)

Cool Water

8 cups

1

tsp

Herbes de Provence

2

tsp

Cumin

1

tsp

Aleppo pepper or Espelette

(or nothing)

2

tsp

Flaked Sea Salt

1/2

tsp

Black Pepper

1/4

cup (60ml)

Olive Oil
Optional ingredients:
2

Leeks

washed well and diced

2

tbsp

Olive Oil

15

oz (425g)

Canned Chickpeas
Instructions
Put chickpea flour, water, herbes, cumin, Aleppo, salt, pepper, and oil into a blender and blend until smooth, about 15 seconds.

Pour the contents into a Dutch oven and heat slowly over low to medium heat until hot, about 30 minutes, stirring often. Adjust seasoning to your taste.
Optional Additions:
For the leeks, slowly cook washed leeks in olive oil over a low flame at a grandmotherly pace until they almost melt, about 30 minutes. Add to soup.

For the chickpeas, open can and add both the liquid and the chickpeas.
Notes
Tip: Use a whisk to stir the soup to keep it from scorching on the bottom. There is nothing worse than eating gritty leeks, but I learned a trick for easily cleaning them. Dice the leeks and cover them with cold water in a large bowl. Add 1 tablespoon of salt and agitate the water. The salt acts as an abrasive, and the dirt and sand will settle to the bottom of the bowl. With a slotted spoon, scoop the leeks out of the water. Do not pour the leeks and water through a strainer because you would just be pouring the sand back over the leeks.
Marcella Hazan Version: In her lovely book, Marcella Cucina, Marcella offers a simple variation made without chickpea flour. Simply slowly cook leeks, add cooked chickpeas and water and simmer until done. Puree a few ladle fulls of soup and add back to the broth. Finish soup with grated Parmesan and black pepper.
Other Soup Recipes from Provence:
Marseille Fish Soup – Soupe de Poisson
Butternut Squash Soup with Mushrooms and Hazelnuts
All rights reserved. Perfectly Provence articles and other content may not be published, broadcast, rewritten (including translations into other languages) or redistributed without written permission. For usage information, please contact us.
Syndication Information
Affiliate Information
As an Amazon Associate, this website earns from qualifying purchases. Some recipes, posts and pages may have affiliate links. If you purchase via these links, we receive a small commission that does not impact your price. Thank you in advance for supporting our work to maintain Perfectly Provence.