Top-quality Restaurants on the French Riviera and Beyond
The following list of top restaurants on or near the French Riviera is not extensive, and these are not all Michelin-starred, but they are all exceptional. Book a table!
Restaurants and Michelin Stars
The first Guide Michelin appeared in 1900 when bicycles greatly outnumbered cars on the French roads. It was a brilliant marketing plan by André and Édouard Michelin, brothers and owners of the tire manufacturing company. Their idea was to increase demand for cars and specifically tires by encouraging French drivers to get out on the road and drive, maybe to a restaurant or hotel. At first, the guidebook was offered for free, and it included useful tips for car travel, including mechanics, gas stations and maps.
Starting in 1920, the Michelin Guide was no longer free; it cost seven francs. The idea of awarding stars to restaurants began in 1926. By 1936 the ranking system of one, two, or three stars was established and remains as follows:
1 Star: A very good restaurant in its category. (Une très bonne table dans sa catégorie)
2 Stars: Excellent cooking, worth a detour. (Table excellente, mérite un détour)
3 Stars: Exceptional cuisine, worth a special journey. (Une des meilleures tables, vaut le voyage).
Acknowledging that many restaurants serve "Exceptionally good food at moderate prices," the company began publishing the Bib Gourmand in 1955.
The Mirazur in Menton
Hungry for gorgeous Mediterranean sites? Mirazur has three Michelin stars and unrivalled views of the French Riviera with the mountains as a backdrop. Chef Mauro Colagreco draws inspiration from nature, creating some of the tastiest vegetables. His San Remo prawns infused with delicate rose alone, or the quinoa risotto topped with woodland mushrooms and parmesan cream, maybe the reason the Mirazur earned its third Michelin star.

Joel Robuchon at the Hotel Metropole in Monte Carlo
A mural from Karl Lagerfeld, cocktail-infused dinners, and alfresco lunches- three things you'll find at chef Joel Robuchon's restaurant. Food lovers can't stop raving about the French haute cuisine on the menus, perhaps the most popular being Mediterranean dishes like the Octopus Salad as well as desserts from the famed trolley. Visitors can also look forward to a front-row view of parts of the legendary Grand Prix circuit, provided the time is right. Read more about this luxury hotel here.
La Chevre d'Or in Eze
No other restaurant on the French Riviera can compete with the romantic ambiance of La Chevre d'Or. Located on a high cliff in the medieval town of Eze, Chef Arnaud Faye draws inspiration from the rocky foothills of Mercantour to the crystal-clear waters of the Mediterranean Sea. Creating authentic dishes, like the raw and cooked figs infused with marigold, magnifies such a unique setting's contrasts.
La Chevre d'Or is one of many reasons to visit Eze.
Restaurant JAN in Nice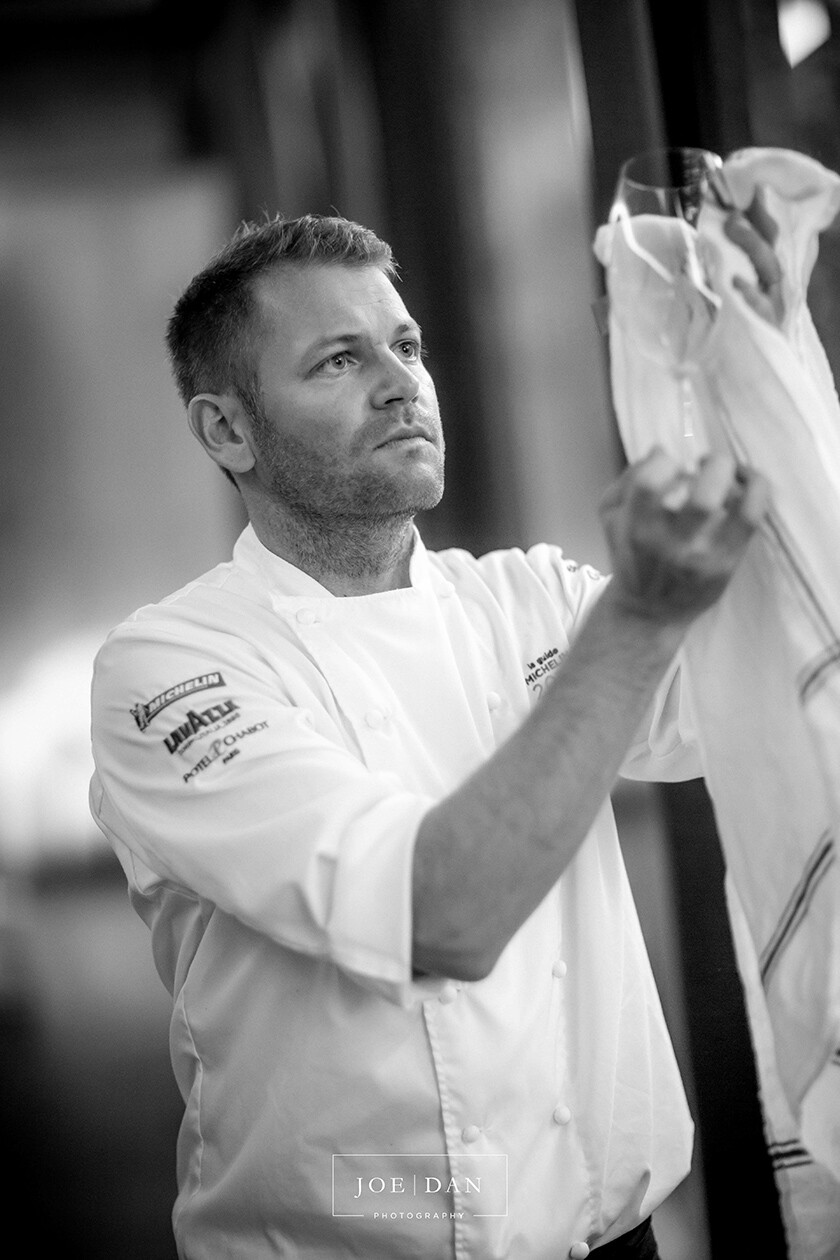 Restaurant JAN is where French and South African cuisine come to play in Chef Jan Hendrik's capable hands. After tasting melktert and biltong, you'll understand why this dining room earned its first Michelin star in 2016 only three years after opening. Every dish is placed in front of you like a work of art, taking your taste buds on an exciting journey. One where you don't have to pick just one meal, Jan offers a tasting menu paired with custom white wines of Chenin Blanc, Roussanne, or Verdelho and reds of Shiraz, Mourvèdre, or Grenache. You won't be disappointed.
Langoustine Cannelloni with Poached Naartjie Beurre Blanc
This recipe has a few steps, although none are too complicated. You need to make sure there is enough time to freeze the cannelloni thoroughly before cooking, so best done the day before. Enjoy the combination of citrus and shellfish.
Check out this recipe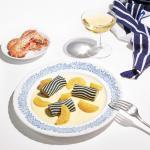 Le Chantecler at the Hôtel Negresco in Nice
Chef Jean-Denis Rieubland's restaurant artfully combines old-fashioned elegance, exceptional service, and modern culinary innovation. Found on the ground floor of Hôtel Negresco, the pink regency dining room with glittering chandeliers offers the perfect setting to experience French cuisine right in the epicentre of Nice. You'll love the contemporary twist on classic French and Mediterranean dishes. An in-house sommelier personally chooses a wine to accompany each six-course meal. If you're looking for something different, the chef's 'Surprise Menu' is up to challenge.
For over a century the striking Hotel Negresco has been the favourite holiday destination for celebrities, royalty, millionaires, and politicians. This magnificent belle-époque building, instantly recognizable by its pink domed roof, stands proudly on the promenade des Anglais in Nice. The hotel celebrated its centennial in 2013. Five centuries of French history are visible (in the art and furnishings) in its fine suites, where portraits of Kings and Queens rub shoulders with more contemporary works by Sosno, Dali, Gruau, Moretti and Nike de Saint Phalle.
La Rèserve in Nice
Locals say La Rèserve is the best place to catch the sunset. You'll no doubt love the breath-taking sunset and the impressive view of the Baie des Anges, overlooking the sea. You can choose to have your meal inside the restaurant, with its large bay windows, or eat at the terrace for a more open view of the surroundings. Chef Jérôme Cotta prepares every meal, as he puts it, with delicacy. Shining a light not only on the local fishermen's catch of the day but also fresh vegetables and other Nice specialties.
Right next door is Le Plongeoir Restaurant, which is also worth a visit.

La Colombe d'Or in Saint-Paul-de-Vence
La Colombe d'Or is one of the French Riviera's mythical addresses, with a stained-glass dove sign and shades made of olive as well as fig sheltering the sandstone patio. At first glance, you'll think it a simple rustic inn, but the combination of Provençal dishes and French classics quickly shatter the illusion. Enjoy Chef Paul Roux's most popular steak dish with gratin dauphinoise, burgundy snails, and chocolate cake.

Le Cap in Saint-Jean-Cap-Ferrat
Michelin-starred chef Yoric Tièche heads the kitchen of Le Cap and Club Dauphin and the patio restaurant La Veranda. He's an established wizard at injecting the modernity of Mediterranean food into traditional Provençal dishes. A fan favourite is Scorpionfish in a spicy sea of baby veggies and bouillabaisse. For dessert, the Tarte Tropezienne- a flaky round pastry with orange blossom-infused cream and pistachios.
Unless you are a regular visitor to the world's top hotels, you may be a bit intimidated walking into the bar at the Grand Hotel du Cap on St-Jean-Cap-Ferrat and ordering a drink at Le Bar.
Steeped in luxury with attention to every detail, the Grand Hotel du Cap, a Four Seasons resort on Saint-Jean-Cap-Ferrat is world-class. It has been host to stars, diplomats and the filthy rich for a very long time, from Charlie Chaplin and Winston Churchill to Queen Victoria, Oprah and Paul McCartney, just to name a few.
The original curved lobby, designed by Gustav Eiffel, still looks out on the Mediterranean, but the hotel has been exquisitely updated by the world-renown interior design firm, Pierre-Yves Rochon, with stairs leading off both sides of the curved glass windows down to the 100-year-old pine-covered veranda, and the lush gardens of this magnificent hotel. New rooms and suites have been added, as well as the luxurious spa with a lap pool, steam rooms, sauna, and an ice fountain (cool).
La Palme d'Or at Hôtel Martinez in Cannes
Celebrate the simple pleasures of the South of France at La Palme d'Or. Boasting two Michelin stars, it's quite clear you can only expect the best from Chef Christian Sinicropi. He'll serve his daring and inventive dishes made of one ingredient- either lobster, oyster, lamb, or pigeon- cooked in three different ways, in the enchanted setting on the Bay of Cannes at the Hôtel Martinez.
La Vague d'Or in Saint-Tropez
Experience dishes prepared by the master alchemist of flavour and taste- Chef Arnaud Donckele. A dazzling collection of curated menus and the inhibited sunbeams on the terrace will leave anyone breathless. Indulge in the timeless classics of Au Fil du Temps and relish in the gourmet palace of Balade Epicurienne. And once you have the turbot cooked in salt, seaweed, and lime peels, you'll no doubt petition for the establishment to receive its fourth Michelin star.
Worth the drive
Le Candille in Mougins
Check out the international gastronomy festival in Mougins, which runs from September 27 to 29 annually. The town has over 48 restaurants and a strong emphasis on fine dining. Start your culinary journey with Michelin-starred Chef Basile Arnaud dishes at Le Candille.
La Bastide de Moustiers
La Bastide de Moustiers is a luxury creation by renowned French chef Alain Ducasse. The previously, non-descript farmhouse outside of Moustiers Sainte Marie was transformed into a 5-star inn with a gourmet restaurant. The property includes an extensive kitchen garden (potager) from which the Ducasse culinary team creates an ever-changing menu that offers a tantalizing surprise for every season.

Head to Aups for truffles
The traditional market days in Aups are Wednesday and Saturday mornings throughout the year. During the black truffle season, from November to February, there is a Thursday morning market. On the fourth (4th) Sunday in January the Fete de la Truffe Noire d'Aups – is a festival surrounding the black truffle. The musty aroma of black fungi permeates the village. The festival includes a truffle market along with other local Provencal culinary delights.
Make time to visit the Maison de la truffe in Place Martin Bidouré. Dedicated to all things truffle, this space includes a shop, museum and discovery area.
Truffles are one of the many reasons to visit Aups.
Le Petit Nice
Gérald Passedat is the third generation of his family to place his golden tongs in the business. He officially took over the hotel and restaurant in 2000 from his father Jean-Paul who was both a hotelier and opera singer. Building on his father's legacy (2 Michelin stars) Gérald Passedat's kitchen achieved a 3rd Michelin Star in 2008. The restaurant at le Petit Nice is the perfect place to go for a special occasion. The cantilevered dining room contributes to the impression that you are floating on blue water through your divine meal. The table service at le Petit Nice is nothing short of fluid perfection. Everything on the menu is carefully designed to give you a gastronomic experience like no other.

The chef has a couple of signature dishes (Loup Lucie Passedat and his Bouille-abaisse) that acknowledge the bounty of products readily available in the Mediterranean basin – from both land and sea – "100% Mediterranean." Gérald Passedat says he was named after a figure in Lakmé an opera by Léo Delibes. With all the moving parts at le Petit Nice and his other culinary pursuits perhaps the musical reference is suitable. Read more here and here.
Bouillabaisse Terrine by Gérald Passedat
A Michelin-starred chef variation on the Marseille classic.
Check out this recipe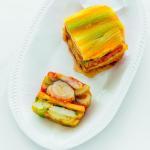 Gérald Passedat's Ratatouille My Way
"Ratatouille My Way" is from Gérald Passedat's new cookbook Flavors From The French Mediterranean. Ratatouille is a classic Provencal recipe that uses ingredients readily found in the region (tomatoes, zucchini, onions, eggplant).
Check out this recipe