Provencal Daube Lamb Stew with Côte du Rhône Wine
This red-wine version of  Provencal Daube Lamb Stew is from Marie-Helene's kitchen at Remember Provence. The owners of the online made-in-Provence boutique, use only seasonal ingredients and traditional handcrafted pottery from the region for cooking. They feel this combination produces the best culinary results. Daube is a slow-cooked wine stew in Provence. In this case, Avignonnaise daube is the Provencal culinary match to beef Bourguignon. The daube is slow-cooked in a traditional earthenware daubiere handcrafted in the village of Vallauris.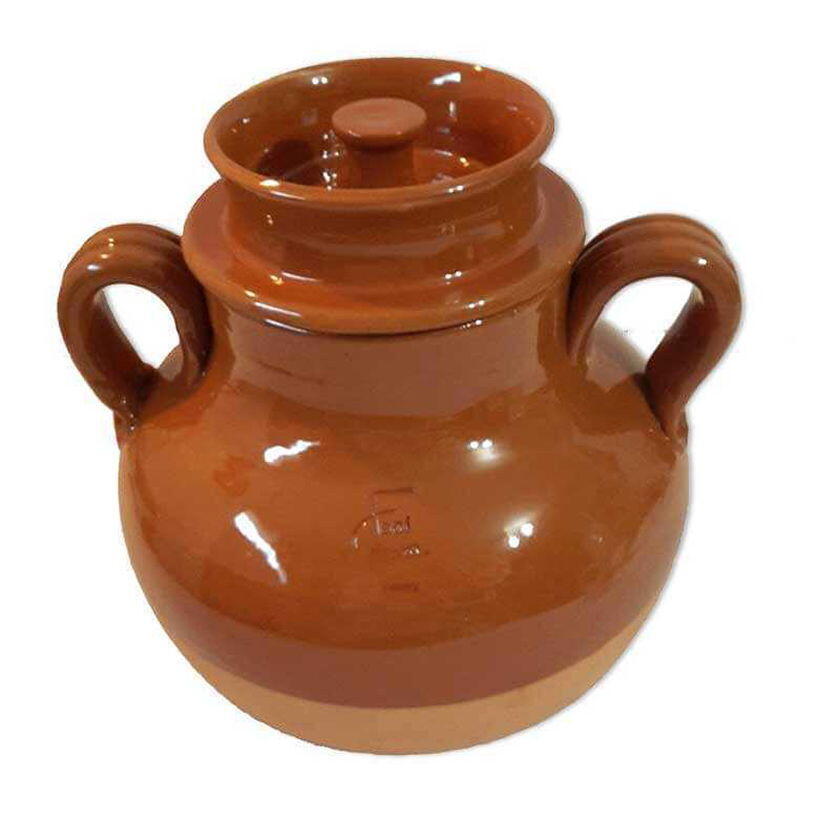 The specific pear-shaped design of a daubiere creates a traditional slow-cooker. The terracotta pot is large enough to hold all the ingredients (meat, vegetables, spices and wine) for the recipe. Similar to a casserole dish, a daubiere has a broad base, but then it narrows at the neck to retain the moist heat from the vegetables. There are piercings in a daubiere's lid allowing steam to escape and liquid marinade to enter slowly.

Lamb Stew a Daube with Côte du Rhône Red Wine
A Provencal daube is like most stews, easy to prepare and best if left to cook slowly for a long period until the meat is tender.
Ingredients
1

Leg of Boneless Lamb

minimum 1.5 kg (3.3 lbs)

200

g (7 oz)

Bacon lardons

* cut in small pieces

200

g (7 oz)

Pork rind **

see below

200

g (7 oz)

bacon bard

*** see below

100

ml (3.5 oz)

olive oil

per 1 litre of wine

1/2

litre (2 cups)

Red wine

Côte du Rhône

4

Carrots

4

Onions

6

Garlic Cloves

1

sprig of

Thyme

2

Bay Leaves

3

sprigs of

Parsley

1

Celery stalk

1

Orange

for zest
Instructions
Prepare the marinade with the wine, olive oil, 2 sliced ​​onions, 4 cloves of garlic, and the herbs.

Cut the lamb leg into large cubes of about 90 g (3 oz).

Pierce each piece of bacon. Allow the meat to marinate for at least 2 hours.

Chop the 2 onions and crush 2 cloves of garlic.

Cut some coarse orange zest. Cut the remaining rind. Blanch together in a pan.

Arrange the bards of bacon, the pieces of meat in the bottom of the daubiere, then cover with minced onions, then spices and so on alternating layers. One each layer, season very lightly (beware of salt already present in bacon).

Arrange the orange peel in a bouquet garni in the center of the preparation.

Filter the marinade with a sieve and pour over, taking care to reserve the equivalent of a large glass to pour on the daubiere lid after covering. Cover with bacon bards before closing with the lid.

Cook over low heat, simmering for 5 hours.

When there is no more marinade on the lid, the stew is sufficiently cooked, but you can still allow it to simmer without fear.
Notes
Note: The daube can also be cooked in the oven or in a fireplace as they did in ancient times, but no direct flame as that would crack the ceramic. A daubiere is designed to work in a medium-heat oven.
* bacon is the French "lardons" - small rectangular pieces of pork ham with some white fat in them. They're often smoked. In North America, use bacon strips and cut in pieces
** Pork rind is what we call "couenne" in French, which is the skin of the animal with the white fat part attached to it. Often called pork scratchings.
*** bacon bard is a thin slice of white fat that can surround a piece of meat to give more flavour.
I'm not sure how the Canadian or American butcher sell these specific parts of pork, even if they sell them. In France, butchers do, but you won't find this at the supermarket.
Other Recipes for Provencal Daube:
A Spicy Twist on Daube à la Provençal