Soupe au Pistou a Summer Soup from Nice, France
While we often think of soup as a cold-weather dish, some recipes bridge the seasons perfectly. Filled with vegetables and legumes, la soupe au pistou is one such dish. In Nice and traditional Cuisine Nissarde pistou soup is a summer dish. A mix of seasonal vegetables, potatoes and beans cook in a light broth and served with pistou – an uncooked sauce of fresh basil, garlic, olive oil and parmesan. In summer, serve la soupe au pistou with more broth for a lighter meal.
Pistou vs Pesto
While pistou has similar ingredients to Genovese pesto, there is a distinct difference there are no pinenuts in pistou. The Italian version always has seven (7) ingredients: basil, olive oil, pinenuts, parmesan and pecorino cheeses, crushed garlic and salt. Both versions are cold sauces, never cooked as that would change the bright, tangy flavour.
In France, pistou is the name of the sauce and not the basil, which is lou balico in Niçois.  Traditionalists would never use a blender or food processor but make this sauce by hand using a mortar and pestle. So that might also explain the word pistou, which comes from the verb pista and means melanger (to mix), and malaxer (to knead).
With the permission of the Office de Tourisme Métropolitain Nice Côte d'Azur, we have translated the following recipe for pistou soup. Like many soups, there are thousands of variations of la soupe au pistou, and most likely, the one you love most is your mother's or grandmother's recipe. The following recipe comes from Carnets de cuisine du Comté de Nice, a cookbook (in French) that you can purchase the book online at Amazon or at the Office de Tourisme Métropolitain Nice Côte d'Azur.

Soupe au Pistou
A delicious soup in the middle of summer with lots of broth is surprisingly refreshing. Important: Pistou should never be cooked. It should be added to the soup as a finishing touch for flavouring before serving once the pot is off the heat.
Ingredients
For the soup:
2

Carrots

1

Turnip

2

Potatoes

2

Tomatoes

150

g

White and/or Pink Beans

white navy beans or cannellini beans *see note

100

g

Green Beans

1

sprig of

Celery

4

round

Zucchini

courgettes de Nice

2

Leeks

green tops and root cut off

1

medium

Onion
For the Pistou:
20

fresh

Basil Leaves

3

Garlic Cloves

100

g

Grated Cheese

parmesan or sbrinz

7 to 8

tbsp

Olive Oil

Salt and Pepper
Instructions
To make the soup:
Clean your vegetables carefully. Peel the carrots, potatoes and turnip, but leave the skin on the zucchini (courgettes).

Shell the beans and soak them if necessary.

Cut the carrots, turnips, zucchini and potatoes into small cubes.

Boil the tomatoes to peel the skin and then crush them into large pieces.

Cut the leeks into thin strips and chop the onion.

In a large stockpot dish, cook the leek, onion and a crushed garlic clove in olive oil over low heat.

As soon as the onions and leeks become transparent, add all the vegetables except the beans and tomato. Cook for 5 minutes on low heat, stirring as necessary with a wooden spoon.

Pour in as much salted water as possible, add the beans and bring to a boil. Then lower the heat, cover and simmer for 1 hour.

Fifteen minutes before the end of the cooking time, add the tomatoes.
To make the pistou:
Use the pestle to crush three garlic cloves in the mortar.

Add the chopped basil leaves and continue to grind the mixture. When the garlic and basil are well blended, add the oil and grated parmesan and mix until you have a delicious sauce. If the pistou is too thick, you can add a small amount of hot stock to make it more liquid.

When serving, everyone should add a drizzle of raw olive oil before mixing with the pistou. Pour the pistou into the soup once it is off the heat or directly into the bowls. Stir and enjoy immediately.
Notes
*The traditional recipe calls for cocos blancs or roses écossés; a white kidney bean is a bit too big. Soak the beans for at least 2 hours before cooking if the beans are dry.
Variations:
Older families in Nice liked to add 2 oz of macaroni and/or 7 oz of beans.
Add some chopped green cabbage.
Additional Soup Recipes:
Chilled Tomato Gazpacho Soup
Tomatoes, peppers, onions, and more blended together. You will need a good blender, a sieve and some patience but otherwise, this is such an easy recipe. No cooking required!
Check out this recipe

French Onion Soup
Bring a taste of Paris to your home dining experience. Bon appétit!
Check out this recipe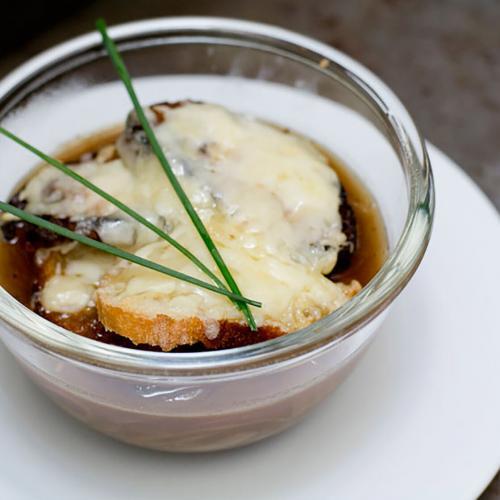 White Bean Soup
This soup is ideal for a dinner party as it can be made ahead. Heat it through at the last moment and serve with toasted country bread.
Check out this recipe

Provencal Chickpea Soup (Fourmade)
Easy to master Provencal chickpea soup is so surprisingly rich and luxurious tasting, that even my 9-year-old son is convinced it has cream in it.
Check out this recipe