Our List: Museums and Places to see Art in Provence
Where to See Art in Provence
In a place that inspired so many famous artists, including Paul Cezanne, Vincent Van Gogh, Pablo Picasso, Henri Matisse, and Nicolas de Stael, among countless others, there is no lack of opportunities to see art in Provence. We have compiled a list of places to see permanent and temporary collections. Please note this guide is far from comprehensive. We have included museums, galleries, and other regional venues. Listed by city or town in alphabetical order, these are some of the places where you can see artwork in Provence.
---
Aix-en-Provence: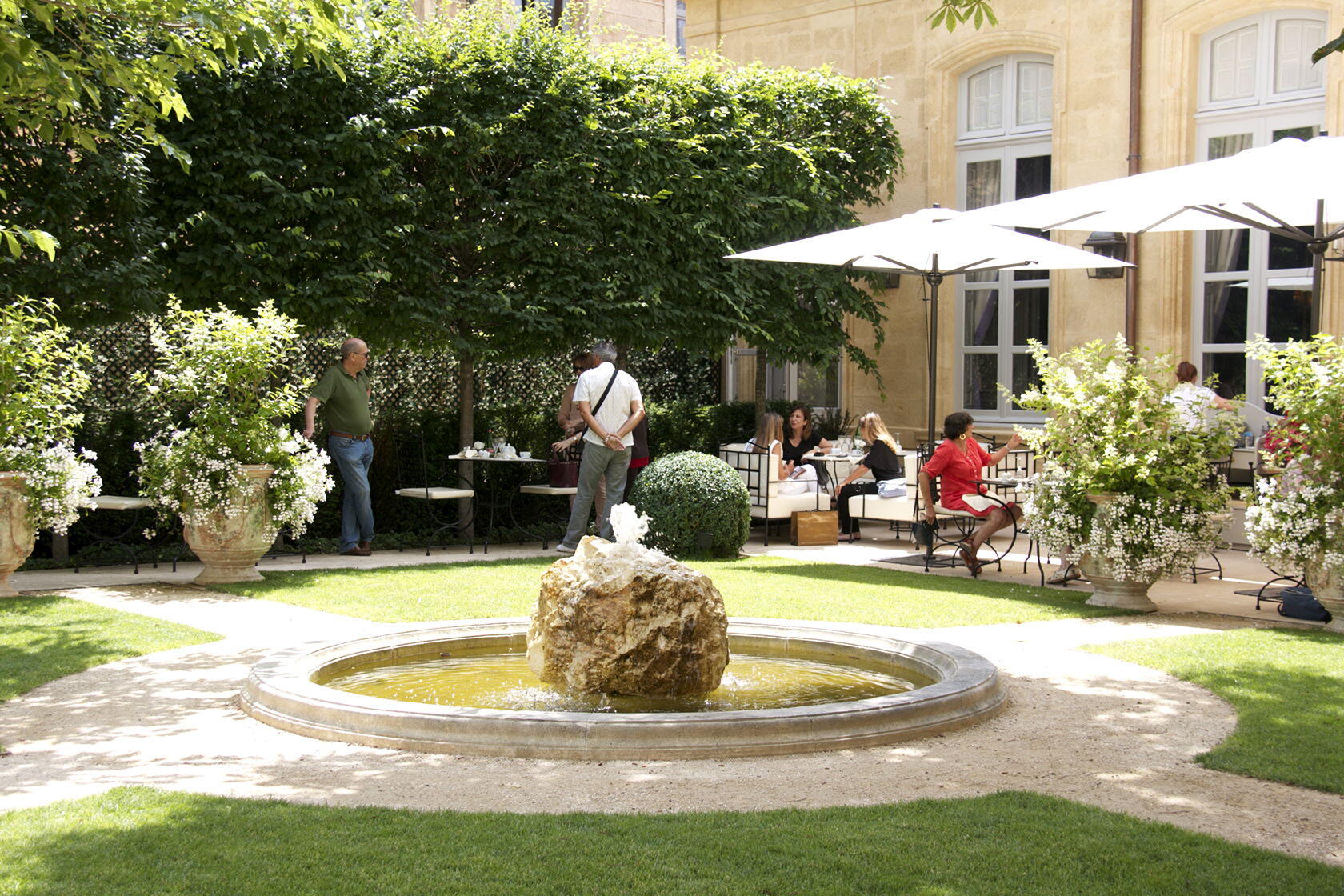 Hôtel de Caumont was reincarnated as a public art centre in the Culturespaces portfolio. The doors to the Caumont Centre d'Art opened after 26.6 million Euros (10 million for land acquisition and 12.6 million for construction) and an 18-month restoration project. The attention to detail and historical relevance are unmistakable in each of the rooms refurbished under the direction of Mireille Pellen (Achitecte du Patrimonie). Whether you go to see the latest exhibition or not, Hôtel de Caumont is like stepping back in time, and it is a lovely place for lunch or a drink.
Hôtel de Caumont
3 Rue Joseph Cabassol,
13100 Aix-en-Provence
Open daily
Musée Granet, a fine arts and archaeological museum, is in the building previously used by the Priors of St. John of Malta. The museum is home to only a few paintings by Cézanne, drawings, and engravings, including The Bathers (1865) and The Portrait of Zola (1863). The museum, adjacent to the Church of Saint-Jean-de-Malte, first opened in 1838 in buildings previously belonging to the priory of Saint-Jean-de-Malte. It still shares a common garden with the church.
In addition to its Cézannes, the Musée Granet also exhibits 600 paintings, sculptures, and archaeological artifacts, including paintings from the 17th-century French school, as well as paintings by Giacometti, Picasso, Léger, Klee, de Staël, and collections from the French, Italian and Dutch painters like Rubens and Rembrandt.
Musée Granet
Place Saint Jean de Malte
13100 Aix-en-Provence
Closed on Mondays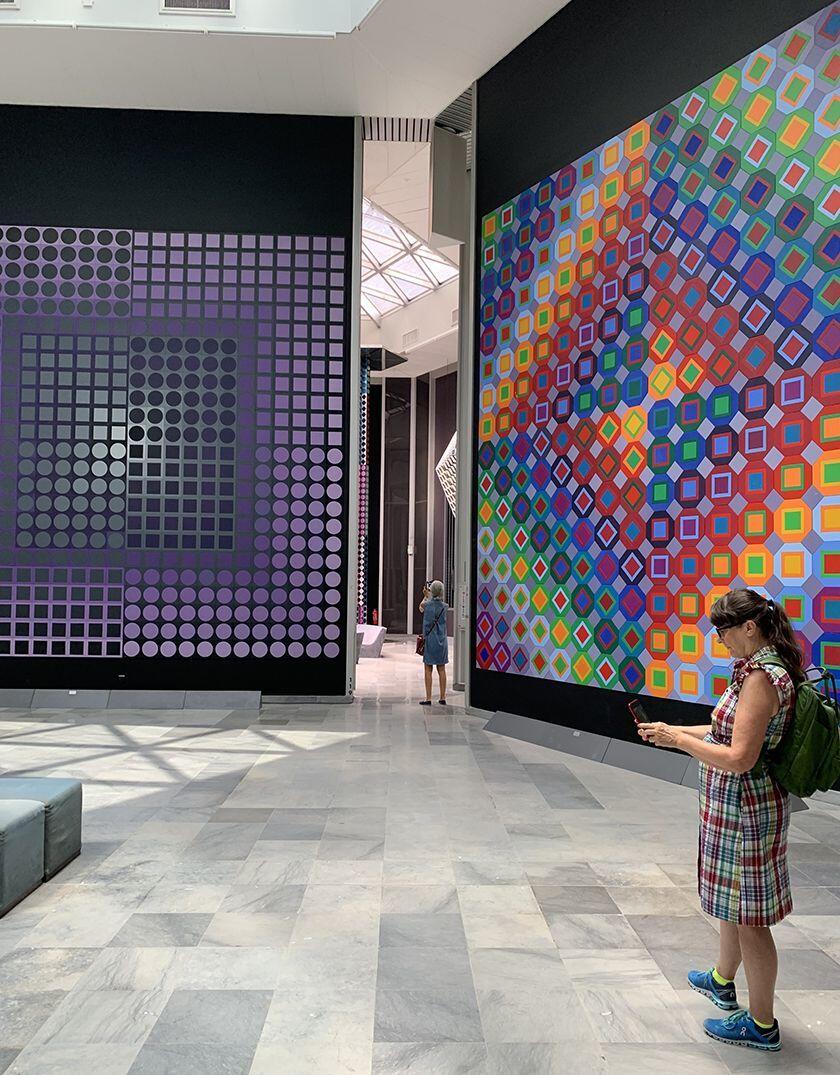 Fondation Vasarely, a contemporary glass structure with black and white cubes, is visible from the Autoroute A8. The building sits on a rise on the outer edge of Aix-en-Provence. Designed by the artist himself, the gallery space was inaugurated in 1976. Sadly, capital building improvements such as temperature controls and roof repairs were delayed for many years due to a lack of funds. In recent years the Fondation Vasarely had an infusion of funds for much-needed building infrastructure. There are 42 monumental works of Victor Vasarely on display and some smaller installations. The Fondation is well worth a visit.
Fondation Vasarely (website)
Open daily 10h-18h
Jas de Bouffan
13096 Aix-en-Provence
Telephone: +33 (0)4 42 20 01 09
Parking is available onsite
Audio guides are available for a small charge
Guided tours can be arranged in advance
---
Arles:
Fondation Vincent Van Gogh is a small museum that supports the famous artist's impact on the region. Imagine arriving in Provence for the first time on February 20, 1888, after two years of struggling to make a living in Paris. For Vincent van Gogh, who grew up in Holland with its muted colour palette and luminosity, Provence's radiant light was a stark contrast. Some might say this profound change spurred his creative abilities to obsessive reaches. During his two years in the South of France, van Gogh produced over 200 paintings and many drawings. The Fondation does not have a permanent collection of the artist's work but exhibits pieces from other museums, including the Van Gogh Museum in Amsterdam. Temporary shows have featured artists such as David Hockney, Alice Neel, Pablo Picasso and others.
Fondation Vincent Van Gogh
35 ter, rue du Docteur-Fanton
13200 Arles
Book your tickets online.
Open daily from 10 am to 6 pm
Last admission at 5:15 pm
Telephone: +33 (0)4 90 93 08 08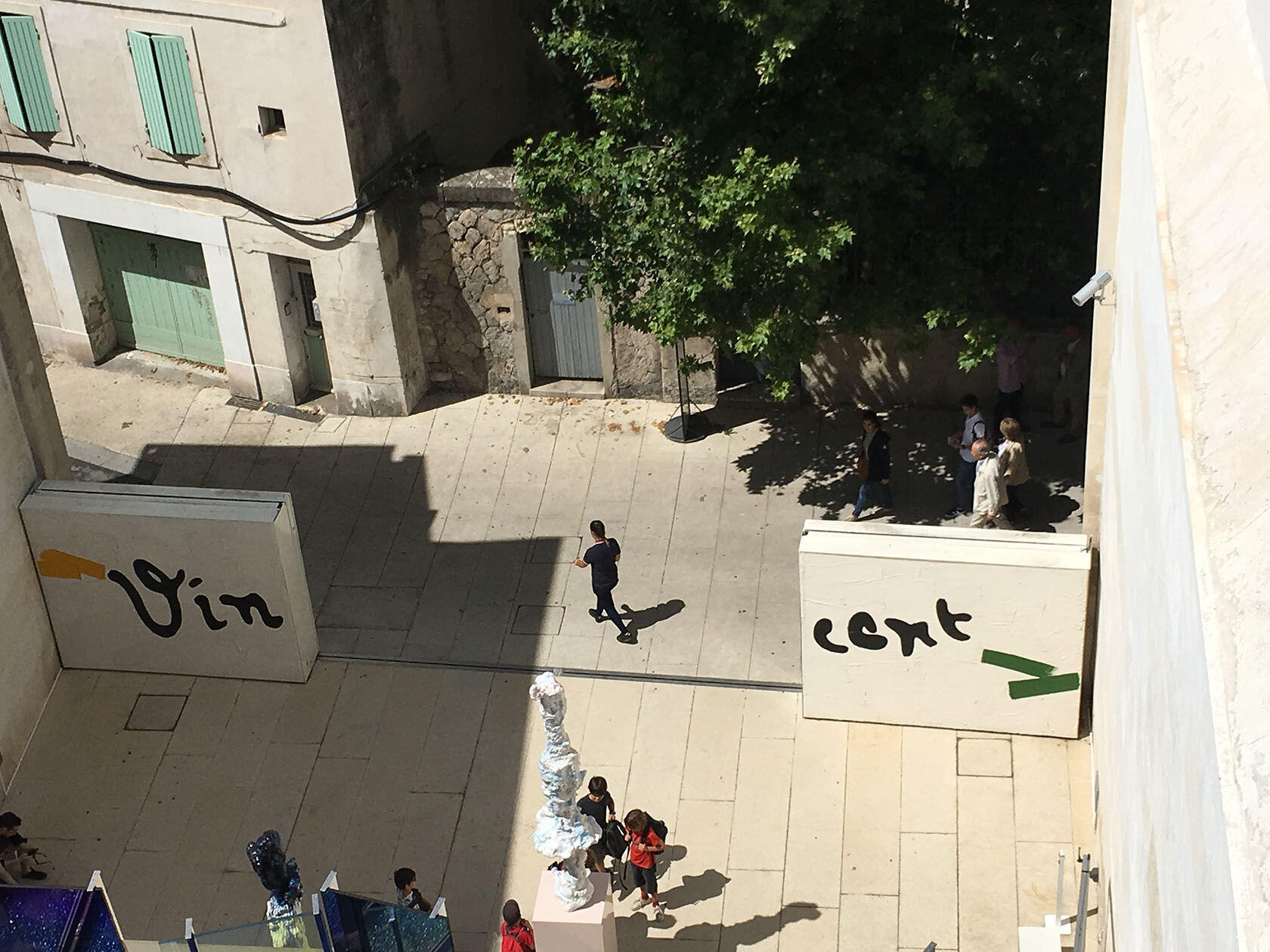 LUMA Arles and the Parc des Ateliers:  The contemporary architecture of LUMA Arles starkly contrasts traditional architecture in the Camargue area. However, this gem should be on the list of anyone interested in art and creativity. Commissioned by the LUMA Foundation, LUMA Arles showcases the human right to a healthy environment through the work of art, architecture, and artists. LUMA Arles and the Parc des Ateliers was a derelict railway factory. The designers salvaged the neglected buildings and repurposed them into workshops, exhibition spaces, an auditorium, and a library. The wonderfully landscaped Parc des Ateliers connects the buildings.
Arles was once an important Roman town, a trading center with a significant port. Barges with cargo from over the Empire plied the waters of the Rhone River. Around 2,000 years ago, one of those barges sank. This fantastic boat and many other artifacts are housed at the Musée départemental Arles antique.

Musée départemental Arles antique
presqu'île du cirque romain
BP 205
13 635 Arles cedex.
Telephone: +33 (0)4 13 31 51 03
Closed on Tuesdays
Free entry the 1st Sunday of each month
After an 11-year renovation, Muséon Arlaten reopened in 2021 with the input of a leading architectural agency and the fabulous Arlesien designer Christian Lacroix. The museum certainly has style – see the staircase above. Founded by the poet Frédéric Mistral in 1896, it exhibits costumes, furniture, work tools, and objects of worship, illustrating Provençal life in the 19th century.
Muséon Arlaten
29 – 31 rue de la République
13200 Arles
Take a tour: In June, July and August, there are guided tours in English on Saturdays at 15h of Muséon Arlaten.
---
Avignon:
In 2018, the city launched a program – Avignon Musées – combining the marketing efforts for its museums and galleries. These five (5) museums offer free entry: Calvet, Lapidaire, Requien, Palais du Roure and the Petit Palais. Each one displays a separate portion of the city's 1-million-piece archive. The concept is to showcase the incredible artistic heritage of the city (and region) and collection of artifacts via shared programming across five (5) museums.
For a relatively small geography, the Avignon collection is immense. There are 1,200,000 works of art, objects of interest and archival documents. These pieces include prehistoric artifacts,  Greco-Roman sculptures, Italian Renaissance art, works from the Impressionist period and modern works.
Located in the heart of Avignon, the museums Calvet, Lapidaire, Petit Palais, Requien, and Palais du Roure collectively form "Avignon Museums,"  opening their culture-filled doors to all ages.
Musée Calvet (website)
65, rue Joseph Vernet
84000 Avignon
Telephone: +33 (0)4 90 86 33 84
Closed Tuesdays
Musée Lapidaire (website)
27, rue de la République
84000 Avignon
Telephone: +33 (0)4 90 85 75 38
Closed Mondays
Petit Palais (website)
Palais des Archevêques
Place du Palais des Papes
84000 Avignon
Telephone: +33 (0)4 90 86 44 58
Closed Tuesdays
Musée Requien (website)
67, rue Joseph Vernet
84000 Avignon
Telephone: +33 (0)4 90 82 43 51
Closed Sundays & Mondays
Palais du Roure
3, rue Collège du Roure
84000 Avignon
Telephone: +33 (0)4 13 60 50 01
Closed Sundays, Mondays and Holidays
---
Les Baux de Provence:
Fortifications have long existed in the Alpilles because the cliffs and rocky outcroppings made for perfect defensive positions. Plus, the high places make it easy to spot signs of danger. Unfortunately, these fortifications were built of wood or earth for much of human history, so little or no trace remains today. But in the 10th century, what we now call chateaux were made of stone. Perched on an outcrop are remains of the medieval fortress of Les Baux. This castle was once one of the most powerful in France. Today the old village is a pedestrian-only zone, and all vehicles must park outside the ramparts. Perched high on a hill, les Baux de Provence delivers magnificent views of the Alpilles, vineyards, olive groves, and the Mediterranean on a clear day.
Located in the heart of the old village of les Baux de Provence, this museum has a permanent collection of roughly 100 works by Yves Brayer (1907-1990). Born in Versailles on the outskirts of Paris, Brayer attended the Ecole des Beaux-Arts. He is considered a "master of graphism and colour." Brayer was attracted to the Mediterranean climate; he painted many colourful landscapes living in Morocco, Spain and Provence.
Musée Yves Brayer (website)
Hôtel de Porcelet
Place François de Hérain,
13520 Les Baux-de-Provence
April to September: open daily from 10 am to 12:30 pm and 2 pm to 6:30 pm
October to March: 1 pm to 5:30 pm (closed on Tuesdays)
Closed: January, February and the beginning of March
---
Marseille:
Marseille is unlike any other city in France or the world, and at 2600+ years old, there is no shortage of things to discover. On the shores of the Mediterranean, you get the best of the city and beach in one place. In Marseille, you feel simultaneously on both sides of the Mediterranean Sea thanks to the large North African population. The capital of Provence still has the Provençal clichés of pastis, pétanque, and colourful facades. At the same time, the city is invigorated by street art, food from across the globe, and an epic coastline.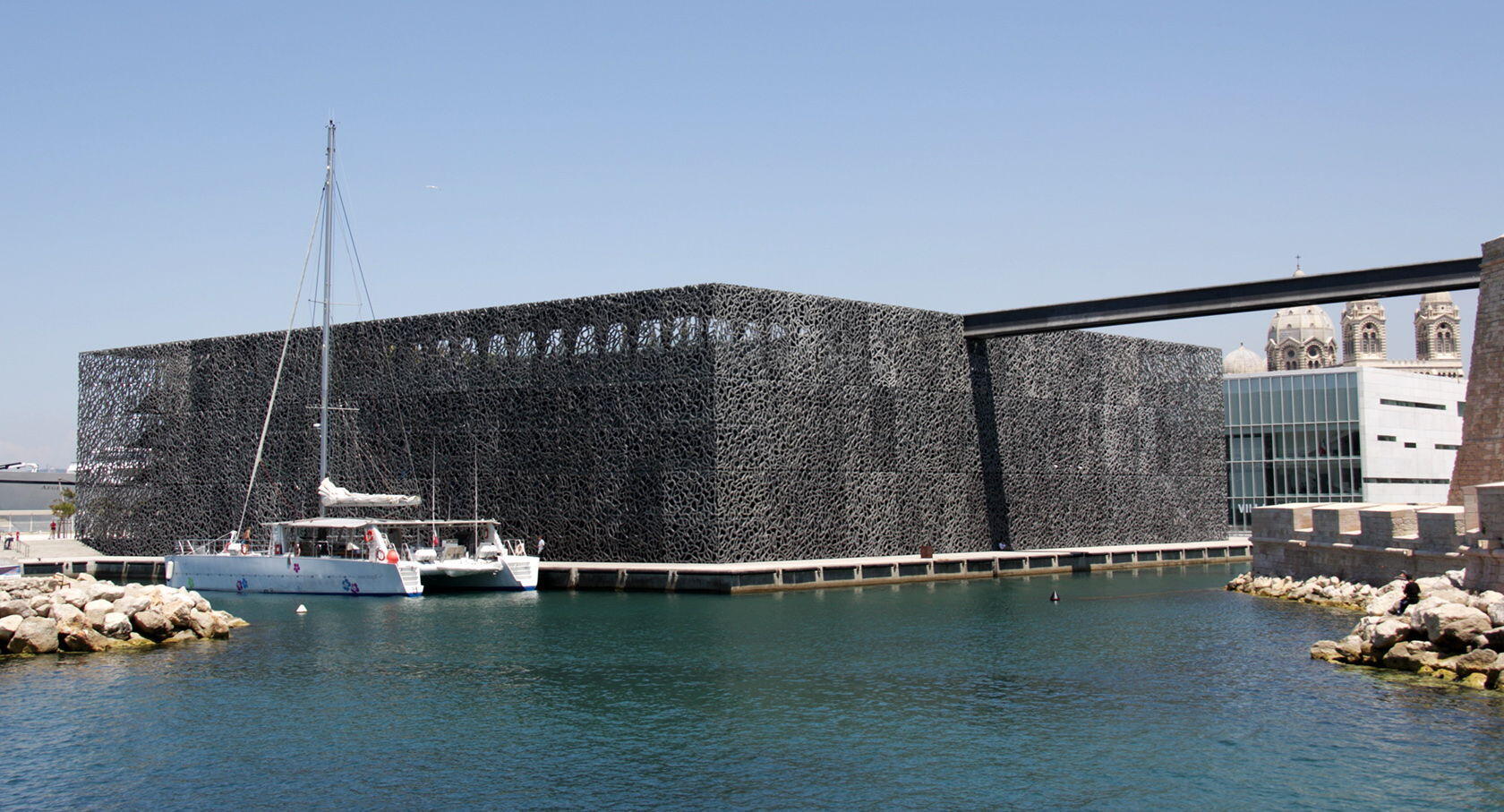 MuCEM, the Musée des Civilisations et d'Europe, is an architectural beauty beautifully paired alongside the ancient Fort St. Jean. The city's most iconic symbol, Notre Dame de la Garde Basilica, has glorious golden mosaics and nautical ex-votos. Nicknamed the "Bonne Mère," the "Good Mother" is also the tallest point in Marseille, so it serves up a stellar 360° view. I also think Le Corbusier's Brutalist Unité d'Habitation, his utopian vision of urban living, is a must for design buffs.
MuCEM
Musée des civilisations de l'Europe et de la Méditerranée
7 promenade Robert Laffont (esplanade du J4)
13002 Marseille
Parking to access MuCEM and Fort Saint-Jean is in the parkade just below the museum (Parking Indigo).
The museum opens at 11h and closes between 18h-20h, depending on the season.
Closed on Tuesdays.

Musée Cantini
19 rue Grignan, Marseille
Closed Mondays
Open Tuesday-Sunday 10-19h
Telephone: +33 (0)4 91 54 77 75
Audioguides are available.
Initially constructed in 1694 as a private mansion (hôtel particulier) for la Compagnie du Cap Nègre, the building passed through several owners before Jules Cantini purchased the building in the mid-19th century. Cantini was a marble importer and thus involved in constructing many religious and other sites in Marseille. He was also a lover of the arts. He donated the house to the city in 1916. The Musée Cantini has a permanent collection of "modern" artworks from the 20th century  (1900 to 1960).
Musée Regards de Provence
Avenue Vaudoyer,
13002 Marseille
Closed on Mondays
Built as the Fernand Pouillon sanitary station for arrivals via maritime transport was abandoned for years, la Fondation Regards de Provence was established in 1997 to convert the space into a museum. The restoration project was a feat of engineering and architectural vision. The museum's collection of artwork from Provencal artists exceeds 850 works of art. There is a restaurant – Regards Café – on the top floor and an option for takeaway, which can be consumed on an outdoor terrace. The terrace has a terrific view of MuCEM and the port.
---
Art in Vineyards

Château La Coste is a vineyard set in a beautiful hilly landscape dotted with world-class architecture and works of art. This place is where in 2002, Irish businessman Patrick (Paddy) McKillen bought the existing La Coste winery near the village of Le Puy Ste Réparade to indulge his two passions: wine-making and creating a centre for contemporary art. The domaine is in the Bouches-du-Rhône between the Durance River and Luberon massif. In total, the property is 123 hectares in size. The vision to create a world-class setting for contemporary art, architectural structures, and good wine started in 2004. McKillen hired Jean Nouvel, a French architect, to develop the site master plan for the vineyard. Unveiled in May 2022, Bob Dylan's Rail Car sculpture is now a permanent exhibit on the winery's Art and Architecture Trail.
Read more about Château la Coste
For an art lover's outing, about an hour's drive from Aix-en-Provence, head to La Commanderie de Peyrassol. This successful Var vineyard produces 500,000 bottles of wine a year and is a fast-growing contemporary sculpture park. In 2001, Philippe Austruy purchased the vineyard and handpicked his talented operations team. The 950 hectares property includes 93 dedicated to vines. Commanderie de Peyrassol produces top-quality wine (red, white and rosé) by following best-practice vinification methodology.
In 2001, Philippe Austruy purchased the vineyard and handpicked his talented operations team. The property size is 950 hectares, 93 of which are dedicated to vines. By following best-practice vinification methodology, the Commanderie de Peyrassol produces top-quality wine (red, white and rosé).
Commanderie de Peyrassol
RN 7 – 83340 Flassans-sur-Issole
Telephone: +33 (0) 4 94 69 71 02
---
Porquerolles:
Fondation Carmignac was established as a corporate foundation in 2000. Today there are now over 300 artists' works in the collection. In addition, the Foundation provides an annual photojournalism award, valued at 50,000 Euros, to the successful applicant. The Foundation Carmignac's modern art exhibitions are another reason to visit Porquerolles.
Open to the public daily from April through November from 10h until sunset
Buy your tickets in advance.
Guided tours from Tuesday – Sunday at 14h
The ferry port is about a 10-minute walk
Important tips for your visit.
---
Art along the Cote d'Azur
The French Riviera coast has sandy and pebbled beaches, grand villas and designer gardens. Whether you arrive by car, plane, train or yacht, it is an attractive destination. While there is no lack of things to do along the Côte d'Azur, you want a dose of culture some days. There are 10 museums worth visiting in Nice alone.
Nice:
Musée Masséna: Located along Nice's Promenade des Anglais, the Villa Masséna is a French historical monument from the 19th century. Danish architect Hans-Georg Tersling designed the grand Belle Époque building that was constructed between 1898 and 1901. The son of Victor Masséna sold the villa to the City of Nice in 1919 for a price that equalled the inheritance tax due. However, he had two stipulations: the Villa Masséna should become the Musée Masséna (opened in 1921), and the gardens remain open to the public.
Restored building by the city between 1999 and 2008, the Musée Masséna is a beautiful example of Italian neo-classical design. Take a guided tour through the museum's collection of art, furnishings, and jewellery from the Belle Époque.
Musée Masséna website
65 rue de France
35 Promenade des Anglais
06000 Nice
Open daily 10h – 18h (closed on Tuesdays)
Palais Lascaris: Right in the heart of Vieux Nice is the Musée du Palais Lascaris the one-time residence of the Lascaris Vintimille family. The Baroque-style mansion constructed in 1648 remained the family's home until the French Revolution. Acquired by the French state in 1946, Palais Lascaris is now a Musée de France and a registered historical monument. From the outside, the façade of the Palais Lascaris looks like the neighbouring buildings. However, you find a rare collection of over 500 musical instruments from the 17th and 18th centuries, the most extensive collection outside the Musée de la Musique in Paris.
Palais Lascaris
15 rue Droite (Vieux Nice)
06300 Nice
Open daily 10h – 18h (closed on Tuesdays)
Museum d'Histoire Naturelle de Nice (MHNN): It's perhaps fitting that the oldest museum in Nice, established in 1846, is the one that houses a collection of over a million specimens of natural history. The facility is also known as the Musée Barla, named after one of the scientific visionaries of the time – Jean-Baptiste Barla (1817-1896). This museum showcases the Côte d'Azur's overall biodiversity with samples of flora and fauna from the area. Walking through the displays, you will gain an appreciation for the diverse and fragile environment.
Museum d'Histoire Naturelle de Nice
60 Boulevard Risso
06300 Nice
Open daily 13h30 – 18h (closed on Mondays)
Musée National Marc Chagall: At the foot of Cimiez Hill is the Musée National Marc Chagall, opening its doors to honor this great Franco-Russian artist's talents and philanthropic generosity. It is an extraordinary art museum that was the benefactor of an extensive collection of Chagall's works, including seventeen masterpieces entitled, The Biblical Message. In 1966, Marc Chagall originally donated the Biblical Message series to the French State, first exhibited at the Louvre in Paris, eventually making its permanent home in the chic neighbourhood on Cimiez Hill in Nice.
---
St Paul de Vence:
Saint-Paul-de-Vence, one of the oldest medieval towns in Provence, is home to The Maeght Foundation. This private institution opened in 1964 and is now home to one of Europe's largest collections of modern art. Envisioned as a place for experimentation and sharing ideas, the Foundation was created for and with artists.
Renowned architect Josep Lluís Sert designed the building as a fusion of contemporary architecture, modern art, and nature. It is beautiful and functional – and ahead of its time in many ways. The design considered the local climate and energy conservation. The elegant sails on the roof add architectural interest and shade the building from the hot summer sun. They also channel rainwater to the shallow pools in the Labyrinth of Miró, a pathway around the site featuring works of Catalan contemporary artist Joan Miró.
The interior of the building has windows, doors, and walls in strategic locations to use as much natural light as possible. As a result, there is a relaxing flow through the gallery, and the natural ventilation improves the air quality of the exhibits.
Artists also contributed to the décor and design of the building. Alberto and Diego Giacometti created the light fixtures, bronze furniture, and door handles. Braque designed mosaic fish in the courtyard pool, Chagall did the mosaic on the bookshop wall, and Braque and Ubac created the stained-glass windows.
This unique gallery between the Mediterranean and the snowy peaks of the Southern Alps highlights the vision for new Mediterranean architecture where nothing is symmetrical – built with balance and harmony.
Fondation Maeght
23 Chemin des Gardettes,
06570 Saint-Paul de Vence
Opening Hours: Monday through Sunday 10:00 a.m. – 6:00 p.m., July – August open until 7:00 p.m., December 24th and 31st 10:00 a.m. – 4:00 p.m.
All rights reserved. Perfectly Provence articles and other content may not be published, broadcast, rewritten (including translations into other languages) or redistributed without written permission. For usage information, please contact us.
Syndication Information
Affiliate Information
As an Amazon Associate, this website earns from qualifying purchases. Some recipes, posts and pages may have affiliate links. If you purchase via these links, we receive a small commission that does not impact your price. Thank you in advance for supporting our work to maintain Perfectly Provence.