Visiting Fondation Vasarely in Aix-en-Provence
Father of Optical Art
Victor Vasarely (1906 -1997) was a Hungarian-born artist and designer who spent much time working in Provence. His work encompassed architecture, publicity posters, fashion and even car design, as well as his signature op-art.
Why not visit the Fondation Vasarely on the hillside overlooking Aix, beside the A8?  It's really easy now as the new Aixpress bus stops right outside. Continue reading here for the contributor blog post by Aixcentric.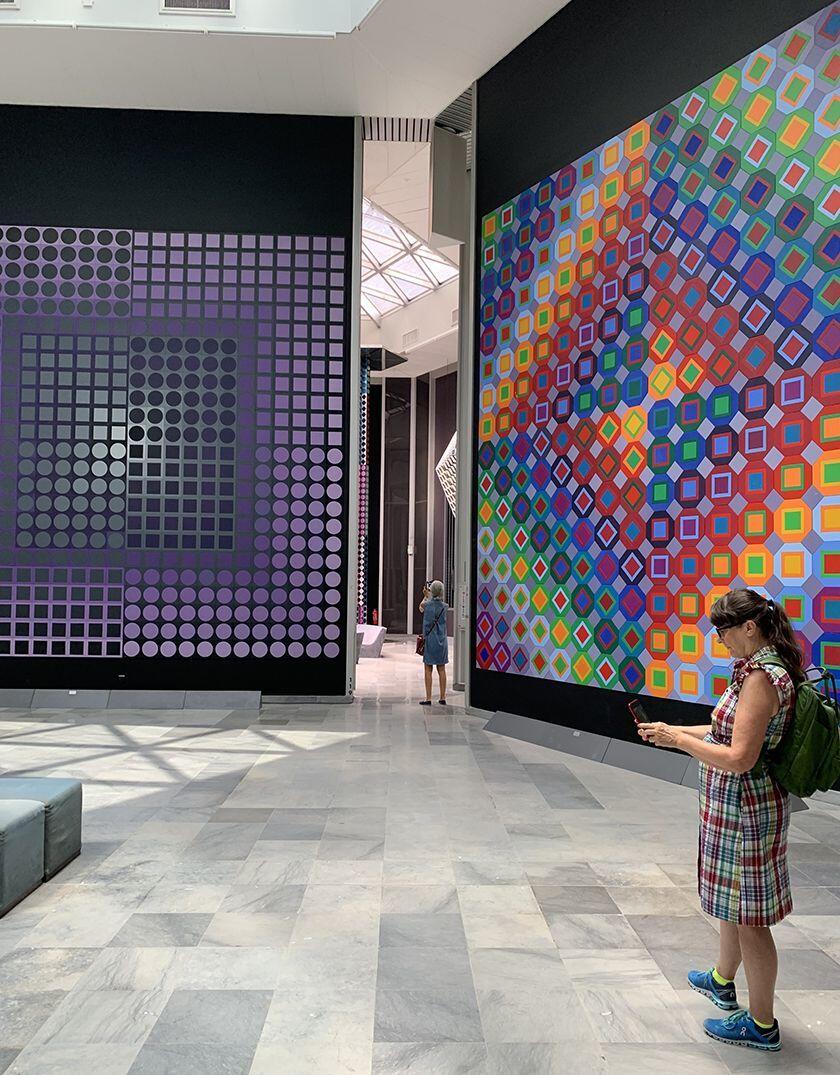 Fondation Vasarely
Highly visible from the Autoroute A8 the Fondation Vasarely is a contemporary glass structure with black and white cubes. The building sits on a rise on the outer edge of Aix-en-Provence. Designed by the artist himself the gallery space was inaugurated in 1976. Sadly, due to lack of funds, capital building improvements such as temperature controls and roof repairs were delayed for many years. In recent years the Fondation Vasarely had an infusion of funds for much-needed building infrastructure.
There are 42 monumental works of Victor Vasarely on display, along with some smaller installations. The Fondation is well worth a visit.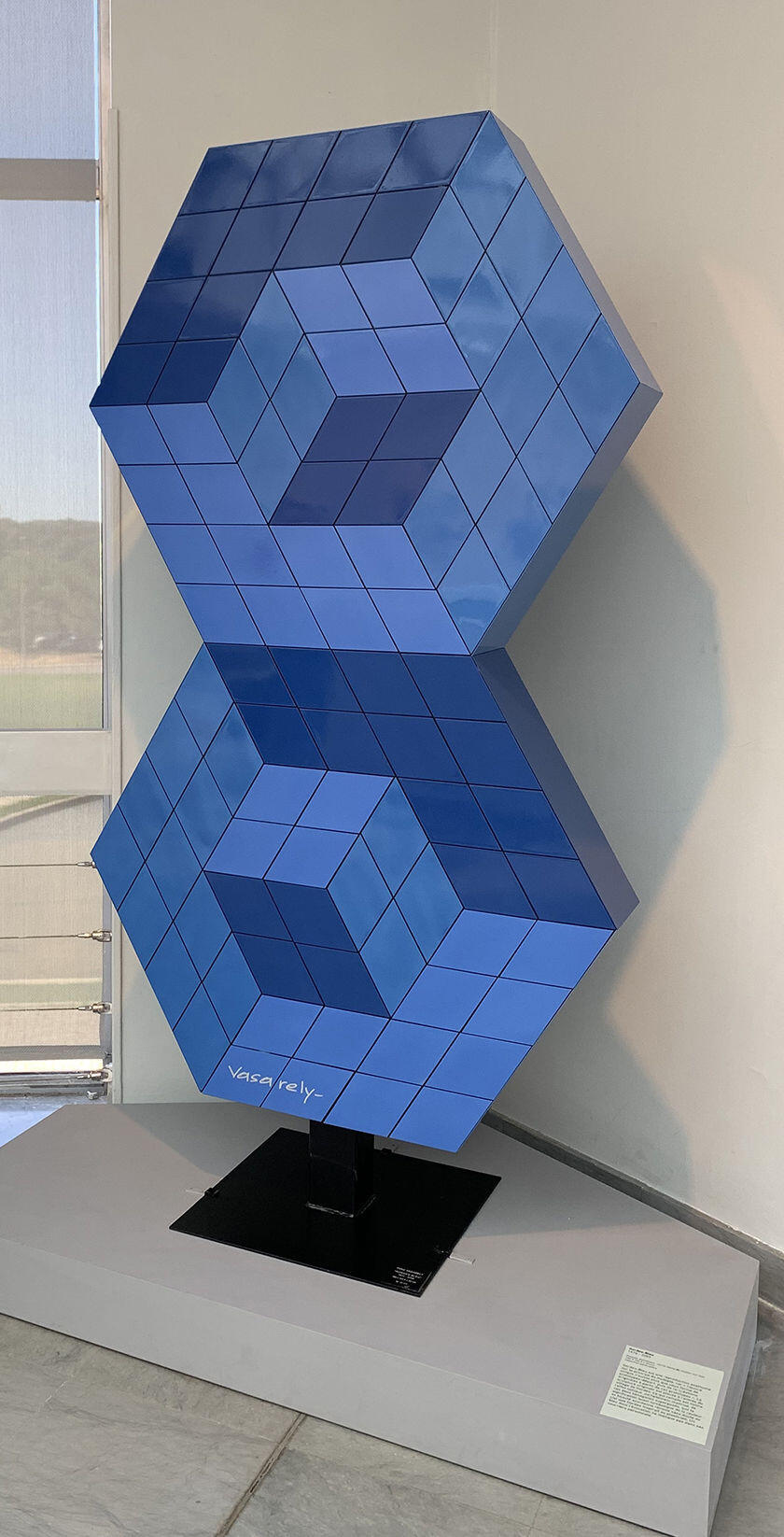 Artist's Background
Born in Pécs, Hungary in 1906, Victor Vasarely began studies in medicine in 1925 only to abandon that path two years later. In 1929, he enrolled in a private art school – Muhëly –  in Budapest and followed the curriculum of graphic art and typographical design. The Muhëly was a design school in Budapest that followed Bauhaus teaching and techniques. This style of design and artistic approach influenced Vasarely's work.
Newly married he moved to Paris in 1930 with his wife Claire Spinner (also an artist). He began a career as a graphic designer and worked for several advertising agencies. In the summer of 1947, he and his family spent time in Brittany on the beach. He produced Belles-Isles it was a turning point in his work transforming the geometric forms found in nature into abstract repetitive forms. Over his artistic career, Victor Vasarely experimented with many forms of graphic design.
In 1987 the Vasarely Museum in Budapest was inaugurated, the museum houses a great collection of his works and works by other Hungarian artists, who worked outside the country.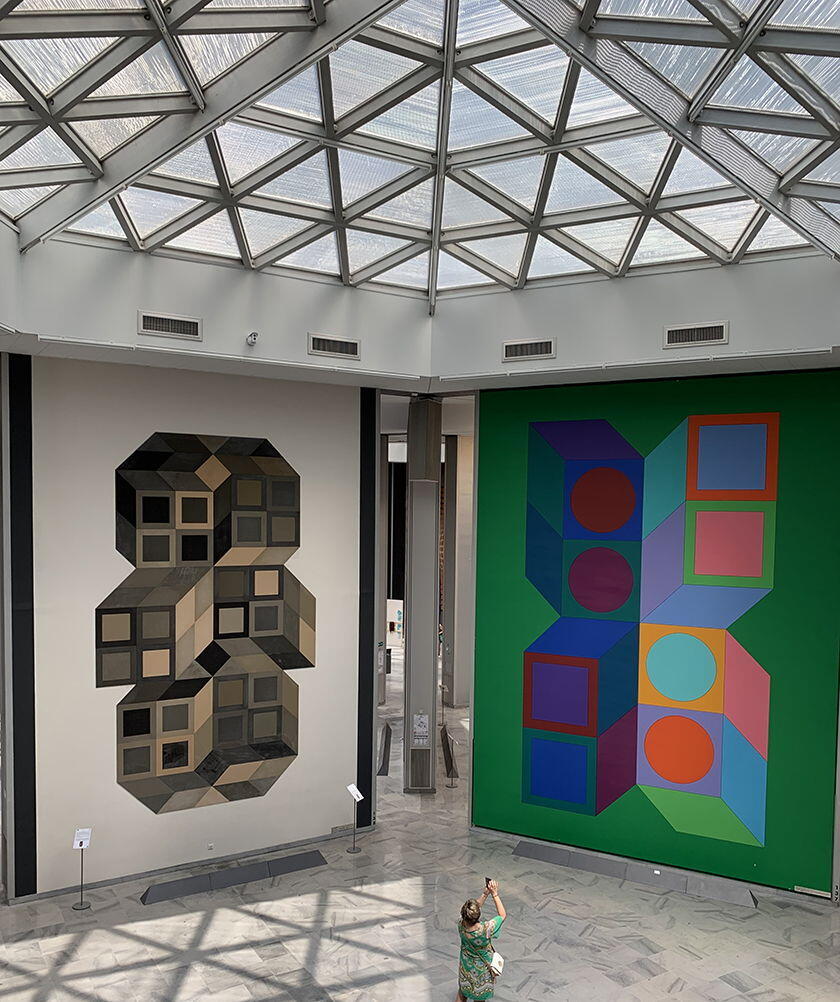 Practical Information
Fondation Vasarely (website)
Open daily 10h-18h
Jas de Bouffan
13096 Aix-en-Provence
Telephone: +33 (0)4 42 20 01 09
Parking is available onsite
Audio guides are available for a small charge
Guided tours can be arranged in advance
For additional information on the Friends of the Vasarely Foundation established by Pierre Vasarely the artist's grandson click here.