10 Reasons We Love Nice, France
Nice is a fascinating city on the beautiful French Riviera. Annexed to France from Italy in 1860, you can feel the French and Italian cultures combined, creating a unique local lifestyle. There are many reasons we love Nice, and here are our top ten.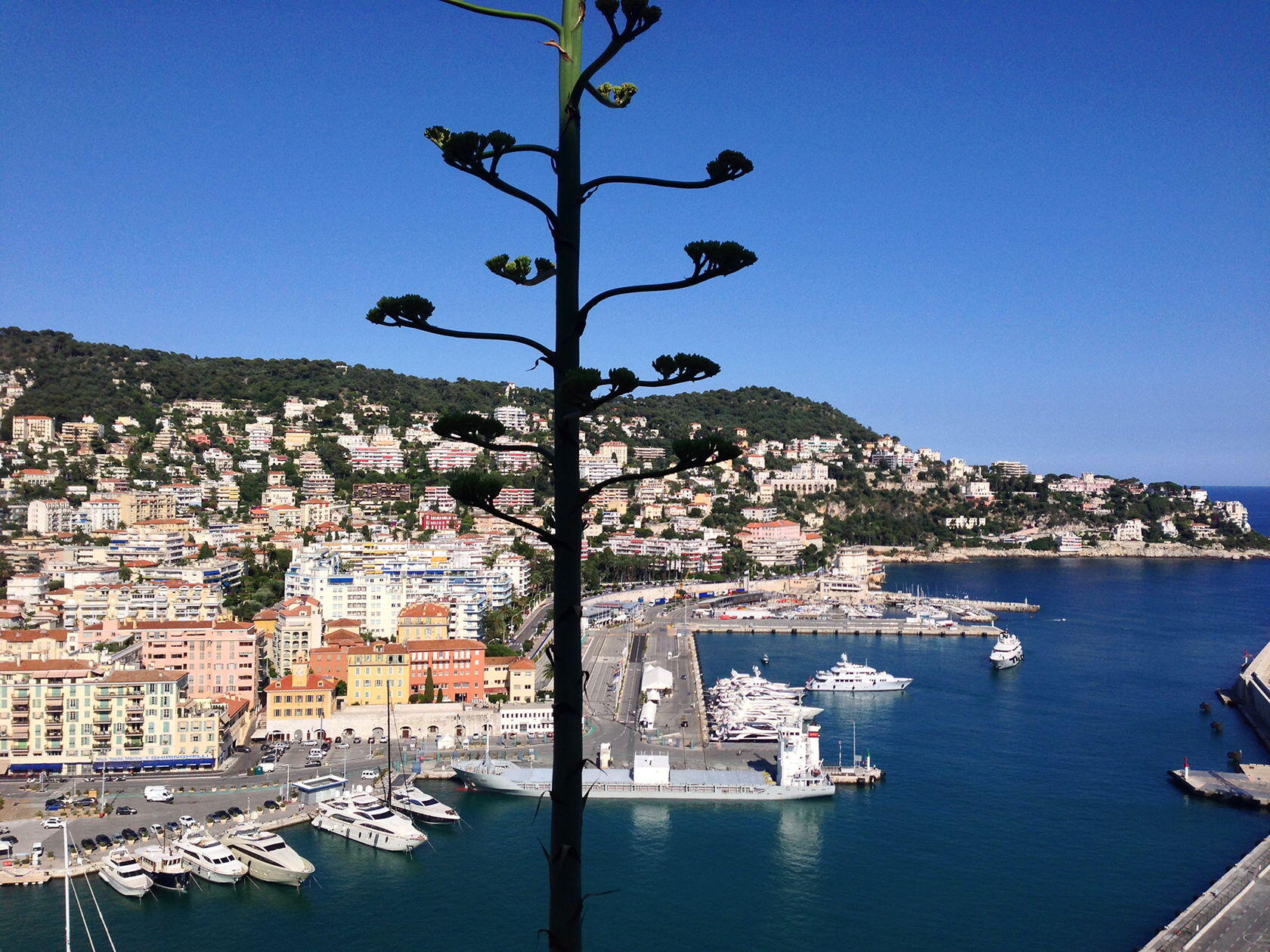 Book a Holiday Rental Near Nice
Fabulous Food
One of the reasons we love Nice is the food. The freshest fruits and vegetables from the Alpes-Maritimes countryside and Mediterranean seafood fuse to create dishes unique to this area. And being only 40 kilometres from Italy's border, you will notice a distinct Italian influence.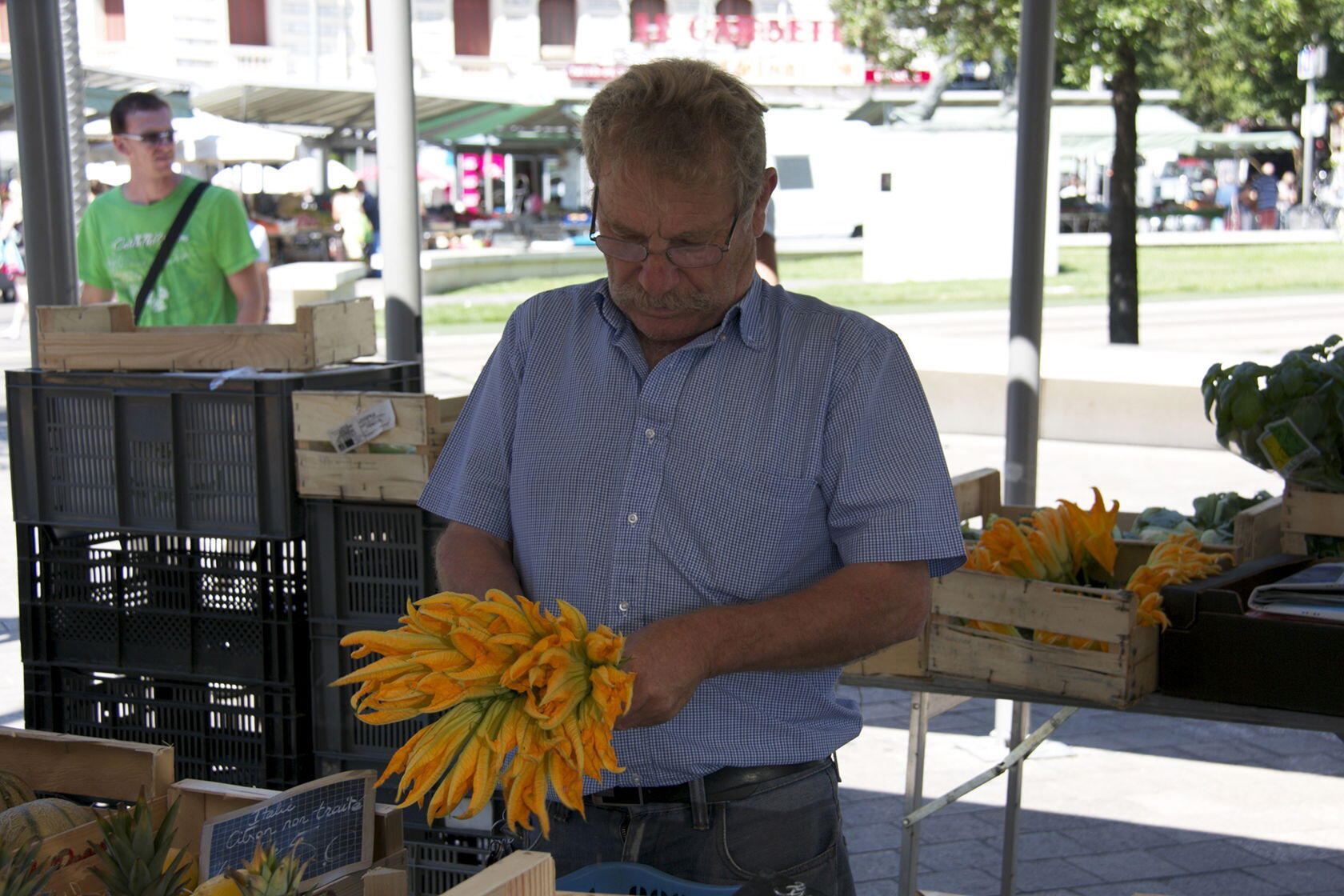 Restaurants that serve traditional Niçoise meals with local seasonal ingredients display the Cuisine Nissarde label. Originally "Le Cercle de la Capelina d'Or" created this label. Now,  Tourism Nice Côte d'Azur grants this distinction to qualified dining establishments.
Food lovers might be interested in an educational vacation. They can enrol in cooking classes and learn to prepare traditional Niçoise meals. One of the dishes you might prepare is Tourte de Blette Salée – a pastry stuffed with savoury Swiss chard and bacon. Swiss chard (blette) grows year-round in the local area, making it a popular ingredient in many recipes.
Tourte de Blettes Salée from Nice
This savoury tart's main ingredient is blette (chard), which grows all year near Nice, France. Considered part of traditional Niçose cuisine, there are two variations sweet and savoury (salée). Serve this tart with a green salad for lunch or a light dinner.
Check out this recipe

If your preferred lunch includes a hearty sandwich, there is no better place than Nice for your mid-day meal. The typical sandwich in Nice is Pan Bagnat. It is a medley of crisp flavourful vegetables, and mouth-watering tuna served on crusty French bread. There are several variations of the sandwich. Serve it on sourdough or whole-wheat bread, and you can substitute anchovies for the tuna.
Pan Bagnat (a Niçoise Tuna Sandwich)
This sandwich is often described as salad Niçoise on bread. It's delicious, quick to make and best consumed right away. (Photo by David @Cocoa&Lavender)
Check out this recipe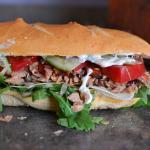 While variations in Pan Bagnat are common, you might incite a lively debate if you vary the ingredients of Salade Niçoise. Traditionalists insist that a "true" Salade Niçoise uses fresh vegetables (not cooked), and anchovies or tuna, never both. Serve Salade Niçoise with crusty bread and a glass of wine to create a delicious and satisfying meal.
Salade Niçoise
My version of this meal-sized salad from Nice for the purists and the rest of us.
Check out this recipe

Niçoise Salad
What is a true Niçoise salad? An authentic Niçoise is made with raw vegetables; only the eggs are cooked. You have anchovies or tuna, never the two. This salad can be a complete meal with some good bread and a glass of rosé!
Check out this recipe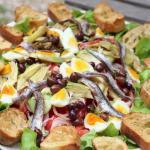 Every city has its "soul food," and in Nice, that food is socca. Socca is a thin, crispy bread made from chickpea flour, water, oil, and salt and baked in woodfired ovens. Italian dockworkers brought socca to Nice in the late 1700s. But it's the care and attention of the Niçoise chefs that make it so unique. Filmmaker Scott Petersen enjoyed socca so much when vacationing in Nice that he returned with a film crew to create a short documentary, "We Eat Socca Here."
Ceviche Provencal with Socca
A South American idea with Provencal ingredients and a nice chickpea hummus to nicely finish the dish.
Check out this recipe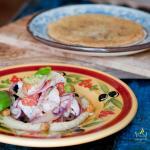 Finding vegetarian and vegan meals in Nice can be challenging because meats, seafood, dairy products, and eggs are common in Niçoise dishes. However, if you telephone or visit restaurants in advance, you will likely find suitable options. Additionally, many dining establishments put their menus on their website so patrons can browse and inquire before making reservations.
Are you interested in exploring more Niçoise cuisine? Then, try these recipes for typical dishes from Nice.
Petits Farcis a Nicoise Speciality
Les petits farcis may be served warm or at room temperature. Serve the petits farcis, served with the roasted vegetables, a green salad, crusty bread and a bottle of Côtes du Rhône make an excellent lunch or add some roasted chicken and call it dinner.
Check out this recipe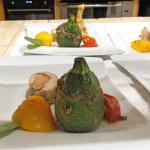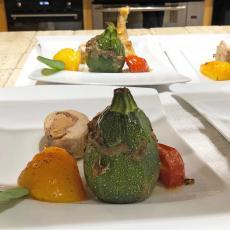 Swiss Chard, Raisin and Pine Nuts Tart
Tarte niçoise aux blettes et pignons de pin is such mouthful, of words, for a dessert. On my last visit to Nice, I tasted this fabulous local délice. French cooking is absolutely regional like its weather, and you can only find certain specialities in specific towns. Ok, I have to say this tart is not for everyone. Dessert with veggies in it does sound strange. Some might sprinkle confectioner's sugar before serving. The tart is even better the next day.
Check out this recipe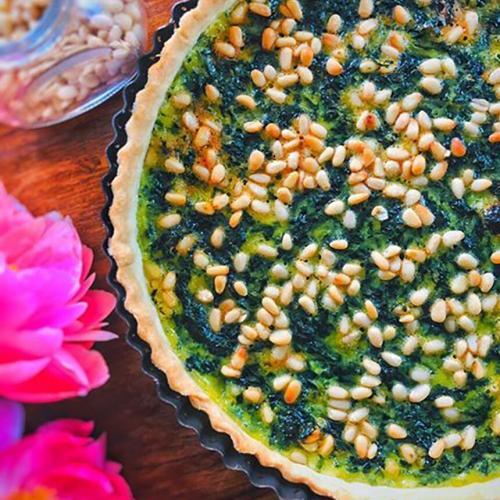 Marvellous Markets
Constructed in the neoclassical style in 1892, Nice's southern train station, "Gare du Sud," closed in the early 1990s as the trains moved to a new smaller station. Declared a historical monument in the early 2000s, redevelopment plans for the station began. Restoration and renovation started on the main building in 2013. By 2019 the renovations were complete, and the abandoned train shed became a bustling marketplace.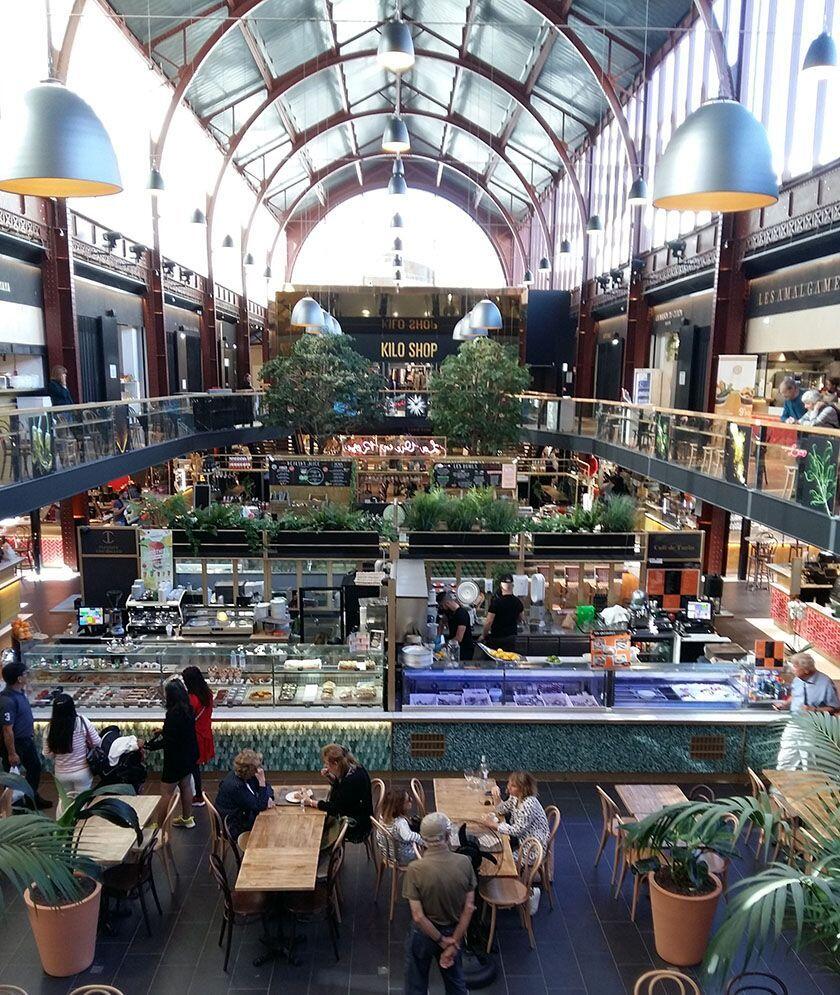 With 16,000 sq. ft. of space on the ground floor and another 11,000 sq. ft. of space in the mezzanine, the Gare du Sud quickly became a popular destination for locals and tourists. Luxury restaurants serve gastronomical delights, and there are a variety of food stalls with family favourites on the menu. So whether you want to eat on the go or participate in France's pastime of people watching, Gare du Sud's Halle Gourmande (food court) has something for everyone.
Interspersed with the restaurants are vintage shops and unique boutiques, a fitness centre, a 3D cinema, disco, wine bars, a cultural centre, and the municipal library. Enjoy live music and dancing on the weekends in the exhibition areas.
Delicious Wines
The wines are, of course, one of the reasons we love Nice. Generally, Côte d'Azur is well known for its delightful rosé wines. However, many connoisseurs feel that the delicious red wines of the region are superior. The climate around Nice is almost perfect for growing grapes. In fact, the Bellet AOC (Appellation d'origine contrôlée) is located entirely within Nice's urban boundary. Whether you are a sommelier in the making or simply looking to enjoy a day learning about wine, visit the Château de Bellet vineyard for a guided tour and tasting.

Wonderfully Walkable
Like many European cities, Nice is easy to explore on foot. Put on comfortable shoes, grab a water bottle and take a self-guided tour around Vieux Nice (Old Town). You can explore shops and restaurants and visit historical sites at your own pace. However, you may wish to book a guided tour for a unique insight into Nice's history and the lifestyle of its citizens. Without a doubt, walking in Old Town – and in the modern part of the city – you'll see fabulous sites, including ancient Roman ruins, Art Deco architecture, and the "onion domes" of the Russian Orthodox Church.
Extraordinary History
Because Nice is so walkable, it is easy to explore its extraordinary history. For example, when you stroll along the Promenade des Anglais, let your imagination take you back to the late 1800s. During this "Belle Epoque" period, Nice was a bustling winter holiday destination for Europe's elite. Eager to escape cold winters, they would socialise on the Promenade when not attending exclusive social functions.

Naturally, these wealthy tourists of the time wanted modern, luxurious accommodation. The demand led to the construction of the famous Hotel Negresco in the early 1900s. For over 100 years, this prominent landmark along the Promenade des Anglais has hosted the world's rich and famous, from artists and musicians to celebrities and royalty. Since the late-1950s, the hotel owners have restored it to its former glory and collected numerous pieces by French artists from the 1600s to modern-day.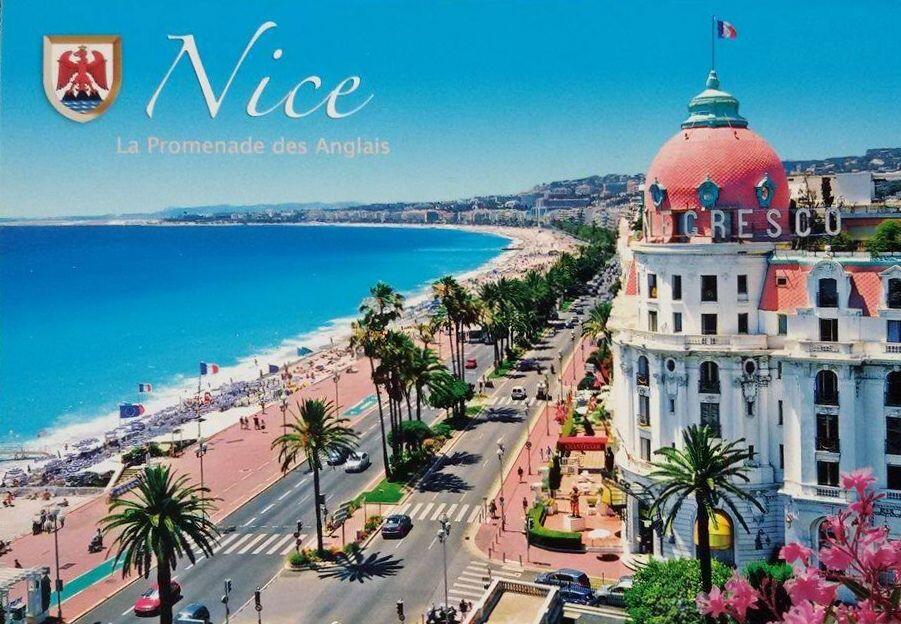 Magnificent Museums
And speaking of history, museums are excellent places to learn more about the past. For example, the Musée Massena showcases the history of Nice from the time it became part of France until the end of La Belle Epoque. Art lovers will enjoy exploring museums housing the works of the great masters Chagall, Matisse, and Renoir. There are also contemporary art museums for visitors looking for something more modern.
Charming Churches
Buildings with unique architecture are one of the reasons we love Nice – and nowhere is this unique architecture more apparent than in the city's churches. Like the European elite, Russian nobility vacationed on the French Riviera. So, naturally, they wanted a place to worship while on holiday. So, in the early 1900s, they constructed a church that later became the largest Orthodox cathedral in western Europe. It was recently renovated and is open for tourist visits except during worship services.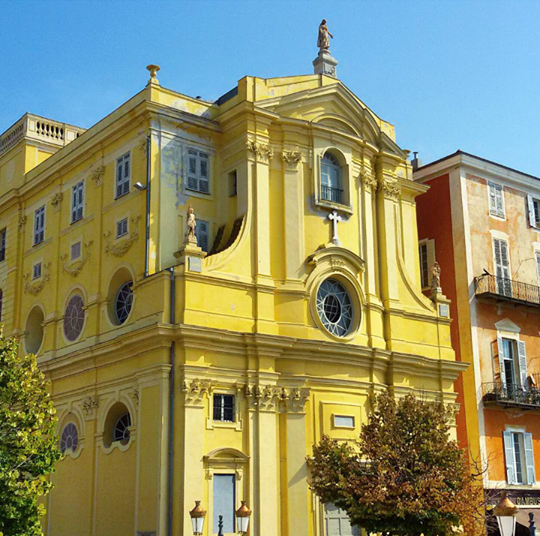 You will also find four different Christian penitent churches in Nice. Penitent churches started appearing in Nice around the 1300s and evolved into charitable associations that help the disadvantaged. The Chapelle de la Misericorde, Chapelle Sainte-Croix, and Très-Saint-Sépulcre chapel are examples of Baroque architecture, while the Sainte-Suaire Chapel, is neoclassical style. All four churches contain artwork and artefacts significant to Nice's history.
Besides the urban areas of Nice, there are beautiful places of silence on the city's outskirts. For example, take a day trip to the Abbaye de Lérins on the Island of Saint-Honorat near Cannes. The Cistercian monks living at the abbey work the vineyards and greet visitors when they are not in prayer services. Other exciting trips from Nice include the Monastery of Saorge, just over an hour north of the city and the Rosary Chapel in Vence that artist Henri Matisse designed.
Great Gardens
If you love being outdoors, you will fall in love with the gardens in Nice, many of which are designated Jardin Remarquable (Remarkable Garden). The Jardin Remarquable label indicates that a garden or park meets the criteria established by France's Ministry of Culture. The two most famous gardens in Nice are the Jardin Botanique and Parc Phoenix. However, there are many gardens and parks worth visiting. Some offer guided tours with experienced horticulturalists, and others allow visits by leashed pets.
Colourful Carnaval
One of the reasons we love Nice in February is the Carnaval. The Carnaval "season" is about two weeks long, but the exact dates change from year to year. The parades adhere to the annual Carnaval theme, complete with floats covered in flowers and lights. If you're up for more adventure, head east to the town of Menton to see the Fête du Citron (Lemon Festival). Experience the parades and fireworks, and explore the citrus displays and gardens.

A Burst of Blue
Nice is in the Côte d'Azur (blue coast) region of France, overlooking the Bay of Angels, but the ocean is not the only burst of blue you will see. The blue chairs that line la Promenade des Anglais are a comfortable spot to sit, but they also symbolise Nice. Over the years, the chairs have changed their colour and style. However, they remain one of the reasons we love Nice because it is a favourite way to sit, relax and enjoy the ocean view. Of course, if you are a tourist, taking a selfie while sitting in La chaise bleue is almost a requirement!
Of course, there are many other reasons we love Nice so feel free to learn more about this beautiful city.