Our Top Ideas for Spending a Day in Aix-en-Provence
Situated in the Bouches du Rhône, Aix-en-Provence may lack Marseille's waterfront and beaches, but the beauty of Aix more than makes up for it. A day is hardly long enough to appreciate a city that began as a Roman settlement over 2,000 years ago. But it is possible with our tips on how to spend a day in Aix-en-Provence.
Fabulous Fountains
In approximately 122 BC, the Romans discovered natural springs in the area and built a settlement. They called it "Aquae Sextiae" (The Waters of Sextiae) after one of their influential elected officials, Sextius Calvinus. Hot and cold natural springs provided water for the settlement's residents and their livestock.
It wasn't until 1481 that Aix-en-Provence officially became part of France. However, by 1555, it was a vital administrative city in the French Kingdom. During the Renaissance, many fountains were adorned with sculptural details and statues, which remain beautiful.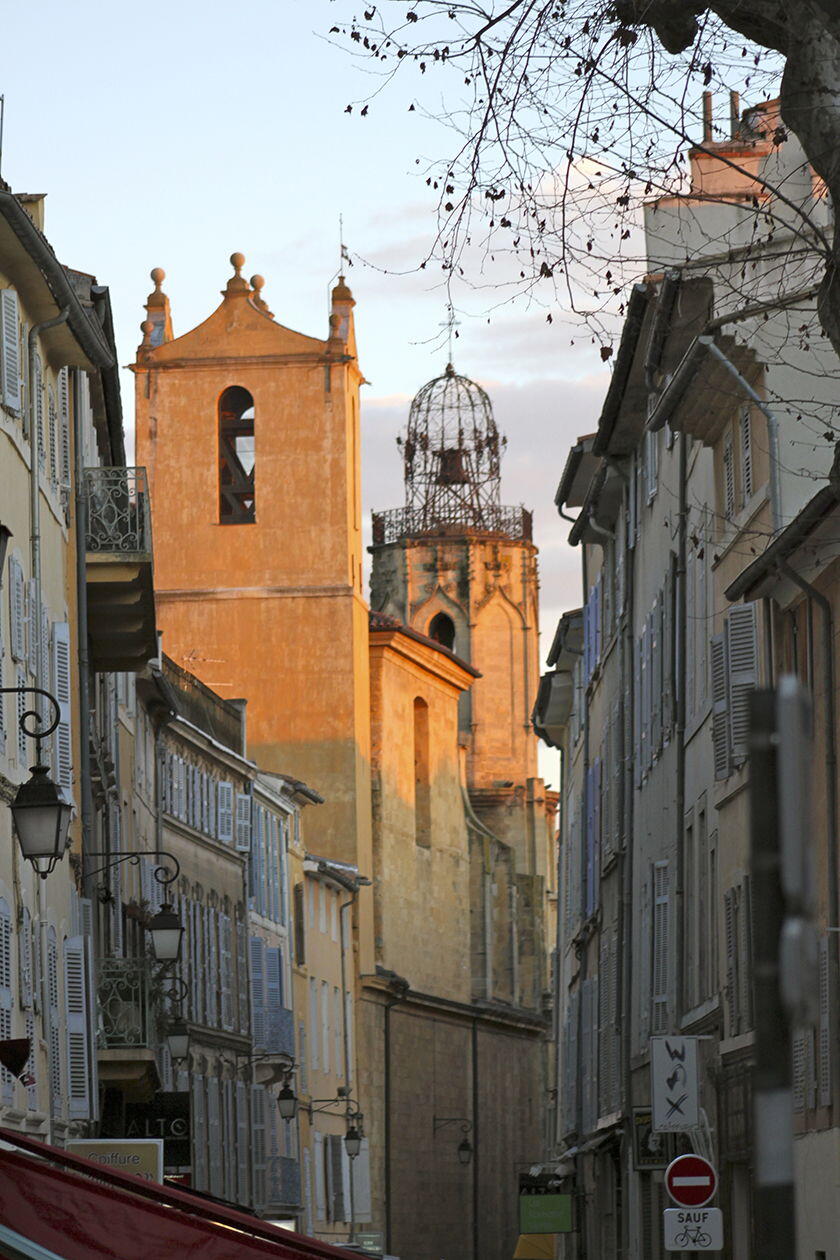 If you only spend one day in Aix-en-Provence, walk a loop of the old town. It will allow you to visit many of the fountains. The walking tour begins with La Rotonde fountain, meanders through the Medieval city, the Quartier Mazarin and back to the starting point.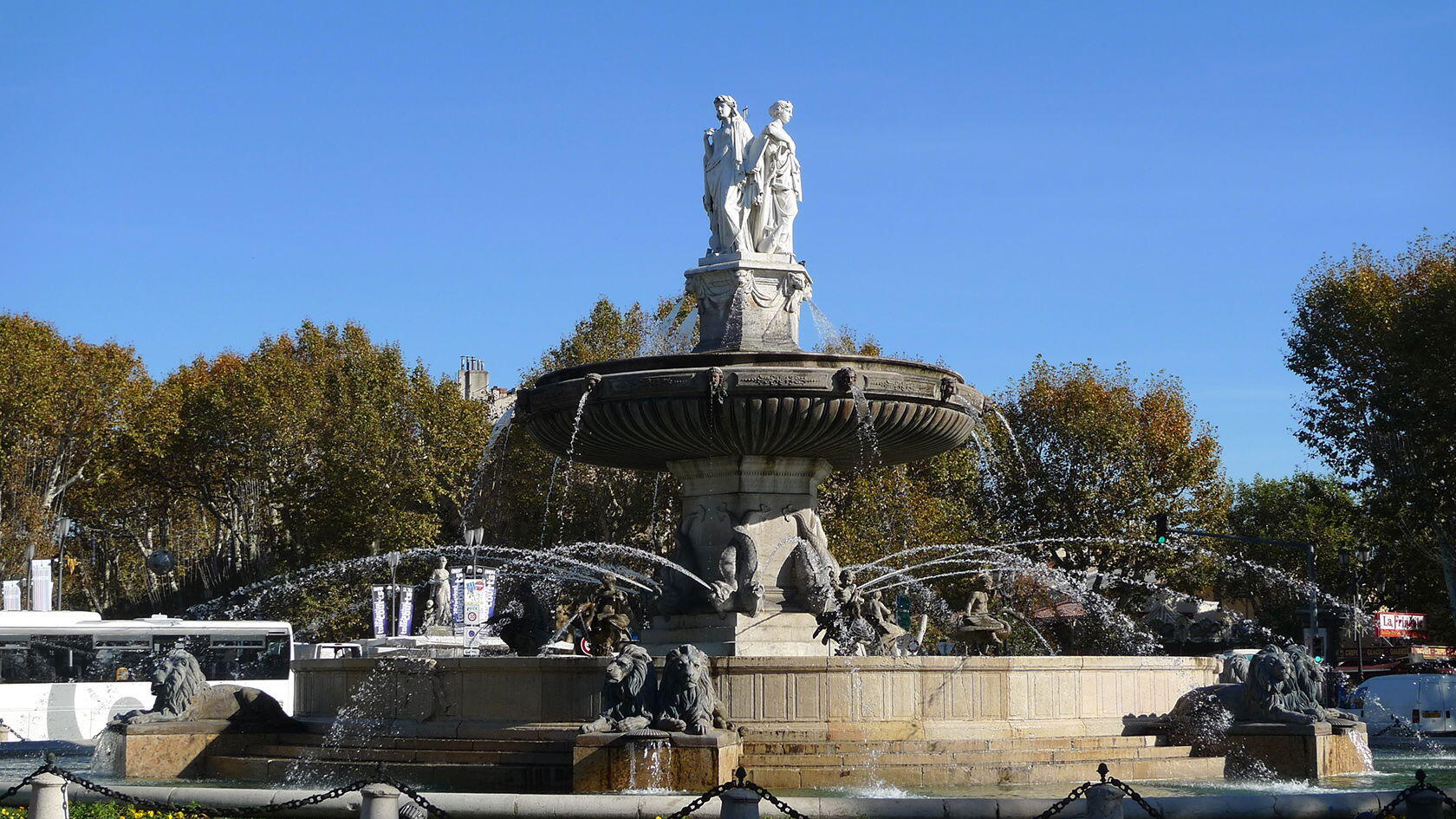 La Rotonde fountain was built in 1860 and once marked the entrance to the city. It is the largest fountain (the basin is 32m across!) and one of the most photographed sites in Aix. Other fountains worth visiting include Place des Quatre Dauphins (an obelisk surrounded by four dolphins), Fontaine au Sanglier (a large boar statue), and the Fontaine de l'Hôtel de Ville (decorated by Avignon artist Jean Chastel). There are also several moss-covered fountains, including the Fontaine des Neuf-Canons and the Mur D'eau.
Admire the Art
A day in Aix-en-Provence would not be complete without learning about French artist and post-Impressionist painter Paul Cezanne. The 18th-century country house, Jas de Bouffan, was the Cezanne family home for 40 years. The spacious grounds include a garden with ponds, fountains, and sculptures. Unfortunately, the Jas de Bouffan buildings and grounds are closed due to an extensive restoration project. However, there are many other places to learn about Cezanne during your day in Aix-en-Provence.

"In The Steps of Cézanne" is a self-guided walking tour developed by the Office of Tourism. Follow the bronze "C" plaques implanted into the sidewalks. They mark many places he lived, went to school, visited family, or met with his contemporaries.

Many artists and art lovers tour Cezanne's private studio on Lauves Hill, above the city. During the last two years of his life, Cézanne worked every morning in this peaceful atelier (workshop). He created dozens of paintings now displayed in galleries and museums worldwide.
Interestingly, not everyone appreciated Cezanne's work. The curator of the Granet Museum at the time and fellow artist Henri Pointier refused to exhibit any of Cezanne's paintings even though Cezanne offered to donate them. However, after the death of Pointer, the museum (renamed Musée Granet) worked to correct Pointer's short-sightedness and bring Cezanne's work back to his hometown.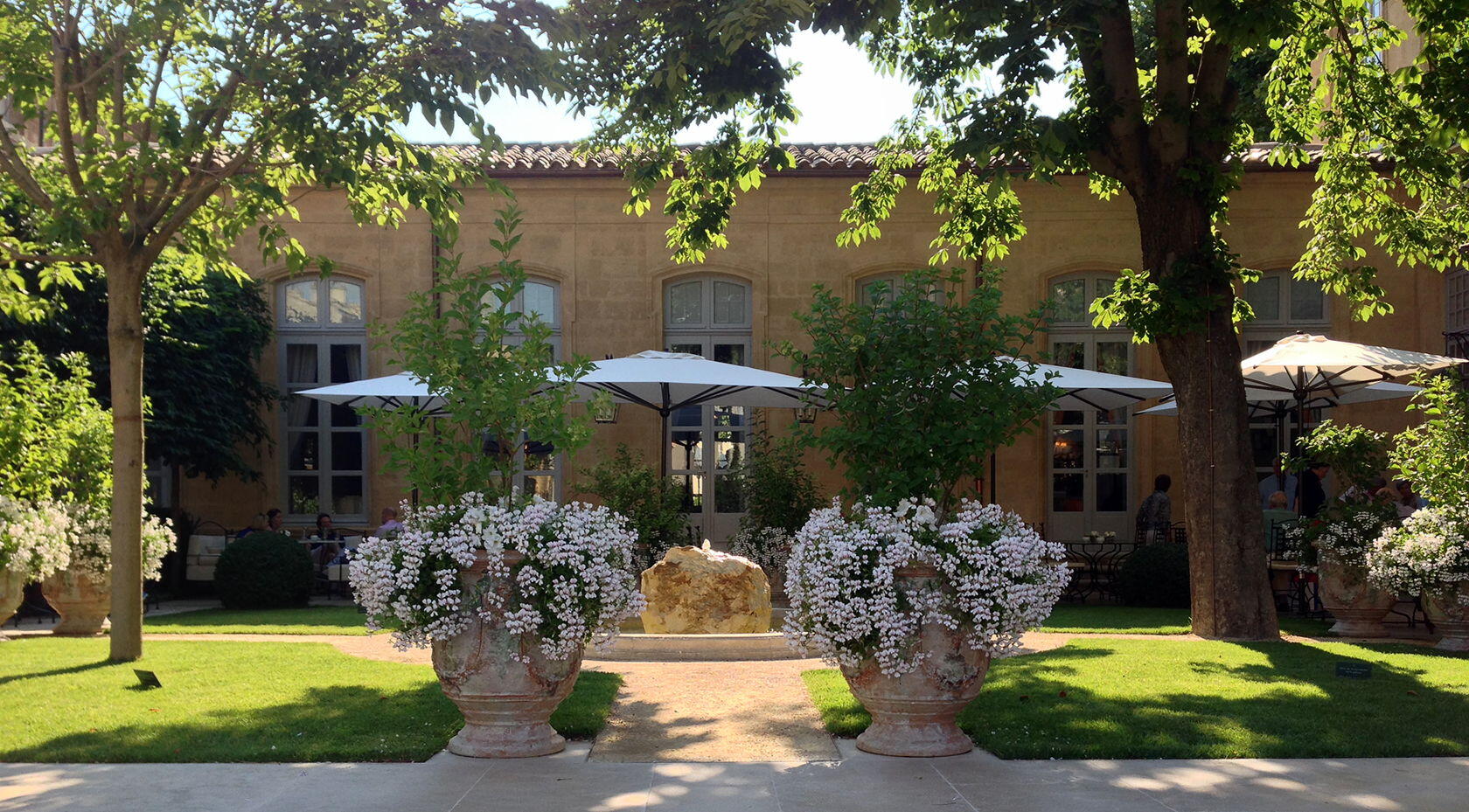 In the heart of the Mazarin district, you will find Hôtel de Caumont, one of the rare urban residences in Aix with a courtyard and a garden. This chateau was built in the 1700s to highlight the aristocratic status of François Rolland de Réauville, the Marquis de Cabannes. The Hôtel de Caumont changed ownership many times until the mid-20th century. Then, eventually purchased by the City of Aix. The City's Museums and Heritage Department carefully restored the residence and the gardens to their former glory. In 2015, the Hôtel de Caumont opened to the public as an art centre. Walk through the doors, and you'll feel like you've travelled back almost 300 years into the past!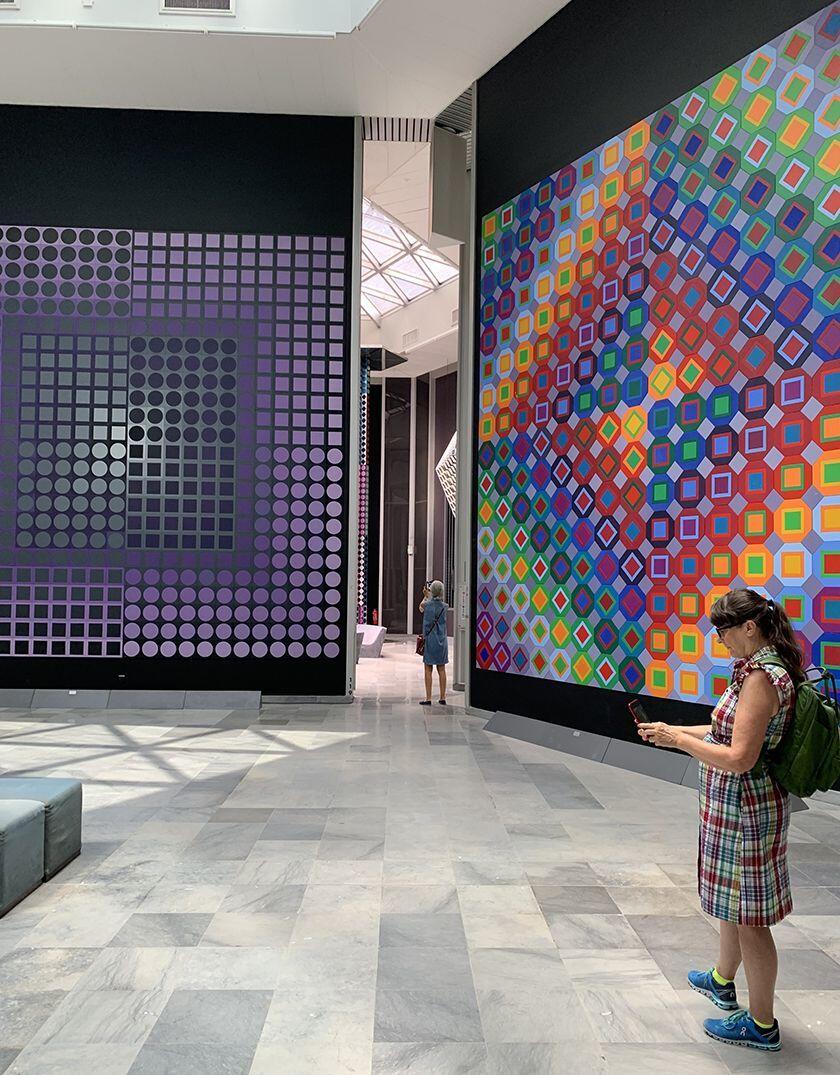 If you prefer something a little more modern, head to the outskirts of Aix. There, you will find the museum Fondation Vasarely, its modern architecture in stark contrast to the city's Gallo-Roman and Gothic style buildings. The museum is home to the works of contemporary artist Victor Vasarely. He designed the building too. Even if you have never heard Victor Vasarely's name, you are probably already familiar with his work. Artists often refer to him as the "grandfather of Op Art," a style of art that uses optical illusions. In Op Art, flat paintings appear three-dimensional or seem to move as the viewer looks at them from various directions. If contemporary art is your thing, spend part of your day in Aix-en-Provence at the museum Fondation Vasarely.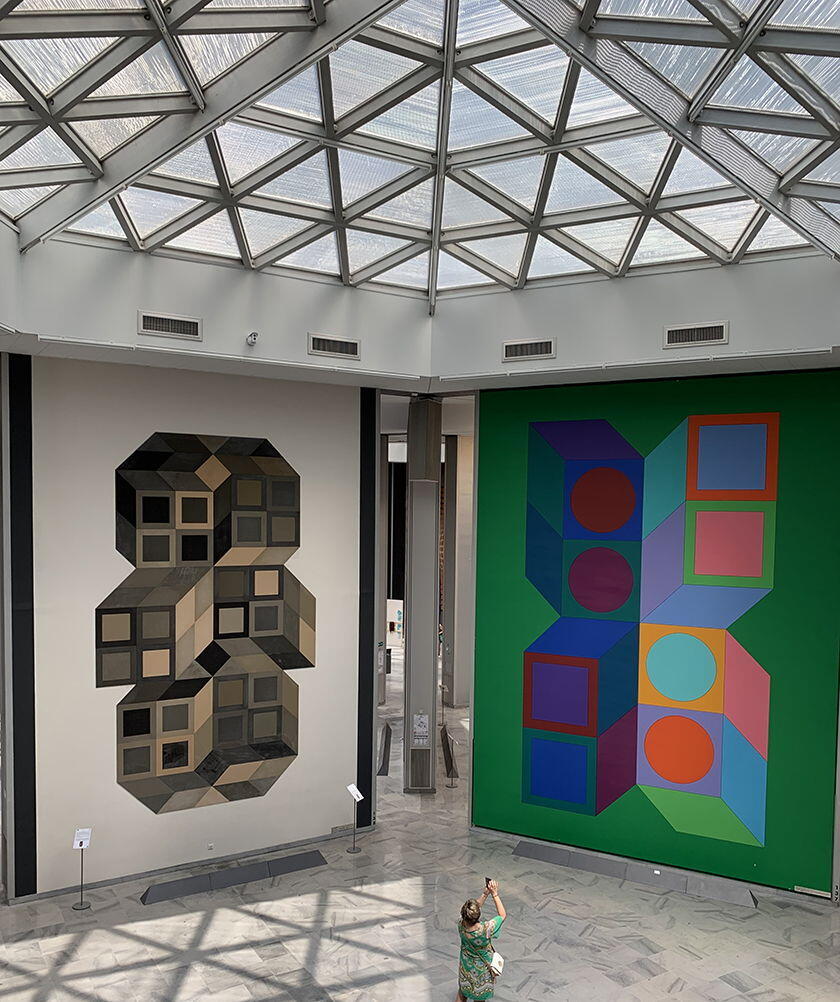 Seek Out a Square
Throughout history, citizens have gathered in town squares or "places" to celebrate festivals, shop in markets, or dine with family and friends. There are several fascinating squares to visit on your day in Aix-en-Provence. At the Place des Martyrs de la Résistance you will find L'Archevêché, the former residence of the archbishops of Aix-en-Provence. It is home to the Tapestry Museum (La Musée des Tapisseries), a collection of tapestries from the 1600s and 1700s. In addition, each July it hosts the Aix Music Festival each July.

If you visit the Place Hôtel de Ville, you will find the clock tower. It was built in 1510 on Roman foundations when clocks were rare. However, the presence of a public clock at that point in history highlighted the city's importance in the region.
For a bit of tranquillity, stop by Place des Trois Ormeaux. The trees provide plenty of shade, and the sounds of water trickling from the fountain will rejuvenate you after a long day in Aix-en-Provence.
Don't Miss the Market
If shopping is your thing, don't miss the markets during your day in Aix-en-Provence. The prominent market days are Tuesdays, Thursdays, and Saturdays. At Place Richeleme, you'll find an excellent food market whose origins go back to the 1300s. In Place des Prêcheurs, there is a large market with more than 300 vendors selling antiques, spices, linens, soaps, flowers, and more. Finally, place Hôtel de Ville hosts a flower market with both local varieties and those from around the world.
The markets are full of fresh, locally grown, organic produce in the spring. Vendors post signs with the prices for the item and indicate where the things are grown. Sometimes these signs show the general region (Provence) or a specific town (Aix-en-Provence). Whether you are looking for fish, produce, olives, or herbs, vendors are very proud of the quality and are always happy to answer any questions. Even though the lavender harvest is in the fall, it is available year-round at the markets – a heavenly scent throughout market days.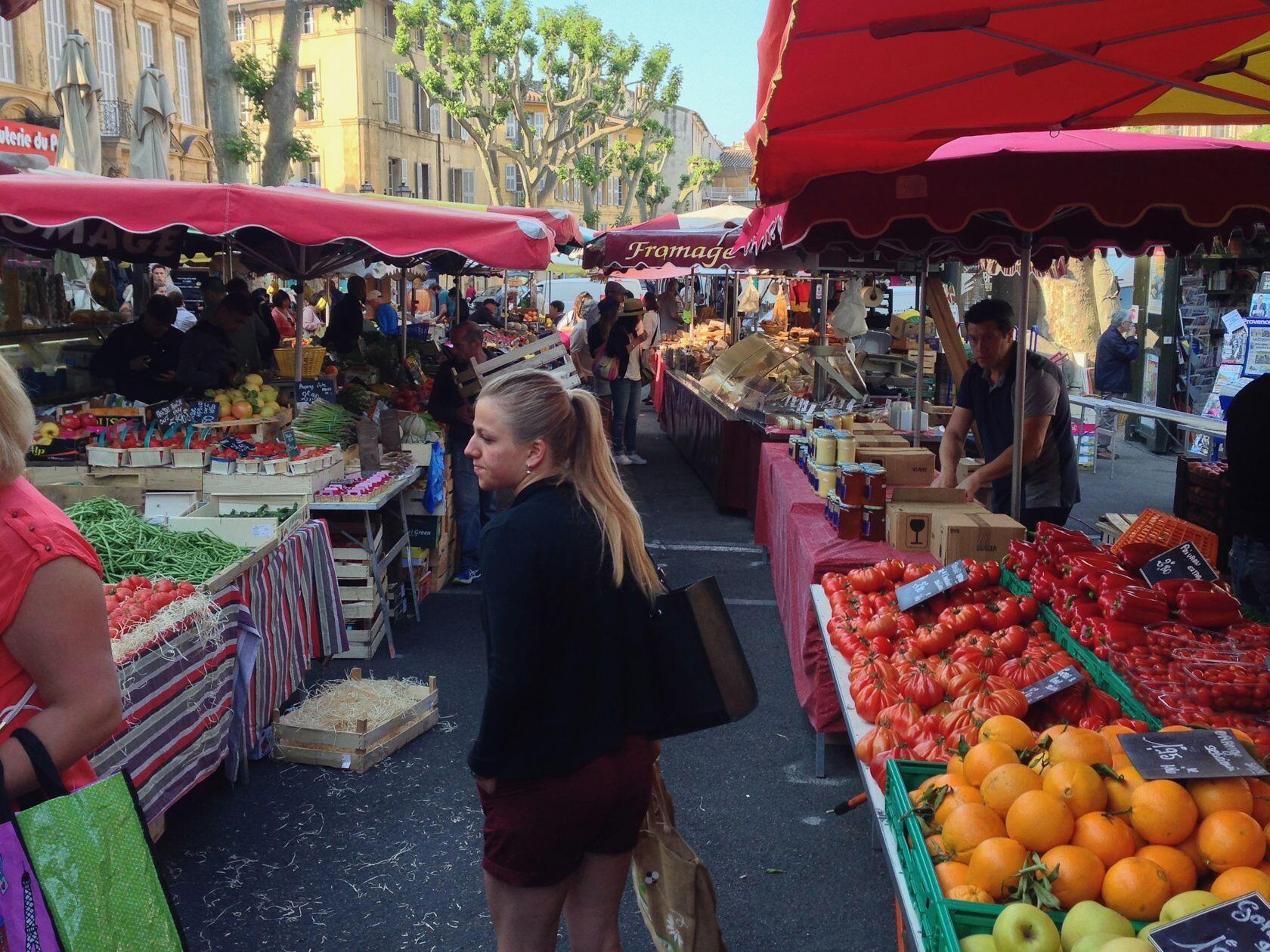 Signature Perfume of Aix
"In Aix-en-Provence, all the senses are awakened: sight, which reveals the beauty of its heritage, sound, which is charmed by the song of the hundred fountains, taste, which is satisfied by the city's gourmet emblem, the calisson, and touch, which plays with the caress of the air. All that was missing was the sense of smell to complete this picture of the five senses, and Rose et Marius invented the perfume of Aix." ~ Office de Tourisme d'Aix-en-Provence
Where to Eat
There is always good food to snack on when strolling through the markets. But during your day in Aix-en-Provence, you may want to sit down and enjoy a coffee or a delicious meal. Small cafes and restaurants serve the most amazing main courses and desserts. However, it is vital to make a reservation as there is often limited seating, and they may close on certain days or at certain times of the day.
Where to Stay
If you plan only to spend one day in Aix-en-Provence, it's a good idea to stay close by – and there are some lovely accommodations in the area.
Les Arnauds is a bed and breakfast just four kilometres from Aix. They named the three guestrooms after French painters (Brayer, Hugon, and Matisse) and tastefully furnished with your comfort in mind. All three rooms have queen or king-sized beds, ensuite bathrooms, and ceiling fans to provide cooling breezes in the hotter months. So after a day in Aix-en-Provence, relax by the saltwater pool or enjoy a game of pétanque or tennis.
The Mas des Trois Pins' studio apartment is in Rousset, a small Provencal village with easy access to Aix-en-Provence, Marseille and the Mediterranean coast. Vineyards surround this large rural property, and guests can take advantage of outdoor amenities, including a barbecue, a swimming pool, and a tennis court. After your day in Aix-en-Provence, you can relax in the private studio, with air conditioning, a king-size bed, a bathroom, a small kitchenette, and a sitting area.
With a little bit of planning, you can take in the sites of Aix-en-Provence in one day. However, there is so much to see and do; we're sure you will return to this stunning city again and again.