Head to Chateau La Coste for Wine, Art and Architecture
Every time we come to Provence, we schedule a day for fun with cousin Annick who lives in Rognes, about an hour south of Sablet. She always comes up with new places or activities for us to experience, such as walking around Lacoste, climbing Mont Saint Victoire, and visiting the Le Panier quarter in Marseille, to name a few. This time she proposed that we take a two-hour Art and Architecture walk at Château La Coste in Le Puy-Sainte-Reparade, a short distance from Rognes.
Château La Coste is a 600-acre organic winery and art centre in Le Puy-Sainte-Reparade owned by Patrick McKillen. This Irish art collector has created a centre dedicated to wine, art and architecture. Continue reading here for Michel's photos of their visit to this incredible vineyard near Aix-en-Provence.
Wine at La Coste
This vineyard is just outside of Aix-en-Provence, near the town of Puy-Sainte-Réparade. It is not to be confused with the town of Lacoste. Paddy McKillen, a wealthy Irishman, purchased the old bastide and surrounding land in 2002. He is a man who knows about premium quality, and he is the majority owner of several high-end hotels, including London hotels Claridges and the Connaught.
Situated in the Bouches-du-Rhône between the Durance River and Luberon massif, the property is 123 hectares. The undulating terrain is a clay soil mix that supports the growth of olives, oaks, pines, almonds and grapes.
Bordeaux wine producer, Matthieu Cosse joined the group in 2006. His focus is on wine production that is organic and bio-dynamic. Grape varieties planted at the vineyard are suitable for producing red, white and rosé wines and include; Cabernet Sauvignon, Grenache, Sauvignon Blanc, Syrah and Vermentino.
Wine production at Château la Coste occurs inside two curved metal buildings, shaped like aeroplane hangers, designed by Jean Nouvel. As one might expect, the winemaking equipment at the vineyard is state of the art. Book a cellar tour and tasting experience for an understanding of how wine is made and matured at Château la Coste.

Art and Architecture
As you approach the main building at Château la Coste, Louise Bourgeois's Crouching Spider (2003) is a good indicator of the artistic journey awaiting you. On a sunny day, the Art and Architecture walk will keep you warm as you climb the slope to the Tadao Ando Chapel. La Chapelle is at the vineyard's highest point, with a view of the grapevines and the Luberon massif in the background.

Enjoy the permanent installations by famous contemporary artists (Calder, Gillick, Goldsworthy, Scully and others) and the temporary exhibits. In addition, there is a permanent installation by Chinese artist Ai Weiwei at Chateau La Coste. His Ruyi Path represents the ceremonial sceptre that symbolizes power and good fortune in Chinese history. The artist has followed the shape of the sceptre for a pathway weaving through the trees at Château La Coste.
There are now 40 artworks at the vineyard. The self-guided walk takes approximately two (2) hours, at a moderate pace, and costs 15€ for adults. In addition, there are daily guided tours in English and French. Booking in advance is recommended.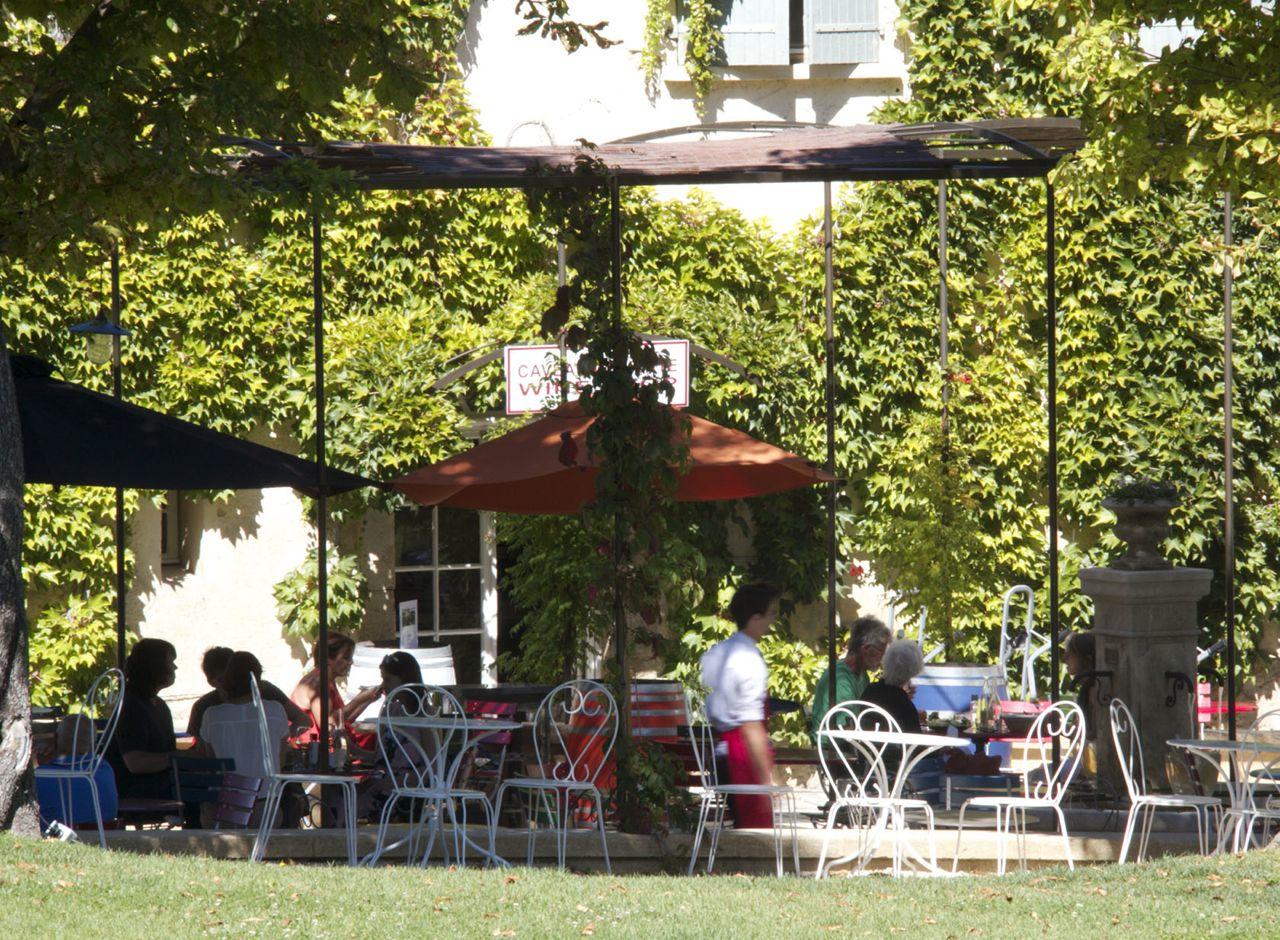 Eating at the Vineyard
The Tadao Ando Cafe, located inside the art centre, is at the heart of the action. Its contemporary design fits well within the setting. They offer indoor and outdoor dining for lunch and dinner with a la carte menu options. Open daily from 10 am – 7 pm.
Francis Mallmann is the famed Argentinian chef who loves to grill anything and everything. His menu will keep you warm, and the restaurant is a bright black and white décor. Try the smoked rib eye!
Inside Villa la Coste, female chef Hélène Darroze with several Michelin stars serves gourmet food in a spectacular setting.
Located conveniently near the wine boutique La Terrasse offers casual dining. With a fresh daily menu, it's the perfect spot for lunchtime.
Vanina is the newest restaurant on the Château la Coste property. Open in the evenings and on Saturdays and Sundays at lunchtime. The menu is Italian with wood-fired pizzas and antipasto.