La Commanderie de Peyrassol Modern Art in a Provencal Vineyard
Contributor blog post by Aixcentric:
Here's a suggestion for an interesting art lover's outing, about an hour's drive from Aix-en-Provence.  La Commanderie de Peyrassol is not only a successful Var vineyard producing 500,000 bottles of wine a year but is a fast-growing contemporary sculpture park. …Continue reading here for details from Lynne's visit to this vineyard's modern art collection. There are diverse sculptures (styles, materials) by 50 artists installed throughout the vineyard.
Flassans-sur-Issole
Flassans-sur-Issole is a small village in the central Var. Located on the River Issole the town's population has settled on both sides of the waterway. The town is situated on the ancient Voie Aurélienne, the route that Roman Dictator Julius Caesar travelled from Rome to Arles. One of the pilgrimage routes to Santiago de Compostela (St Jacques de Compostelle) runs through Flassans-sur-Issole.
The original settlement was an oppidum at the crest of a small hill. Today, you can walk around the ruins of Château de Pontevès a feudal castle from the Medieval era. Flassans-sur-Issole became one of 26 Commanderies of the Templar Knights.  In 1311, control of the Commanderie de Peyrassol fell to the Order of the Knights of Malta until the French Revolution. (Read more about the history here).
Visit the Vineyard Art
In 2001, Philippe Austruy purchased the vineyard and handpicked his talented operations team. The property size is 950 hectares, 93 of which dedicated to vines. By following best-practice vinification methodology, the  Commanderie de Peyrassol produces top-quality wine (red, white and rosé).
Commanderie de Peyrassol (website)
RN 7 – 83340 Flassans-sur-Issole
Tel: +33 (0) 4 94 69 71 02
contact@peyrassol.com
To visit the sculptures:
Entry Fee (walking): 8€ / person (reimbursed if you buy enough wine in the boutique)
Entry Fee (golf cart usage): 15€ for 90 minutes
Horse-drawn carriage: 45-minute tour: 15€/adults – 10€/children. Reserve in advance and check website for schedule.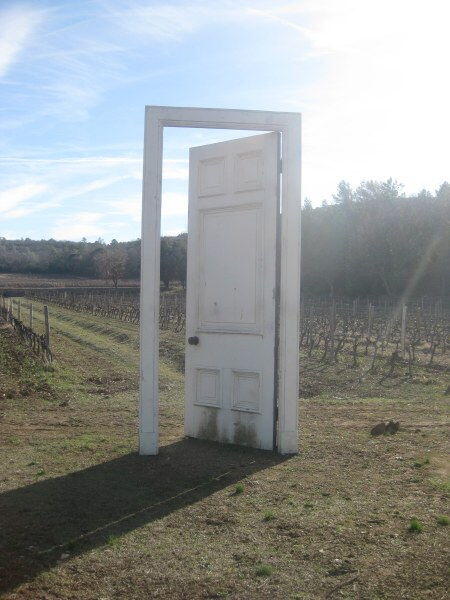 Stay at the vineyard:
There are several options for onsite accommodation from 2-6 people. The rooms have been fully renovated, tastefully decorated, and the rates include breakfast.
Via:: Aixcentric