Our List of Virtual French Cooking Online Classes
In a "normal" year, we would attend several cooking classes and culinary demonstrations. Instead, we seem to be buying more cookbooks and trying new recipes, but miss a chef's creative buzz. The great news is many of our favourite culinary experts and cooking schools have moved to online formats allowing you to discover their tips and recipes from the comfort of your kitchen.
Online Cooking Classes
Cook'n with Class
This cooking school and taste experience, launched in Paris in 2007. Chef Eric Fraudeau determined that after a 30-year culinary career, it was time to set-up his own shop. Having worked in Montreal and New York for major hotel chains and cooked in the kitchens of gastronomic greats – Alain Ducasse and Joel Robuchon – it was time. In 2015, Chef Fraudeau and his wife Yetunde opened the doors of their second location in Uzès. At both locations, Paris and Uzès, they offer a selection of workshops, multi-day classes and a weeklong cooking holiday in the South of France. Now, they are offering a full complement of courses online via Zoom. Whether you want to dive into breadmaking, explore French pastries or create a bistro menu, there is something for every taste and time zone —Private classes are available on demand. Discover Cook'n with Class online classes
Grand Aioli is a Provencal Classic
Allow enough time as each vegetable should be cooked separately to ensure they are not overcooked. The dish can be served warm or at room temperature making it a perfect main course for hot days too.
Check out this recipe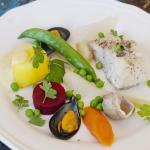 Lamb Stew with Root Vegetables (Navarin d'Agneau)
Local free-range lamb is easy to find in Provence, so there are many typical dishes that you will find on menus. Navarin d'Agneau is a traditional slow-cooked stew made with root vegetables.
Check out this recipe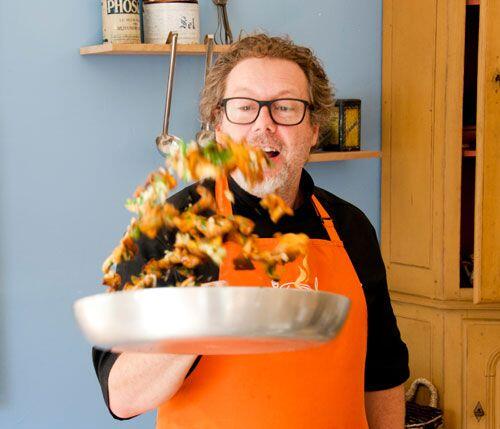 Giuseppina Mabilia Experiences
Italian by birth, Giuseppina Mabilia first visited Provence in 2004, and now she calls Provence home. The years in between have allowed Giuseppina to establish herself as a private chef in the region and launch her cooking school, Venise en Provence. She craves some ingredients from the Veneto region (near Venice) but finds plenty of fresh produce in Provence. Giuseppina is offering a selection of online cooking classes here.
Cold Melon Soup Starter
This is one of my preferred recipes: it's very simple and easy to make but incredibly good and all your guests will enjoy it so much. Now...as the main ingredient is melon you should choose a really good one as that will make the difference. You might be tempted to add something, well...I did in the beginning, then I just reduced the ingredients at the minimum and that's simply perfect.
Check out this recipe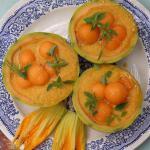 The Cooking School at La Belugue
Take a virtual vacation to Provence with online cooking classes at The Cooking School at La Belugue. Owner and operator Kelly Goehler decided to pivot to online classes so her customers would still be able to enjoy a bit of Provence despite travel restrictions to France. Kelly is a graduate of Gastronomicom Cooking School. Four years ago, she founded The Cooking School at La Belugue (a boutique B&B) and hosts clients from all over the world in her charming and luxurious 18th-century stone farmhouse, La Belugue.

The online course is a four-week series with a traditional Provencal menu typically featuring two entrées, a main course, and dessert. At the end of each class, Kelly shares her expert wine pairings that complement each dish so you will be sure to look like a rock star during your dinner parties. Classes are held each Saturday at 6 pm CET, 12 pm ET for one hour, hosted on Zoom. The number of participants is limited to 10-12 people to ensure everyone can participate and have a personal experience with her. More details can be found on her website, www.cookinginprovence.com, and the online classes in the menu bar under "quarantine cooking classes."
Les Petits Farcis
On the culinary stage, Rosa Jackson is someone with many plates in the air. She founded Paris Market Tours in 1995, the first of its kind. The company, now called Edible Paris, offers a range of walking tours with "food gurus" who are ready to share their secrets – the best food shops, markets, chocolate stores and much more. Today, Jackson spends much of her time in Nice on the French Riviera and focuses on her cooking school Les Petits Farcis. Located in the heart of old Nice, the tiny cooking school is the place to discover "unique culinary traditions influenced by Italy and other Mediterranean cultures." Several Les Petits Farcis classes are now available online, including The Best of Nice Series, Culinary Tour de France and Moroccan Cuisine.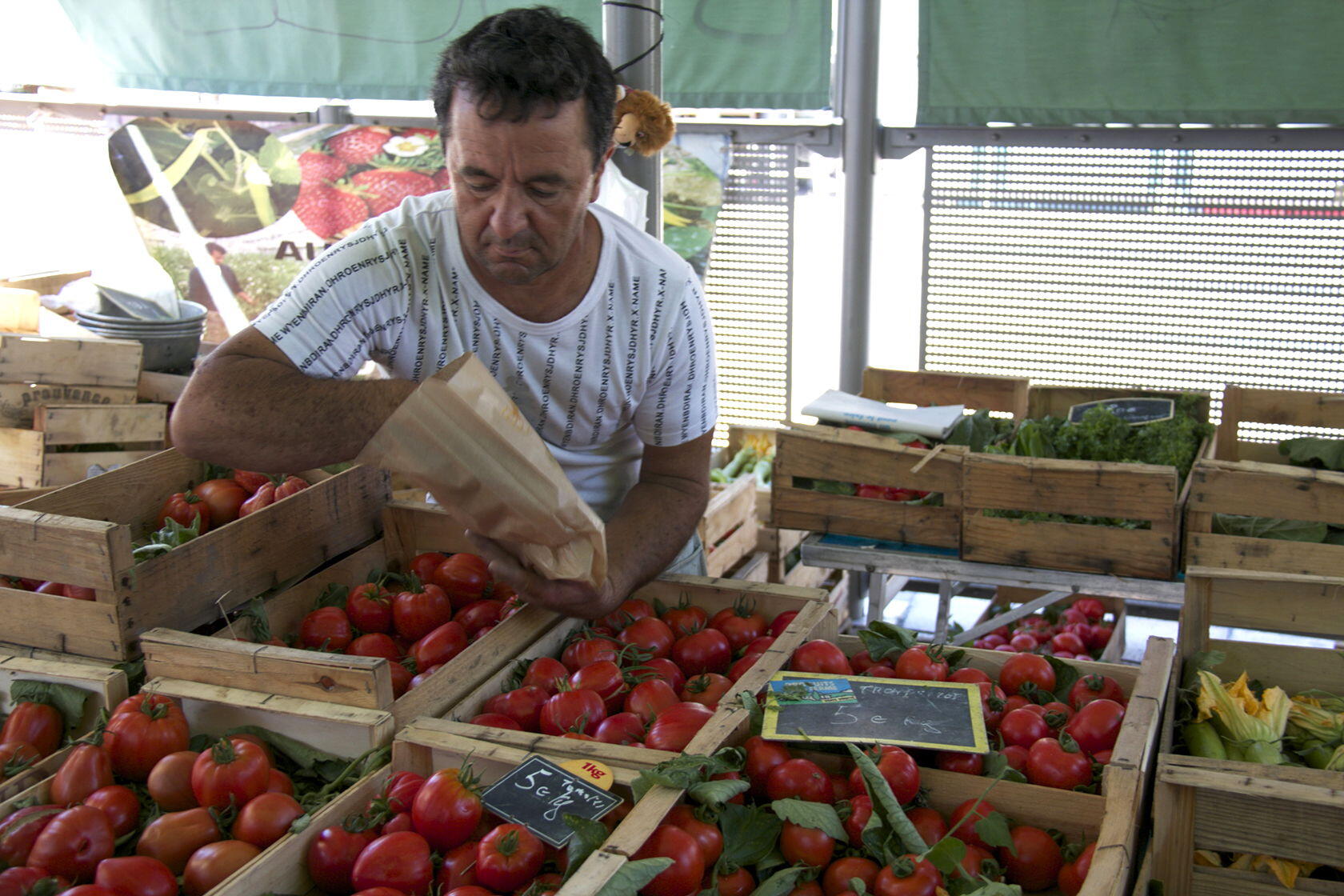 Viktorija Todorovska and Rosa Jackson teamed up this spring and created a food and wine Tour de France, a set of cooking classes featuring the foods and wines of the areas the 2020 Tour passed through. The classes sold out!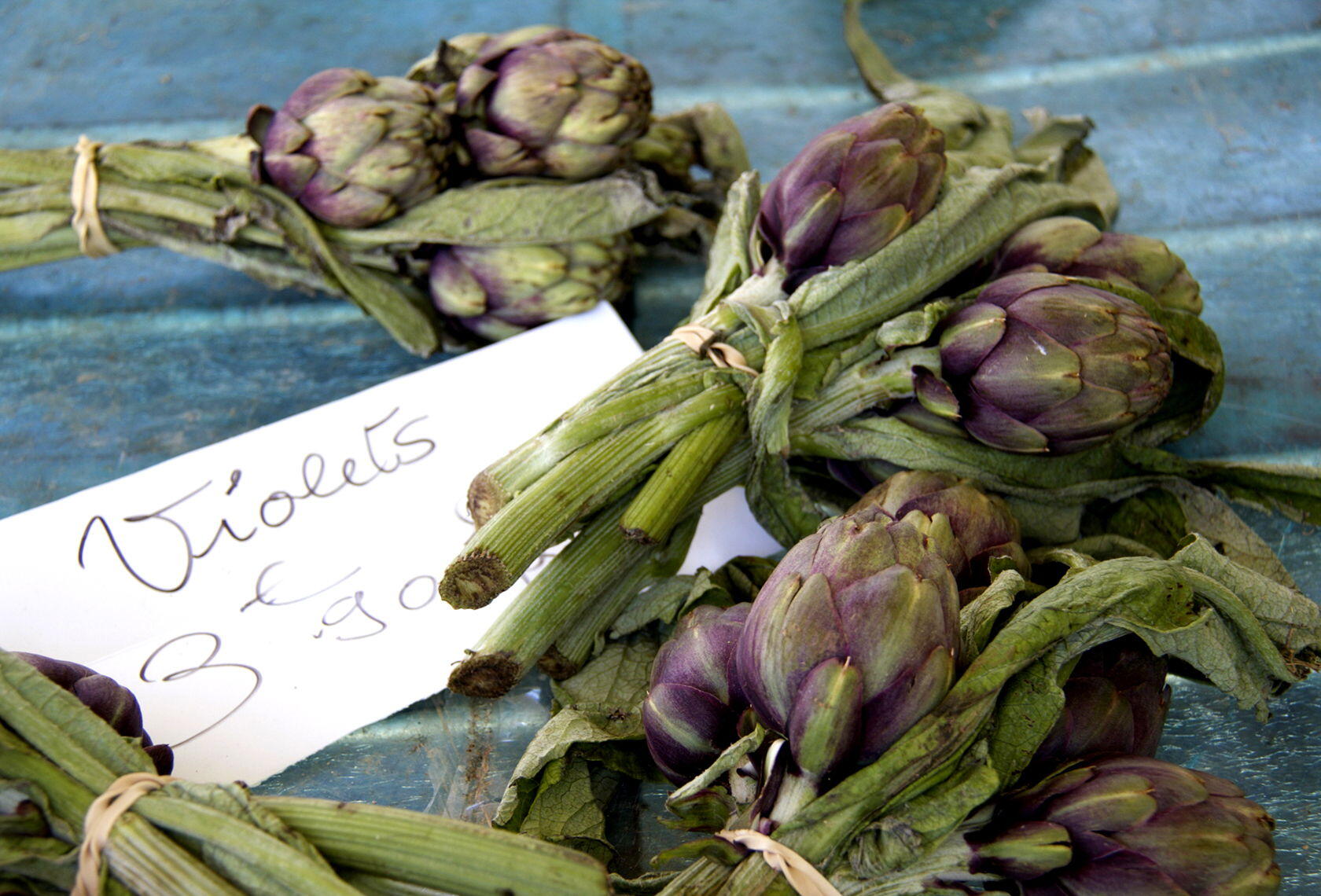 We hope that Viktorija's "Rosé Tasting on Fridays" will be back soon. Designed as an introduction to rosé, the 2-hour class covers this wine that is both complex and versatile. Read more here.
Fougasse with Tomatoes, Olives, and Peppers
This fougasse is rich and savory, almost a meal in and of itself. Pair with a more structured, but dry rosé for a perfect aperitif.
Check out this recipe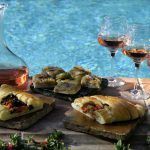 Tips and Tricks Cooking Demonstrations
Chef François de Melogue (Pistou and Pastis)
Cookbook author and food lover Chef François de Melogue and his wife Lisa are the francophiles behind Pistou and Pastis. Obviously, they like French cooking and enjoy the flavours from the south of France. With some extra time at home, they built a library of YouTube videos sharing French cooking secrets. My personal favourite (so far) is the Simple Roast chicken.
Seared Tuna with Sorrel and Fennel
A simple, flavourful tuna preparation made with the bounties of both the sea and small farms
Check out this recipe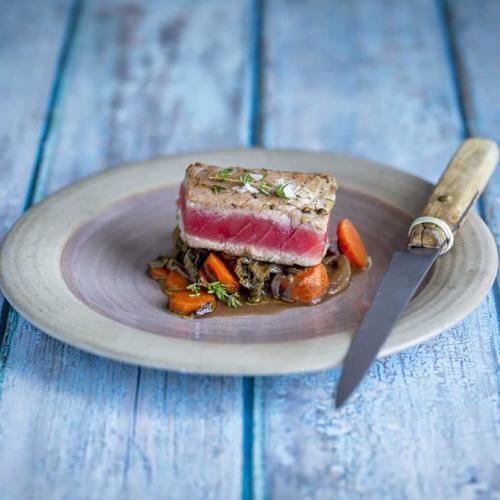 Provencal Chickpea Soup (Fourmade)
Easy to master: Provencal chickpea soup is so surprisingly rich and luxurious tasting that even my 9-year-old son is convinced it has cream.
Check out this recipe

Apple Beignet with Caramel Ice Cream
This recipe is simple to make. Prepare the batter in advance, and have your vegetable oil ready to go. When you are ready to make the beignets it is only a few minutes to deep-fry the apples.
Check out this recipe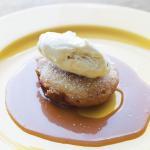 Chef François curated our fall dinner party menu this year. The menu includes a soup, stuffed chicken, a zucchini side dish and a hard-to-resist blueberry galette. The recipes follow below, enjoy the results with your favourite Provencal wine.

Tasha Anne Powell (Pitcher and Powell)
The first time that Tasha and I met was at the famous Café Gaby in Lourmarin. We share passions for cycling, food, travel, and Provence. Tasha is one of those people you feel lucky to meet in your life. She is not only beautiful and smart; she is open to new ideas and experiences. When 2020 delivered a blow to the Pitcher & Powell culinary tour schedule (Marrakesh, Italy, Provence and Ontario), Tasha pivoted and decided to offer online cooking demonstrations and culinary tips. Explore Tasha's Zoom classes here.

Panisse (Panelle, Sicilian-style) or Chickpea Fritters   
Panisse is very popular in Provence, although a similar recipe can be found in other places along the Mediterranean as I discovered in Sicily. Impress your guests with this salty, yet slightly sweet nibble with cocktails.
Check out this recipe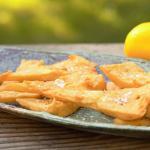 Sweet Moroccan Cucumber Salad
This recipe serves 4 people as a starter or salad. Alternatively, serve as a side dish with grilled meat or fish.
Check out this recipe

Grilled Octopus Salad - Salade Composée aux Poulpes Grillés
This recipe is great for a large, lunch salad or you can serve smaller portions as a starter for dinner.
Check out this recipe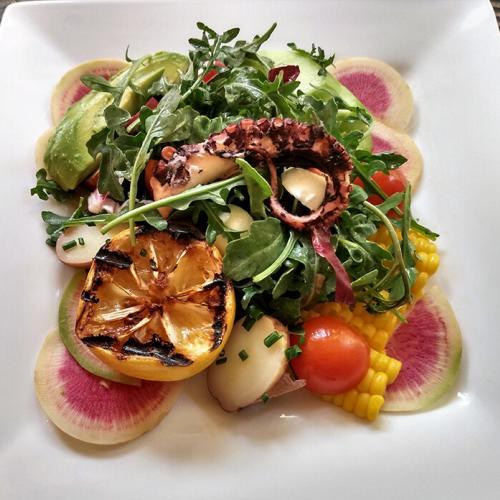 One of Tasha's recent classes was on the French style of entertaining called the apéro dînatoire is a favourite way of throwing parties in France.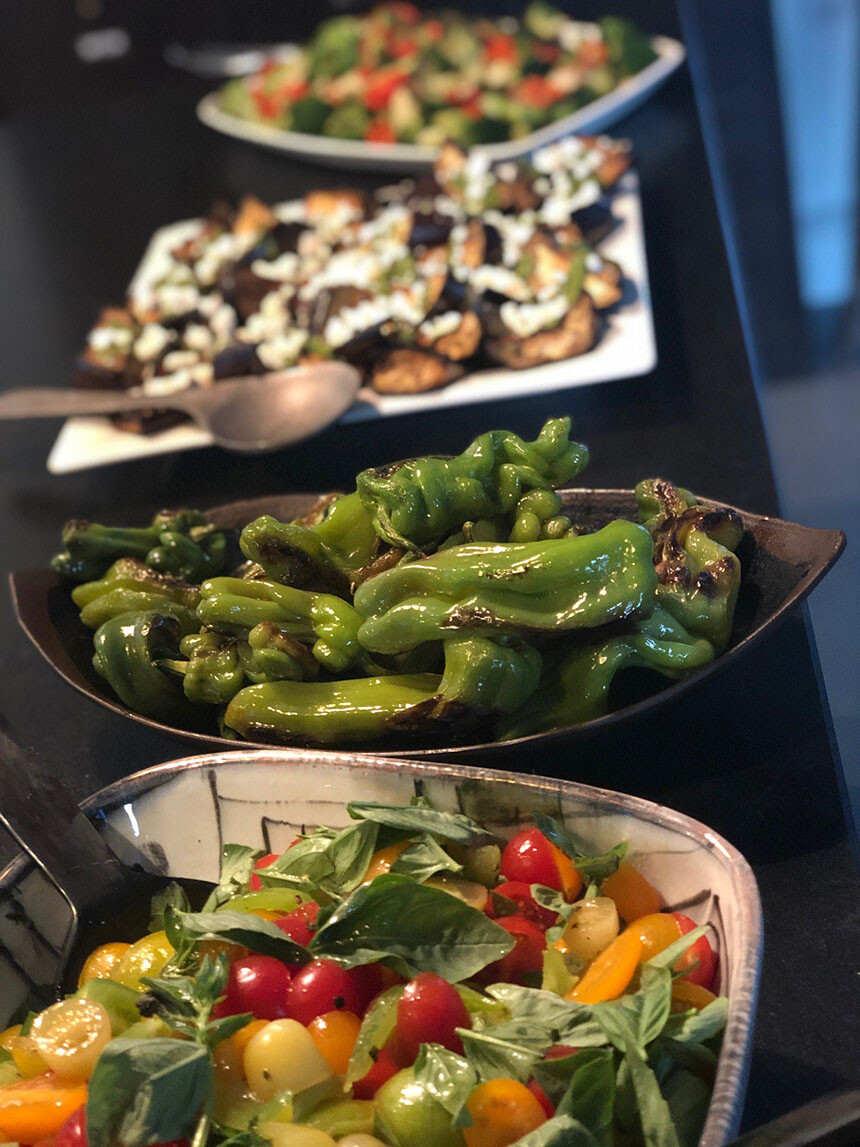 She also tempted us with the essentials for a summer picnic. The French, though, take the word pique-nique to an elevated culinary level! My experiences in North America pale in comparison to the memorable pique-nique outings I have experienced in Provence.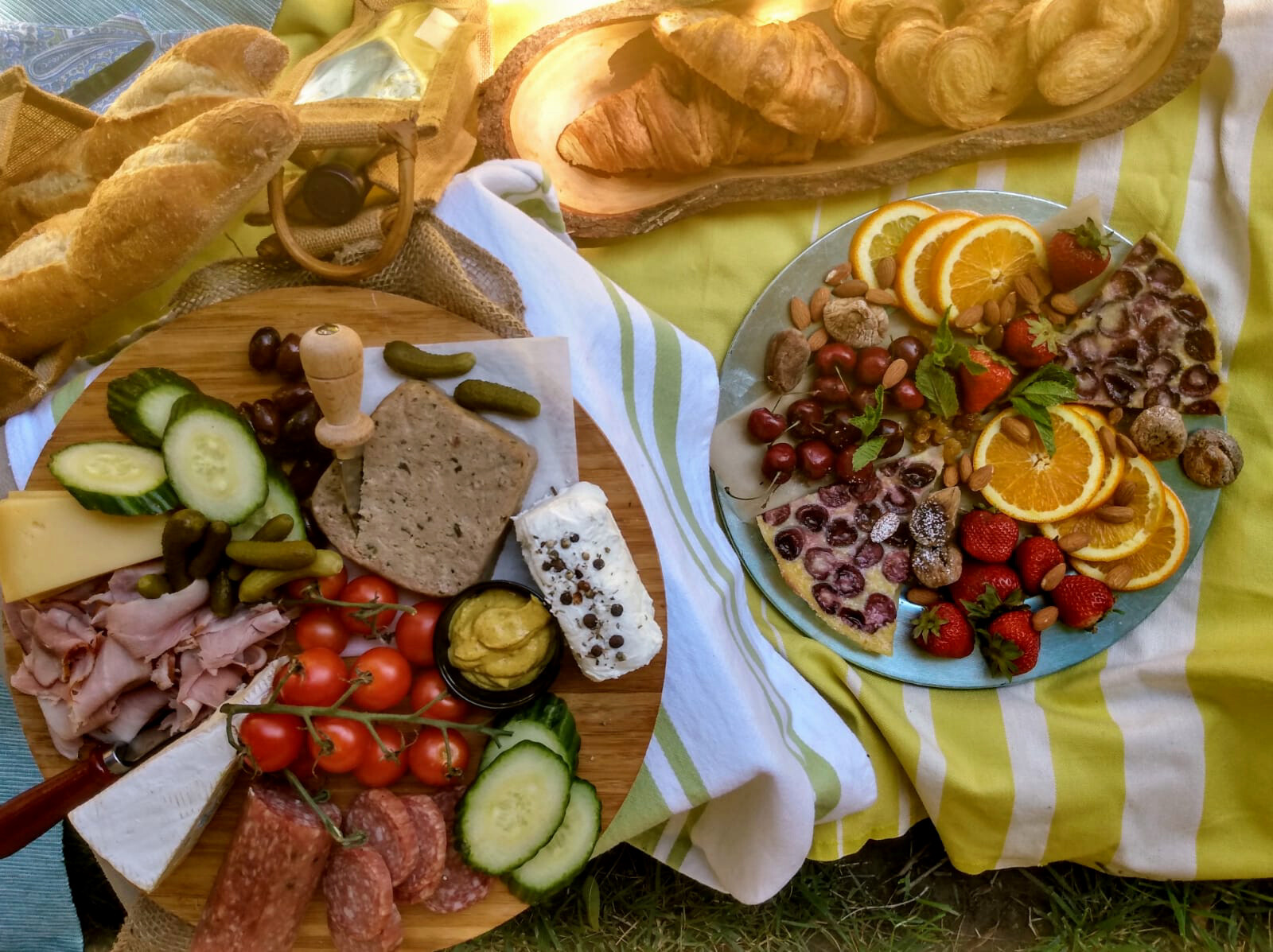 Other Virtual Cooking Ideas
Recently, we joined David and Marc from Cocoa & Lavender and Susan and Towny Manfull (Provence WineZine) for a virtual dinner party. Thanks to Zoom technology, we linked up three time zones from the east coast to Arizona and began cooking dinner together. The menu was a collaborative effort that David tested in advance to send us the shopping list. Susan and Towny made wine pairing suggestions to go with the meal. It was hard to believe that almost 5 hours had passed when we sign-off from Zoom having shared a meal virtually. What delicious fun!
Bon Appétit
All rights reserved. Perfectly Provence articles and other content may not be published, broadcast, rewritten (including translations into other languages) or redistributed without written permission. For usage information, please contact us.
Syndication Information
Affiliate Information
As an Amazon Associate, this website earns from qualifying purchases. Some recipes, posts and pages may have affiliate links. If you purchase via these links, we receive a small commission that does not impact your price. Thank you in advance for supporting our work to maintain Perfectly Provence.