Exotic Summer Salad Grilled Octopus for Lunch
Have you ever tried grilled octopus? It's a Mediterranean delicacy, and NOW is the time to be adventurous in the kitchen. This Summer salad recipe with grilled octopus is fresh, delicious, and colourful. The salade composée is a visual treat, as well as a yummy starter for your guests.
My first experience eating grilled octopus salad was in Bandol, a coastal town in the south of France that is breathtakingly beautiful.  I was delighted with this meticulously prepared dish served with a Champagne vinaigrette. Since I love to re-create these types of experiences at home, my advice is to remember to pour some chilled rosé for your guests!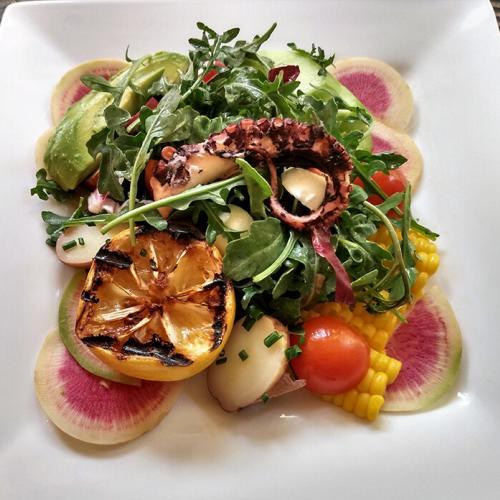 Grilled Octopus Salad - Salade Composée aux Poulpes Grillés
This recipe is great for a large, lunch salad or you can serve smaller portions as a starter for dinner.
Ingredients
Salad Ingredients
12

Petite Red Potatoes

1

lb

Octopus

roughly 4 oz per person

2

Lemons

1/2 lemon per person for plating

1

Lemon (to slow cook the octopus)

cut in wedges

1-2

Avocados

depending on size

1

Shallot

1

package

Arugula

1/2

English cucumber

4

Red Radishes

1

small

Watermelon Radish

12

Grape Tomatoes

a mix of red, orange and yellow

8

small

Mozzarella balls

2

ears

Corn on the cob

cooked

Purple Cabbage

if in season or as an alternative ½ small radicchio

Chives

finely chopped

Alternative: Add edible flowers and microgreens for an even more colourful presentation.
Champagne Vinaigrette Dressing
1

tsp

Dijon Mustard

1

tbsp

Shallot

finely chopped

2

oz

Red Wine Vinegar

2

oz

Champagne Vinegar

1

tbsp

Honey

6

oz

Extra Virgin Olive Oil (EVOO)

6

oz

Grapeseed Oil

to taste

Kosher salt and freshly ground pepper
Instructions
To Make the Champagne Vinaigrette:
In a medium bowl, add the mustard, chopped shallots, red wine vinegar, champagne vinegar, honey, 1 teaspoon salt, 1 teaspoon pepper and whisk. Then, very slowly, add the EVOO and Grapeseed oil until the vinaigrette is emulsified. Adjust the level of salt and pepper to taste.
Prepare the Salad:
Cook the octopus slowly at 220 degrees F (95 C) or low on in a slow-cooker. Note: cut one tentacle or portion (about four ounces) per person and place it in a pan and cover the octopus in water. Add lemon wedges and cook for 90 minutes, let cool, set aside.

Boil the petite red potatoes until they are fork-tender, about 30 minutes, let cool, set aside.

Boil the corn (10 minutes) or prepare in a pressure cooker (2 minutes after cooking pressure is reached), let cool, set aside.

Now, slice the rest of your ingredients. Slice the tomatoes, petite red potatoes and mini mozzarella balls and one lemon in two. Then, thinly slice the watermelon and red radishes and the purple cabbage (or radicchio). Cut the corn in strips from the cob.

Next, lightly coat your octopus, that has been slow-cooked, with EVOO and then grill for about 2 minutes per side. At the same time, grill 1 lemon half per person. Make sure not to overcook the octopus as you want to keep the soft texture from the slow cooking. Overcooking will result a rubbery texture. The texture should be slightly chewy but tender.

Once you have all your ingredients, dress the arugula and pile the greens on a plate and compose your salad with all the colorful ingredients! Then, drizzle some more champagne vinaigrette on the salad and sprinkle finely chopped chives on top.

It's ready to serve! Bon Appetit! Enjoy this Mediterranean specialty.
Notes
If you live in France, your seafood supplier should have octopus. It is also available at Carrefour. If you are in North America, your specialty grocery store will have octopus – try Gelson's, Whole Foods, Bristol Farms or your local specialty seafood store. If octopus is just not available, and you wish to have another Mediterranean experience, you can make this salad with grilled shrimp!
Pitcher & Powell Cuisine & Culture have rescheduled their culinary and yoga trips to both Marrakech and Provence until 2021.  In the meantime, Barbara is organizing yoga retreats in Provence.
Tasha, who is based in Los Angeles, and travels back and forth to Provence, is teaching online cooking courses. Her next class is on July 12th  –
An evening of Provencal cooking
with recipes that include a caramelized onion Tarte du Soleil, and a Ratatouille Tian. Find all the details for this Zoom class on
Eventbrite
.
---
Other Summer Salad Recipes: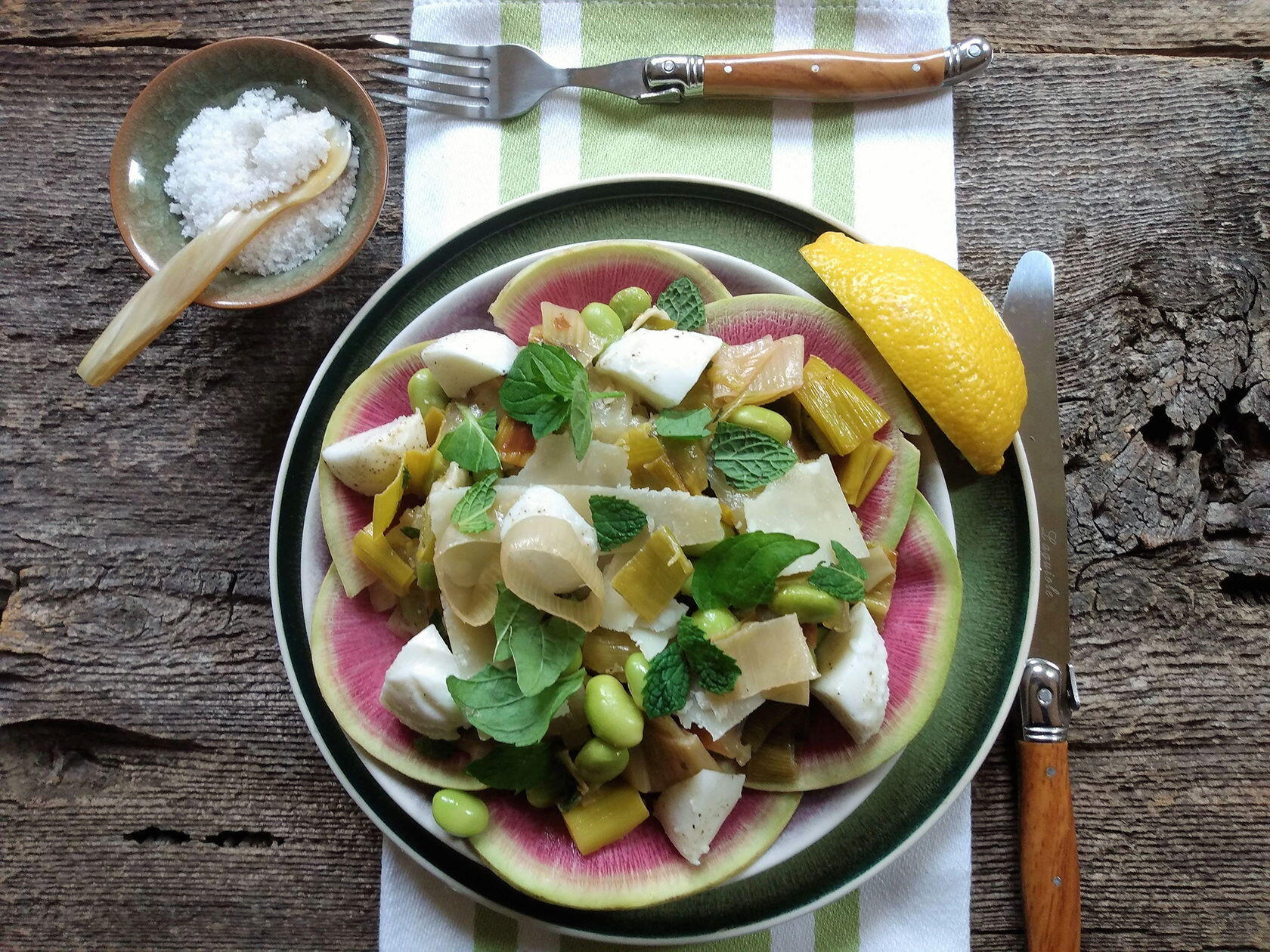 Watermelon, Melon and Feta Cheese Salad
Barley Salad with Roasted Tomato and Thyme
Warm Goat Cheese Salad with a Lemony Vinaigrette
Citrus Salad with Orange, Fennel, Olive and Capers
Moroccan Zaalouk d'Aubergine a Spiced Eggplant Salad
Salmon Salad with Citrus and Mango