Try this Fall Dinner Party Menu with Provencal Flavours
Autumn in Provence
Fall is a beautiful season in the South of France, but regardless of where you live, the season's arrival signals shorter days. The lingering summer light becomes more radiant, casting an ethereal golden hue across our dinner table. You can enjoy the residual effects of Provencal summer without the oppressive heat of summer. My days are spent basking in the golden sunshine, hoping winter will forget where I live. But the coolness returning to the evening air crushes that dream. And for this reason, I find comfort in a bowl of Fourmade, a Provencal chickpea soup that I often cook as a starter.
Fall Dinner Party Menu
The palate of colours changes at my nearby farmers market, bringing out old favourites and a host of new dishes to explore; for this very reason, a fall dinner party menu. The menu includes a soup, stuffed chicken, a zucchini side dish and a hard-to-resist blueberry galette. The recipes follow below, enjoy the results with your favourite Provencal wine.
Soup: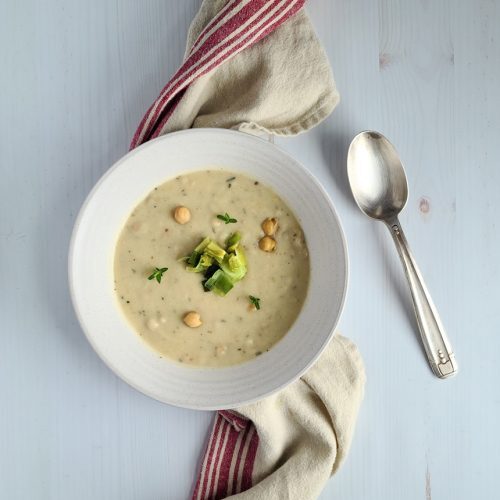 Provencal Chickpea Soup (Soupo de Cece)
My version is based on J.B. Reboul's classic on Provencal cuisine 'La Cuisinière Provençale' and find his recipe for chickpea soup entitled Soupo de Cece. The recipe is easy to master and is surprisingly rich and luxurious tasting, that even my 9-year-old son is convinced it has cream in it.
Ingredients
1

cup

Chickpea Flour

2

quarts

Cool Water

1

tsp

Herbes de Provence

2

tsp

Cumin

1

tsp

Aleppo pepper or Espelette

or nothing

2

tsp

Flaked Sea Salt

1/2

tsp

Black Pepper

1/4

cup

Olive Oil
Optional:
2

Leeks

washed well and diced

2

tbsp

Olive Oil

15

oz

Canned Chickpeas
Instructions
Put chickpea flour, water, herbes, cumin, Aleppo, salt, pepper, and oil into a blender and blend until smooth, about 15 seconds. Pour the contents into a Dutch oven and heat slowly over low to medium heat until hot, about 30 minutes, stirring often. Adjust seasoning to your taste.
Optional:
For the leeks, slowly cook washed leeks in olive oil over a low flame at a grandmotherly pace until they almost melt, about 30 minutes. Add to soup. For the chickpeas, open can and add both the liquid and the chickpeas.
Serving:
This lovely soup lends itself to creative garnishing. Everything from croutons fried in olive oil to small juliennes of Bayonne ham works so well. Experiment with what you like.
Notes
Tip: Use a whisk to stir the soup to keep it from scorching on the bottom.
Tip 2: There is nothing worse than eating gritty leeks, but I learned a trick for cleaning them easily. Dice the leeks and cover them with cold water in a large bowl. Add one (1) tablespoon of salt and agitate the water. The salt acts as an abrasive, and the dirt and sand will settle to the bottom of the bowl. With a slotted spoon, scoop the leeks out of the water. Do not pour the leeks and water through a strainer because you would just be pouring the sand back over the leeks.
Main Course:
What most of us adore most about Provence is the simplicity of life there. It is almost as if time stops and we are transported back to a gentler time. A time where the joys of life center around the natural beauty of the small village, sunflowers growing in a field, and the table. It is a quieter, more contemplative time.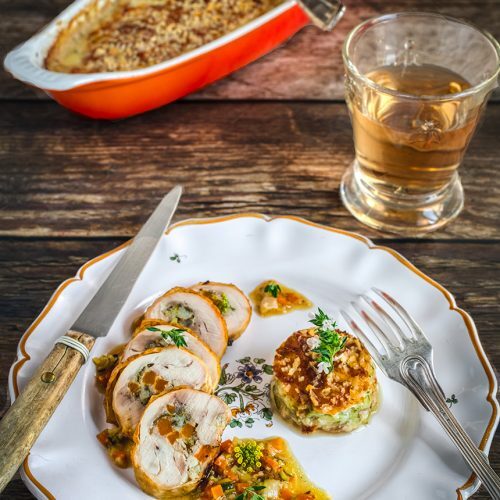 Gigotine of Chicken
This rustic main course is a play on the culinary term gigot (lamb leg). For this recipe, the chicken is deboned and stuffed with fragrant herbs and roasted. I serve the gigotine with a gratin of zucchini and caramelized onions.
Ingredients
6

Chicken Legs and Thighs

2

tbsp

Olive Oil

2

cloves

Garlic

chopped

1

Leek

washed well and diced fine

1

Sweet Onion

peeled and diced fine

2

Carrots

peeled and diced fine

1

Fennel Bulb

diced fine

1

rib of

Celery

diced fine

Sea Salt and Black Pepper

1

tbsp

Chopped Fresh Herbs

summer savory, thyme, basil, parsley, tarragon

2

tbsp

Breadcrumbs

1

large

Egg

2

tbsp

Unsalted Butter

1

cup

Chicken Stock
Instructions
Remove the thigh bone and put chicken legs aside while you prepare the filling. In a medium saucepan over medium-high heat, heat the olive oil with the garlic and cook until the garlic starts turning amber coloured, about 2 minutes. Add the leeks, onion, carrots, fennel, and celery.

Preheat the oven to 400°F (200°C).

Reduce the heat to low and simmer, stirring occasionally, until the vegetables are soft, about 8 minutes. Season with salt and pepper to taste, toss with the herbs, breadcrumbs, and egg.

Lay the chicken thighs out on a counter with the skin side facing downwards. Put about a pinky sized about filling where the thigh bone used to be and roll it up. Use a toothpick or skewer to help keep the stuffing inside.

Butter a skillet and lay the chicken on top. Pour chicken stock around and roast for 45 minutes, or until the chicken is fully cooked. Let rest for 10 minutes before slicing.

To serve, slice the chicken thigh into 4 pieces and leave the leg intact. Arrange on warmed plates with a spoonful of zucchini gratin.
Side Dish:
The truth be told, I made this zucchini gratin in the heat of summer, which goes completely against everything I believe in for the hot days of the year. However, I ended up serving it with the herb stuffed, gigotine of chicken (above), and it married wonderfully. Zucchini gratin will go with any grilled meat or seafood dish you can throw at it. Give this a gratin a try for helping to cull your herd of zucchini.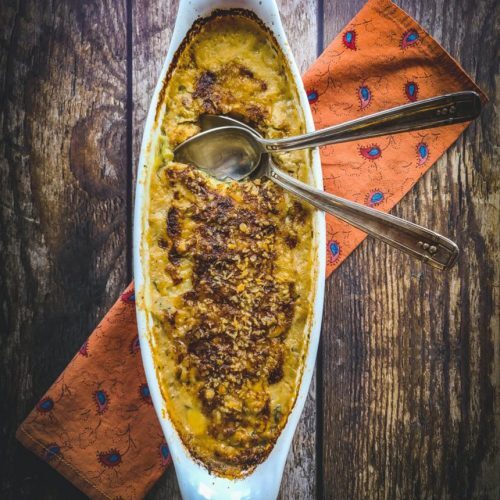 Zucchini Gratin
This creamy gratin that will tickle your palate from the fall and into the winter months.
Ingredients
For the Gratin:
2

tbsp

Olive Oil

1

Sweet Onion

sliced paper thin

6

Zucchini

sliced super thin

¼

cup

Shredded Gruyere Cheese

2

tbsp

Unsalted Butter
For the Béchamel Sauce:
3

tbsp

Unsalted Butter

3

tbsp

All-Purpose Flour

1 ½

cups

Whole Milk

½

tsp

Ground Nutmeg

Sea Salt and Freshly Ground Black Pepper
Instructions
In a large, heavy saucepan, heat the oil over medium heat. Cook the onions, stirring often, until soft, about 10 minutes. Put aside until assembling.
To make the Béchamel:
In a medium saucepan over medium heat, melt the butter until foamy. Add the flour and cook, stirring constantly, until the mixture is foamy, about 3 minutes. Gradually add the milk, stirring until smooth. Cook, stirring, until the sauce is thick, about 3 minutes. Stir in the nutmeg and salt and pepper to taste.
To make the Gratin:
Preheat the oven to 400°F (200°C).

Butter a gratin dish. Put a ½ inch layer of sliced zucchini, followed by the bechamel, and caramelized onions. Top with another ½ inch layer on zucchini slices. Sprinkle the cheese and dot with the butter.

Bake the gratin for 30 minutes, or until golden brown.
Notes
Sometimes I add wilted greens (spinach, kale, broccoli rabe, etc). Add whet you enjoy eating.
Dessert:
For dessert, I am always craving something fruity and rustic like a perfect fruit galette. Though I made this recipe with blueberries and lime, any other fruit can be substituted with great success.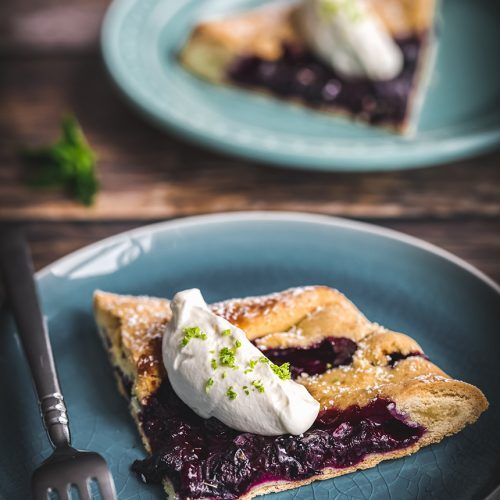 Rustic Blueberry and Lime Galette
If blueberries are not in season, try this dessert with apples or pears.
Ingredients
For the Dough:
¼

cup

Almond Flour

1 ¼

cup

All-purpose Flour

pinch of

Sea Salt

1

tsp

Baking Powder

1

stick (4oz)

Unsalted Butter

¼ to ½

cup

Ice Water
For the Blueberry Filling:
2

cups

Blueberries

1

tbsp

Cornstarch

1

Lime

zested and juiced

¼

cup

Granulated Sugar
Instructions
To make the Dough:
In a food processor, pulse the almond flour, flour, salt, and baking powder together. Add the butter and pulse until the mixture looks like coarse cornmeal. With the motor running, add just enough ice water through the feed tube so that the dough forms into a loose ball. Gather the dough into a ball and cover it with plastic wrap. Let it rest for 1 full hour or overnight in the refrigerator.

Preheat the oven to 400°F.
Prepare the Blueberries:
In a large bowl mix the blueberries, cornstarch, lime, and sugar until thoroughly combined.
Assemble the Galette:
On a floured work surface with a floured pin, roll the dough out to a 12-inch circle. Pile the blueberry mixture into the center 8 inches. Fold the edges of the dough over towards the center. Bake until the crust is golden brown, 15 to 20 minutes.

Let it cool for 20 to 30 minutes.

Serve with a scoop of vanilla bean ice cream or whipped cream.
Notes
TIP: Be careful not to overmix the dough or else the crust will be tough. Gluten acts like a muscle—the more you work, the harder it gets. Similarly, when you let the dough rest, it will become softer.
---
Fall Dinner Menu à la Provencal for Pinterest Fans: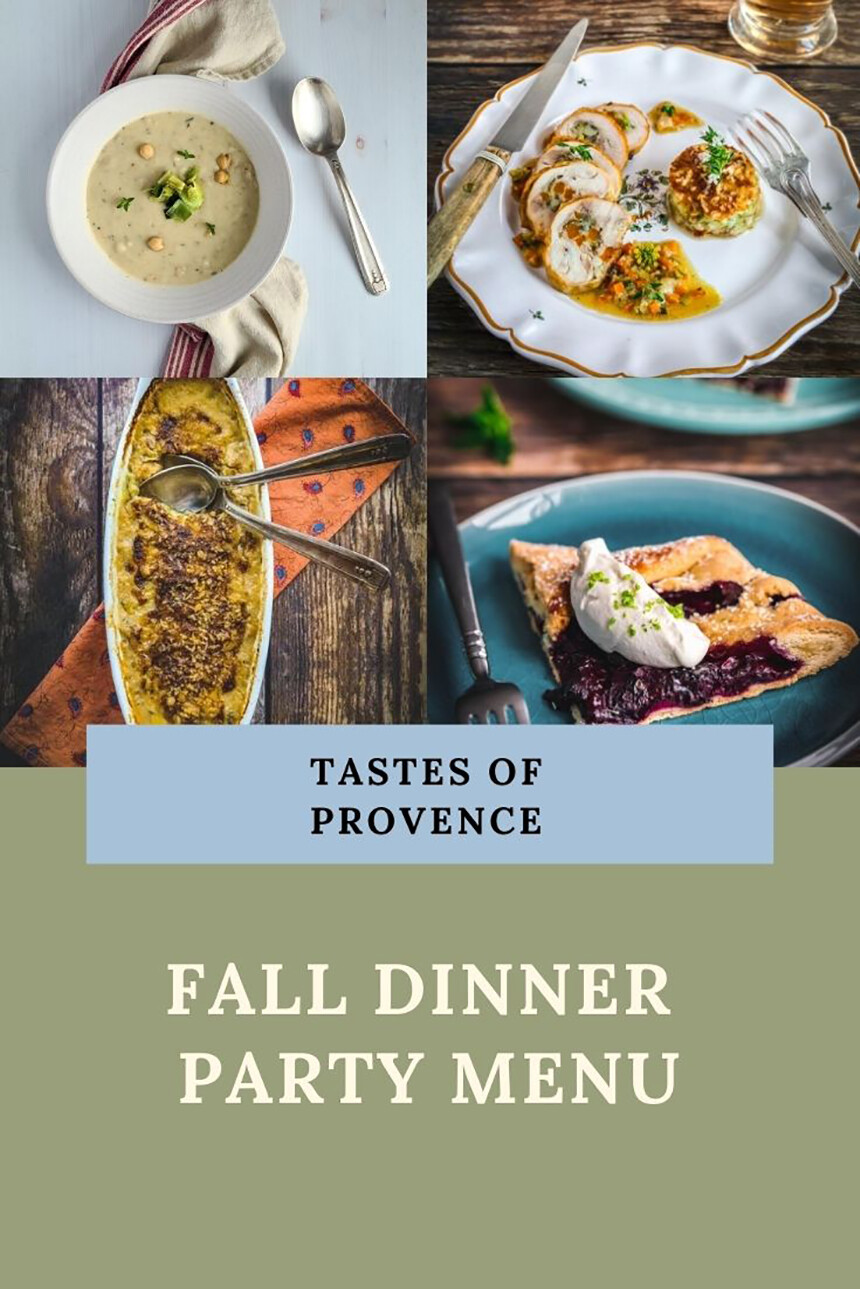 ---
Other Fall Menus Inspired by Provence:
Two variations on a fall menu: One celebrates Indian summer with a grilled calamari and radicchio salad, and lavender honey brushed lamb chops served with Moroccan couscous and chickpea salad. While the other, a soupe au pistou and daube of pork cheek gently reminds us of the heartier fare that will soon provide comfort and solace during the darker nights.
Depending on where you live, "Fall might be in the air." Indeed, in most places in the northern hemisphere, the days are markedly shorter, the leaves are changing colours to rich, warm tones (reds, oranges and yellows). The harvest is done for most kitchen gardens, ahead of the of frosty days. In Provence, the grapes are harvested and starting to become the next vintage. Bright root vegetables are on display in local markets. Foragers search for mushrooms in their "secret" spots. This delicious menu reflects the colours of Provence for a cozy evening with friends.