Apéro Dînatoire the Epitome of Spontaneous, Chic Entertaining
The French style of entertaining called the apéro dînatoire is a favourite way of throwing parties in France. Since I am in France for an average of 3 to 5 months every year, we have grown roots in Provence, specifically in the area of Aix-en-Provence! I love apéro dînatoire gatherings and the spontaneity of inviting friends over. When you mention apéro dînatoire, your guests will know that there will be plenty of food served in a casual manner. This type of party is becoming more common as it is the perfect balance between the apéro cocktail party and a formal dinner party.
Join me on September 20th for a live demonstration on Food Styling, Plating and Presentation (details at the bottom of this article).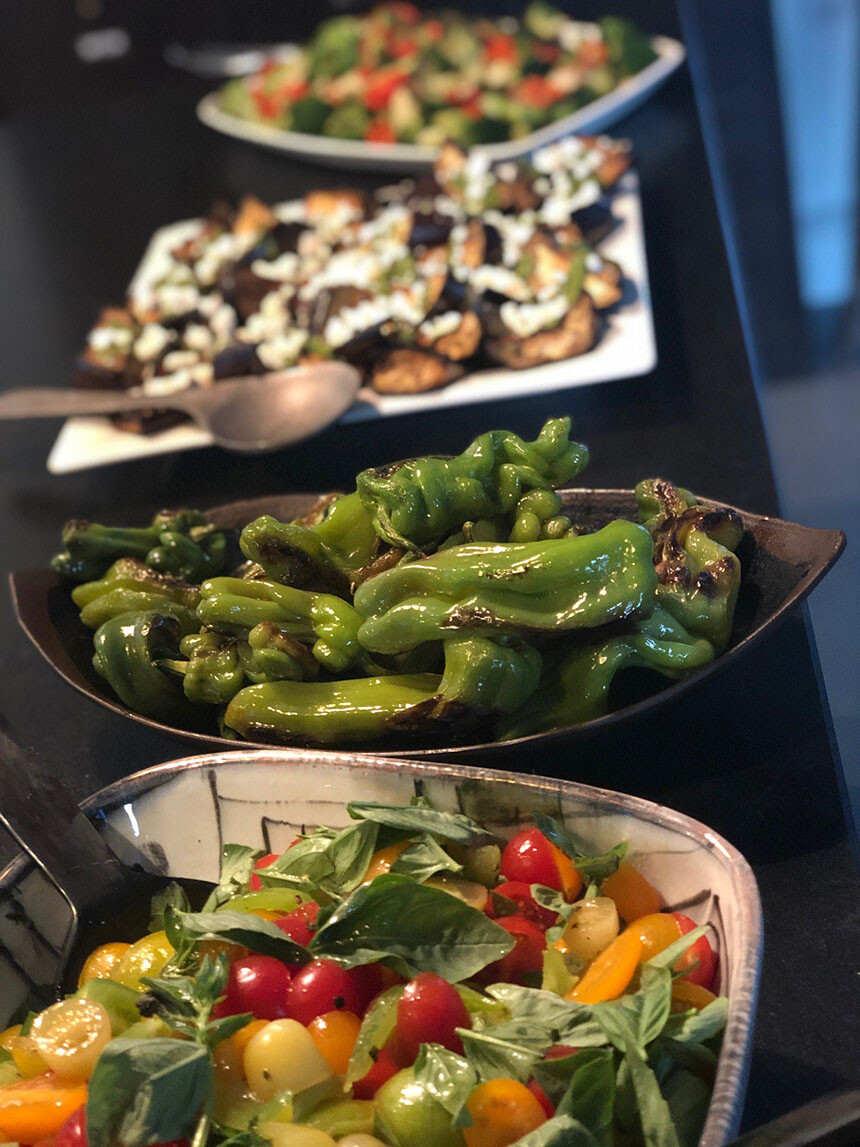 Easy Cocktail Party
While it is much easier to host this type of party, the amount of work it requires totally depends on what you plan to serve. While, not a formal sit-down meal with multiple courses, the prep work can still be time-consuming, if you are making all of the appetizers yourself.
As a food stylist, I love making a beautiful charcuterie plate that has colour, texture, height and a variety of flavour profiles to please nearly everyone's palette.
The best part about this type of party is that nearly all the preparation is done ahead. That way the host can enjoy every moment with their guests. As opposed to the elaborate ritual of a 6-course meal, the apéro dinatoire should be a less intimidating type of party to host.
The apéro dinatoire could include a charcuterie plate, cheese plate, individual appetizers, roasted vegetables, gherkins, sun-dried tomato paste and, of course, freshly-baked baguettes! I also would include an offering of salads, tartes du soleil, seasonal fruits and desserts that round out the meal.
If you have an indoor space with connecting outdoor space, this is ideal! You can always start your party with a champagne toast followed by local wine offerings that serve to cement the party mood.
Where I have gone wrong
While there are no hard and fast rules, I have learned to honor French traditions. I nearly caused a riot when I made rillettes (slow-cooked in fat, then shredded) from rabbit meat instead of the traditional pork version. Even when I explained that a Michelin-starred chef had taught me this rabbit rillettes recipe at a food festival called Etoiles de Mougins, I ended up debating (for hours) what kind of fat was used to soften the meat to a delicious melt in your mouth texture.
When it comes to oysters, I recommend serving them with lemons and pepper and skip the shallots and red wine vinegar. Should you have an oyster farmer (un ostréiculteur) at the party they will emphatically tell you that oysters should only be "nature" or with a small sprinkle of black pepper. I have found the lemons are also acceptable but shallots and red wine vinegar are frowned upon (even though most guests admit to liking this version).
Lastly, I made Tartes Tropéziennes with different pastel fillings (pastry crème and whipped cream) and ever so slightly flavoured with raspberries, lemon and blueberries. This did not sit well with the traditionalists at the party. Pastry crème should not be a pastel colour or fruit flavour, no matter how subtle, according to the classic rules.
Have Fun With It
So, my last bit of advice is to consider the traditions of your international guests. Allow your imagination free rein when interpreting a classic French dish or dessert. Your creativity will cause endless hours of discussion and even arguments, all for the sake of eating, which is, one of my favourite pastimes.
---
Food Styling, Plating and Presentation
Sign up here for a Zoom Class featuring what tools to use to create incredibly styled dishes. The goal of the class is how to build your own appetizer party: Simple. Abundant. Seasonal.
How to choose plates, surfaces, use complementary colours! I will show examples of how to build a cheese and fruit plate as well as individually plate dishes.
We will use food styling techniques to build an appetizer party presentation, in French known as an apéro dînatoire.
Create height on the plate or platter.
Use multiple textures.
Highlight the key ingredient.
Incorporate contrasting colours.
Choose

a variety of plates and platters.

Use edible garnishes.
Keep it simple.
Use the correct tools.
Items to bring to the class:
Oversized tweezers
Squeeze bottle
Silicon brushes
Circle template (mold)
A variety of plates and platters – different sizes and colours
Piping bag (or plastic bag) and star tip
Please note our class begins at 4 PM Pacific, 7:00 PM Eastern on September 20th. Once you register for your class you will receive the Zoom sign-in instructions.
---
Cocktail Recipe Ideas:


Savoury Anchovy Puff Pastry Bites
Provencal Poischichade and Other Easy Appetizers