Le Grand Aioli is a Provencal Classic Recipe
Aioli (aïoli) is a popular sauce in the South of France. Made with olive oil, potato and egg yolk, the recipe for this garlic mayonnaise follows. Le Grand Aioli describes the main course where the aioli sauce compliments a selection of seasonal vegetables and fish. This recipe easy to prepare, but allow enough time as each vegetable should be cooked separately to ensure they are not overcooked. Traditionally cod is the fish for the Grand Aioli. Although, feel free to substitute the cod for anything else you like including shellfish.
Le Grand Aioli is frequently featured on restaurant menus on Fridays. This tradition harkens back to the religious custom of eating only fish on the last day of the work week. Why wait for Friday?
Serve this main course to your guests with some crisp rosé or white wine and enjoy. Serve this dish as shown on individual plates, or family style on a large platter.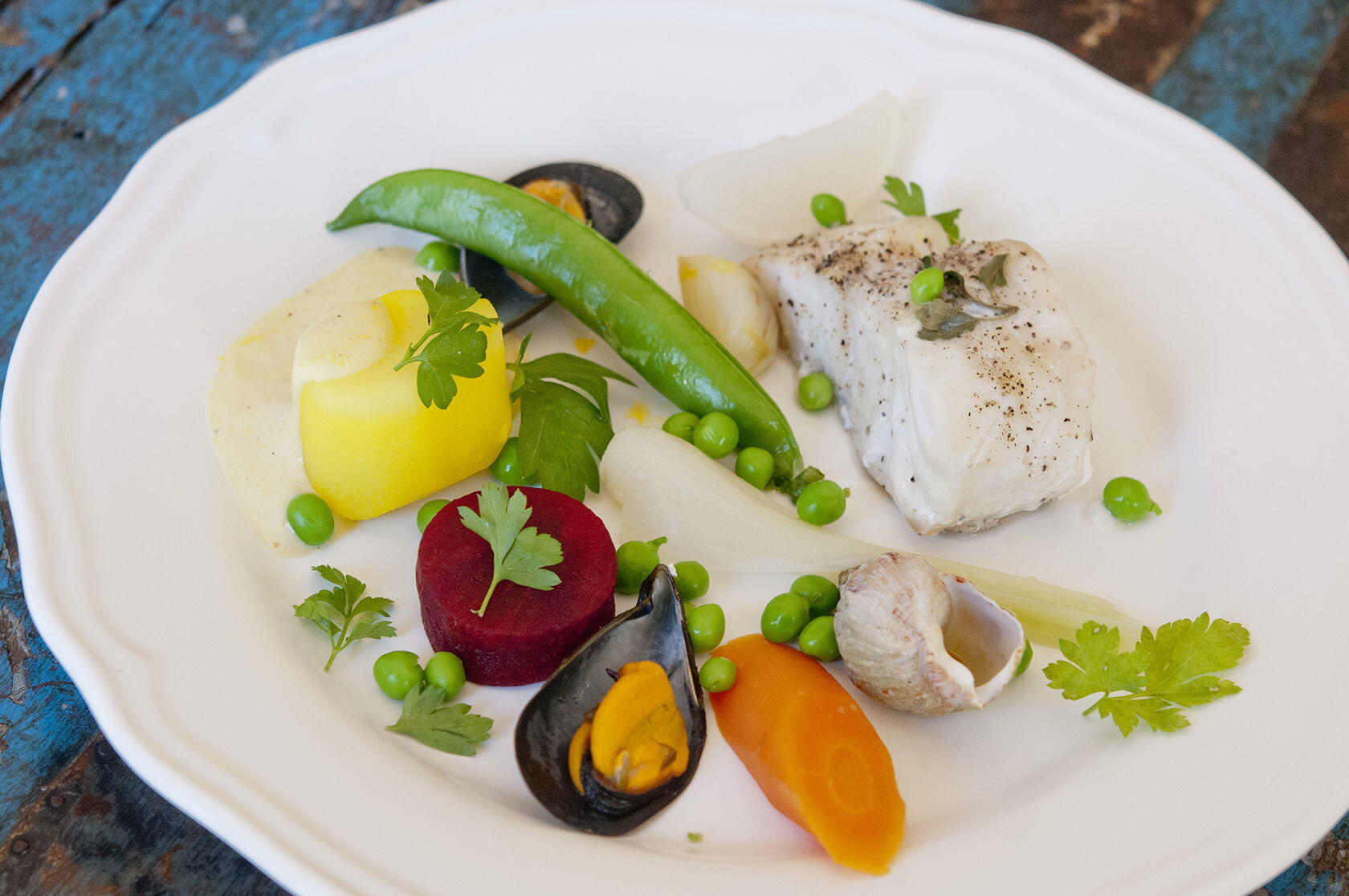 Grand Aioli is a Provencal Classic
Allow enough time as each vegetable should be cooked separately to ensure they are not overcooked. The dish can be served warm or at room temperature making it a perfect main course for hot days too.
Ingredients
6

pieces

Fresh Cod Fish

2

Cooked Beets

2

Carrots

2

Turnips

3

Potatoes

200

g (5 oz)

Mixed Green Vegetables

green beans or peas, asparagus

12

large

Mussels

6

Sea Snails

1

recipe

Aioli sauce

(below)

1

bunch

Mixed Herbs

oregano or basil

2

pinches

Saffron

3

Tbsp

olive oil

Salt and Pepper
For the Aioli Sauce:
2

Garlic Cloves

1

Potato

cooked and peeled

10

ml

Sunflower oil

10

ml

olive oil

1

Egg Yolk

1

pinch

Saffron
Instructions
Boil each vegetable separately and stop the cooking when the vegetable is tender but not overcooked (shock in cold water) drain and reserve.

Boil the mussels with 1 tablespoon olive oil, stop as soon as they are open. Keep only one half of the shell (the one with the mussel of course)

Make 6 cylinders with the 3 potatoes and boil them in water with salt and saffron until tender, keep warm.

In a baking dish, add olive oil, salt pepper and place the 6 fillets of fish, add more salt and pepper and a few leaves of the herbs of your choice, cover with cling film or aluminium foil.

Warm the oven to 110ºC (270ºF) and cook the fish 30 minutes.

Reheat all your vegetables in the oven and present on a plate the way you like.

Serve with the Aioli sauce.
To Make Aioli Sauce:
In a mortar or a food processor, add the cooked potato, saffron, salt, pepper and garlic.

Make a paste, add the egg yolk, mix well, slowly add the oils… if too thick add a spoon of cold water.