Bûche de Noël: A French Christmas Recipe
History of the Bûche de Noël
The log is generally eaten on December 24, during the Christmas meal. The cake was born around 1870. Several pastry chefs are fighting over paternity. But it seems they had the idea at the same time for a cake roll that looks like a log. Previously, Christmas desserts were very rich in ingredients, such as mince pies or pudding in the UK, stollen in Germany or panettone in Italy. But beware, the star Christmas dessert has its own history, spanning over several millennia.
La bûche est généralement dégustée le 24 décembre, lors du repas de Noël. Le gâteau est né vers 1870. Plusieurs pâtissiers se disputent la paternité. Mais il semblerait qu'ils aient eu l'idée en même temps d'un roulé qui ressemble à une bûche. Auparavant, les desserts de Noël étaient très riches en ingrédients, comme les mince pies ou le pudding au Royaume-Uni, le stollen en Allemagne ou le panettone en Italie. Mais attention, le dessert star de Noël a sa propre histoire, longue de plusieurs millénaires.
Why a Yule Log?
The origin is linked to the winter solstice. For the longest night of the year, a huge log was being burned. The log was carried by the eldest and youngest of the family. There was quite a ceremony. The log could burn from Christmas Eve only or until Epiphany depending on the region. Below I share the Yule log (Bûche de Noël) recipe that I make every year for Christmas.
We wish you a very happy Christmas, hoping to see you again or meet you soon.
Discover more about Christmas Traditions in Provence.
Nous vous souhaitons de très belles fêtes de Noël, en espérant vous revoir ou vous rencontrer bientôt.

Bûche de Noël (Yule Log)
This delicious and festive cake is a perfect end to any holiday celebration. Whether you're gathering with friends or enjoying a quiet evening with loved ones, a slice of this decadent cake is sure to get you in the warm Christmas spirit.
Ingredients
For the Cake
½

cup

Sugar

5

Eggs

1

cup

Flour

1

tbsp

Vanilla Sugar
For the Cream
½

cup

Sugar

3

Egg Yolks

¾

cup

Dark Chocolate

1/2

cup

Water

0.07

oz

Coffee Extract

1

cup

Soft Butter
Instructions
To Bake the Cake:
Separate the whites and yolks of 4 eggs.

Beat the egg whites with a mixer.

Preheat oven to 200°C (400°F)

Mix 4 egg yolks with the sugar and vanilla sugar. When the mixture is creamy, add a whole egg.

Mix for a few minutes with a spatula or food processor, and gradually add the flour to the mixture.

Lightly add the egg whites.

Put a baking paper, lightly buttered, on a rectangular plate, and roll out the dough evenly.

Put on a baking sheet in the oven and cook for 10 minutes.

Take the cake out of the oven and turn it over on a cold surface without removing the foil, and cover it with a cloth softened by the steam (it will be easier to roll).
To Make the Buttercream:
Melt the sugar in the water over low heat to obtain a thick syrup.

Slowly pour the hot syrup over the egg yolks, stirring constantly with a whisk, until completely cool.

Add the softened butter and mix to obtain a smooth cream.

Divide the preparation in half, flavour one half with coffee extract, and the other half with chocolate melted over a little water.
To Assemble the Log:
Remove the baking paper from the cake.

Spread with the coffee cream, and roll everything lengthwise.

Equalize the ends. The dough, which will remain, will be used to make "knots" for the log decoration.

Cover the log with chocolate cream, add the "knots" for the log decoration, and mimic the bark using a fork gently pulled lengthwise. Decorate as you wish.
Notes
French Lesson Notes:
To beat = monter
Preheat = préchauffer
To mix = mélanger
More Festive Holiday Recipes
Galette Provençale - Christmas Cake
Shaped like a wreath and decorated with dried fruit, the galette Provençale is a seasonal favourite. This recipe takes a bit of time, but like all holiday baking, the result is delicious and well worth the wait.
Check out this recipe

Mandarin and Cardamon Infused Almond Cake
A delicious and colourful cake full of the flavours of Christmas markets, perfect with tea to brighten up a cold day, or as a light and joyful desert after a nice meal.
Check out this recipe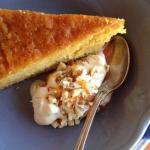 Galette des Rois
A classic Christmas cake made from puff pastry, filled with frangipane and a small treasure or feve hidden inside.
Check out this recipe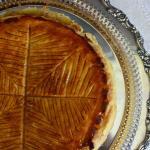 Rosé Christmas Punch
Like most punch recipes, this one with gin and rosé is quick to make, and your guests will love it. Cheers to the season!
Check out this recipe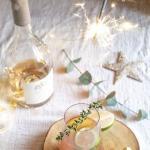 3 Quick Appetizers for Holiday Entertaining
Amuse bouche roughly translates into tempt your taste buds. These three appetizers are easy to make and can be prepared in advance of your guests' arrival. Enjoy Smoked Salmon Rolls with Horseradish and Granny Smith Apple, Crab and Avocado Spoons and Chicken Satays with your favourite cocktail.
Check out this recipe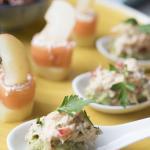 Chestnut Soup for the Holidays
This dish is easy to make chestnut soup perfect for holiday celebrating. Whether you're wanting a toasty lunch in front of the fire or a great accompaniment to a holiday meal, this soup is sure to give you what you need.
Check out this recipe