Galette Provençale a Holiday Dessert Recipe
Discover the Galette Provençale
If you don't have a galette variation in your country, you can very well make it yourself. While you cook, the children in the family can have fun making wreaths. It really is a very festive time. Moreover, this cake really encourages conviviality, between friends and/or colleagues. I give you in this article the recipe that we follow to make our Provençal galette.
Si vous n'avez pas de galettes dans votre pays, vous pouvez très bien la réaliser vous-mêmes. Pendant que vous cuisinez, les enfants de la famille peuvent s'amuser à fabriquer des couronnes. C'est vraiment une période très festive. D'ailleurs ce gâteau incite vraiment à la convivialité, entre amis et/ou collègues. Je vous livre dans cet article la recette que nous suivons pour réaliser notre galette provençale.
I wish you a happy King's Feast on January 6th (read about holiday traditions here).
Je vous souhaite de bonnes fêtes des Rois.

Galette Provençale - Christmas Cake
Shaped like a wreath and decorated with dried fruit, the galette Provençale is a seasonal favourite. This recipe takes a bit of time, but like all holiday baking, the result is delicious and well worth the wait.
Equipment
Stand-up Mixer

Crown-shaped baking mould

Glass
Ingredients
2

cups

Flour

4

tsp

Baker's Yeast

1 Package

2

tsp

Milk

3

Eggs

½

cup

Soft Butter

¼

cup

Sugar

2

tsp

Pearl Sugar

1

cup

Candied Fruit

2

tsp

Orange Blossom Water

2

tbsp

Cane Sugar Syrup
Instructions
Dissolve the yeast in the lukewarm milk in a glass.

Reserve 1 tablespoon of butter to grease the mould.

Sift the flour then make a "well" for the liquid ingredients.

Pour in the dissolved yeast, eggs, powdered sugar and orange blossom water.

Mix the ingredients and knead the dough.

Add the butter, cut into small pieces, and continue kneading the dough.

Butter the crown-shaped mould.

Place the dough in the mould.

Put the bean (la fève) in the dough.

Cover the dough with a cloth.

Let the dough rise in a warm atmosphere without drafts. The dough should expand to fill the mould (depending on the temperature this could take several hours). Once the dough has risen the brioche is ready to bake.

Preheat the oven to thermostat 6 (180°C or 350°F).

Baking time is roughly 30 minutes, but could be less. You want the dough to be golden brown.

Remove the cake from the mould and allow to cool slightly.

Brush the crown with cane sugar syrup when it comes out of the oven.

Decorate the crown with candied fruits and granulated sugars.
Notes
If you do not have cane sugar syrup in your country, simply mix 2 cups of powdered sugar and 1 cup of water in a saucepan. Stir until completely dissolved, but the water must not boil!
French verbs:
To knead = pétrir
To sift = tamiser
To dissolve = délayer
Dough = la pâte.
More Festive Holiday Recipes:
3 Quick Appetizers for Holiday Entertaining
Amuse bouche roughly translates into tempt your taste buds. These three appetizers are easy to make and can be prepared in advance of your guests' arrival. Enjoy Smoked Salmon Rolls with Horseradish and Granny Smith Apple, Crab and Avocado Spoons and Chicken Satays with your favourite cocktail.
Check out this recipe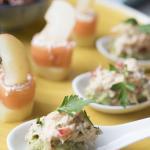 Galette des Rois (Epiphany cake)
Here is what Phoebe has to say: Making your own Galette des Rois is very simple, assuming you can get hold of ready-made puff pastry. In France, we're spoilt with excellent quality puff pastry that comes ready-rolled with its own baking paper, available in every supermarket.  And even better than that, during the festive period, roughly December and January, kits of puff pastry with a crown and figurine are sold too!
Check out this recipe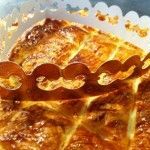 Mendiant Tart
A flaky sweet pastry tart filled with decadent chocolate ganache and topped with candied fruits, flowers and fleur de sel,
Check out this recipe