Book Review: The European Adventures Aix Marks the Spot
Who doesn't love the idea of a trip to Aix-en-Provence, France, and the chance to solve an art mystery?
In her latest novel, The European Adventures: Aix Marks the Spot A Mystery Adventure Book for Kids, Rachel Selle brings characters from her first book, The European Adventures: Mystery at Mouse Castle, to the South of France in pursuit of Mr. Aix.
The European Adventures series follows four ex-pat children who live in Frankfurt, Germany. They travel all over Europe from their base in Germany, finding themselves pulled into mysteries and intrigues. This book is fun for children and adults alike, with a chance to discover Aix and the surrounding area while the characters solve the mystery.

About the Author

Rachel Selle lives in Germany with her family and two cats and works as an elementary school teacher in Wiesbaden. She grew up in Dillingham, a rural fishing village in southwest Alaska, and in 7th grade, moved to Wolfeboro, New Hampshire. Although Selle travelled quite a lot in America, it wasn't until after university that she travelled internationally. The concept of children experiencing the world through travel, or at least reading about it, is the inspiration for Selle's books. Her second novel is The European Adventures: Aix Marks the Spot.
Selle has fun adventures while researching her books. One tasty example is the tarte au chocolat at Hôtel du Caumont in Aix-en-Provence, referenced in the novel. She says, "It was honestly the best dessert I have ever had!"

Book Review
The European Adventures: Aix Marks the Spot begins on the train from Germany to Aix-en-Provence with the Murphy children (Maxime, Simon, and Jane), their cousin (Agatha) and their father (Andrew) enjoying some scenery and fine dining as they head to the South of France. They have been invited by Alec and Beth, two characters from Mystery at Mouse Castle, to help find Mr. Aix. Alec is an Interpol agent who was investigating the thefts from the museums and trying to catch Mr. Aix. Beth is a former museum employee who now works with Alec at Interpol as a Medieval art and art theft expert.
After transferring from the TGV station to Aix-en-Provence, the group settles into Hôtel Cardinal in the chic Mazarin quarter of the city. Their urban adventure begins with a walk around Aix's famous old city, which the Romans built. Simon, age 10, acts as the group's self-appointed tour guide, pointing out some legendary fountains, the cathedral built over several eras and some places Paul Cézanne frequented.

Although aixploring the city was interesting, the Murphy clan is in France to assist Alec and Beth in finding Mr. Aix. So, it's time to visit the Musée Granet and meet Grace de La Fontaine – the museum's curator and host of a "Celebration of Cézanne" party where the guests will see five (5) new never-seen-before paintings by the famous painter.
However, before the night is over, there is a terrible surprise to all gathered in the old chapel that is now the Granet XXe – Collection Planque – the paintings are missing. So, as suspected by Alec and Beth, Mr. Aix has somehow managed to steal the priceless canvases. Now it's time for the Murphy group to help Interpol and the local police solve the mystery and safely return the paintings to the Musée Granet. From the Provencal countryside to the seaside in Marseille, the reader follows the crew in pursuit of the art thief.
Selle's books are intended for readers between the ages of 8-13, although parents could read the books with younger children.

Questions for the Author
Why Aix-en-Provence?
I chose Aix because of its name! My antagonist in "Mystery at Mouse Castle" was Mr. X – well, that's what the main characters overheard – a notorious French criminal behind many museum thefts. They discovered it was Aix at the end and knew they would be travelling there to stop Mr. Aix from stealing something – he had sent Alec a menacing note at the end of the last book.
What were your impressions of Aix?
I loved Aix. I was there at the end of September and found it charming. Also, I was most impressed with the ease of getting around the city. It's a walkable place, and when you need to rest, there are so many charming cafes to take a load off and people-watch. It was my first time, and I was lucky enough to travel with a friend and fellow teacher. We had fun "aixploring" the city together.
What was your favourite discovery in Aix?
The Café Caumont was important to my plot while researching my book. I, of course, did some Google image searches and a picture of the café – the blue room came up without any information. As soon as I saw the picture, I knew I wanted, no, I had, to go to this place but had no idea what it was called. The photo was labelled a "café in Aix."

When we were walking around on our second day, my friend was getting hungry, and we had been to Book in Bar, the English bookstore. We strolled by the Hôtel de Caumont, and a menu was on the street. My friend, being hungry, went over to look at it, and I recalled the name from my research. I said we could take a break, tour the villa, and grab lunch. I walked by the menu and saw the picture of the blue room!
It was kismet. I couldn't believe my luck. We spent the afternoon there, did the audio guide, ate lunch, and I saw they had wine from Château de Selle – my last name. It was meant to be because the villa and café had a significant influence and presence in my book as a pivotal moment happened there. The gardens are also drawn beautifully by my illustrator, Vale Gogin. I mention the villa and the lovely cafe – with some pictures, of course.
Where to Next?
The next novel has the children headed to England! Their father is leading up a big dig on a country estate that happens to run a mystery weekend as well. Agatha and her cousins are experts at digging up mysteries wherever they might be. While I haven't picked a spot yet, you can be sure I will visit it when I do. And there are loads of mystery weekends available at country estates, so I will also do that!
More about the author
Rachel Selle (website)
Instagram: @rachelselleauthor
Where to Buy the Book?
The European Adventures: Aix Marks the Spot, and The European Adventures: Mystery at the Mouse Castle are available in paperback and Kindle versions on Amazon. Please click on the book covers below or titles above to order a copy of this book.
Recipes: What they ate
Ratatouille:
Niçoise Ratatoille - La Ratatouia Nissarda
The secret of a good ratatouille is to fry each vegetable separately before the onion and tomato are added. The talented cook obtains a mixture of tender vegetables and not oily mush. Prepare ratatouille in large quantities because it can be eaten hot or cold. Serve as a main course with meat or fish, a side dish, or an omelette. While ratatouille can be eaten cold, it is best reheated.
Check out this recipe

Provencal Ratatouille Recipe
The traditional ratatouille recipe calls for vegetables to be browned in olive oil in a frying pan, each one separately and do not peel them at all. All the vegetables are cooked with their skin to preserve a maximum of taste. Then, they will be mixed and will confit together in an earthenware casserole.
Check out this recipe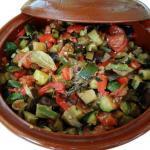 Bouillabaisse:
Marseille Classic Bouillabaisse
A Bouillabaisse, to be served in perfect conditions, should be prepared for a party of at least 6 to 7. This allows the cook to purchase a wider variety of fish. You will have to be persevere to find all the different types of fresh Mediterranean fish. If you are far from the Mediterranean, use your local white fleshed fish. The recipe proposed here, consists in poaching the bigger fish into the small fish soup. It is the luxury version of the recipe, as it differs from the original fishermen who were simply recuperating the damaged and unsold parts. Follow the steps to create this a gastronomic recipe.
Check out this recipe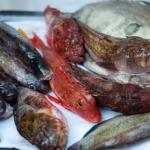 Bouillabaisse Terrine by Gérald Passedat
A Michelin-starred chef variation on the Marseille classic.
Check out this recipe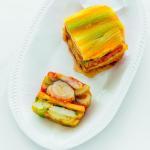 Bouillabaisse with Seasonal Mushrooms
If ever there was a great recipe to exploit and highlight the season's best offerings of mushrooms, there is none better than this one. A light and cool vegetable bouillabaisse teeming with the bountiful delights of fresh local mushrooms garnished with a creamy rouille.
Check out this recipe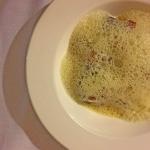 Ile Flottante (Floating island):
Floating Islands (Iles Flottantes)
This is a classic dessert with a few steps, but you can skip the Crème Anglaise and use vanilla ice cream (see "out of time" note).
Check out this recipe

Chocolate Cake and Tarts:
Grandmère's Chocolate Cake
This is such a special recipe for me. It's been handed down through my mother's side of the family and it's the cake Grandmère always used to make for us when there was a birthday or other celebration. I've never tasted another chocolate cake quite like it (believe me, I've tried many). Whatever you do, don't overcook it. Five minutes too long in the oven and the middle will dry out. Like American brownies, you want the centre to be sticky and squidgy and a little sunken. It will glue your mouth closed and taste heavenly.
Check out this recipe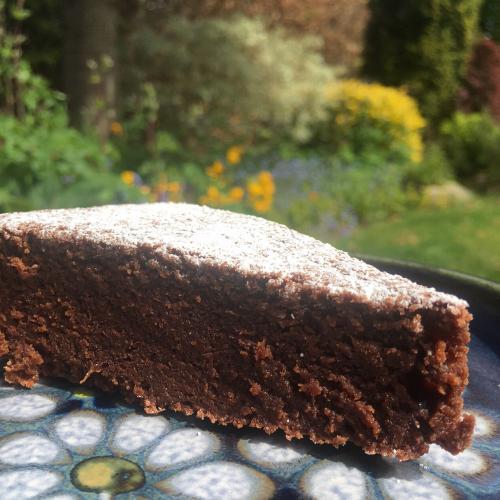 Chocolate Lava Cake with Candied Ginger
Easy, tasty and delicious a dessert for chocolate lovers.
Check out this recipe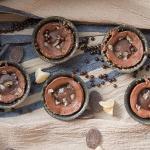 Chocolate Fondant cake
The French are fond of their fondants and after nearly 5 years of living here, so are we. And it's easy so to knock up this recipe an hour before semi-unexpected guests turn up or even if you just fancy whipping it up as a much appreciated weekend treat for your kids. It's best with dark chocolate, but if your kids find that too intense then use half-dark/half-milk chocolate to make it more fun for them.
Check out this recipe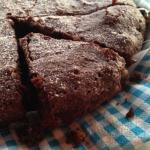 Chocolate Tart with Caramelised Pears
Flaky tart pastry crust with a layer of chocolate, sweet pear slices and drizzled chocolate glaze.
Check out this recipe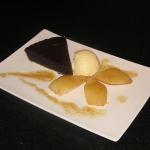 Coeur à la crème au chocolat
This dessert is straightforward to make, but you need to allow for enough time (overnight) for the liquid to drain from the cheese mixture.
Check out this recipe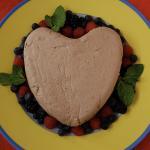 Macarons:
Chocolate Macarons
This a family recipe from Gilles Conchy's cousin FLEUR. There are a few steps to make French-style chocolate macarons with chocolate ganache filling, but it is a fun hands-on recipe and one that your family (and guests) will thank you for making the effort.
Check out this recipe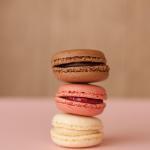 Clafoutis (baked custard with cherries):
Cherry Clafoutis / Clafoutis aux Cerises
The wonderful thing about clafoutis is the ease of preparation. You can change the fruit depending on what is in season. However, I do not recommend berries (strawberries, blueberries, raspberries...) as there is too much liquid. The prep time indicated below assumes that you are pitting the cherries.
Check out this recipe

Clafoutis aux Cerises
A clafoutis is a very easy recipe to make. You leave the cherry pits in the fruit, otherwise they will change the colour of the desert.
Check out this recipe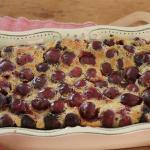 Clafoutis aux Cérises Noires
A traditional clafoutis with a thoughtful twist... pitted cherries.
Check out this recipe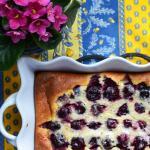 Affiliate Statement:
As an Amazon Associate, this website earns from qualifying purchases. Therefore, if you purchase a book via these links, we receive a small commission that does not impact your price. Thank you in advance for supporting our work to maintain Perfectly Provence.