Easy Tart Provencal Pears and Chocolate
This is a really easy recipe for a yummy tart. The seasonal Provencal pears offset the richness of the dark chocolate. Better still, the whole dessert can be prepared the day before and kept in the fridge.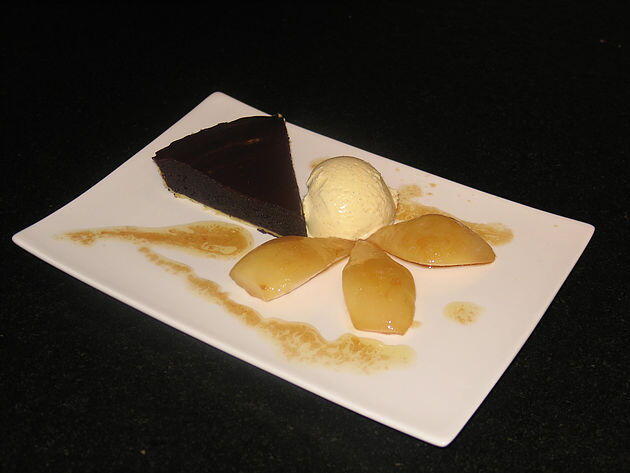 Chocolate Tart with Caramelised Pears
Flaky tart pastry crust with a layer of chocolate, sweet pear slices and drizzled chocolate glaze.
Ingredients
Chocolate Tart
1

package

Sweet short crust pastry

200

gr

Dark chocolate

70%

50

gr

Plain Flour

4

Eggs

75

gr

melted butter

100

gr

Golden castor sugar
Chocolate Glaze
2

tbsp

double cream

60

gr

Dark chocolate

finely chopped

1

tsp

Golden syrup

1

tbsp

warm water
Caramelised Pears
6

large

ripe pears

50

gr

Butter

50

gr

Castor Sugar
Instructions
Preheat the oven to 190C and line and grease a 7–8 inch fluted tart tin with a removable base.

Roll out the pastry to 1/8 inch thick and line the tart tin.

Place in the refrigerator to rest for 10 minutes, prior to baking.

Remove the tart tin from the refrigerator, cover the pastry case with a round of wax paper and fill with baking beans.

Bake for 10 minutes at 190C.

Remove the baking beans and wax paper and return to the oven for 3 minutes.

While the tart is cooking, break the chocolate into little pieces and melt by placing it in a bowl over boiling water – be careful not to let the mixture get too hot, or the chocolate will separate.

Mix the eggs, melted butter, castor sugar and flour together in a bowl.

Stir in the melted chocolate and mix until smooth.

Pour into the prepared pastry case and bake for 6–8 minutes until just set.

Set aside to cool.

Peel, core and quarter the pears.

Melt the butter and castor sugar in a large frying pan and gently sauté the pears until soft and caramelised (golden in colour).

Cover and set aside.

To make the glaze for the chocolate tart, boil the cream, remove from the heat and stir in the finely chopped chocolate until smooth.

Add the golden syrup and warm water, continuing to stir until you have a smooth glossy mixture.

Pour the glaze over the cooled tart and place in the fridge to set.

Remove from the fridge a few hours before serving.

Place a slice of tart, 3 pear quarters on a plate and serve with crème fraiche or vanilla or cinnamon ice cream (the latter choice being my favourite).
Notes
The recipe photo does not include the chocolate glaze.