Perfect Cherry Dessert Clafoutis aux Cérises Noires
The traditional way to make clafoutis is to use the cherries whole with the pits. David says
"Having had a little too much dental work lately, and not wanting my friends to have any, I choose to pit the cherries."
While endless variations of clafoutis can be made using almost any fruit, from blueberries to strawberries, pears, apples and even prunes, the Cocoa and Lavender traditional version – with a twist – wins out hands down.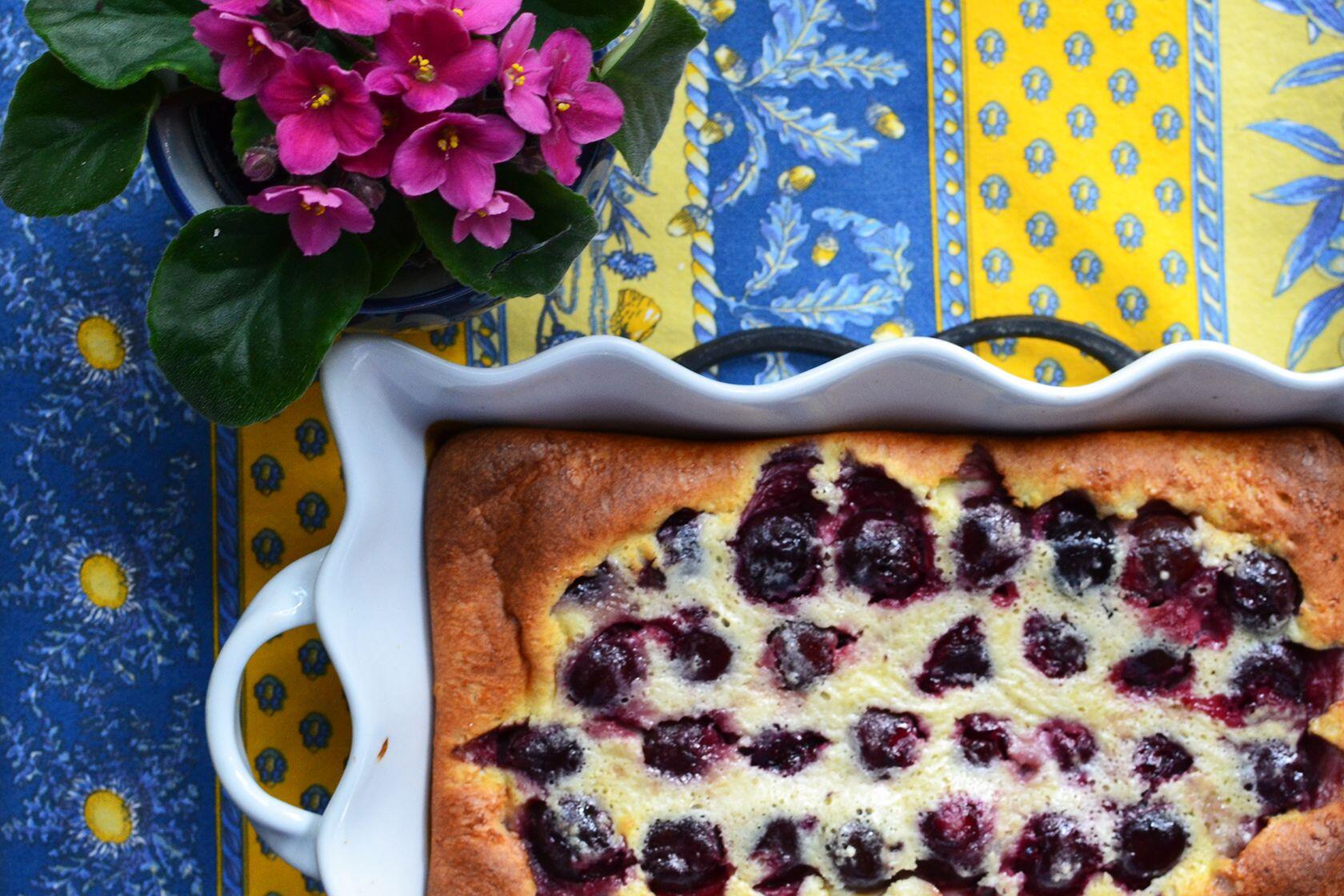 Clafoutis aux Cérises Noires
A traditional clafoutis with a thoughtful twist... pitted cherries.
Ingredients
Softened butter

for the pan

3/4

cups

Milk

1/2

cup

Cream

2/3

cup

sugar, divided

3

egss

1

tsp

vanilla

2

tsp

brandy

1

pinch

Salt

1/2

cup

Flour

2

cups

Cherries, pitted

Powdered Sugar

for dusting the top
Instructions
Preheat oven to 350°F,

Lightly butter a deep dish pie plate or ceramic casserole.

Whisk together the milk, 1/3 cup sugar, eggs, vanilla, brandy, salt, and flour.

Pour a 1/4-inch layer of the batter into the baking dish.

Place in the oven until the film of batter sets in the pan – about 10 minutes.

Remove from the oven and spread the cherries evenly over the batter.

Sprinkle the remaining ⅓ cup of sugar over the cherries.

Pour the rest of the batter over the sugared cherries.

Bake for about for about 45-50 minutes.

The clafoutis will be done when puffed and brown, and a knife plunged in the center comes out clean.

Sprinkle with powdered sugar; and serve warm.
Notes
Food for thought... when you change the cherries to another fruit, the traditional clafoutis then becomes a flaugnarde.