Floating Islands Iles Flottantes a Dessert from France
Floating Islands (Iles Flottantes) are a traditional French dessert that you find on classic menus. Not quite a pudding, not a custard and not a creme brulée, Floating Islands are a delicious finish to a meal.
This dessert was part of a menu that I created for my virtual cooking class, "Fusion Vegetarian Menu Inspired by My Travels in France and Morocco!" The menu included four vegetarian courses: Cheese Soufflé, Grilled Moroccan Vegetable Kabobs, Roasted Sweet Potatoes with Lime Crème Fraiche & Floating Islands (Iles Flottantes)
During the class, I gave attendees tips on how to plate your courses in the style of Michelin Star restaurants.

Floating Islands (Iles Flottantes)
This is a classic dessert with a few steps, but you can skip the Crème Anglaise and use vanilla ice cream (see "out of time" note).
Equipment
Stand-up Mixer

Whisk, offset spatula, squeeze bottle (for caramel), slotted spoon, pot.
Ingredients
Ingredients for the Floating Islands:
4

Egg Whites

reserve the egg yolks for the crème anglaise

¼

tsp

Cream of Tartar

½

tsp

Vanilla Extract

2

oz

Granulated Sugar
Ingredients for Decoration:
4

oz

Caramel

in a squeeze bottle

8

Sliced Almonds

Option:

Garnish with edible gold from Easy Leaf Products!
Ingredients for Crème Anglaise (Vanilla Cream):
8

oz

Whole Milk

8

oz

Heavy Cream

½

Vanilla Bean

split and scrape the beans

2

oz

Granulated Sugar

4

large

Egg Yolks
Instructions
Instructions for the Floating Islands:
In a shallow 12" pan, fill halfway with water and bring to a rolling boil.

Gently place a heaping tablespoon of whipped egg white and poach for 4 minutes.

Using a slotted spoon, take out the finished island and store on a sheet pan lined with parchment paper.
To Make the Crème Anglaise – vanilla cream:
Pour milk and cream into a small pot, and scald. Add vanilla from pod to enhance the flavour

In a bowl, mix the sugar and egg yolks until light yellow, then temper with the milk/cream, constantly whisking to avoid cooking the eggs.

Now cook in a double boiler until the mixture becomes thick (sticks to/coats the back of a wooden spoon). In French, that is called Nappé! Now, chill the pan in an ice bath for 10 minutes and refrigerate for 4 hours.
Plating Ideas:
Use 2 oz. serving to plate your Ile Flottante – I recommend a shallow bowl!

Use an offset spatula to transfer a poached egg island, then decorate with caramel (in a squeeze bottle) and slivers of almonds).

Option: Use Gold Flakes from Easy Leaf Productions to transform your dessert from Ordinary to Extraordinary
Notes
Order gold & silver flakes and shimmer from Easy Leaf Productions
Notes for the timing:
Prep time egg whites/poaching egg whites:  20 minutes
Prep time for egg whites to cool: 5 minutes.
Time to plate with crème anglaise (vanilla cream), caramel and almond slices: 15 minutes.
Time to prepare crème anglaise: 40 minutes
Time to cool crème anglaise: 4 hours
Out of time Tip: *For purposes of this recipe, buy some French vanilla ice cream and set aside 16 oz (let it melt) or make the crème anglaise with the recipe below the day before the class.
Other Traditional French Desserts:
Classic French Lemon Tart
There are three (3) steps to prepare this lemon tart: make the dough, prepare the filling, and bake. The recipe (below) is the beginner's version of a quick and easy filling that will satisfy everyone in your family.
Check out this recipe

Apple Tarte Tatin aux Pommes
This variation of Tarte tatin uses puff pastry. Alternatively, you can make your own shortcrust pastry.
Check out this recipe

Pine Nut Tart (Tarte aux Pignons)
This recipe includes the pie crust, which is easy to make. However, if you would rather skip that step you can buy a prepared pie crust. If you like shortbread cookies, you will like this crust, and the sweet filling speaks for itself.
Check out this recipe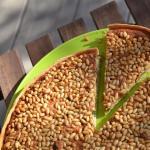 Tarte aux Prunes - Prune Plum Tart
This fall tart is easy to make and beautiful. The tart may be served warm or at room temperature. To really take it over the top, serve with a scoop of cinnamon ice cream!
Check out this recipe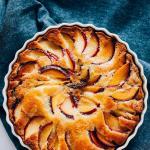 Tarte aux Fraises
A light and refreshing tart filled with custard and adorned with the season's finest strawberries.
Check out this recipe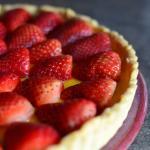 All rights reserved. Perfectly Provence articles and other content may not be published, broadcast, rewritten (including translations into other languages) or redistributed without written permission. For usage information, please contact us.
Syndication Information
Affiliate Information
As an Amazon Associate, this website earns from qualifying purchases. Some recipes, posts and pages may have affiliate links. If you purchase via these links, we receive a small commission that does not impact your price. Thank you in advance for supporting our work to maintain Perfectly Provence.