Discover Socca, the Delicious Specialty of Nice
"The culture of Nice is based on three things: the sea, soccer, and socca."
– Steeve Bernardo, owner of Chez Pipo, founded in 1923
In a city famous for dishes like pan bagnat and ratatouille, socca holds a special place in the hearts of the Niçois. A thin, deliciously crispy bread made from chickpea flour, socca was first brought to Nice by Italian dockworkers in the late 1700s. Cheap and filling, it became known as "poor people's food," a favourite of workers and fishermen.
Eventually, all of Nice discovered the dish, helped by a socca maker by the name of Thérésa. She began by selling it in a pushcart near the beach before opening her own restaurant, Madame Thérésa. Today, Niçois of all ages love socca's rich, crispy taste, and some like to sprinkle pepper on it before eating. You'll find cafés full of these locals, having a chat over a plate of socca and a glass of wine. It is so popular that some call it "the national dish of Nice."
A Bit of Magic
Socca's ingredients are simple—chickpea flour, water, oil, and salt. Its distinctive crispiness comes from the wood-fired ovens where it is baked, roaring at 750 degrees. The secret ingredient—you might call it the magic—is the loving care with which Nice's chefs make it.
Let's Eat!
Filmmaker Scott Petersen now shares a bit of that magic with us. Petersen, an award-winning documentary filmmaker, fell in love with socca on a vacation in Nice a few years ago. He returned with a film crew and interviewed leading socca chefs like Jean-Luc Mekersi, who now runs Restaurant Thérésa. Jean-Luc uses the same knife to cut his socca that Madame Thérésa did…a century ago!
Petersen's documentary, "We Eat Socca Here," introduces us to the world of this local specialty. We learn the history of the dish, watch it being made, and learn why the locals love it so much. The film is a brisk 9 minutes long and is guaranteed to make you hungry!
We Eat Socca Here is available worldwide on Amazon Video (in French with subtitles) and you can find the link to it here. And there's a bonus for those who can't eat gluten: socca is entirely gluten-free.
Bon appétit!
Photo Credits:
Socca: Steeve Bernardo / Chez Pipo
Oven: Steeve Bernardo / Chez Pipo
Socca and other Niçoise Recipes
Ceviche Provencal with Socca
A South American idea with Provencal ingredients and a nice chickpea hummus to nicely finish the dish.
Check out this recipe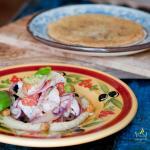 Socca pizza base
The cooking method for this gluten-free pizza base differs from the traditional wheat dough in that it is fried in a pan after which the topping is laid on the base, the whole mélange then being put under a hot grill for a few minutes to finish off. Using a 20cm frying pan, this recipe will make 6 medium-sized pizzas, each one making a good helping for one person.
Check out this recipe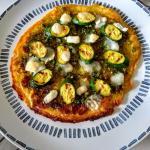 Salade Niçoise
My version of this meal-sized salad from Nice for the purists and the rest of us.
Check out this recipe

Pan Bagnat (a Niçoise Tuna Sandwich)
This sandwich is often described as salad Niçoise on bread. It's delicious, quick to make and best consumed right away. (Photo by David @Cocoa&Lavender)
Check out this recipe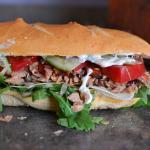 Petits Farcis a Nicoise Speciality
Les petits farcis may be served warm or at room temperature. Serve the petits farcis, served with the roasted vegetables, a green salad, crusty bread and a bottle of Côtes du Rhône make an excellent lunch or add some roasted chicken and call it dinner.
Check out this recipe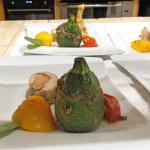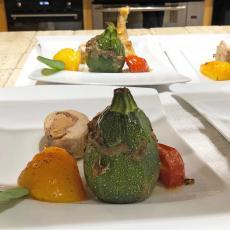 Swiss Chard, Raisin and Pine Nuts Tart
Tarte niçoise aux blettes et pignons de pin is such mouthful, of words, for a dessert. On my last visit to Nice, I tasted this fabulous local délice. French cooking is absolutely regional like its weather, and you can only find certain specialities in specific towns. Ok, I have to say this tart is not for everyone. Dessert with veggies in it does sound strange. Some might sprinkle confectioner's sugar before serving. The tart is even better the next day.
Check out this recipe