Pan Bagnat a French Sandwich Treat from Nice
I remember the first time I experienced a Pan Bagnat – I was a student in France and had taken my first trip to Nice. My first bite stayed with me from that moment  – partly because I love all the fresh spring-summer ingredients which paired perfectly with tuna and the magnificent French round crusty loaf that it was served on. I have been making them at home ever since and still enjoy them when I am travelling on the Côte d'Azur.
The secret to success with this recipe is using the freshest ingredients and a good quality olive oil.  If you love Salade Niçoise, a fresh tuna salad from Nice, you will love the Pan Bagnat.
Here is a video of the step-by-step process with the recipe below.
Pitcher & Powell – Making Pan Bagnat from tashapowell on Vimeo.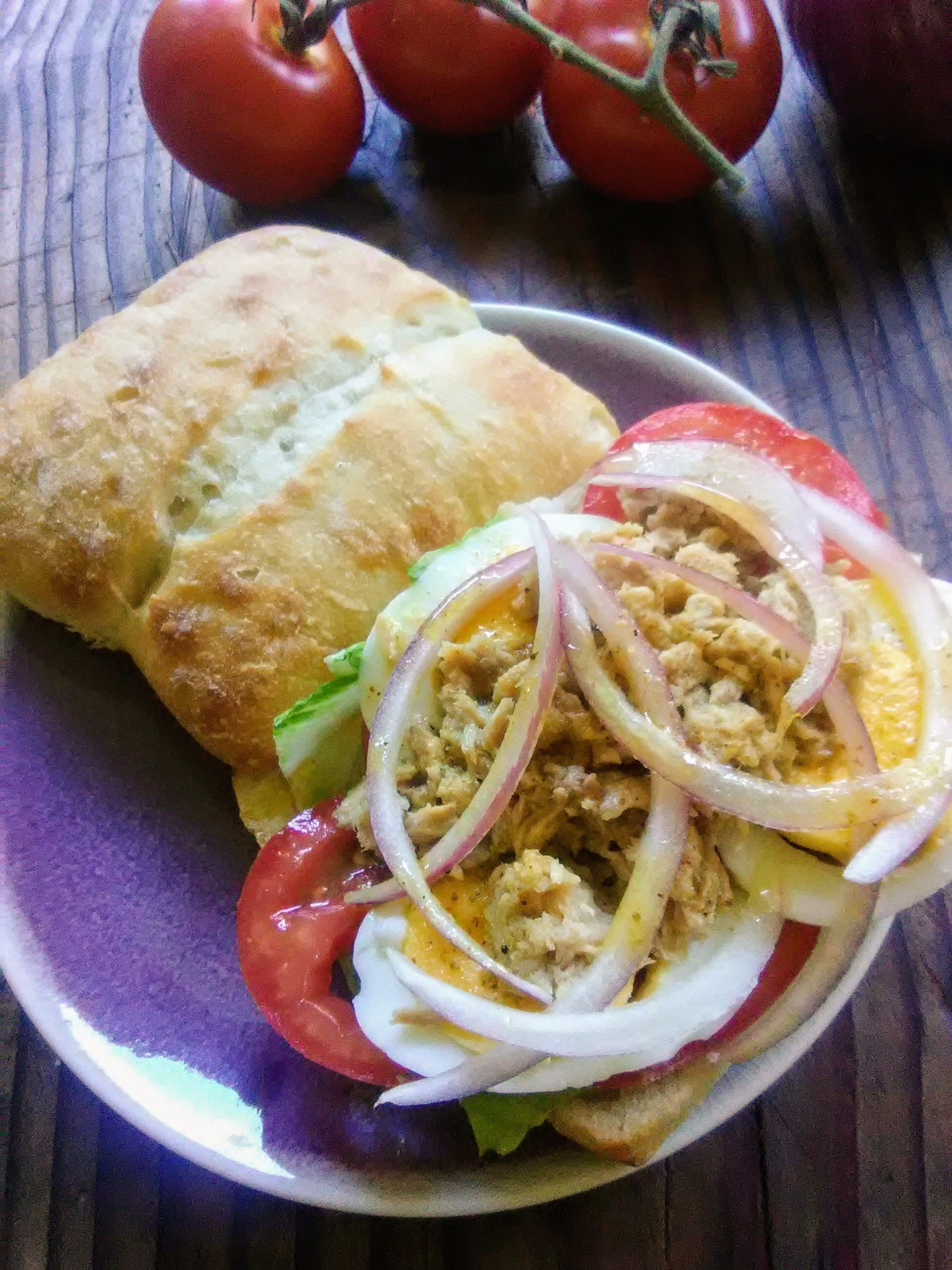 Pan Bagnat
This sandwich is quick to prepare and versatile. Add any extra ingredients that you like and enjoy a taste of the French Riviera in every bite.
Ingredients
4

Buns or 1 Baguette

roughly 18-20 inches

12

oz (340g)

Canned Tuna in oil

drained & fork separated

1

medium

Red onion

sliced in slivers

2

Eggs

hard-boiled and sliced

1

large

Tomato or 2 medium

thinly sliced

Romaine lettuce leaves

Optional ingredients:

see recipe note below
For the Vinaigrette:
2

tbsp

Red Wine Vinegar

or balsamic vinegar

1

tsp

Dijon Mustard

1

tsp

Kosher salt

½

tsp

Freshly ground black pepper

2

tsp

Agave

or honey or maple syrup

1

tsp

Herbes de Provence

6

tbsp

olive oil
Instructions
In a small mixing bowl, whisk together the red wine vinegar, agave, mustard, salt, and pepper. While continuing to whisk, gradually add the olive oil. Whisk until the oil and vinegar are emulsified.

Slice the baguette horizontally into 4 pieces or slice the individual buns horizontally.

Place the lettuce, tuna, hard-boiled eggs, olives, cucumbers, tomato and red onion on the bottom side of the bread in that order. Drizzle the vinaigrette over the vegetables and tuna, top with the second piece of bread.

Serve the 4 sandwiches or cut into 4 sandwiches if using a baguette.
Notes
Optional ingredients:
1 cup chopped Kalamata olives
½ cucumber, sliced
1 small green pepper, sliced into rings
Alternative version: canned salmon and watercress
Other Recipes for Nicoise Specialties:
How to Make a True Nicoise Salad
Les Petits Farcis a Provencal Specialty from Nice
Ceviche Provencal Served with Socca
Socca Pizza Inspired by the Cuisine of Nice, France
Sweet treat: Swiss Chard – La Tourte aux Blette Sucrée