It's Very Nice Gare du Sud Marketplace
Nice Food and Drink
The French Riviera city of Nice did not lack options for entertainment, but now there is one more to add to your list, a visit to the Gare du Sud. This new marketplace, which opened in May 2019, is a stroll from Place Masséna. The transformed train station is a dynamic public space — designed as an arts and entertainment centre with a focus on dining options. Located in the Libération area of Nice, Gard du Sud is a short distance from the daily – Marché de la Libération – a bustling local market selling fruit, vegetables and other goodies.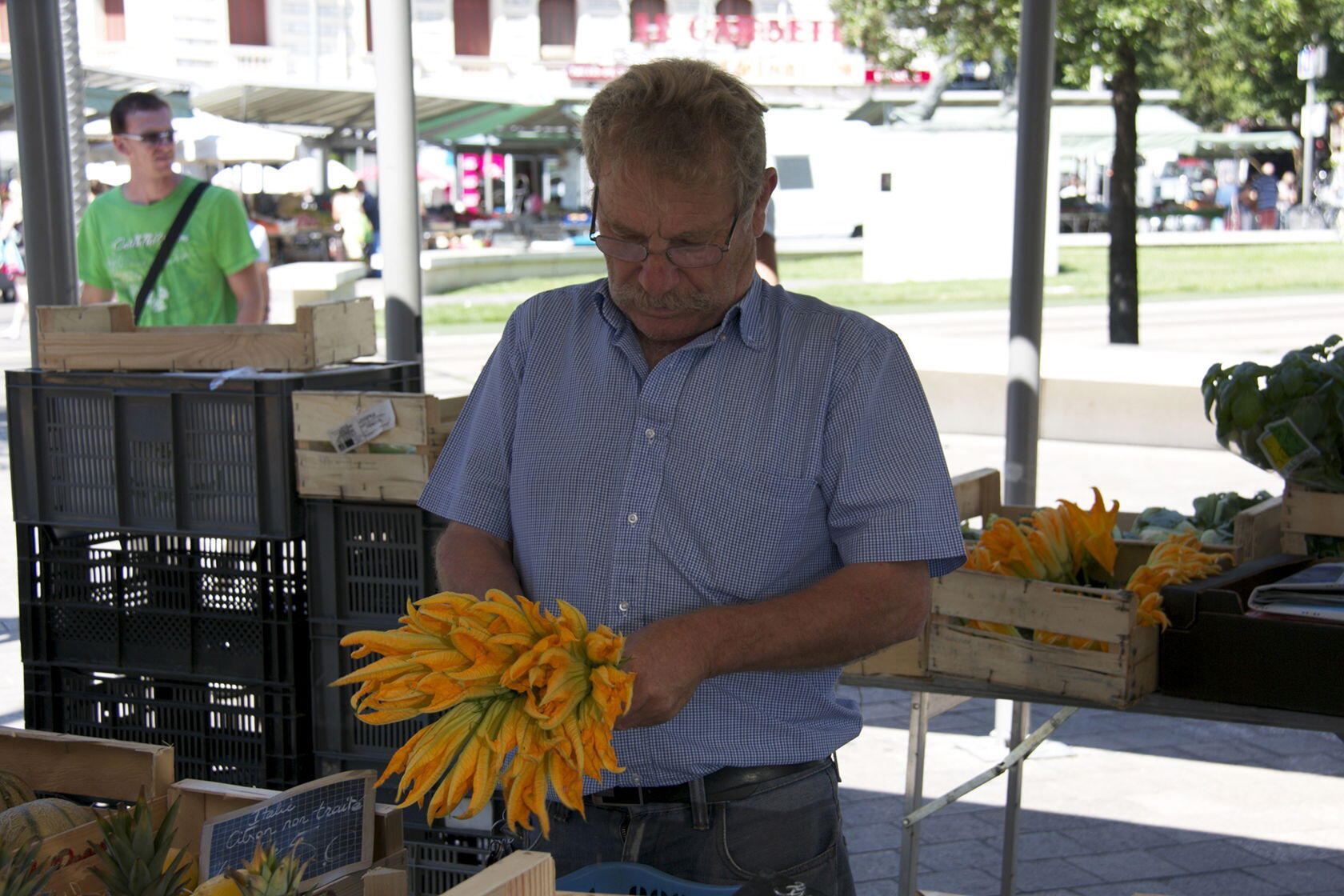 Gard du Sud Transformation 
French ideas for town planning and architectural inventiveness, are not always controversy-free, remember the Pompidou Centre in Paris in the late 1970s and the quirky pyramid at the Musée du Louvre. We do love them for it!
Nice's Gare du Sud opened in 1892. It was the secondary railway station serving the city with trains running to the Haut Var and Dauphiné regions. The site closed in 1991 and the abandoned station left as an eyesore for years. Therefore, the civil project to develop the former station, based around the Belle Époque-style entrance, and create a restaurant hub, was good news indeed.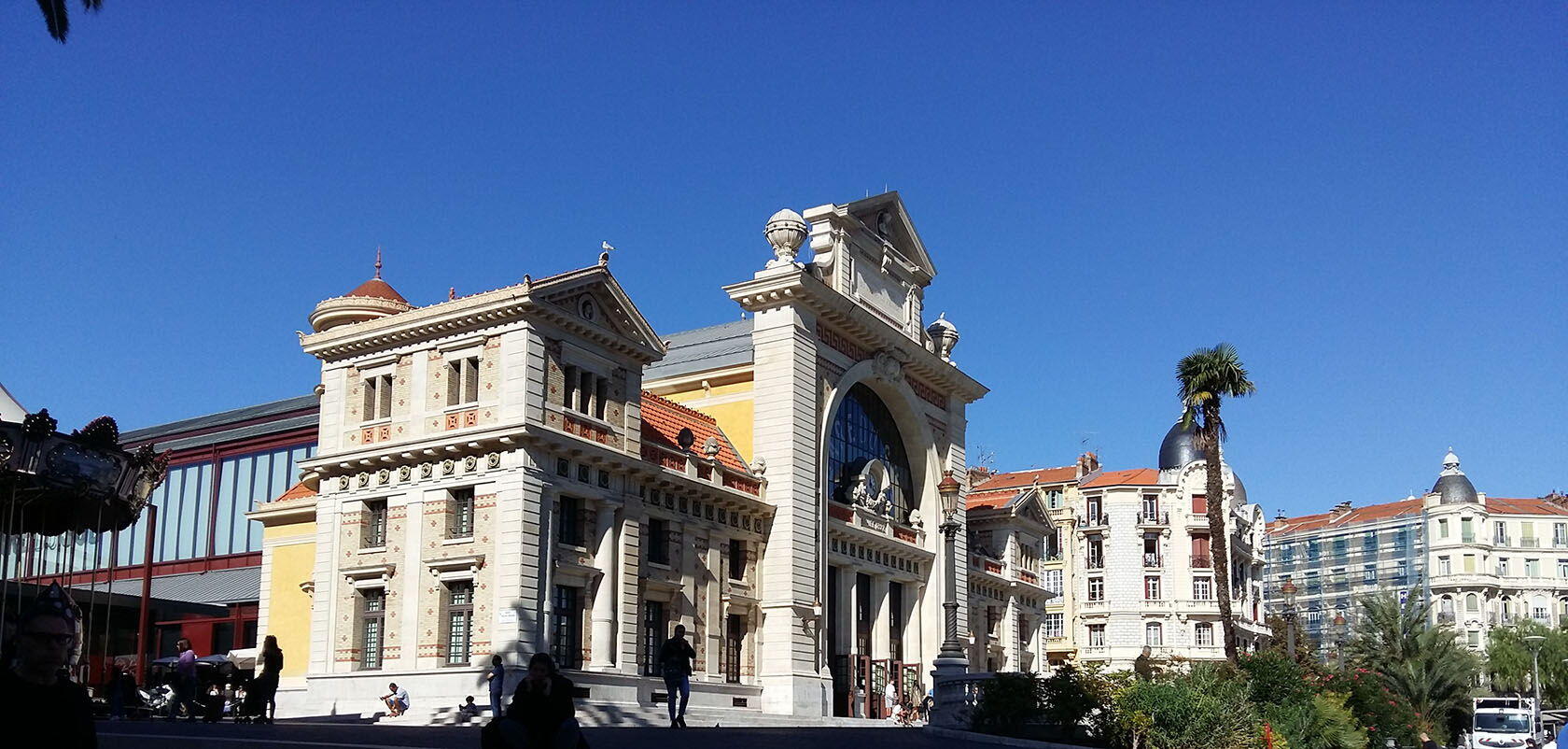 The challenge was to maintain key architectural elements designed by architect Prosper Bobin and create an attractive space where locals and visitors might gravitate for food and drinks. The vision was to develop an urban project with a magnetic appeal similar to Portobello or Covent Garden marketplaces in London or San Francisco's Ferry Building.
The original building took two years to construct for the railway company (Compagnie des Chemins de fer du Sud de la France). The neoclassical design included a lofty central hall built with a metal frame. In 2002, the front entrance of Gare du Sud was listed as a French historical monument, and this iconic façade remains a central feature incorporated in the transformation project.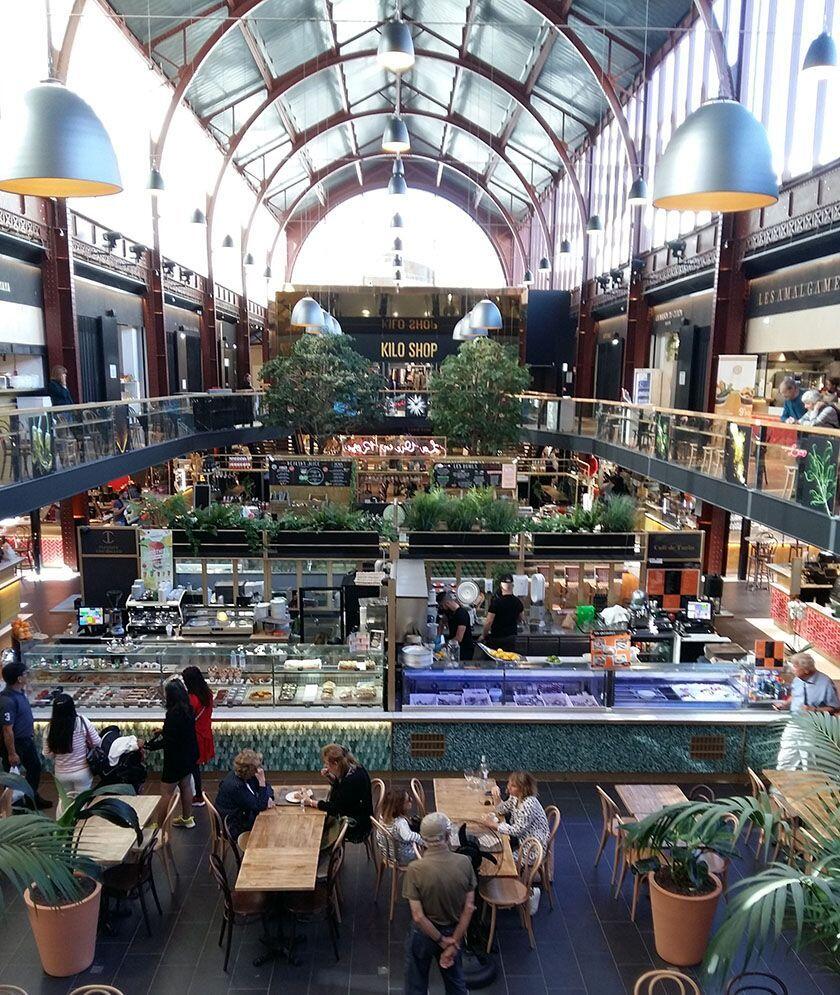 Very Nice Marketplace
Early success, the Gare du Sud appears to have succeeded as a "go-to" destination in the city. The complex has managed to attract star restaurants of Nice, such as the Café de Turin, and many others, allowing an eclectic range of international foods – and in France, this is still a revolution – (well, certainly in the Alpes-Maritimes). 
Most of the units within Gard du Sud are leased. The prices for food are quite high, but this might not scare the likes of people who are used to the rates at Covent Garden or Los Angeles Grand Central Market. Feedback to date is that Gard du Sud is a high-quality experience. The transformation of Gard du Sud is well done – bravo nos amis. Locals may resent the gentrification of the area – we shall see!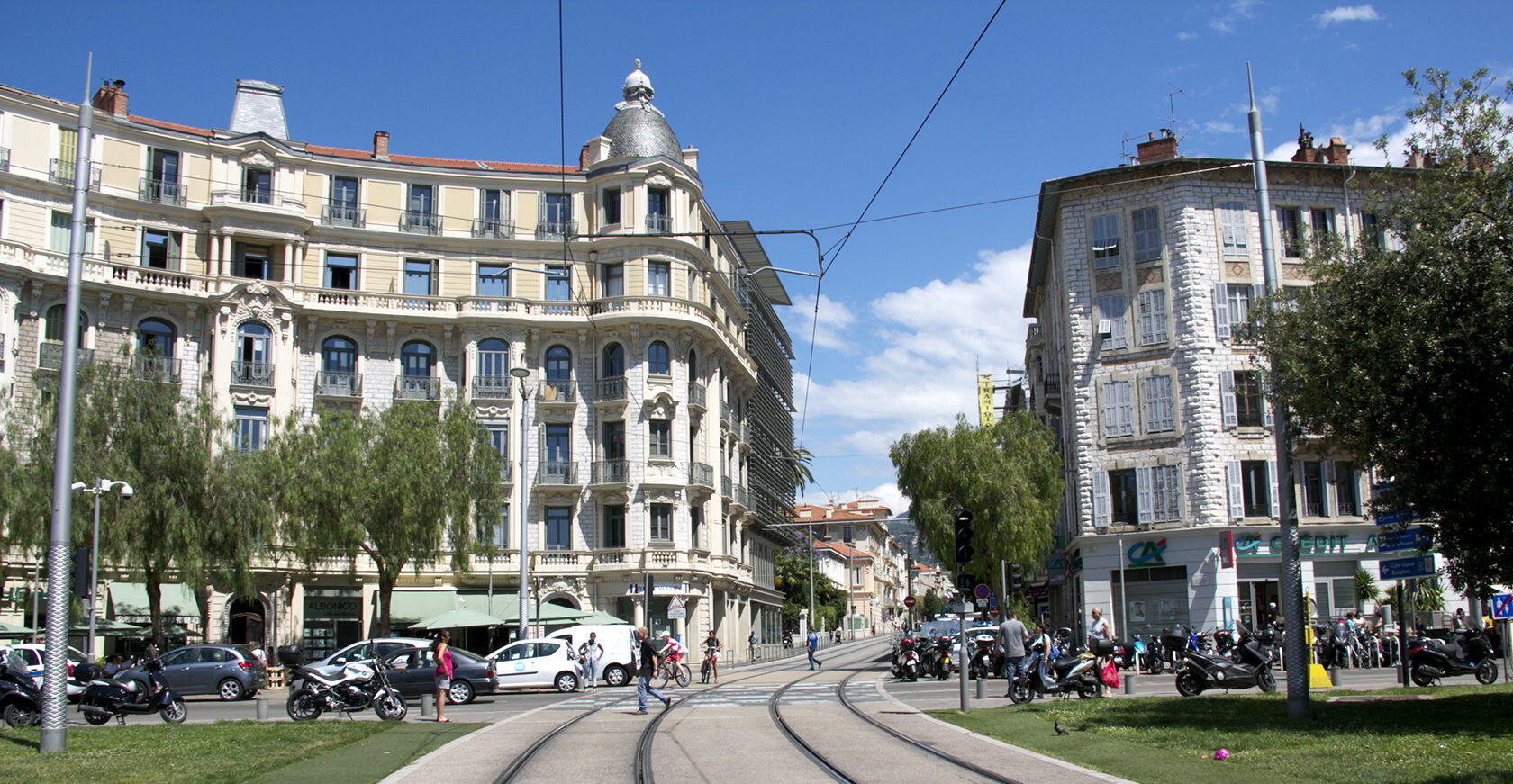 Practical Information
Gare du Sud (website)
35, avenue Malaussena
06000 Nice
Opening Hours:
Tuesday to Sunday 11.00 – 23.00
From May to October – Thursday/Friday/Saturday from 11.00 to 24.00
Closed on Mondays
Getting there:
The Gard du Sud is about a 15-minute walk north of the central railway station in Nice. From the mainstream shopping street of Jean Medécin, head north. The road becomes the Avenue Malaussena after the railway bridge.
Tramline 1 the north/south tram line. 
Tramline 2 from the airport east has now opened and will continue to evolve until the end of 2019.
There is parking onsite.  
Movie Fans check-out the entertainment at the Pathé Cinema. 
Other dining ideas in Nice
Vegetarian and vegan dining options in Nice and along the French Riviera, my personal favourite is Le Socrate.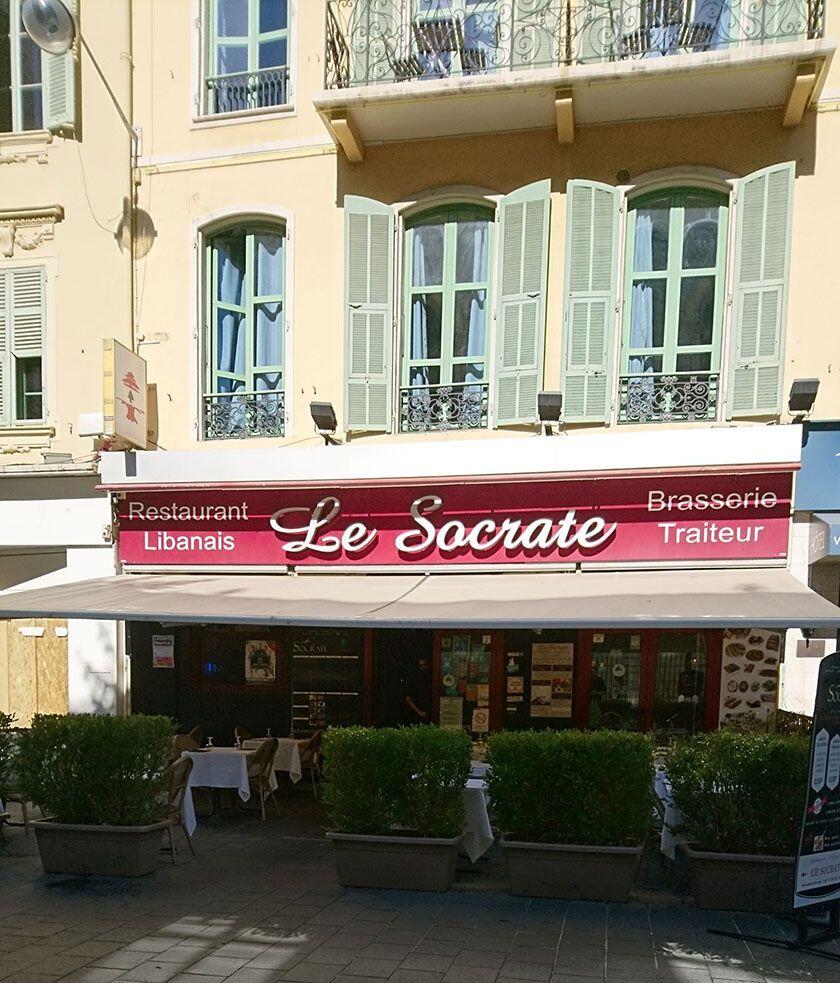 It's worth booking a table is Daki-Daki for Mediterranean food with imagination! Located on the west side the Port of Nice (Port Lympia), the Daki-Daïa menu is – mezze – sharing style.
Join Viktorija Todorovska for a short course on rosé wine tasting and Niçoise street food on Friday evenings at les Petits Farcis a cooking school in Nice's old town for a chance to learn about rosé production methods. During the two-hour class, participants will taste a few wines and sample traditional Niçose street food.

Discover some of Viktorija's old restaurant favourites in Nice, and discover new exciting eateries, some traditional, others of other persuasions. 
---
Image credits: Photos provided by and published with the permission of Spacebetween Walking Holidays and Yvonne Morris.
All rights reserved. Perfectly Provence articles and other content may not be published, broadcast, rewritten (including translations into other languages) or redistributed without written permission. For usage information, please contact us.
Syndication Information
Affiliate Information
As an Amazon Associate, this website earns from qualifying purchases. Some recipes, posts and pages may have affiliate links. If you purchase via these links, we receive a small commission that does not impact your price. Thank you in advance for supporting our work to maintain Perfectly Provence.