Master Artists Influence on the French Riviera
The South of France has long attracted artists and creative types who were inspired by the natural beauty. Vincent Van Gogh followed his dream to Arles. Paul Cézanne returned to his beloved Aix-en-Provence after time spent in Paris. Paul Gaughin accepted Van Gogh's invitation to head south and participate in Van Gogh's "artist's colony."
A large number of famous artists chose to establish their creative roots along the French Riviera. The Côte d'Azur is home to glamorous stars, sparkling water, parasols and beach loungers, and fabulous yachts. Evocative, lasting images of the French Riviera exist in drawings, paintings, sculptures and the homes constructed for these master artists.
Renoir's Domaine des Collettes – Cagnes-sur-Mer
From 1907 until his death, Auguste Renoir lived on a farm on Les Collettes, a hill found in Cagnes-sur-Mer. The property afforded the painter views of the countryside with orange trees and centuries-old groves of olive. Such a picturesque farmhouse was the subject of most of Renoir's landscape paintings. In particular, the painting 'The Farm at Les Collettes,' captures Renoir's fluid manner and the vibrant light of southern France.
Musée Renoir
Chemain des Collettes
06800 Cagnes-sur-Mer
Tel: +33 (0)4 93 20 61 07
Note: Make sure to check opening hours/days in advance.
Jean-Gabriel Domergue – Cannes
Jean- Gabriel bought a steep piece of land in Cannes, which he dubbed 'la Californie.' The French painter, who many feel invented the pin-up, wanted to build a house similar to the ones he'd see in Fiesole, Florence. Against the advice of many, he chose to put windows at the corner and used stones found on the land as building materials. He also added models of glass and crystal chandeliers he'd designed and commissioned the famous master glassworker Veronese to make. Aficionados believe that the house is a shining example of good taste, quality, and beauty of the 20th century.
Pierre Bonnard – Le Cannet
Seeking the south of France's warm climate for his ailing wife, Pierre Bonnard bought a property in Le Cannet. He named the villa le Bosquet, and it became his main home and studio during the last years of his life. He started exploring with light as well as colour and painted 'Landscape at le Cannet.' Which combines warm light, a rainbow-like array of colour and achieves oneness with nature, paint, colour, and light.
Musée Bonnard
16 boulevard Sadi Carnot
06110 LE CANNET
Côte d'Azur – FRANCE
+33 (0)4 93 94 06 06
Hans Hartung – Antibes
Hans Hartung was a famous 20th-century abstract painter. In the later years of his life, he and his wife lived in Antibes. Where he bought a 5-acre land on a hill. Drawing inspiration from Mediterranean architecture, Hans drew up the plans for his house. Living in Antibes until his death. For many, Hans' work represents a sense of freedom, innovation and ambition- rarely found in that era's artists.
Pablo Picasso's Côte d'Azur
Spanish born Picasso spent a lot of time on the Cote d'Azur. The quality of light and beauty of the French Riviera captured his imagination. Providing an endless source of inspiration for his paintings. So much so that not one but two museums in Cote d'Azur pay tribute to his work.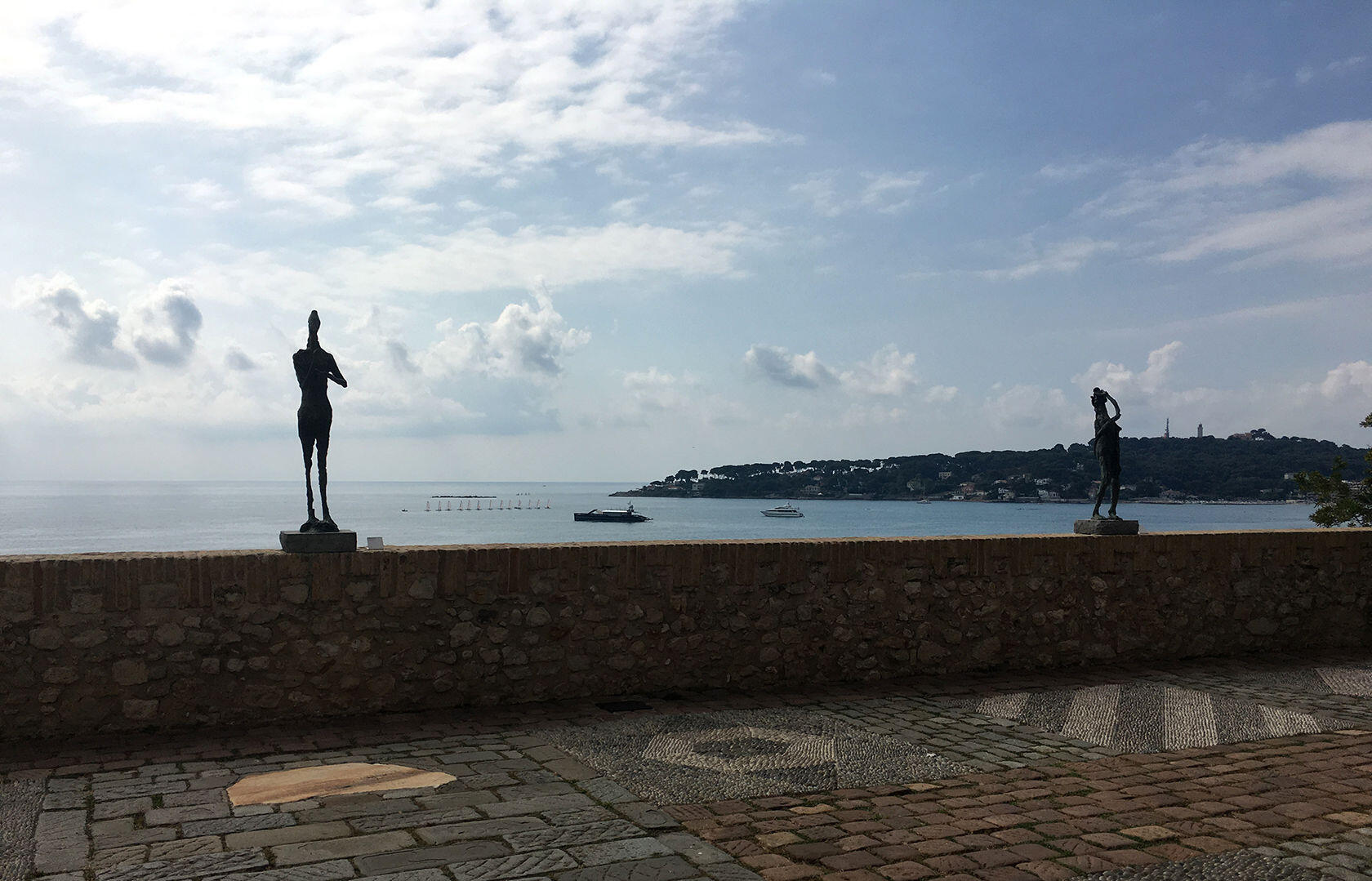 For a more informal view of Picasso's work, visitors only have to walk to the towns where the artist and his assortment of wives, mistresses, and children lived: from Nice, Cannes, and Antibes to St. Paul de Vence, Vallauris and, finally, Mougins.
Additional reading:
Pablo Picasso's Final Resting Place in Provence.
Vallauris the Centre for Pottery on the French Riviera.
Henri Matisse
Celebrated for his unique style of colour and line, Henri Matisse spent the later years in the French Riviera. Recuperating in Nice at the Old Hotel Regina in Cimiez after an intestinal operation. Staying in Vence from 1943 to 1948, he built and designed the Chapelle du Rosaire for the local Dominican nuns. What started as some work on stained glass windows ended with Matisse designing almost everything inside and outside the chapel.
Jean Cocteau – La Côte d'Azur
Did you know between Nice and Menton, five (5) sites pay tribute to Jean Cocteau's work?
The first is the Musée Cocteau, where American collector Séverin Wunderman's 1800 pieces of Jean Cocteau's work are on display. Next is the Bastion museum, which was originally a small exhibition for his paintings. There is the Salon du Mariage in Menton's City Hall, whose surface- from walls and ceilings to furniture and curtains- showcases the artist's pieces. He also decorated the Villa Santo Sospir in Saint-Jean-Cap-Ferrat. And lastly, the Fishermen's Chapel in Villefranche Sur Mer where he drew representations of St Peter, the fishermen, sea, and local life on the interior walls.
Villa Arson – Nice
Originally, Villa Arson was an agricultural holding. Pierre-Joseph Arson transformed it into a pleasure garden in the early 19th century. It was later turned into a hotel, then a clinic, before becoming the French government's property. Now it's home to both the National School of Fine Arts and the National Centre for Contemporary Art. Making the villa the equivalent of a French art shrine.
Monastery of Saorge
Fondly known as the Tibetan village, Saorge is a writer's residency. Where many scriptwriters, composers, and live performance troupes gather every summer. Seeking solitude, concentration, and calm and inspiration from other artists and the surrounding beauty of the Roya River Gorges.
Château de la Napoule – Mandelieu
Henry and Marie Clews restored the Château in 1918. Turning parts of the building into an exhibition for Henry's sculptures. And later established the La Napoule Art Foundation, which organizes art exhibitions and offers talented artists residency.
Guest Writer: Sarah Wangari
All rights reserved. Perfectly Provence articles and other content may not be published, broadcast, rewritten (including translations into other languages) or redistributed without written permission. For usage information, please contact us.
Syndication Information
Affiliate Information
As an Amazon Associate, this website earns from qualifying purchases. Some recipes, posts and pages may have affiliate links. If you purchase via these links, we receive a small commission that does not impact your price. Thank you in advance for supporting our work to maintain Perfectly Provence.