Tourte de Blette Salée a Recipe from Les Petits Farcis in Nice
Tourte de Blette Salée is a wonderfully light yet hearty dish that can be served any time of year and comes from our friends at Les Petits Farcis cooking school in the Old Town of Nice. Imagine yourself learning to cook traditional Nicoise cuisine in a historic part of the city and only a five-minute walk from the Cours Saleya market where you can source the absolute best freshest local ingredients. This delicious hands-on approach will introduce you to the exceptional local flavours of the area and explore the Provencal region and Italian influences.
Please check out the list of upcoming virtual online classes at Les Petits Farcis including – Best of Nice Cuisine. And for food-loving cycling fanatics, Rosa and her colleague Viktorija have you covered with traditional French recipes, wine pairings and cycling – a culinary Tour de France. 

Tourte de Blettes Salée from Nice
This savoury tart's main ingredient is blette (chard), which grows all year near Nice, France. Considered part of traditional Niçose cuisine, there are two variations sweet and savoury (salée). Serve this tart with a green salad for lunch or a light dinner.
Ingredients
For the Olive Oil Pastry:
14

oz

Flour

150

ml

Olive Oil (good quality)

150

ml

Cold Water

1

tsp

Fine Sea Salt
For the Filling:
1

lb

Swiss Chard Leaves

2

oz

Short-grain Rice (Arborio)

1

Onion

4

oz

Bacon

1

tbsp

Olive Oil

3

Eggs

2

oz

Parmesan cheese

Sea Salt and Freshly Ground Pepper
Instructions
For the pastry, combine the flour, olive oil, water and salt in a large bowl. Mix with a pastry scraper or your hands until it forms a smooth ball. Please do not continue to knead the pastry once it has come together. Wrap the pastry in plastic and set aside in the refrigerator for at least 30 minutes.

Bring a medium pot of water to a boil and cook the rice for about 15 mins. Drain and set aside.

Thinly slice the chard leaves and set aside.

Chop the onion finely and cut the bacon into small dice. In a large frying pan, heat the olive oil and sauté the onion and bacon over medium heat until the bacon starts to brown lightly. Add the chard and sauté for about 5 minutes. Transfer this mixture to a large bowl and add the cooked rice, 2 of the eggs, the grated Parmesan, salt and pepper.

Oil a large tart tin (28 cm, 11 inches). On a lightly floured surface, roll the pastry out as thinly as you can. Line the pan with 2/3 of the pastry, letting it hang over the edges of the pan. Fill with the vegetable mixture, fold the pastry's edges over the filling, and top with the remaining pastry, tucking it around the sides. Beat the remaining egg and brush the surface with it. Bake for 25-30 minutes, until golden. Serve warm or at room temperature.
Notes
Blette (Swiss Chard) probably wins the prize as the most popular Niçoise vegetable, because it can be grown year-round in the area's arid climate. In local bakeries you'll come across two types of Tourte de blettes, this savoury one and a sweet version made with raisins, pine nuts and a little rum and topped with icing sugar.
Variation: Another popular tart in Nice is filled with zucchini (courgettes). Just replace the chard with finely diced zucchini and proceed exactly the same way. Alternatively, make the same recipe using finely diced pumpkin or squash instead of zucchini.
More variations of this recipe could include almost any of your favourite leafy greens that you love. Anything from cabbage to kale to spinach or even leeks. Try finely diced eggplant too, that would be fantastic. Enjoy!
Sweet Tourte de Blette
La tourte sucrée aux blettes
Swiss chard may not be something you typically think of an an ingredient for baking, but the subtle flavour adds texture to this sweet snack. Dusted with sugar this square is perfect with a cup of coffee or tea.
Check out this recipe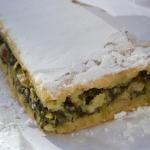 Swiss Chard, Raisin and Pine Nuts Tart
Tarte niçoise aux blettes et pignons de pin is such mouthful, of words, for a dessert. On my last visit to Nice, I tasted this fabulous local délice. French cooking is absolutely regional like its weather, and you can only find certain specialities in specific towns. Ok, I have to say this tart is not for everyone. Dessert with veggies in it does sound strange. Some might sprinkle confectioner's sugar before serving. The tart is even better the next day.
Check out this recipe