Swiss Chard Tart a Classic Niçoise Dessert
How do you meet anyone in 2020? Without the help of Zoom and Instagram, it would be nearly impossible. Admittedly, I spend a bit too much time on Instagram (perhaps there is a therapist out there), but it's hard not to with mouthwatering culinary images like those of frenchified_wife. A traveller and passionate cook, Jane exercises her creative talents in the kitchen and on her beautiful blog – On Mange (In the kitchen of a trailing spouse). "Food that brings everyone together, be it at home, with family and friends: Great company, great food, it can't get any better." ~ On Mange!
Below, Jane shares a recipe for a tart made with Swiss chard, raisins and pine nuts – Tarte niçoise aux blettes et pignons de pin. Nice is the largest city along the Côte d'Azur and has a deeply entrenched food lovers culture. Explore the city's many traditional recipes combining local ingredients with flavours of the Mediterranean.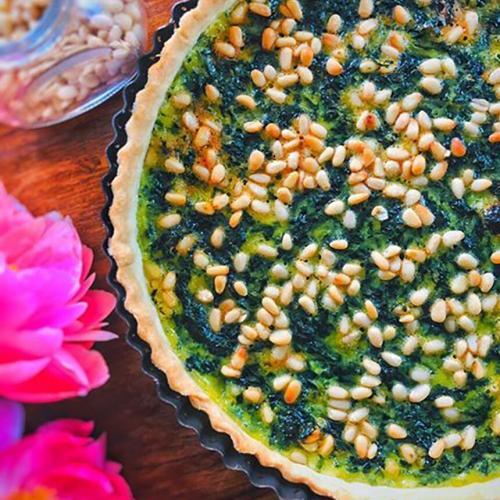 Swiss Chard, Raisin and Pine Nuts Tart
Tarte niçoise aux blettes et pignons de pin is such mouthful, of words, for a dessert. On my last visit to Nice, I tasted this fabulous local délice. French cooking is absolutely regional like its weather, and you can only find certain specialities in specific towns. Ok, I have to say this tart is not for everyone. Dessert with veggies in it does sound strange. Some might sprinkle confectioner's sugar before serving. The tart is even better the next day.
Ingredients
800

g (28 oz)

Swiss Chard

I used white chard

3

Eggs

12

cl (4 oz)

Crème fraiche/sour cream

100

g (3.5 oz)

Sugar

50

g (1.7 oz)

Pine Nuts

40

g (1.4 oz)

Golden Raisins

1

Pie Pastry

store-bought or homemade
Instructions
Thoroughly wash the Swiss chard in several changes of water then cut the stalks from the leaves. Save the white stalk for other purposes. You only need the leaves for this recipe. On some older leaves, you may need to cut out the ribs too.

Use a large pot with lots of water and bring to a rapid boil. Add chard leaves to the boiling water. Cook them for about 4-5 minutes.

Drain and squeeze out all the liquid to dry the leaves. Finely chop the cooked chard leaves and set aside to cool.

In a medium bowl, beat the eggs, cream and sugar. Add dry raisins and half of the pine nuts. Mix in the chopped chard leaves until well combined.

Roll pie pastry out into a 24cm tart pan. Fitting it snugly against the side and bottom and trim the excess dough.

Pour the chard mixture into the pie tart. Scatter the rest of the pine nuts over the top of the tart.

Bake until filling is set for about 30 minutes in preheated oven 180°C (350°F).

Let the tart cool on a wire rack till room temperature. Slice and serve.
Notes
*homemade pie pastry may take a longer time to cook. If you're worried about a soggy base, add an extra 5 minutes of oven time just cooking the pastry.
Previously, Jane shared a recipe for a savoury, Vegetable Flower Tian Provencal. This tian recipe makes one pie, perfect for a lunch dish with a green salad and some fresh baguette. Tian Provencal tastes like summer and is best enjoyed when warm, either with polenta or potato wedges. This tart version is nothing complicated, just a little patience, and you will end up with a flower design. Enjoy!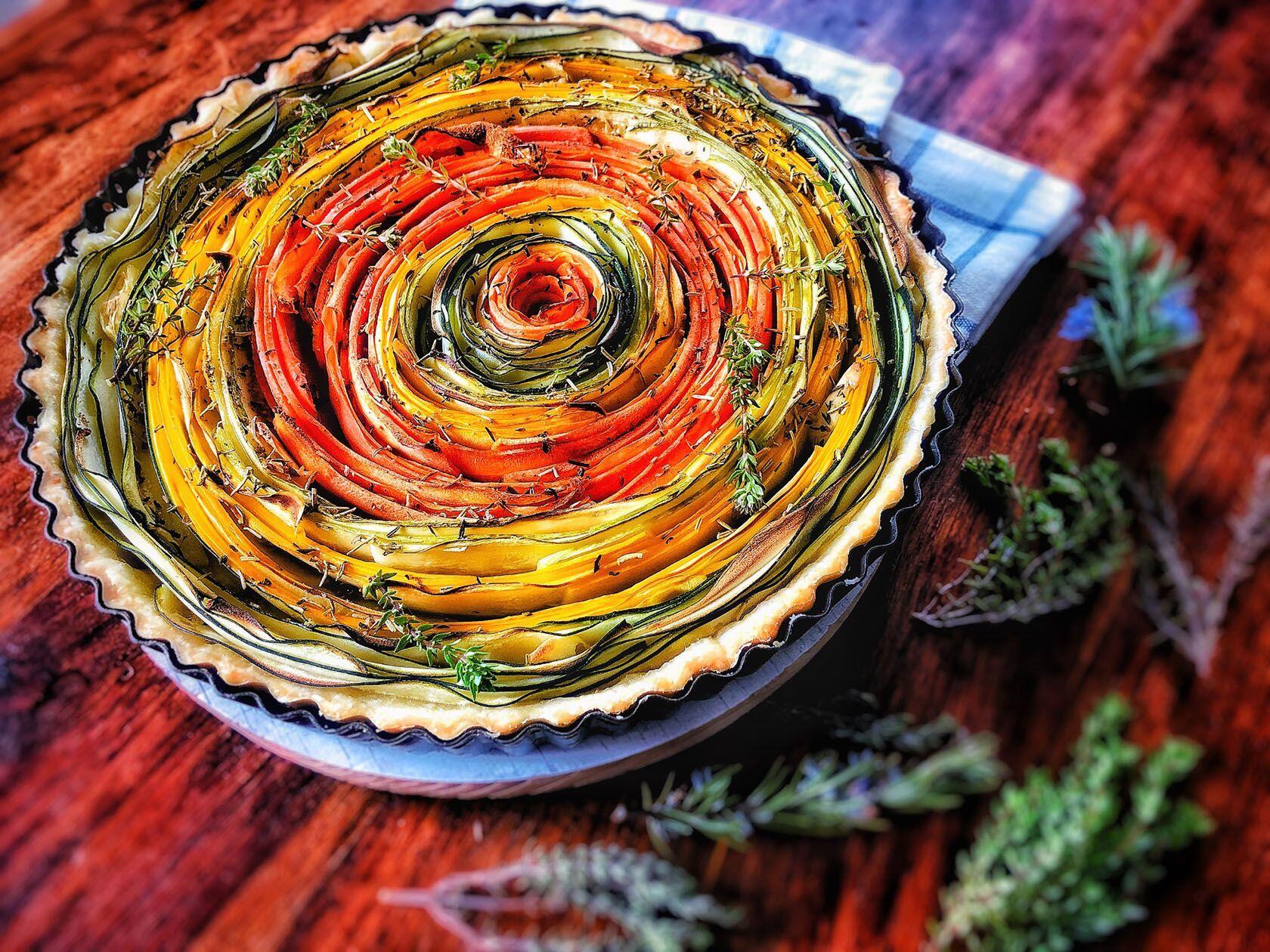 Here are some other Niçoise favourites:
The first time I tasted a Pan Bagnat was as a student in France on my first trip to Nice. My first bite stayed with me from that moment. It's the combination of fresh spring-summer ingredients, tuna and a crusty French loaf.
Salade Niçoise is a lovely collection of fresh potatoes, tomatoes, olives, beans, herbs, and tuna on a delightful bed of crisp green lettuce dressed with a light and tangy vinaigrette and anchovy filets. Here is the recipe.
Les Petit Farcis is a hearty dish that appears on menus in Provence during the colder months. Originating from Niçoise cuisine, the name refers to small stuffed vegetables. Traditional recipes call for seasonal vegetables such as zucchini squash. This recipe is a crowd-pleaser.
Provencal Tomatoes Stuffed with Basil a recipe from Rose et Marius that calls for tomates ananas (pineapple tomatoes), which are a delicious varietal. However, sadly this type of tomato is not available everywhere, but beefsteak tomatoes will work fine as a substitute.