February Fun on the Cote D'Azur Nice Carnaval and Fête du Citron
Nice Carnaval
In February 2018, for the first time, we found ourselves at Nice Carnaval – it probably sounds really awful, but we hadn't really planned to go, only noticing it was on whilst we were planning a trip to the Fête du Citron at Menton for our wedding anniversary so thought we'd extend our stay to watch the Saturday parades in Nice.
We'd never really heard about the Carnaval de Nice so this came as rather a surprise. We didn't really know anything about the Carnaval and so went with no expectations; we had no idea of where was best to stand and to be honest really just stumbled our way through organising our time there.
…Continue reading here for Julie's article on their second (possibly annual) trip to the Carnaval de Nice.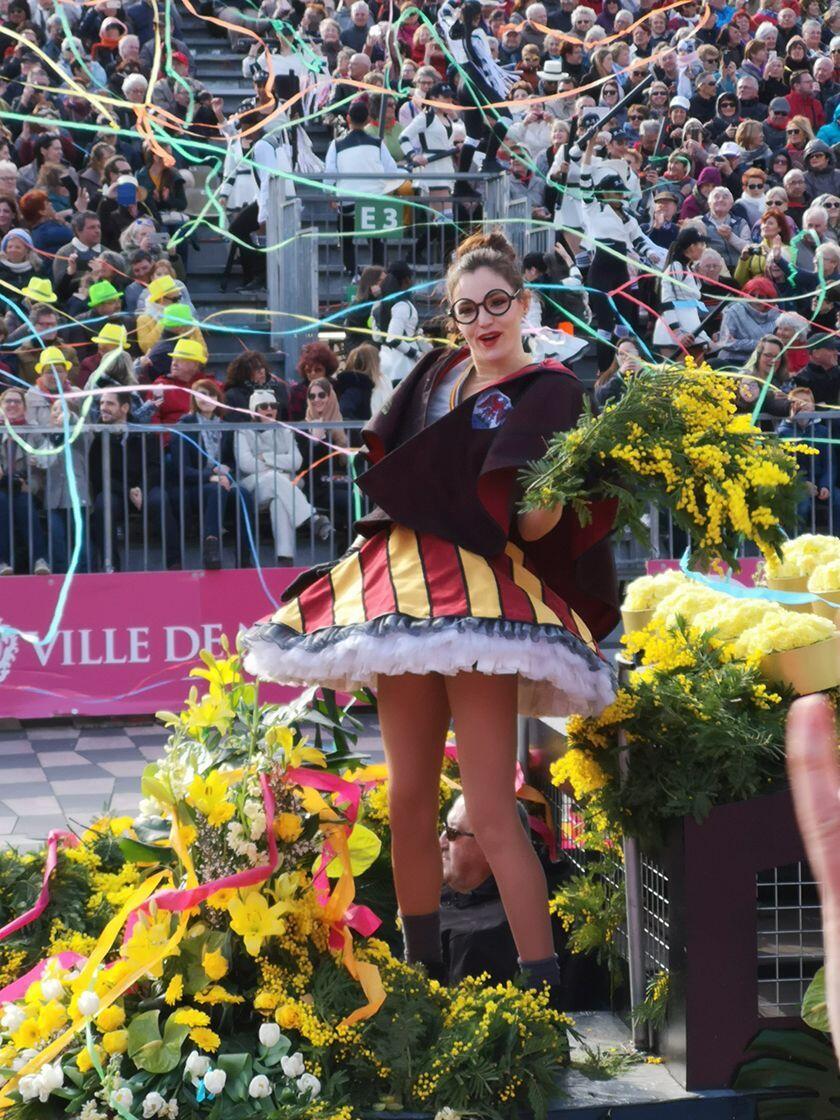 Plan your Visit to Nice's Carnival
The theme and exact dates for Carnaval de Nice change annually, but the event always lasts for two weeks. This French Riviera carnival rivals Rio de Janeiro, Brazil and Venice, Italy for its largess and extravagance. Although, carnival traditions are rooted in the Middle Ages the first official event in Nice occurred on February 23, 1873. Read more about the history of the Carnaval de Nice here.
The official program includes several parades during the daytime and evenings. The parade floats (usually 18) are decorated in flowers and characters to match that year's theme.
On Wednesdays and Saturday afternoons during Carnaval, there are flower parades – Bataille de Fleurs. The parade floats are covered in flowers, and the riders are said to throw some 100,000 flowers into the crowd each time. This Carnival tradition dates back to the 19th century, a time when carnation farming in the Nice area was the largest in France.
The evening parades (Parade of Lights) are mesmerizing. "Then the jaw-dropping sight of vast illuminated floats making their way around the route during the evening's Corso Carnavalesque Illumine." ~ Vaucluse Dreamer
Tickets are required to access most events. There is a range of pricing depending on whether you want reserved seating or just entry into the viewing area. The standing room only ticket gives you a bit of flexibility to move around.
Some of the crowd gets into the festive spirit dressing in costume for the occasion.
Expect security checks at the entry to events.  Plan to arrive in advance of the parades.
---
Menton's Fête du Citron
Last year we visited the Fête du Citron for the first time, 40 years after I'd first seen postcards of the incredible structures when I'd visited the town as a child. It was well worth the wait, and the event exceeded my expectations, and we had a fantastic time.
The Fête du Citron is an incredible event that takes place each February in the beautiful town of Menton, nestled on the Mediterranean Coast, a stone's throw from the Italian border.
…Continue reading here for this contributor blog post by Vaucluse Dreamer to discover the highlights of their second trip to seaside Menton for this citrus-themed event. February is a terrific time of year to visit the Côte d'Azur with these two lively events (Nice Carnaval and Fête du Citron)  running concurrently.

Fête du Citron Know Before You Go
The Lemon Festival – Fête du Citron has run for 86 years. It attracts roughly 240,000 visitors each year, so expect crowds. The event includes parades (day and night), a citrus garden, and fireworks. Between the static displays and parade floats, there is roughly 145 tons of lemons and oranges required during the festival. Not to mention many people behind the scenes helping put everything together and replacing spoilt fruit.
Purchase your tickets online or onsite.
The Fête du Citron theme changes annually, but there are always lemons.
All rights reserved. Perfectly Provence articles and other content may not be published, broadcast, rewritten (including translations into other languages) or redistributed without written permission. For usage information, please contact us.
Syndication Information
Affiliate Information
As an Amazon Associate, this website earns from qualifying purchases. Some recipes, posts and pages may have affiliate links. If you purchase via these links, we receive a small commission that does not impact your price. Thank you in advance for supporting our work to maintain Perfectly Provence.