Les Petits Farcis a Provencal Specialty from Nice
Les Petit Farcis is a hearty dish often found on menus in Provence during fall and winter months. Found commonly on menus throughout the region les petits farcis originate from Niçoise cuisine. The name refers to small stuffed vegetables. Traditional recipes call for seasonal vegetables such as zucchini squash (in this version). It is not uncommon to see variations with stuffed mushroom caps, tomatoes, eggplant or even sweet onions. The farce (stuffing) is sausage meat, which in this case is Italian sausage. In France, you can buy prepared farce at your local butcher or in the meat section at the grocery store.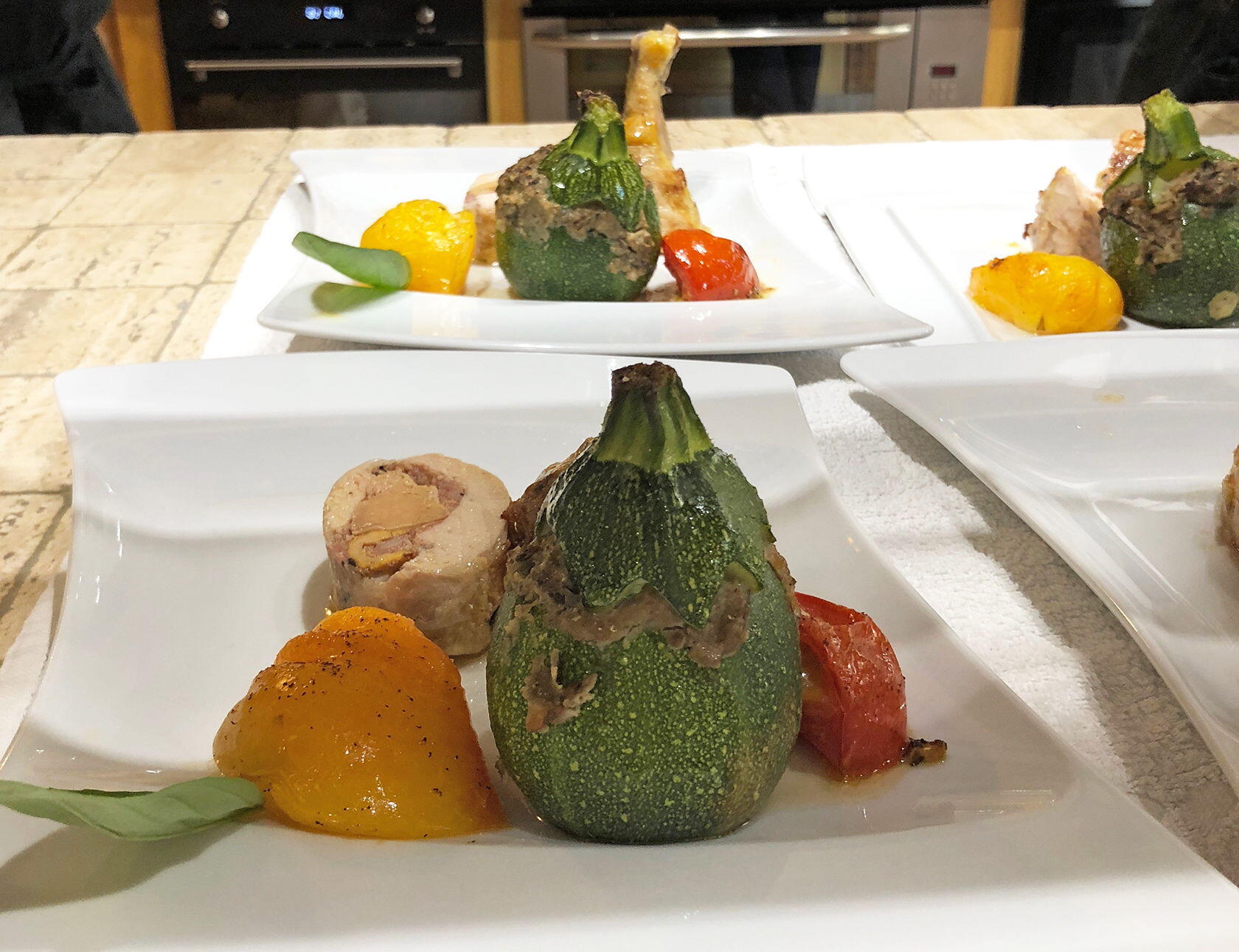 Petits Farcis a Nicoise Speciality
Les petits farcis may be served warm or at room temperature. Serve the petits farcis, served with the roasted vegetables, a green salad, crusty bread and a bottle of Côtes du Rhône make an excellent lunch or add some roasted chicken and call it dinner.
Ingredients
6

small round

Zucchini Squash

or 3 medium long zucchini, tailed, topped & halved

1

lb (.45 kg)

Sweet Italian Sausage

or Italian-style turkey sausage

1

small

Onion

finely diced

1

large

Garlic Clove

minced

2

slices

White Bread

crusts removed

1/3

cup (80 ml)

Milk

3

tbsp

Parsley

chopped

1

tbsp

Thyme

chopped

1

tbsp

olive oil

more for drizzling

3

Yellow or Red peppers

halved or quartered, if very large

3

Fresh Tomatoes

ripe but not soft, halved

1

tsp

Freshly ground pepper

salt to taste
Instructions
Pre-heat oven to 325 degrees F (160C).

Carefully remove the tops of the zucchini cutting about 2" from the top. Reserve the tops.

Gently scoop out the flesh from the inside of the zucchini, leaving 1/2"- 3/4" of flesh on the sides, depending on the size of the zucchini. Reserve flesh for another use. (If you are using the long zucchini, scoop out the seeds and flesh leaving 1/2" to 3/4" on the sides).

Salt the inside of the zucchini, turn over and drain on paper towels.

Tear the bread into small pieces, cover with milk and allow to soak while you prepare the filling.

In a sturdy fry pan (cast iron is best), sauté the onion and minced garlic until soft but not browned.

Add the sausage and break into small pieces, continue to cook until cooked through and no pink remains.

Allow to cool several minutes. Remove the bread from the milk and gently squeeze the bread to remove excess liquid.

In a large bowl, add the sausage mixture, bread, parsley, thyme.

Add the pepper and salt and mix to incorporate the ingredients with your hands. (The amount of salt will depend upon the sausage, start with 1/2 tsp and correct as needed).

Fill each zucchini "shell" with the sausage mixture.

Drizzle with a bit of olive oil and replace the caps.

Place the zucchini on a well-oiled sheet pan, scatter pepper and tomato halves around the zucchini and drizzle with olive oil.

Bake in the oven for 45-60 minutes until the zucchini are soft but not falling apart.
Notes
*The number of servings will depend on your choice of sides and the size of the zucchini. If the zucchini are small in size perhaps two (2) per person.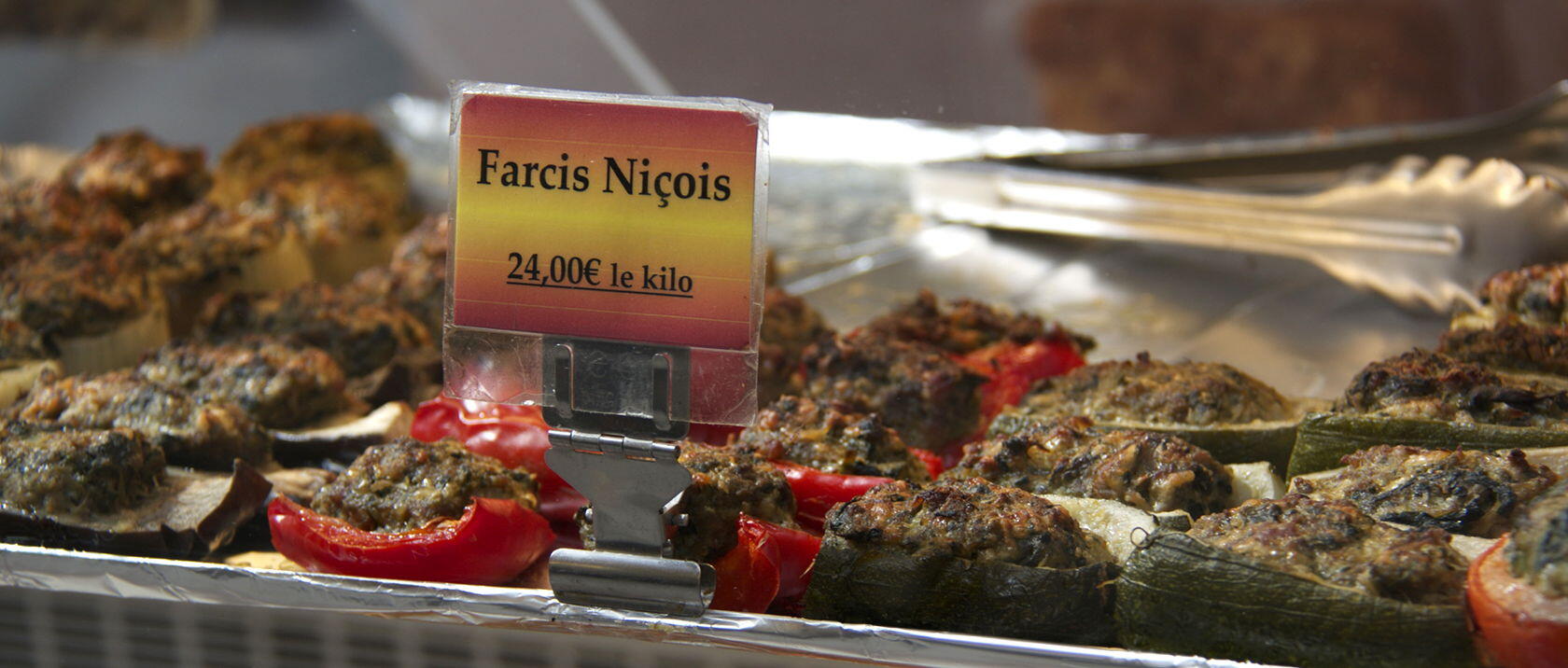 Other Niçoise Recipes
The salad Niçoise might just be the foundation for thousands (or is it millions?) of fully-loaded meals with a few greens, but nothing compares with the flavours of Nice artfully arranged on a plate. A lovely collection of fresh potatoes, tomatoes, olives, beans, herbs, and tuna on a delightful bed of crisp green lettuce dressed with a light and tangy vinaigrette and anchovy filets. Here is David's recipe.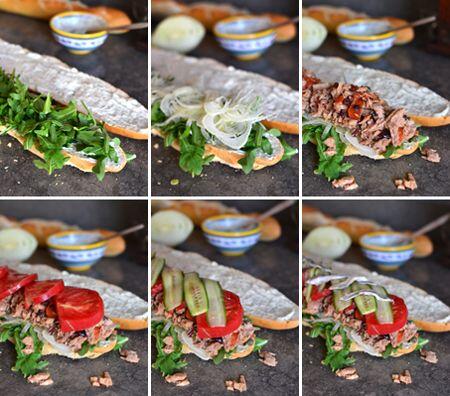 To some Pan Bagnat might just look like a sandwich, however, to those who have visited Nice it is anything but. This recipe may start with ordinary bread, but it ends with delicious.
Discover Nice's food traditions with chef, sommelier, and cookbook author Viktorija Todorovska. She leads a class called, Rosé Wine Tasting with Niçoise Street Food. Wine pairing is an art form that Viktorija will discuss during the class. Classic Niçoise street food (pissaladière, niçoise olives, socca, fresh chevre, and great bread) is an excellent match to rosé wine, and participants will have a chance to nibble.