Ceviche Provencal Served with Socca
This recipe by Cook'n with Class combines the flavours of the Mediterranean with South America. The fresh, citrusy ceviche is served on a layer of hummus and a touch of Nice cuisine rounds out the dish with traditional socca (chickpea flour "pancake"). The combination of flavours in Ceviche Provencal Served with Socca is perfect for a shared appetizer or as a lunch dish.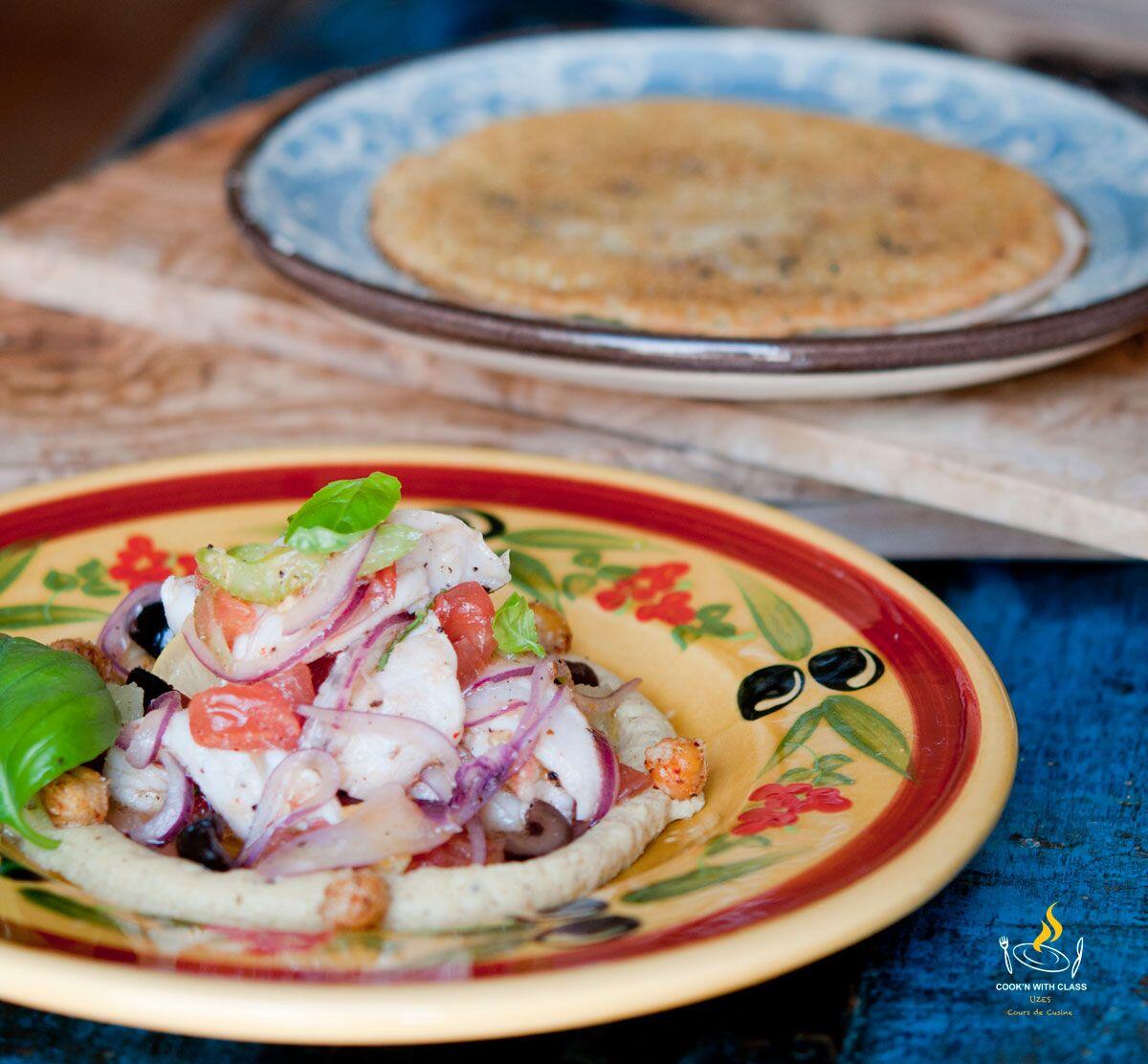 Ceviche Provencal with Socca
A South American idea with Provencal ingredients and a nice chickpea hummus to nicely finish the dish.
Ingredients
Ceviche
500

gr / 17.6 oz

Rockfish or Scorpion Fish

filleted (No skin or bones)

150

gr / 5.3 oz

Red onion slices

sliced very thin

3

lemons

Fresh Lemon Juice

20

leaves

Fresh Basil

2-3

sprigs

Fresh Thyme

75

gr / 2.6 oz

Preserved Lemon cubes

100

gr / 3.5 oz

Black Olives

pitted

50

gr / 1.8 oz

Chives or scallions
Hummus
250

gr / 8.8 oz

Cooked Chickpeas from a jar

rinsed with water and drained

57

gr / 2 oz.

olive oil

20

gr / 0.7 oz.

Fresh Garlic

1

lemon

Fresh Lemon Juice

1-2

tsp

Ground Cumin

to taste

Salt and Pepper

to taste
Socca
250

gr / 8.8 oz

Chickpea flour

8

tbsp

olive oil

1

Litre ~ 4 1/4 cups

Water

2

pinches

Salt
Instructions
Fish
Cut the fish in to thin slices and place in a bowl.

Add the salt and pepper to taste.

Add the juice of two lemons.

Add the olive oil.

Add the thinly sliced red onions.

Add the preserved lemon cubes.

Place bowl in the fridge and leave for 2 hours.
Preparing the Hummus
In a blender add the following... chickpeas (already rinsed and drained) pepper, cumin, olive oil, lemon juice and chopped garlic.

Blend until smooth.

Add a spoon or two of water if needed.

Taste to see if you need to add salt.

Reserve in a piping bag.
Making Socca
Combine the water and chickpea flour.

Mix well.

Add the olive oil.

Add the salt.

Heat a non stick pan on high heat.

Add some olive oil and pour on one ladle of chickpea batter.

Cook well on both sides until golden brown.

Add more oil if need be to the pan.

Remove pancake(s) and season with freshly ground black pepper.

Reserve in a hot oven until you're ready to serve them.
Serving the Fish
Remove the fish from the fridge.

Drain the juice from the bowl.

Add the remaining juice from the reserved lemon.

Sprinkle with the chopped basil, chopped olives and sliced scallions / chives.

On a large plate, make a ring of hummus with the piping bag.

Add the Ceviche in the middle.

Decorate with more chives.

Serve this dish cold with the Socca.
Notes
Socca is also a specialty of southeastern French cuisine, particularly in and around the city of Nice, and is the same as farinata. It may be baked on a tinned copper plate more than a meter in diameter. Read more...