Why I'm Dreaming of Christmas in Provence
We departed Lourmarin just as winter had arrived, with Christmas around the corner. The trees were almost bare, only a few remnants of their golden autumn gown still clinging to the branches. Temperatures had fallen, especially when the Mistral blew her cruel, icy breath down the Rhône Valley. There were occasional early morning frosts and mists creeping across the ground at first light. We were saddened to leave Lourmarin before the December holiday festivities started, but we will stay for the mulled wine and shopping another year.
Christmastime in Lourmarin
Lourmarin's Friday morning market continues all year. The holiday-themed market, the Grand Marché de Noël, is usually the Sunday before Christmas. It's a single-day festive event with 60+ market stalls and perfect for last-minute shopping.
If you are really in the spirit, look for holiday markets – Marchés de Noël – near Lourmarin.
Discover the charms of Bonnieux and its Festival de Crèches, which runs through the Christmas period.
Rose de Bagatelle, a women's clothing and home decor shop, is tucked away on one of Lourmarin's charming alleys.
Teresa Gaik sources her antique Provencal linens at markets and brocantes. This experienced seamstress turns the fabric into beautiful home decor items. At KOT ~ Teresa Gaik discover pillows, throws, and other lovely things for decorating your home or for gifts. 
Buy some lavender wands and boules (balls) at La Maison FRANC. The lavender stems are then counted and cleaned of any tiny shoots by hand. The fragrant bundle is then tied just below the flowers with a ribbon. Then each branch is folded over the lavender buds, "capturing" the flowers inside. The final step is to weave a bright ribbon through the stems covering the entire packet. The result is a lavender fuseaux, essentially shaped like a baby's rattle.
Christmas Traditions in Provence
Christmas in Provence takes place, as in most regions of France, with family. It is a traditional holiday loaded with Christian symbols. The festivities start at the beginning of December at the time of Saint Barbara.
Saint Barbara (Sainte Barbe), a young virgin, was martyred in Asia Minor in the 3rd century. She became the patron saint of miners, fireworks and firefighters. Christmas in Provence begins on December 4, the day of Sainte-Barbara's feast with tiny bags of wheat.
Christmas Markets
The stalls are full of artisanal products, jewellery, products from elsewhere, etc. Many smells of mulled wine, cinnamon cakes intermingle and immerse you in the Christmas atmosphere. If you get hungry after your shopping, many local produce merchants are happy to offer you a taste of the region's specialities: cheese, cold meats, and cakes such as gingerbread.
In late November, the traditional Christmas markets open their chalets (vendor stalls). They usually stay in place until the first Sunday after New Years Day. Some villages can even be present until January 6 (Epiphany). Open every day in December, and the vendors welcome you with open arms.
French Holiday Foods
Of all the culinary treats that grace the French Christmas table, nothing inspires more child-like joy than a rich, chocolate Bûche de Noël. Likewise, natural yule logs from living trees have had symbolic significance to the French for centuries.
Until the late 1800s, it was a widespread custom for extended families to gather under one roof and burn a sacramental log. Then, in the soft glow of the embers, the family would drink vin cuit (cooked wine) and sing Christmas carols before attending midnight mass.
Bûche de Noël (Yule Log)
This delicious and festive cake is a perfect end to any holiday celebration. Whether you're gathering with friends or enjoying a quiet evening with loved ones, a slice of this decadent cake is sure to get you in the warm Christmas spirit.
Check out this recipe

Bûche de Noël (Yule Log) Cake
Bûche de Noël (Yule Log) is a thin layer of sponge cake rolled with a creamy mocha filling and covered with chocolate frosting. The Yule log is traditionally French but is popular throughout Europe, Canada, and the United States. Use this beautiful cake as the centrepiece for your table. Display it on a gold tray along with pine cones, pine branches and red ribbon.
Check out this recipe

Christmas celebrations are focused around the evening before December 25 when Provençal dinner tables are set with three white tablecloths for the gros souper (translation: big supper). The symbolism surrounding the table preparation is deliberate. The three layers of white fabric represent the holy trinity. The table decorations are not elaborate but rather simply an acknowledgement of the fruits of agricultural labour each year – sprouted wheat from the Fête of Sainte Barbara and carafes of sweet wine (vin cuit) from the fall harvest.
The Best Mulled Rosé Wine Recipe
One could say, this seasonal cocktail is back by popular demand! Following the many requests from its warm welcome at Covent Gardens last Christmas, we're delighted to share the recipe for our mulled rosé wine. Great way to keep warm during these cold winter months. Santé everyone!
Check out this recipe

Mulled Wine (Vin Chaud)
The prepared mulled wine can be stored in the fridge for 5 days. To save time you can buy dried citrus peel, but we prefer to make our own. The recipe will make 4-6 glasses.
Check out this recipe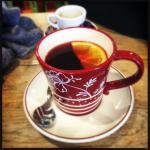 Provence's typical Christmas Eve meal is meatless, with seven fish and vegetable dishes on the lighter side but not insignificant. These plates might include omelettes, salted cod and potatoes – brandade de morue, ratatouille, and a local garlic soup. The number of dishes represents Mary's seven sorrows.
Salt Cod Brandade
Salting fish was a process that began some 500+ years ago to preserve the cod, that was caught off the coast of Newfoundland in Canada. Salt is still used (although not as extensively) as a preservative for cod, the fish is essentially dried and dehydrated. The longest part of this recipe is soaking the salt-cod to fully remove the salt.
Check out this recipe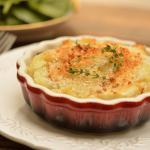 Brandade de Morue Nimoise (Mini Brandade Souffle)
A southern French classic recipe. It's usually served with slices of crusty bread and raw vegetables, and goes well with a crisp, dry white wine.This is a Brandade that is served hot as opposed to the aperitif version that is spread on bread.
Check out this recipe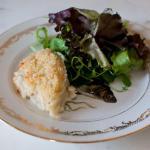 Cod 'Brandade' à la Provencal
In France, salt cod is called brandade the Provence Gourmet shares his recipe for an easy main dish similar to a shepherd's pie using salted cod.
Check out this recipe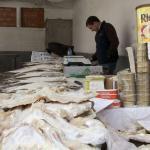 Mama Régine's Ratatouille from Cassis Bistro
Ratatouille is a delightful aromatic casserole. This bright and chunky summer vegetable blend will compliment any roasted or barbecued meat dish.
Check out this recipe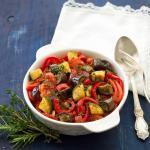 Ratatouille Tian Estival
This tian is easy to prepare. It can be served hot from the oven or at room temperature. This baked ratatouille casserole is a variation on the traditional Provencal recipe.
Check out this recipe

Then after midnight mass there are 13 desserts!
All rights reserved. Perfectly Provence articles and other content may not be published, broadcast, rewritten (including translations into other languages) or redistributed without written permission. For usage information, please contact us.
Syndication Information
Affiliate Information
As an Amazon Associate, this website earns from qualifying purchases. Some recipes, posts and pages may have affiliate links. If you purchase via these links, we receive a small commission that does not impact your price. Thank you in advance for supporting our work to maintain Perfectly Provence.