How to Make a Bûche de Noël (Yule Log)
One of the Christmas traditions in Provence is called Cacho-Fio or Light the Fire. In Provence, Christmas evening begins with this ancient pagan custom. Cacho-fio is a ritual for lighting the Yule log (calendau, in Provencal) on the evening of December 24th. Together the youngest and the oldest of the family carry a fruit log. They circle the table, covered with three tablecloths, three times while holding the log. The log is then drizzled three times with cooked wine and blessed with words that change from one family to another. Then the log is lit and it must burn for three days and three nights. Read more about Provencal holiday traditions here.
The Cacho-fio log you can't eat, but this one you can. The following recipe for a French Yule Log – Bûche de Noël – is a traditional holiday dessert. I made my version for a December online cooking class "Add Sparkle, Shimmer, Silver and Gold to Your Culinary Presentations." My co-host in creating culinary magic was Lynn Neuberg of Easy Leaf Products.

Bûche de Noël (Yule Log) Cake
Bûche de Noël (Yule Log) is a thin layer of sponge cake rolled with a creamy mocha filling and covered with chocolate frosting. The Yule log is traditionally French but is popular throughout Europe, Canada, and the United States. Use this beautiful cake as the centrepiece for your table. Display it on a gold tray along with pine cones, pine branches and red ribbon.
Equipment
Sheet Pans

Parchment Paper

Handheld Mixer

Offset Spatula
Ingredients
CAKE INGREDIENTS
Unsalted Butter

for greasing

5

Eggs

separated

1

cup

Sugar

divided

2

tbsp

Cocoa Powder

1/2

cup

Cake Flour

1/4

tsp

Salt

1/2

tsp

Cream of Tartar
FILLING INGREDIENTS
2

cups

Heavy Whipping Cream

1

cup

Confectioners Sugar

2

tsp

Instant Coffee
FROSTING INGREDIENTS
1/2

cup

Unsalted Butter

softened

1/2

cup

Baking Cocoa

2 1/2

cups

Confectioners Sugar

2

tsp

Vanilla Extract

2 1/2

tbsp

Milk
MERINGUE MUSHROOMS
2

Egg Whites

large, at room temperature

1/4

tsp

Cream of Tartar

1/2

cup

Bakers Sugar

1

tsp

Cocoa Powder
GARNISH INGREDIENTS
Meringue Mushrooms

Chocolate Shavings or Curls

optional

Powdered Sugar

optional
Instructions
CAKE DIRECTIONS
Preheat the oven to 350°F (175°C).

Line a 15-in. x 10-in. x 1-inch baking pan with greased parchment paper.

Lay a clean kitchen towel flat on a work surface. Dust with powdered sugar and set aside.

Place egg whites in a small bowl and set aside.

Place egg yolks in a large bowl and beat with a stand mixer until fluffy and lighter in colour, about 3 minutes. Gradually add half the sugar and beat until thick and even lighter in colour, about 5 minutes. Gradually add flour, cocoa and salt, beating until well blended. Set this batter aside.

Beat egg whites on medium speed until foamy. Add cream of tartar and beat until soft peaks form. Gradually sprinkle in remaining sugar, a tablespoon at a time, beating on high until stiff peaks form.

Transfer a quarter of the egg white mixture into the batter, stirring to just combine. Gently fold in remaining egg whites until no light streaks remain.

Spread batter evenly (using an offset spatula) in the prepared pan. Bake for about 15 minutes or until cake springs back when lightly pressed in the center (do not over bake or cake will crack when you roll it).

Remove from the heat and let cool on a rack for 3 minutes. Run a small knife along all four sides to loosen. Invert onto a prepared kitchen towel. Peel off the parchment paper and loosely roll the cake up in a towel, beginning with a short side. Set aside to cool.
FILLING DIRECTIONS
Place the cream in a large bowl and beat with a mixer until it begins to thicken.

Add sugar and coffee granulates and continue beating until stiff peaks form.

Cover and chill until ready to use.
FROSTING DIRECTIONS
Place all frosting ingredients in a large bowl and beat with mixer until smooth.

Cover until ready to use.
ASSEMBLY INSTRUCTIONS
When the cake is completely cool, carefully unroll and spread inside with filling to within ½-inch of edges. Re-roll.

Spread outside of the cake with a thin layer of frosting. Freeze until frosting is very firm to the touch.* 

Spread the cake with the remaining frosting. 

Using a serrated knife, cut a thin slice off either end of the cake so show the beautiful layers inside. 

Use a fork to make shallow squiggly lines down the length of the cake.

Scatter the chocolate shavings or curls over the cake (optional).

Place on serving platter and chill until ready to serve.

Just before serving, decorate with meringue mushrooms. Sift a little powdered sugar (optional), cocoa powder, and Easy Leaf Gold sprinkles over the top of each mushroom.
MERINGUE MUSHROOMS INSTRUCTIONS**
Preheat oven to 200°F (95°C).

Line a baking sheet with parchment paper. Fit a pastry bag with a large plain round pastry tip. Set aside.

Place egg white in a medium bowl and beat with a mixer at medium speed until foamy. Add cream of tartar and continue beating until soft peaks form. Gradually beat in sugar. Increase speed to high and beat until mixture is very stiff and glossy.

Place mixture in a prepared piping bag.

To make mushroom caps, pipe half of the mixture onto a prepared baking sheet into flattened balls between ½- and 1½-inches across. A variety of sizes looks best. Run a dampened finger across the tops to smooth.

To make mushroom stems, pipe meringue into a cone shape, with the bottom wider than the top. Make stems between 1 and 2 inches high, some a bit more, some a bit less. Reserve any leftover meringue.

Bake for about 1 hour or until very firm to the touch. Remove from heat.

Carefully remove caps from parchment paper. Using a small knife, puncture the bottom of each mushroom cap. Dab a bit of leftover meringue inside the cap (this will work as glue). Press the small end of stems into caps. Return to the baking sheet and bake for 20 minutes.

Dust the mushroom tops with cocoa powder and store in an airtight container in a cool place for up to 2 weeks.
Notes
*NOTE: At this point, the cake can be wrapped in plastic wrap and frozen for up to 2 weeks. The remaining frosting can be frozen in an airtight container for up to 2 weeks. Let frosting come to room temperature then beat with an electric mixer until smooth.**NOTE: These mushrooms can be made up to 2 weeks in advance if stored in an airtight container. The more you make the easier it gets to create these lovely little treats. Wait for a dry day to make these as humidity can cause the meringue to soften and weep. This recipe makes 15-20 mushrooms.
Other Delicious Holiday Dessert Recipes
Galette Provençale - Christmas Cake
Shaped like a wreath and decorated with dried fruit, the galette Provençale is a seasonal favourite. This recipe takes a bit of time, but like all holiday baking, the result is delicious and well worth the wait.
Check out this recipe

Grandmère's Chocolate Cake
This is such a special recipe for me. It's been handed down through my mother's side of the family and it's the cake Grandmère always used to make for us when there was a birthday or other celebration. I've never tasted another chocolate cake quite like it (believe me, I've tried many). Whatever you do, don't overcook it. Five minutes too long in the oven and the middle will dry out. Like American brownies, you want the centre to be sticky and squidgy and a little sunken. It will glue your mouth closed and taste heavenly.
Check out this recipe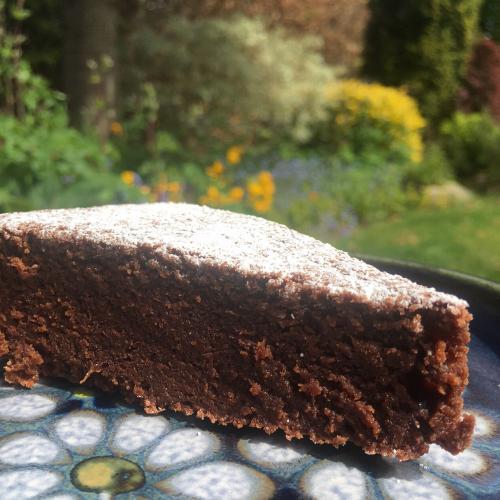 Citrus Almond Cake
This recipe combines citrus and almond in a sweet dessert. It was minimally adapted from the recipe by Claudia Roden, "The Food of Spain." The cake is also gluten-free and dairy-free if your guests have food sensibilities.
Check out this recipe