Vegetarian Les Petits Farcis a Favourite from Provence
Les petits farcis is a classic Provençal recipe made with seasonal vegetables and a sausage stuffing. The recipe below comes from the kitchen of Virginie Van Der Wees, a certified French teacher who lives near Aix-en-Provence. We have included only the vegetarian version of the stuffing, but you will find the traditional meat recipe and a French translation on her website. It's a great way to improve your French.
This dish – les petits farcis [lit: the little stuffed ones] – is a typical vegetable recipe from Provence that you will love. There are hundreds of different stuffings for this very dish. In fact, almost every provençal family has its own recipe.

Les Petits Farcis a Vegetarian Version
I'm going to share with you my family's favourite one. It's a very simple version, healthy, and vegetarian. Let's get cooking! To make it easier, choose round shaped vegetables. For the pleasure of the eyes, choose different colour vegetables: tomatoes, round zucchini, peppers, white onions.
Ingredients
4

medium

Tomatoes

4

medium

Zucchini

the round version is better for stuffing

Option: 4 medium Sweet Onions

Option: 4 medium Mushrooms

Option: 4 medium Bell Peppers
Ingredients for Vegetarian Stuffing:
1 1/2

Cups

Cheese

choice: goat, mozzarella

3

Cups

Quinoa or couscous

Salt

Ground Pepper
Instructions
Prepare and Pre-cook Your Vegetables:
Wash the vegetables.

Put them in a steamer( *). Without a steamer, you can do this step using a pan with water.

Put water in a pan and you add the vegetables when it is boiling. Check for doneness by sticking a knife in the vegetables when the vegetables have the "good" texture (not too hard, not too soft).

Of course, depending on the vegetable, leave it more or less time in the steamer. For example, a tomato will soften faster than a zucchini. Leave the tomato for 5 minutes and the zucchini for 25 minutes.
Prepare Your Veggies For The Stuffing:
If the skin on your tomatoes is thick, blanch and remove the skin.

Cut the top off the vegetables. If some are long such as zucchinis or peppers, cut them lengthwise.

Scoop out the flesh from the vegetables, careful not to cut through the outer layer.

Set the vegetables aside, and keep the flesh from the vegetables for soup or another use.
Stuff the Vegetables:
Mix all ingredients (cheese, quinoa or couscous, salt & pepper) with a blender.

Stuff the vegetables with the mixture.

Put in the oven for 30 minutes at 350°F.

Serve with a green salad and fresh baguette.
Notes
*Note: Do you know this kitchen tool? It is very handy for softening vegetables. If you put just them in the oven, they may stay a bit hard/uncooked. And if they are cooked for too long in the oven, they can blacken.
---
Author's Bio:

Virginie Van Der Wees lives with her young family near the Montagne Sainte Victoire, a short 20-minute drive from Aix-En-Provence. She is a masseuse and a certified French teacher for non-French speakers. Since 2018, Virginie puts together full immersion experiences that include hosting and supporting language learners at their family home. The Virginie-en-Provence curriculum allows students to build on their knowledge and move the next level and beyond – all while enjoying the wonders that Provence has to offer. Suitable for any age group, Virginie offers adapted, tailor-made solutions for clients who are moving to Provence. This program allows them to improve their French and overcome cultural changes. Virginie also provides classic French lessons and cooking lessons (in French) online or at the client's home.
---
Other Traditional Provencal Recipes
Petits Farcis a Nicoise Speciality
Les petits farcis may be served warm or at room temperature. Serve the petits farcis, served with the roasted vegetables, a green salad, crusty bread and a bottle of Côtes du Rhône make an excellent lunch or add some roasted chicken and call it dinner.
Check out this recipe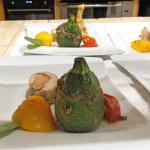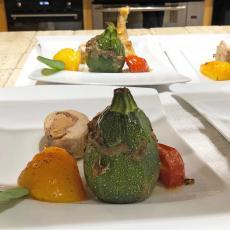 Marseille Classic Bouillabaisse
A Bouillabaisse, to be served in perfect conditions, should be prepared for a party of at least 6 to 7. This allows the cook to purchase a wider variety of fish. You will have to be persevere to find all the different types of fresh Mediterranean fish. If you are far from the Mediterranean, use your local white fleshed fish. The recipe proposed here, consists in poaching the bigger fish into the small fish soup. It is the luxury version of the recipe, as it differs from the original fishermen who were simply recuperating the damaged and unsold parts. Follow the steps to create this a gastronomic recipe.
Check out this recipe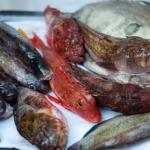 Lamb Stew a Daube with Côte du Rhône Red Wine
A Provencal daube is like most stews, easy to prepare and best if left to cook slowly for a long period until the meat is tender.
Check out this recipe

Daube à la Provençal
A slow cooked beef stew, the Provencal version of the more commonly known Boeuf Bourguignon is called Daube à la Provençal.
Check out this recipe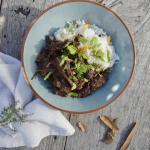 Panade aux Pommes (Apple Tart)
This apple pie is low in sugar and a great balance of tart and sweet. The instructions for the pastry are included. However, if you buy ready-made pastry at the store it will save a lot of time.
Check out this recipe