A Spicy Twist on Daube à la Provençal
The following recipe is Ashley's variation on a traditional recipe for Daube – Provence's answer to Beef Bourguignon. This is a perfect recipe for a crisp autumn day or winter meal. Serve with a baguette and simple green salad, and of course some Provencal wine.
Here, is what Ashley has to say about her version of Daube à la Provençal:
"Since I've moved to France, I've made all kinds of slow cooked beef stews. The Provencal version of the more commonly known Boeuf Bourguignon is called Daube à la Provençal. I've heard men in cafés arguing over the inclusion of carrots or not, and which spices to use… Black or green olives? Everyone has their own recipe. As a rule, Southerners tend to add olives instead of mushrooms. Daube is served, like Italian ragu, with short pasta."
Click here for the rest of the Curious Provence post.
The full Curious Provence recipe is below, and for a traditional version, click here.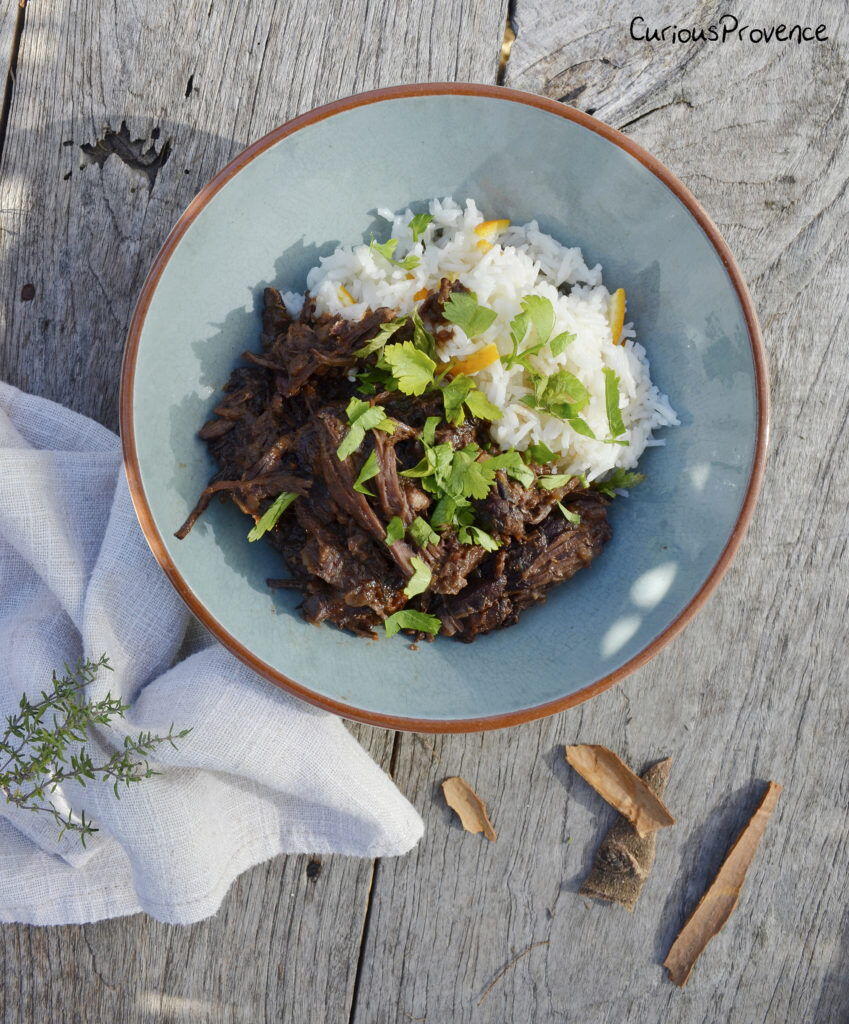 Daube à la Provençal
A slow cooked beef stew, the Provencal version of the more commonly known Boeuf Bourguignon is called Daube à la Provençal.
Ingredients
1.2

Kg

Stewing Beef

200

g

bacon

diced

8

Prunes

1

medium

Onion

finely chopped

2

Leeks

finely chopped

3

Garlic Cloves

crushed

1

Cinnamon stick

1

tsp

Ground Pepper

1

tsp

Chili flakes

1

bunch

Fresh Thyme

chopped

1

tbsp

Tomato paste

1/2

Bottle (roughly 500ml)

Red wine

from Provence

1

bunch

Fresh coriander

chopped

1/2

Orange peel

2

cups

Basmati rice
Instructions
Take the meat out of the fridge so that it can come to room temperature while you're chopping the vegetables.

Finely chop the onion, leeks and crush the garlic. Add a knob of butter and a tbsp of vegetable oil to medium-high heat in a large heavy bottomed pan.

If you have a Le Creuset - now is the time to get it out! Brown the meat on all sides. You'll have to do this in batches. When the meat is browned, remove from the pan and replace with the chopped bacon.

Fry for a minute, deglaze the pan with a little water if necessary, then add the onion, leek, garlic, and spices. Cook these down on a medium low heat for at least 6 minutes while stirring occasionally to prevent sticking.

Put the meat back in the pan. Cover with red wine, wait until you have a very low simmer, then cover. Leave on the stove for 4 hours.

Check on it from time to time to make sure it isn't boiling and that you have enough liquid. After 4 hours, put in the prunes. Cover again and wait 30 minutes. Uncover if you have too much liquid to thicken the stew while you prepare the rice.

Chop up half the removed orange peel and fry in 1 tbsp of vegetable oil on medium heat for 1 minute.

Add your rice and fry for another 30 seconds. Add double the amount of water to rice and let simmer uncovered.

Wait until most of the liquid has evaporated and you see holes appear on top of the rice. Now cover, take off the heat and wait for 15 minutes.

Add the tomato paste to the stew and season with salt and pepper if necessary.

Serve your rice and beefy deliciousness scattered with chopped coriander and devour!
Notes
Tips:For the stewing beef: shoulder is great for this but any stewing beef with do, this will also work with veal and is the most delicious, if you ask your butcher in advance, with beef cheeks.Prunes: I buy mine from the prune lady at the local market. You won't believe how good French prunes are. Try to find prunes that are moist and without artificial preservatives. If you're anxious about the taste of prunes don't worry, they melt into the sauce.Spice: This is meant to be a lightly spiced meal. Don't leave the cinnamon out- it really adds a wonderful element to the stew. Feel free to add more chilli and garlic though.My rice: If you've never seen this technique- try it. It works every time. I put the orange in the rice one day when I forgot to put it in the stew- I think it adds nice colour to the finished dish.Flour: You may wonder why I don't flour my meat before I brown it. Honestly, it never seems to work for me. The cooking time should create a thick sauce. If you're worried about it, I find it easier to add a tbsp of flour to the finely chopped veg while their being fried in the pan.Cooking time: I've tried, don't skimp on the cooking time. If possible, make the stew the day before. It's always best the next day. I have a hard time waiting though!
Additional Beef Recipes:
Traditional Daube Provencale with Beef
A slow-cooked daube made with beef is a traditional recipe in the Provencal region.
Check out this recipe

Beef Wellington with Sauce Béarnaise
A fulfilling meal best served thickly sliced with the Béarnaise sauce on the side.
Check out this recipe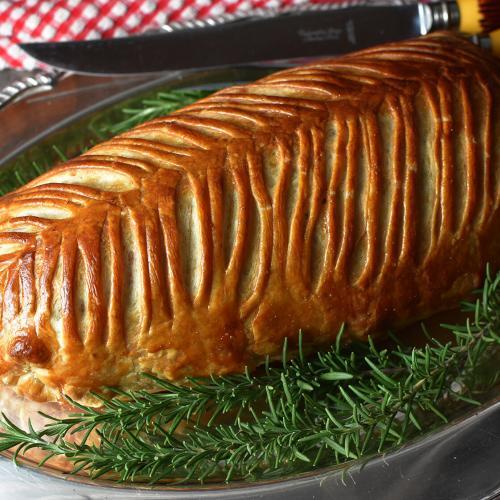 Provençal Fried Beef with Courgette on Little Gem Salad
Easy and quick, this appetizer takes a bit of Provencal liberty with Asian-style lettuce cups. Little Gem Lettuce is a perfect "holder" for the beef and courgette mixture, but if you cannot find these baby Romaine will work too.
Check out this recipe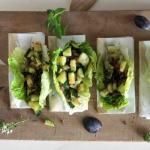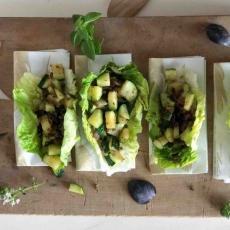 Slow Roasted Rib of Beef
Spend the day enjoying the wonderful aromas of what's to come at dinner with this delicious slow roasted beef rib with a tangy mustard sauce. Sunday dinner at it's finest.
Check out this recipe