Valentine's Gift Guide 2023 Inspired by Provence
While there is no reason to wait until February 14th to show your affection, not acknowledging Valentine's Day might not be a good love strategy.
So, to help with your shopping, we put together this Valentine's Gift Guide with suggestions that won't break the bank and are almost as good as a trip to Provence. In addition, there are some recipe ideas below for a romantic evening.

Our Valentine's Gift Guide 2023:
Start the Day Right
Start her day with breakfast in bed. The founder of French Address sourced this beautifully handcrafted wicker serving tray from an artisan in the French Alps. Wickerwork is one of those traditional artisan crafts in France, and there are less than 300 artisans today. The tray is made with organic white wicker and with orange leather handles.

Lavender in the Kitchen
These beautiful hand-painted glass jars are designed in Paris with a Provencal red or blue lavender. The canisters are suitable for dry goods or even as a flower vase. The jar capacity is 0.4 gallons (1.5 litres), and it is made with transparent, sturdy glass and a wooden lid.

A French Gift Box
Because travel is not always possible, you can still give beautiful artisan keepsakes from French manufacturers with My French Country Home Box, a curated subscription box. Sharon Santoni's passion for sharing her favourite French brands and ideas inspired the box concept. In addition, she wants to connect smaller French businesses and artisan creators with a broad audience. So Santoni and her team curate a thematic collection of made-in-France luxury products every quarter. The latest box theme is "An American in Provence," a collaboration with photographer Jamie Beck.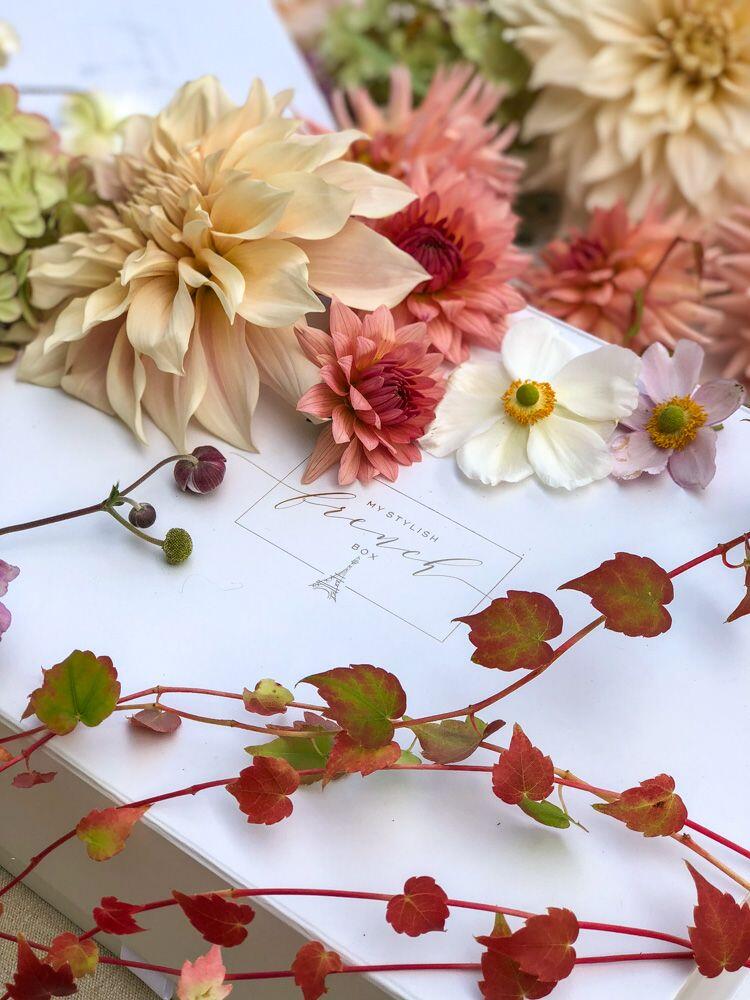 Beautiful Ceramics
Maison Pichon is known for its distinctive corbeilles tressées, intricately braided ceramic baskets made nowhere else in France. These delicate creations are meant to serve as fruit bowls but can also be dressed with dried flowers to make a centrepiece. Made by hand, each basket can take up to a month to complete.

My French Country Home is showcasing these Maison Pichon braided ceramic baskets. These decorative pottery stands are beautiful decorations but equally practical on your kitchen counter for fruit or other objects. Available in two colours, the Maison Pichon products are handmade in Uzes.
Set the Table
There is nothing like elegant table settings to set the mood. Provencal fabrics – les Indiennes – are available in various colours and patterns. In addition, there are table runners, placemats, tablecloths, and napkins to create your art de la table from playful to sophisticated. In addition, the team at Remember Provence has created some special gift packages (see the selection here). In addition, Remember Provence currently has a Valentine's sale on some of their best-selling items.

Romantic Lighting
Created in 2012, Rose et Marius is a love story between Magali Fleurquin-Bonnard and Provence. The designer takes us on a unique olfactory journey by summoning her childhood memories in the Provencal country house of her grandmother Rose. These scents of the South, reminiscent of walks at a time when the hill exhales the earth's vapours, are imprinted on Magali's memories. Also, explore the exquisite Rose et Marius candle collection, chosen by the French President for outstanding quality.

These mini, scented candles – lampions – are beautifully crafted. Purchase individual fragrances according to your tastes or select a package. Rose et Marius is offering readers a discount of 10% until February 14th. Use this code at checkout 10-PERFECTLY.

Love Stories
A budding romance, a Provencal setting and voila – a love story. The following list of books only begins to scratch the surface of the popular women's fiction genre. However, we recommend these authors as they write beautifully, inviting you into the lifestyle in the South of France with their prose. These books may be fiction, but these authors have "done their homework" about historical facts, understanding local traditions and immersing themselves in the culture.

Worth 1000 Words
François de Melogue grew up in Chicago, where his immigrant parents first met. He credits early experiences with food with his lifelong obsession with cooking and local ingredients. As a graduate of the prestigious New England Culinary Institute would understand that the effort is worth the result with food. His first book, Cuisine of the Sun, a Ray of Sunshine on Your Plate, helped us to discover François de Melogue's culinary and photographic talents.

Now he lives in Stowe, Vermont and focuses on those two passions. Between now and June 2023, shop for his limited edition canvases and printed merchandise (phone cases, cloth bags, mugs) and take advantage of a 25% discount for Perfectly Provence readers. Use Perfect25 at checkout.

Watercolour Painting Course
Tessa Baker has recently launched "Simply Watercolours – courses for beginners."  Created for someone beginning to paint, there are 20 lessons. Within the program are assignments and one-to-one guidance from Tessa using Zoom, Simply Watercolours is currently offered on sale until February 14th.
Painting Weekend
When the world pivoted to Zoom in the last two years, so did artist Jill Steenhuis. She now offers 2 ½ day online oil painting courses a few times a year. These interactive sessions are open to anyone, regardless of their level of painting experience. During the workshops, Jill provides an overview of colour theory, mixing a harmonious paint palette, and working with oil paints. You will have completed 2-3 paintings by the end of the class.
The first workshop of 2023 is on February 11,12 & 18. This painting weekend might be the perfect gift for that creative person. For more details and to book a spot, please follow this link.

Beautiful Her
Winter can be rough on your complexion. So, our friends at the Okanagan Lavender & Herb Farm suggest their rosewater Sensitive Skin Botanical Toner for our Canadian readers. Blended from farm-grown ,damask rose the small-batch distilled hydrosol includes only two other ingredients their lavender essential oil and a chamomile essential oil.
Place an order between February 1-14 and get a discount when you use this code: HAPPYVALENTINES15.

Okanagan Lavender & Herb Farm is a family-run operation requiring an entire team for planting, harvesting, drying, distilling, and bottling. All that before packaging, selling, marketing and occasionally sleeping. From plant to the final product – the farm operations reflect the McFadden family's dedication to environmental stewardship, supporting local business and quality production.
Please note shipping is only available to Canadian customers.
Bath Time
Natural Soap in a gift box with vegetable oils and iconic Provencal fragrances. The soaps use grape seeds for exfoliation and foamy lather. Customize your gift with an engraved message.
Rose et Marius is a luxury perfume house and home décor brand based in Aix-en-Provence. Founder Magali Fleurquin-Bonnard's inspiration for the exquisitely designed product line originates from childhood memories at the family's country home. Rose et Marius makes 90% of its creations in Provence. The company works with exceptional artisans whose knowledge passes from generation to generation. Rose et Marius received the precious label of Craftsmen of Art, which recognized the quality of their artisanal and handmade collections.
Take advantage of the Rose et Marius 10% discount before February 14th. Use 10-PERFECTLY at checkout.

Recipes For Love
Valentine's Gin Spritz Cocktail
The perfect Valentine's Day cocktail, featuring our Dry Gin and sparkling rosé La Folie.
Check out this recipe

Cinnamon Royale with La Folie Rosé Cocktail
This is an easy cocktail, but oh so festive for any special occasion. Make the sugar syrup in advance so you can create this sweet aperitif for Valentines, a wedding toast, Christmas or any good reason.
Check out this recipe


Roasted Scallops with Hazelnut and Rosé Butter on Polenta Mash
Here's a cheeky recipe to delight your beloved ;) Enjoy the dish with a chilled glass of Rosé and enjoy la Saint Valentin. Stephen and I actually got together on Valentine's day many moons ago, so it's a bit of an extra special day for the two of us and I am hoping he might cook me something this time!
Check out this recipe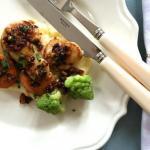 Rosé and Crispy Salmon for Valentine's Day a Perfect Food and Wine Pairing
Serve salmon fillets with pea and mint salad and roasted baby potatoes, and optional lemon slices, alongside Mirabeau Rosé for a romantic dinner for two. #BonAppetite! Wishing you all a special Valentine's Day filled with rosé coloured glasses!
Check out this recipe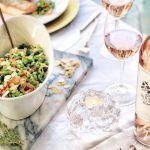 Tarte aux Prâlines Roses
An elegant but simple dessert for your New Year's Eve fête or a romantic Valentine's dinner!
Check out this recipe

Valentine's heart-shaped cookies
We've got a super easy and oh so pretty cookie recipe: heart-shaped citrus cookies with blood orange icing. In season and naturally pink! It's the perfect sweet treat to enjoy with your partner or your gals.
Check out this recipe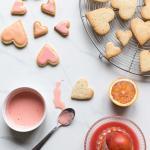 Valentines in France
Saint Valentine, a Christian martyr and patron saint of lovers, epileptics and beekeepers, died in the 3rd century in Rome. There is a legend that Roman emperor Claudius's reign forbade his soldiers from marrying, thinking that single men made better fighters. However, a priest named Valentin secretly performed marriage ceremonies before he was imprisoned.
La fête de Saint Valentin on February 14th has historical and religious roots in France. In the middle ages, the belief was that birds started mating in the middle of February. The card or love note originated when the captured Duke of Orleans wrote to his beloved wife while imprisoned in the Tower of London in 1415.
The lovely old tradition of exchanging beautiful handwritten cards with love notes – cartes d'amitié, may not have been specific to Valentine's but has undoubtedly been replaced by instant messaging. The other once-popular ritual in France, now outlawed, was the loterie d'amour.
While the exact origins of the notion of romance on February 14th are murky, you don't want to be caught without a gift.
Happy Valentines Day!