Valentines Cocktail and Festive Stained Glass Pear Slices
Stained Glass Pear Slices are an exciting way to add sparkle and elegance to any holiday. I highly recommend using a Mandolin to cut the slices super thin so that when they are crystallized and dry, they are practically transparent. I have made these Stained Glass Pear slices as garnishes for bourbon cocktails, martinis and as toppers for cakes and cupcake toppers.

As a side note, I wrote a thesis paper on the Cathédrale Notre-Dame de Chartres when I was at university, specifically on the stained glass windows of this magnificent cathedral, a few hours from Paris. I have always been attracted to the artistry and storytelling behind stained glass.
For Valentine's Day, I made red stained glass pear slices and when inverted, they resemble hearts so I used them as individual cupcake toppers.

Stained Glass Pear Slices
These pear slices are festive and can be colourized to represent any holiday using natural food dyes such as beet juice or powder, dragon fruit powders, kale powder, matcha tea or traditional pastry dyes. (Note: the number of slices will depend on the size and quantity of your pears)
Ingredients
2-3

Pears

such as Barlett, Bosc or Anjou

2

cups

Water

1

cup

Sugar

Natural Food Dye

like beet juice or powder or kale powder or several drops of food colouring
Instructions
Using a mandolin or a sharp knife, slice the pears into ⅛-inch slices

If you're making the pears two different colours, pour half the sugar and half the water in one pot and the other half in another pot. Set both on the stove to simmer.  Add the dye, powder or food colouring and stir until it is dissolved.

Once all the sugar and food dyes are dissolved, add in the pear slices and simmer for 20 minutes. Turn off the heat and let the pear slices soak in the syrup for 1 hour.

Preheat the oven to 250°F (120°C). Remove all the pear slices from the coloured syrup and arrange them on a sheet pan without overlapping.

Bake the pear slices for one hour. Remove the sheet pan from the oven and flip all the pear slices over. Bake for an additional 30 minutes.

We recommend that you use these Stained-Glass pear slices, gilded in gold, to garnish a Bourbon cocktail! For a final touch, gild the edge of each pear slice with edible gold!

Cherry Old Fashioned
Enjoy this classic bourbon cocktail on Valentine's or any day.
Ingredients
4

Turbinado Sugar Cubes (light brown)

4

dashes

Orange Bitters

2

oz

Tart Cherry juice

4

oz

Bourbon
Instructions
Using old fashioned glasses, place two Turbinado sugar cubes into each glass and add 2 dashes of orange bitters.

Add 1 ounce of tart cherry juice. Using a bartending muddler, crush the sugar cubes. Fill each glass with large ice cubes.

Top each drink with 2 oz. of Bourbon. Stir until chilled and the sugar is dissolved.

Garnish with cherries, orange peel or stained glass crystallized pear slices.
More Valentine's Cocktail Ideas:
Martini: Add dry vermouth to Mirabeau rosé gin for a perfect martini (007 may even approve).
Gin & Tonic: Mirabeau Rosé Gin and Tonic.
Gin and Rosé Sparkling cocktail: Mix pink gin with sparkling rosé from Provence and grapefruit juice in a cocktail shaker (recipe here).
For those who like a sweet-tart drink, this gin, rosé and grapefruit combination is a winner created by drink mixologist Hee Chung.
Chung also created a gin cocktail with Pure Rosé and rose ice cubes. If this drink doesn't wow your sweetheart, nothing will.
Pink Elephant Martini Cocktail
This cocktail is festive, fun and easy to mix. Enjoy!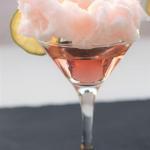 Pure Rosé Cocktail Recipe with rose ice cubes
The most time-consuming part of this drink recipe is making the ice cubes in advance. Find some beautiful miniature roses and freeze them in ice cube trays with water. The cocktail is delicious (of course), but the frozen rose ice cubes make the presentation.
Check out this recipe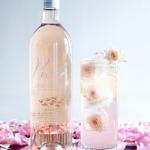 All rights reserved. Perfectly Provence articles and other content may not be published, broadcast, rewritten (including translations into other languages) or redistributed without written permission. For usage information, please contact us.
Syndication Information
Affiliate Information
As an Amazon Associate, this website earns from qualifying purchases. Some recipes, posts and pages may have affiliate links. If you purchase via these links, we receive a small commission that does not impact your price. Thank you in advance for supporting our work to maintain Perfectly Provence.