Valentine's Gin Spritz Cocktail a Sparkling Toast
Whether you are with friends or that special someone on February 14th, celebrate by starting your evening with a few bubbles. We combined two of our favourites, La Folie sparkling rosé, with our pink gin to create a festive version of a spritz. Enjoy this cocktail while you prepare our Valentine's menu.

Valentine's Gin Spritz Cocktail
The perfect Valentine's Day cocktail, featuring our Dry Gin and sparkling rosé La Folie.
Ingredients
50

ml

Mirabeau Dry Gin

50

ml

Peach Liqueur

Top up with Mirabeau La Folie
Garnish options:
pomegranate seeds or berries and sprigs of thyme
Instructions
Mix the Mirabeau Rosé Gin and Peach Liqueur over ice in a cocktail mixer.

Split them between two flûtes and top up with La Folie sparkling rosé.

Garnish with pomegranates or berries and thyme. Look lovingly into each other's eyes and celebrate your perfect journey together. Santé!
Valentine Recipe Ideas
Cinnamon Royale with La Folie Rosé Cocktail
This is an easy cocktail, but oh so festive for any special occasion. Make the sugar syrup in advance so you can create this sweet aperitif for Valentines, a wedding toast, Christmas or any good reason.
Check out this recipe


Rosé and Crispy Salmon for Valentine's Day a Perfect Food and Wine Pairing
Serve salmon fillets with pea and mint salad and roasted baby potatoes, and optional lemon slices, alongside Mirabeau Rosé for a romantic dinner for two. #BonAppetite! Wishing you all a special Valentine's Day filled with rosé coloured glasses!
Check out this recipe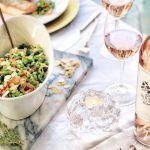 Roasted Scallops with Hazelnut and Rosé Butter on Polenta Mash
Here's a cheeky recipe to delight your beloved ;) Enjoy the dish with a chilled glass of Rosé and enjoy la Saint Valentin. Stephen and I actually got together on Valentine's day many moons ago, so it's a bit of an extra special day for the two of us and I am hoping he might cook me something this time!
Check out this recipe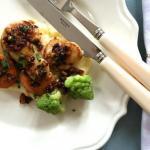 Here is a 3-course Valentine's Day Menu to celebrate the romantic evening. So this February 14th, celebrate life and happiness with your sweetheart, family, or best friends and enjoy Jeany's festive menu!

Beetroot Carpaccio with Smoked Salmon and Pomegranate
An easy, colourful first course (or lunch dish) that is full of antioxidants.
Check out this recipe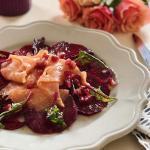 Mushroom and Provençal Herb stuffed Chicken Breast with Polenta and Potato purée
Impressive and not complicated the best kind of main course.
Check out this recipe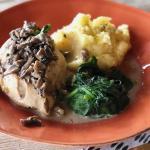 Coconut Eton Mess with Raspberries and Chocolate shavings
This dessert is easy, a bit "messy" and completely delicious. Serve on a nice plate when the moment's right and decorate with a pretty biscuit if you have one.
Check out this recipe