A Beef Casserole from Nice les Alouettes sans Tête
There is little debate that most things sound better in French than in English, and this dish, les Alouettes sans tête (English: "larks without heads"), is one clear example. In this old Niçoise recipe, thin slices of beef are stuffed with a mixture and slow-cooked in a tomato-based sauce. Like most stews, this casserole is even better the next day. We translated the recipe from French and reproduced it below with the permission of the Office de Tourisme Métropolitain Nice Côte d'Azur.
The 'Niçoise' cuisine reflects the respect for the regional products and lifestyle, always accompanied by the famous olive oil –with an AOP, Registered Designation of Origin- and aromatic plants. ~ Office de Tourisme Métropolitian Nice Côte d'Azur

Les Alouettes sans tête is part of those traditional Niçoise recipes that local families have been cooking for centuries. When visiting Nice, you may find this dish on menus at one of the 32 restaurants* that have received the Cuisine Nissarde label for quality food that follows traditional methods. In addition, les Alouettes sans tête and many others recipes appear in a cookbook called Carnets de cuisine du Comté de Nice, which is available at the Tourism Office or online on Amazon.

Les Alouettes sans Tête
This traditional Niçoise recipe, like all stews, is best reheated the next day or cooked in the morning for that evening. It is a perfect make-ahead casserole for cold weather and for anyone who likes stuffing and long-simmered meats.
Ingredients
12

slices

Beef Cutlets

relatively thin and wide, roughly 60 g (2 oz) each

2

Onions

1

Garlic Clove

Fresh Parsley

chopped

1 1/2

oz

Chopped Salt Pork

lardons or bacon

3 1/2

oz

Ham Heel

this is the tail end of the ham, a bit like prosciutto, chopped

1 1/2

oz

Bread Crumbs

soaked in milk

2

Eggs

1

bowl

Tomatoes

Peeled and Crushed or a large can of puréed plum tomatoes

1

handful

Dried Cepes

or other dried mushrooms

1

glass

Red Wine

1

glass

Marc

a Pomace brandy

1

tbsp

Dried Thyme

1-2

Bay Leaves

3

Cloves

1-2

cups

Beef Bouillion or stock

or stock

2

large spoonful

Pissalat*

Salt and Pepper

to taste

1

tsp

Ground Nutmeg

Olive Oil
Instructions
Start by finely chopping the onions. Fry the onions in a pan with the garlic, chopped parsley and pissalat in olive oil for about 3 minutes.

Sprinkle with thyme, crumble the chopped parsley and the finely chopped ham and cook for 10 minutes.

In the meantime, cook your eggs in very salty water. Then, peel them and reserve the yolks.

Soften the breadcrumbs in milk, and then squeeze any excess liquid out so you are left with just the rehydrated bread,

Mix the contents of the frying pan with the breadcrumbs and the crushed egg yolks. Season with salt, pepper and nutmeg.

Spread two small spoonfuls of this stuffing on each beef slice, roll them up, fold over the edges and tie them up like a small roll so that the filling is tucked inside.

In a heavy casserole pan, sauté chopped onion in olive oil over high heat and add the meat bundles to brown. Add salt and pepper, and pour a glass of branda liquor (eau de vie de marc) and a glass of red wine. Let the alcohol evaporate.

Then add 3 cloves, the tomato purée and the dried mushrooms (rehydrated in hot water). Top up with stock to cover the paupiettes. Simmer for 1 1/2 hours, covered. Check during cooking to add a little more stock if necessary. You can also finish cooking in an ovenproof casserole dish to ensure even heat, preventing the meat from sticking.

Serve with pasta, potatoes, or even polenta.
Notes
Pissalat (or pissala) is a condiment originating from the Nice. The name comes from peis salat in Niçard and means "salted fish". Pissalat is a popular Niçoise flavouring for savoury recipes. It is made with anchovy puree, flavoured with cloves, thyme, bay leaf and black pepper and mixed with olive oil.
Additional Beef Recipes:
Beef Wellington with Sauce Béarnaise
A fulfilling meal best served thickly sliced with the Béarnaise sauce on the side.
Check out this recipe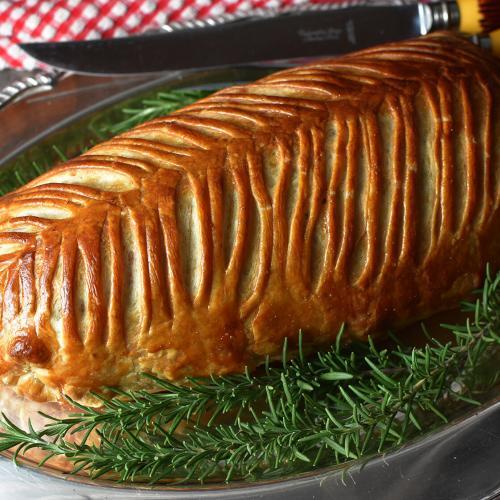 Provençal Beef or Bull Stew (Gardiane de Taureau)
A traditional French stew from Provence served with beef or bull meat. Make sure to allow enough time for marinading.
Check out this recipe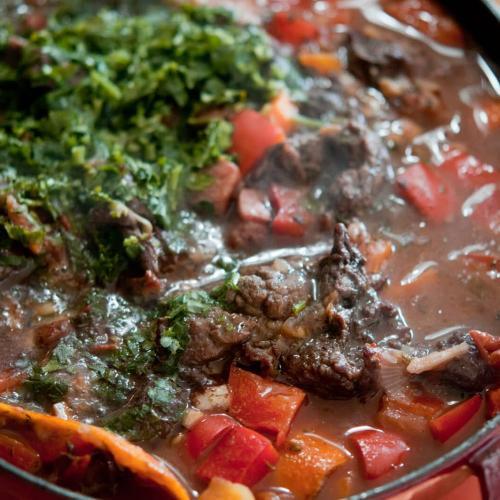 Slow Roasted Rib of Beef
Spend the day enjoying the wonderful aromas of what's to come at dinner with this delicious slow roasted beef rib with a tangy mustard sauce. Sunday dinner at it's finest.
Check out this recipe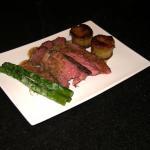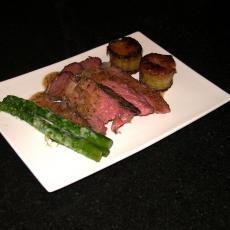 Provençal Fried Beef with Courgette on Little Gem Salad
Easy and quick, this appetizer takes a bit of Provencal liberty with Asian-style lettuce cups. Little Gem Lettuce is a perfect "holder" for the beef and courgette mixture, but if you cannot find these baby Romaine will work too.
Check out this recipe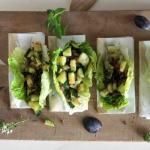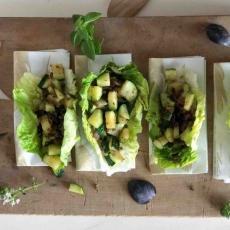 Daube Provencal (Beef Stew)
This is the Provencal version of Beef Bourguignon. The biggest difference is the spices (herbes de Provence), olives and of course a wine from Provence instead of Burgundy. Delicious with crusty French bread.
Check out this recipe