Springtime at the Aix-en-Provence Markets
Provence takes a long time to wake up in the morning. Especially on market days in Aix-en-Provence.
It may be cold, grey, and dark when the market vendors arrive, but eventually, the market starts to buzz when the sun rises. Vendors begin arriving at 5:30 am for set up. I imagine it's a slow process, as are most things in Provence. Stopping to have a coffee with their friends, chatting about the weather…it's most likely a slow process – until it isn't.
Buying Local
I choose to buy my produce from the producteurs. These are the growers and farmers themselves. The produce is seasonal and locally grown on their own farm or a neighbour's farm in the region.

How do you know which ones are producteurs?
It's simple, really:

The produce won't be in industrial wooden boxes with signs on them that say, Spain or Israel or the like.
Individual signs with the prices per item indicate where the product is from. These signs can be as general as the country: France, Italy, etc., or specific down to the village where the item is grown; Cucuron, St. Cannat, Aix-en-Provence.
You can also tell by looking at what they are selling. For example, you probably won't find strawberries in January from a producer in Provence. Nor will you find bananas any time of the year as they are not grown locally. Surprisingly, you can find kiwi fruit because they are grown here.
Market Days in Aix
Aix has a market every day of the week. I focused on some of the market stall vendors for the bigger marché on Tuesdays, Thursdays, and Saturdays. These are the people I've gotten to know well over the past few years, the places where I shop most of the time. I've bought from them all but tend to go back to these same vendors repeatedly. This is not a complete list by any means, just a few of my favourites.

Place Richelme
Lieutaud is the first stand I head for on the northside of Place Richelme. This is where I get our chicken and duck. Always smiling, Nathalie greets me warmly. She also sells eggs, rabbit, chicken liver, turkey, foie gras, caille during Christmastime. It's Nathalie's business, and it was her parents before that. Her husband Roland helps out, and sometimes you'll see their daughter and son there too.
Ludivine et Jerome, a producteur from Cucuron. They are located in front of the bank machine below the sundial, behind the post office. Sweet Ludivine, her husband, her kind brother Christophe, and Seloo are genuinely nice people. I must admit, I am most loyal to them and like their vegetables the best of anyone else in the market. They promised me that I could visit their farm in Cucuron soon. I can't wait! In May, their farm has delicious spring veggies: strawberries, asparagus, cherries, petit pois, snow peas (mangetout), artichokes. The farm follows agriculture raisonnée, which is not completely organic/bio but close.
Sometimes they will ask if you want a bit of free (gratuit) parsley. A few times, they've given me other treats like a few ribs of celery. On another note, I love the fact that you don't have to buy a whole huge stalk of celery. You can ask for a rib or two. You can't do that in the US, where it's the whole thing or nothing.
Gaec Les Bougainvillées an Aixois producteur operated by Mary et Loic. You will find them directly opposite L'Unic Bar and Maison Wiebel, on the corner. Their farm is in Aix on the Route de Galice. "Producteur de fruits et légumes sur Aix en Provence depuis 3 générations. Des produits toujours frais ramassés du jour Produits de saisons. Agriculture raisonnée." They have the only yellow carrots I've seen at the market, delicious bagged potatoes, shallots, onions, and the most beautiful garlic braids in season. I like their butternut squash soup and their salads (which I have always called lettuce).
*Market tip: You don't ask for lettuce here; ask for salad. It took me a while to figure that out!
Le Paysan from Venelles sells their own apples and apple juice, along with quinces (coing), in season.

Lavender Distillerie Sainte Victoire – on the northside in front of the pharmacy. The lovely Magali Mallesson runs the market stall while her husband Christophe and their son Léo work at their certified bio farm in Vauvenargues. They have lavender, essential oils, herbes de Provence, olive oil, and honey. Here is the website.

Lavender a Montagne from Sault. This woman makes lavender sachets and Christmas ornaments with toile fabric.
*Market tip: These are great holiday gift idea for friends overseas.
Looking for Fish
Poissonnerie L'Oceane Aix is in front of the Sanglier statue in Place Richelme. Jean-Jacques, Christianne, and the always smiling, always friendly Roman. He's so upbeat, even during the confinement! I wrote about them for Aixcentric in March 2020. Look for the staff with the blue and white striped shirts. Recently, we had a perfect line-caught wild salmon from the Baltic Sea. Such a light salmon pink colour and so delicate. I love their coquilles St. Jacques and the mountain trout from the Ardeche. All their seafood is delicious.
*Market tip: If you want to see beautiful Instagram photos of their fish, I suggest following them on Instagram @poissonnerie_oceane_marche_aix. I have a friend in the US that follows them just because the pictures are so good.

Aux Fruits de la Mer is not in the fish market itself, but a fish shop down the road from Maison Wiebel and across from Monop. Laurent calls out to me every time I ride my bicycle past his shop, "Bonjour, Susan, ca va?" They have a nice selection of fresh fish.
Place des Prêcheurs / Place Madeleine/ Place Verdun:
Famille Martin producteur de Pére en fils Aix-en-Provence-Venelles. They are close to the pharmacy, near the fountain, next to the newsstand. I like their half-cooked chickpeas and brussels sprouts in the winter. They look at me like I have five heads or something with my bad French, but hey, I like their vegetables. Their organized set-up was the most covid clean that I saw in the market during our strict confinement.
Monsieur Eymieu is opposite them. I usually buy Estelle's herbs – she has coriander, dill and chervil! Vrac lettuces like roquette, baby spinach and frisée are plentiful.
Laurent Jovani Olives et Aperitif is in front of the pharmacy across from Manon. Laurent has to be the most 'sympa' (friendly) person I have met at the market. He and Christophe, the confiture man, were friendly and talked to me even while we were tourists before we moved here. He listens patiently to my bad French, too, and tries to converse.

Laurent is extremely enthusiastic and proud of his products which include:
The best fresh olives: Olives Cassées de la vallée Baux de Provence, the season for these cracked olives, is near the end of September as a PDO (Protected Designation of Origin).
There are delicious Beldi olives from Morocco that are seasoned with spices from his family recipes. Here are some of the options:
Garlic Basil
Préparation de mon Père – slightly spicy with cumin (my favourite)
Farigoulette with thyme
Piquante very spicy
Noire à la grecque
Sweet garlic-l'Ail doux is fresh garlic that has not sprouted, soaked in brine with white vinegar. A bit like a cornichon pickle and delicious.
He also has vegan items using recipes from his family in the Languedoc. There's Tapenoire (tapenade without anchovies so vegan). It is called Tapenoire because tapé in Provençal means caper, and there are capers in the recipe. The same for Tapeverte with green olives. Other vegan items are his sun-dried tomatoes, eggplant or pepper spreads, and sweet garlic. There is also a non-vegan crème d'anchoïade.
His sister and brother-in-law sell the same products at markets in Cap d'Agde, Marseillan, Fleury, Halles pour de Narbonne, Halles de Nîmes, and in stores at Cap d'Agde & Pézenas under the name of Gaillard which was started in 1975. The olive oil that they sell isn't made by them but comes from Nyons (also a PDO), and it is very flavourful.
Le Jardin de Manon is across from Laurent's olives. They are a certified bio producteur from Eguilles. They also carry organic (bio) items, not from their property, such as bananas and avocados. I buy my eggs there, and I think their eggs are the freshest in the region. Nordine is friendly and shared the following: "I have worked at the Jardin de Manon for four years. The first two years I worked in the garden: I planted, looked after and harvested the fruits and vegetables, and the many hens (and a couple of geese) that we raise for their eggs, but for a little more than two years I also have worked at the market. All the products we sell are organic (we are regularly checked)."
The farm is located about two kilometres from the centre of Eguilles. Next door is an equestrian centre which belongs to Manon's sister with many horses and a donkey. This is where we collect the precious manure that enriches the soil before planting all the vegetables. We also use the droppings of our chickens…in short, we recycle everything. We also sell goat cheese from Papa de Manon, who owns a large herd of goats in the Vaucluse and works organically. In winter, he also provides us with excellent chestnuts and forest mushrooms.

Starting in November, organic citrus fruit comes from farms in Sicily, and Manon's companion, Renaud, sells these at the market. Last week Renaud had tomatoes, strawberries and still some of those delicious lemons from Sicily! He also has delicious figs in the summer and seasonal fruit from Corsica, Sicily and Italy. His stand is behind Manon's and a few stalls over.
Christophe Confitures – Nos Saveurs Provencales. Usually, he is in front of Mado. I wrote about Christophe back in February 2020 for Aixcentric. As I said above, he is another nice man that tries to talk to me in French. He sources the fruit from producers, mainly in Provence and the Alps, except for the oranges, which are not grown locally. Fabrication artisanale and familiale by two brothers – in L'Isle Sur la Sorgue. All the jams are sans conservateurs (without preservatives).

Brousse Traditionnelle from d'Ensues-la-Redonne are located near the fountain. Denis the Fromager sells brousse and other cheeses. I especially like his brebis (sheep cheese). Sometimes I stop by to get a faisselle and eat it right out of the tube. It tastes a bit like fresh cottage cheese.
Laurent, the cheese and saucisson man, and his son are close to Hermes. They have raclette sandwiches made to order. Try the baguette with fresh ham or prosciutto and your choice and melted cheese on top. The wheel of cheese is clamped under a heat lamp and sliced off when ordered.
Sometimes I buy from Fasetta the meat butcher truck at the end of Precheur. There's the Italian stand with dried kinds of pasta, the fish stand, and sometimes there's escargot from the local l'escargotiere, there's a stall that sells all kinds of champignons, one that sells only potatoes and garlic.
Ready to Eat – Prepared foods
Lebanese food in Place des Prêcheurs. Eyad & Rafh are Syrian. There is a story of their journey to France – L'Odyssée d'Hakim T01: De la Syrie à la Turquie (the English version is available to pre-order). This hard-working couple has three children, all boys, a sweet family. She makes everything from scratch, and it's really delicious. Everything is so good: hummus, falafel, kibbe, grape leaves, samosas (samoussas), rice balls, and desserts. Please support them!
Click here to watch the interview on TV5Monde (in French) with the book's author.
As an Amazon Associate, this website earns from qualifying purchases. Note: if you purchase a book via these links, we receive a small commission that does not impact your pay.

Rotisserie Lionel near the Palais du Justice. This is another family business. I like their rotisserie chicken and ham, such as jambon braisé and ribs, potatoes, croquette de pommes de terre avec mozzarella et épinards, sausages. Everything is cooked and ready to take home. Not American-style chicken wings but tasty.
*Market tip: They take American Express!

Raphael Chiappero – Cuisine Charcutiére & Traiteur in Precheur. Raphael is young and passionate about charcuterie. Everything is fait maison (homemade) by him, and he uses French meat with no additives. Old fashioned pâté en croute are excellent, plus there are saucisses, terrines, jambons persillé. He trained at l'Institut Paul Bocuse as well as apprenticeships with grand chefs internationally.

Other options: Some stalls make pad thai, another makes couscous, sometimes a veggie truck that I get panisse fries from. There are big huge woks of paella, tourton du champsaur, tielle à la Sétoise which is the octopus pie from Sète, and so much more.
The flower market at the Hotel de Ville
Andrieu fleurs – Lorinda is British and lovely to talk to. She wraps your flowers beautifully for a cadeau and gives great flower tips too. Do you know how to make your tulips 'dance'? Ask her next time you are there.
I also like the woman who sells herbs and flowers to plant next to the bell tower.

Cours Mirabeau:
Jacques Ciel and his son Alexandre sell clothes. Robe -Freda et pantalon et Chemisier a fleur. They are near Bnp Paribus. Full disclosure, they're friends!
Mimo et Violette are in front of The Four Courts Irish Pub. In my opinion, they have the best quality Italian linen in the market. You'll often find Mimo modelling their summer hats.
Thierry et Nathalie have cork wallets and bags. In the winter months, they sell fluffy sheepskin slippers.
Again, these are just some of the market stalls that I frequent. I'm sure you all have your favourites too.
---
Author Bio:

Susan Gish loves France, Food and Felines. She lives happily in Aix-en-Provence, where she shops at the marché on her bicycle and has a benévole badge from the Mairie for a colony of sauvage cats (that she feeds every. single. day.)
For more of Susan's articles on food in Aix-en-Provence, go to aixcentric.com and look under, 'Susan recommends.'
Image credits: All photos for this article were provided by and published with the permission of Susan Gish.
---
Market Recipe Ideas
Stuffed Zucchini Blossoms: Goat Cheese, Sun-Dried Tomatoes, and Tapenade
This recipe is easy to prepare and delicious to eat. Serve hot with chilled rosé.
Check out this recipe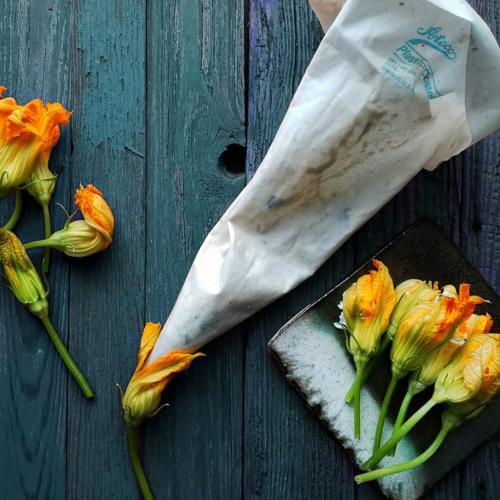 Fougasse with Olives and Cherry Tomatoes
The combination of sweet cherry tomatoes and tangy black olives make this focaccia-style bread a stunning addition to any meal. You can even enjoy it on its own with some olive oil or accompanying some soup for a well-rounded and delicious meal.
Check out this recipe

Chicken Tagine with Green Olives and Preserved Lemon
Adapted from a recipe by Tyler Florence.
Check out this recipe

Olive Tapenade, Caviar d'Aubergine and Goat Cheese and Basil Dips
These three dips include classic ingredients from Provence. Each one is very easy to make, all you need (besides the ingredients) is a blender.
Check out this recipe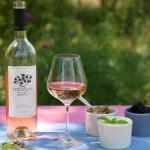 Grilled Anchovies with Preserved Lemon, Thyme, and Breadcrumbs
My online friend Sonia shared her secret recipe for fresh anchovies. The beauty of the preserved lemon with the oily anchovies makes a combination that is incredible to eat.
Check out this recipe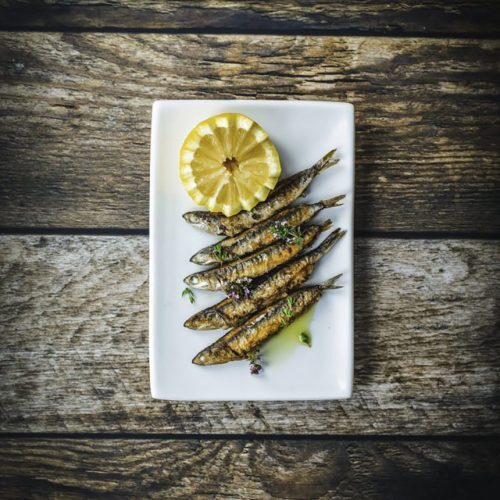 Tomato Olive Tarts - Appetizer
There are a few steps to this recipe, but don't be put off. There is nothing complicated, and you will love the result. As a bonus, the little tart shells are a bit like savoury shortbread so you can serve those on their own. And, if you make too much olive tapenade, it will keep for a few days in the fridge.
Check out this recipe