A Primer to Understanding Grenache Grapes
If you are a fan of wines from Provence or the Southern Rhône Valley, you are already intimate with Grenache Noir. You probably don't sidle up to the bar and order a "Grenache Noir" like you would a glass of Pinot or Cab, but I assure you that, in Provence and the Southern Rhône Valley, you are drinking wines of which Grenache is a major part.
You may also know Grenache Blanc, one of its mutations, but you probably are not familiar with the third face, Grenache Gris. All three grapes can end up partially or solely responsible for red, white, orange or rosé wines that are still sparkling, sweet or fortified. Continue reading here for a deep dive into the three faces of Grenache.
Grenache in Provence
Despite the reference to black in its name, Grenache Noir is a popular red grape for wine blends. Close to 90,000 hectares of this varietal are planted in France's South (Provence and l'Occitanie). This grape plays nicely with others as a good blending partner. Whether you prefer Provencal rosés or red blends from Châteauneuf-du-Pape, there is likely some Grenache in your glass.
The wines of Provence and the Southern Rhone are typically created using assemblage techniques where varietals are fermented separately and only then blended under the scrutiny of master winemakers. This winemaking methodology allows the vintner more flexibility in years where one grape type's growth and sugar production might be better (or worse) than another varietal. More about the three colours of wine in Provence.
Like some rest of us, Grenache enjoys the climate in Provence. Hot summer days, cool nights, a touch of moisture followed by the wind to dry off the leaves, the vines seem to thrive in this southern climate.
Food Pairing with Grenache Blends
The wonderful thing about wine blends from Provence and the Southern Rhône Valley is they make delicious partners at the table. You need to be careful with spicy food, heavy cream dishes and citrus, as these recipes are trickier to pair with food. However, David at Cocoa and Lavender seems to have the right culinary touch. Enjoy his recipes below.
Spiced Duck with Blackberry-Balsamic Reduction
The duck breasts are cooked at the last minute and served rare or medium-rare. Make the blackberry-balsamic reduction sauce in advance and reheat when you are ready to serve.
Check out this recipe

Grilled Lamb Kebabs
Easy to prepare, but allow enough time to marinate before cooking.
Check out this recipe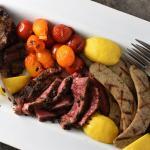 Veal Cordon Bleu 
This recipe is easy to prepare as long as you have the ingredients ready for the dipping stage. Serve with sides of your choice.
Check out this recipe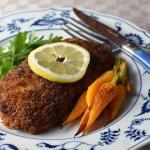 Pork Tenderloin en Croûte with Porcini Demiglace
Although there are a few steps to this recipe, it's a terrific "Sunday" kitchen project with a wonderfully delicious finish. If you are short on time, see the notes below.
Check out this recipe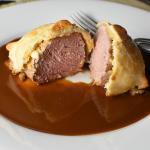 Rhône-Style Wine in California
Producing only Rhône-style white and rosé wines, Acquiesce Winery is a maverick in Lodi, California. The appellation is known for its concentration of Zinfandel red wines. The San Francisco Chronicle included the Acquiesce Winery tasting room among its list of 52 vineyards to visit in 2020.
Embarking on the path of professional winemaking, they began replacing Zinfandel vines with Grenache and Grenache Blanc grapes in 2008. Viognier, Roussanne, and Picpoul Blanc varietals plantings followed the next year. In January 2012, the re-envisioned barn opened to the public as the Acquiesce Winery tasting room. The remaining Zinfandel vines were removed in 2015, making way for additional Rhône Valley varietals, including Clairette Blanche and Bourboulenc.
All rights reserved. Perfectly Provence articles and other content may not be published, broadcast, rewritten (including translations into other languages) or redistributed without written permission. For usage information, please contact us.
Syndication Information
Affiliate Information
As an Amazon Associate, this website earns from qualifying purchases. Some recipes, posts and pages may have affiliate links. If you purchase via these links, we receive a small commission that does not impact your price. Thank you in advance for supporting our work to maintain Perfectly Provence.