How to Stuff Zucchini Blossoms My Way
A few weeks ago, I published a YouTube video on How To Make Zucchini Blossom Beignet, a simple fried zucchini blossom recipe that anyone can make at home. Since then, I have received many requests for stuffed zucchini blossoms. I am sharing one of my favourite recipes: stuffed with goat cheese, oven-dried tomatoes, and tapenade. The possibilities are limitless. Pour yourself a glass of rose, and let's get cooking.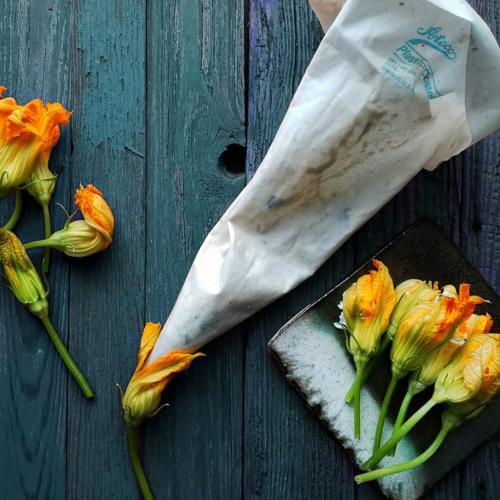 Stuffed Zucchini Blossoms: Goat Cheese, Sun-Dried Tomatoes, and Tapenade
This recipe is easy to prepare and delicious to eat. Serve hot with chilled rosé.
Ingredients
4

oz

Fresh Goat Cheese

1

tbsp

Sun-dried Tomato Pesto

1

tbsp

Olive tapenade

recipe below

12

Zucchini Blossoms

1

cup

Tempura Batter

see notes

10

cups

Vegetable Oil

1

cup

 Tomato Sauce 

optional
For the Olive Tapenade:
2

cups

Kalamata Olives

pitted

4

tbsp

Capers

8

Anchovy Fillets

4

Basil Leaves

1/4

cup

Olive Oil
Instructions
Prepare the Zucchini Flowers:
In a large bowl, mix the goat cheese, pesto, and tapenade well. Fill a pastry bag, and pipe equally into all 12 zucchini blossoms. Twist the end. Dip the zucchini blossoms into the tempura batter, then shake off excess.

In a large, heavy saucepan, Dutch oven, or deep fryer, heat the vegetable oil to 350°F (180°C).

Deep fry half of the zucchini blossoms until golden brown and fully cooked, about 5 minutes. Using a slotted spoon or spider strainer, transfer to several layers of paper towels to drain. Repeat with the remaining zucchini.

Serve on their own or with warmed tomato sauce for dipping.
For the Olive Tapenade:
Drain your olives well. Put everything in your food processor and pulse to the texture you like. Yes, it is as simple as that. Tapenade has a long shelf life despite the fact my tapenade never lasts more than a meal or two.
Notes
Tempura Batter: I use any store-bought brand. Mix according to manufacturers' directions.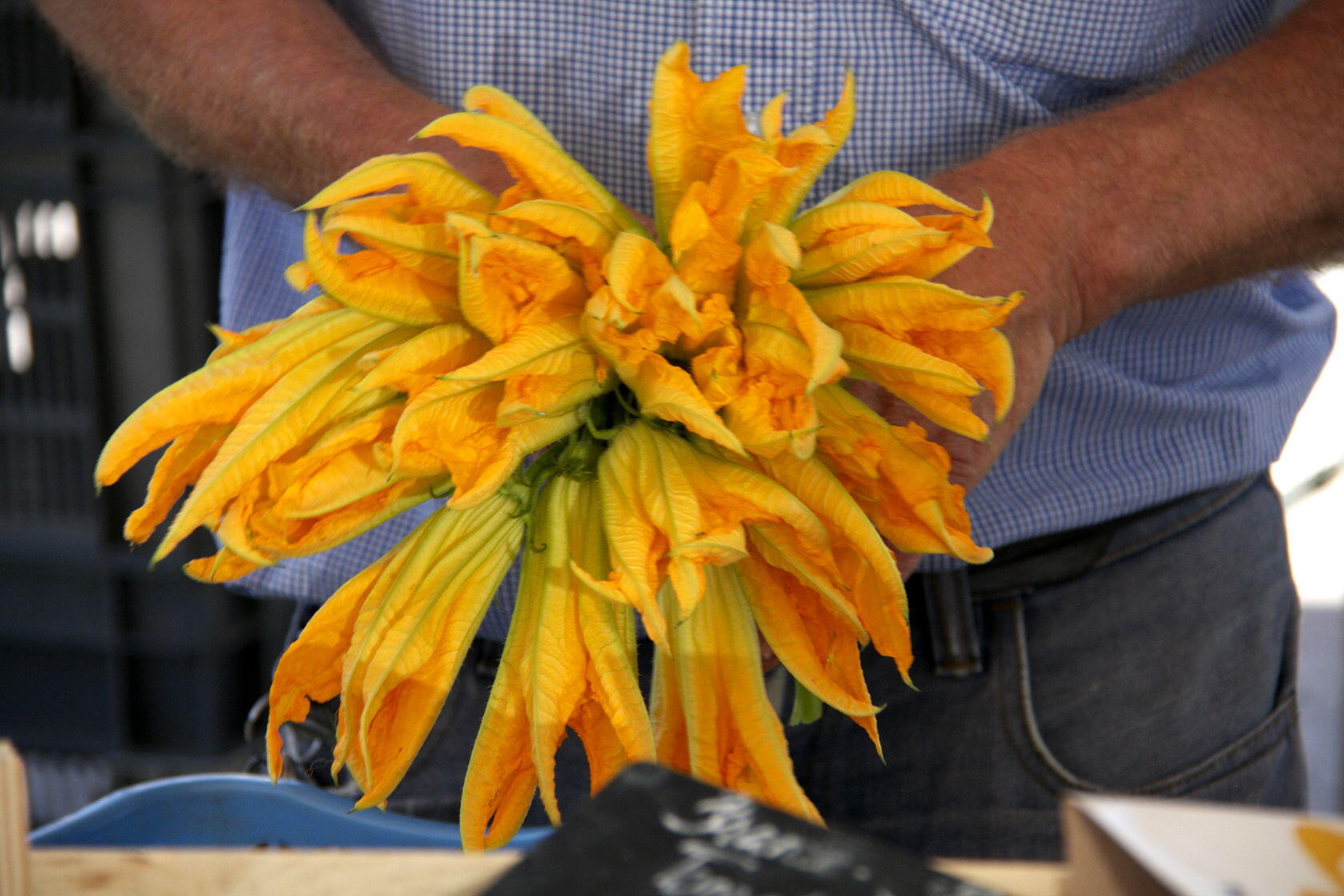 Other Recipes with Zucchini:
Elizabeth Bard's Stuffed Zucchini Blossoms
Zucchini Flowers Stuffed with Artichokes and Goat Cheese
Fried Beef Lettuce Cups à la Provençal with Zucchini
Fresh and Easy Zucchini Tuna Rolls Appetizer
Late Summer Soup: Zucchini and Basil Velouté
Salmon with Herbed Provencal Chèvre Wrapped in Zucchini