Special Occasion? A Classic Beef Wellington with Sauce Béarnaise
Where's the beef, you ask? It's cleverly wrapped like a little holiday gift for your table! I often think of Beef Wellington as a holiday dish, but it's perfect for any special occasion. Including my birthday, which is in August!
A French chef might put you through your paces to make Beef Wellington with Sauce Béarnaise the traditional way following exacting time-tested methodology. However, putting together a classic Beef Wellington doesn't have to be a daunting task. While it is more involved than a standard rib roast, there are a couple of shortcuts that won't sacrifice the quality. Continue reading here for my Cocoa and Lavender kitchen hacks that make this recipe preparation easier if you don't have the time to make your own puff pastry, mushroom duxelles and Béarnaise.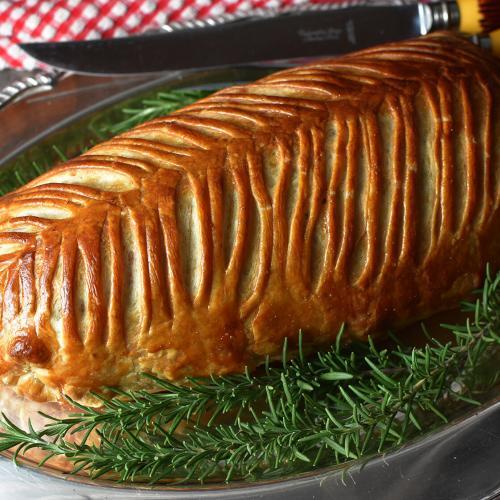 Beef Wellington with Sauce Béarnaise
A fulfilling meal best served thickly sliced with the Béarnaise sauce on the side.
Ingredients
12

oz

Portobello Mushroom Caps

2

tbsp

Unsalted Butter

softened

1 1/3

tbsp

Vegetable Oil

divided

1

large

Shallot

finely chopped to 1/4 cup

Kosher salt and Freshly Ground Black Pepper

1

tbsp

Finely Chopped Fresh Flat-leaf Parsley

2

lbs

Beef Tenderloin (Centre Cut)

trimmed, side muscle removed

2

Large Crêpes

14-inch (purchased from a crêperie, or make your own)*

2/3

cup

Chicken Liver Pâté

homemade or store-bought, room temperature

1

large

Egg

lightly beaten
Instructions
To Make the Duxelles
Clean the mushroom caps, then remove the stems and gills. Cut the caps into 1-inch pieces, and place them in the bowl of a food processor. Pulse until they are finely chopped—about 10-15 pulses.

Heat the butter and one (1) tablespoon vegetable oil in a 10-inch skillet over medium-low heat. Add the shallots and cook, stirring often, until translucent, 3 to 4 minutes.

Add the chopped mushrooms, stir well, and raise the heat to medium. Cook, occasionally stirring, until the mushrooms have cooked down and are very dark, about 15-20 minutes. Season with salt and freshly ground black pepper. Stir in the parsley; then transfer to a small bowl and cool completely.

The duxelles can be made a day ahead, refrigerated, then brought back to room temperature. When ready to assemble and bake, mash the pâté and the duxelles with a fork in a medium bowl until they form a soft paste.
Assemble and Bake the Wellington
Remove the beef from the refrigerator about an hour ahead to bring it to room temperature. Pat dry and season all over with salt and pepper. Heat the remaining 1 teaspoon oil in a 12-inch skillet over medium-high heat until very hot. Sear the beef until it is evenly browned, 2 to 3 minutes per side. Transfer the beef to a platter and cool.

Lay the crêpes on a clean work surface, overlapping them just enough to give you an approximately 13-inch square surface. Next, measure the length of the seared tenderloin and trim the crêpe base to be 13 inches by the size. In my case, it was 8 inches. (My crêpe base ended up being 13 inches by 8 inches.)

Dot the pâté mixture over the crêpes, then use an offset spatula to spread it evenly across the crêpes' surface.

Place the seared and cooled tenderloin in the centre of the crêpes and carefully wrap them around the filet, pressing and moulding them into place using the duxelles mixture as the "glue." Trim the ends of the crêpes.

On a lightly floured surface, roll out the puff pastry to a 13×16-inch rectangle. Arrange the pastry so that the long side is towards you.

Transfer the crêpe-wrapped beef to the centre of the pastry, perpendicular to the 16-inch base. Bring the pastry up around the beef, smoothing out any air pockets. Brush some of the beaten egg along the bottom edge of the seam and then press gently to seal; trim off any excess. Seal the pastry on the ends with egg wash, folding as you would gift wrap a package.

Line a large, rimmed baking sheet with parchment. Lift the Wellington onto the sheet, turning it seam side down as you transfer it. Refrigerate for at least an hour. Then 20 minutes before baking, position a rack in the centre of the oven and heat the oven to 475°F.

Brush the Wellington with the remaining beaten egg. Using a sharp knife, very lightly score the surface of the pastry with decorative lines (see photos), being careful not to cut all the way through the pastry. Put the Wellington in the oven and immediately reduce the temperature to 425°F. Roast for 10 minutes, then reduce the heat to 400°F and roast an additional 20 minutes for rare and 25 minutes for medium-rare. Transfer to a carving board and let the Wellington rest for 10 minutes.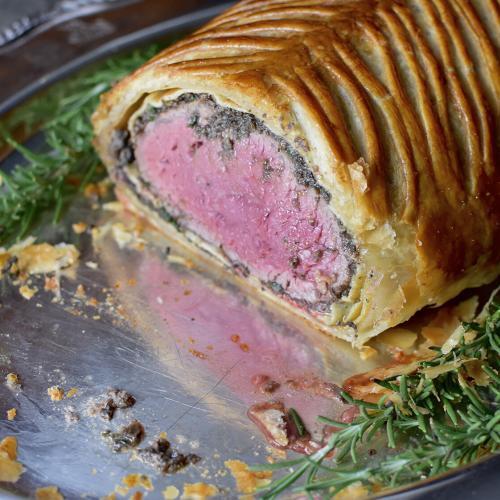 Sauce Béarnaise (Stick Blender method)
A delicious sauce best served with Beef Wellington. Serve Sauce Béarnaise warm or at room temperature.
Ingredients
1 1/2

tbsp

Dry White Wine

1 1/2

tbsp

Herbed White Vinegar

1/4

tsp

Freshly Ground Black Pepper

1

Shallot

peeled and diced

2

sprigs

Fresh Tarragon

1

tbsp

Fresh Tarragon

chopped

3

Egg Yolks

1/4

tsp

Salt

16

tbsp

Unsalted Butter

1

tbsp

Softened Butter
Instructions
Place the wine, vinegar, black pepper, shallot, and 2 tarragon sprigs in a small saucepan and simmer for 2 minutes over medium heat. Remove from the heat and let stand 5 minutes to infuse. Strain, pressing on the solids to extract as much liquid as possible. You will need 1 tablespoon of liquid. Cool the liquid 5 minutes before using. (The infused wine vinegar may be prepared in advance — which will help in finishing the sauce quickly.)

In a covered microwave-safe bowl, heat the butter on high for about 1 1/2 minutes until melted. The milky solids will sink to the bottom, and the clarified butter will be on top. Pour off 3/4 cup of clarified butter into a purest measure with a spout; it should be hot when making the sauce. (This also be done in advance. The clarified butter may be reheated for 30-45 seconds before using.)

Place egg yolks, infused vinegar, and 1/4 teaspoon salt in a tall narrow container. Use a stick blender to combine these ingredients for 1-2 seconds. With the stick blender running, slowly drizzle in the hot clarified butter, taking about a minute to do so. After all the butter is in, purée for another 10 seconds moving the stick blender up and down. Add 1 tablespoon softened butter and purée—this should be a perfect consistency. Stir in chopped tarragon.
Additional Beef Recipes:
Provençal Beef or Bull Stew (Gardiane de Taureau)
A traditional French stew from Provence served with beef or bull meat. Make sure to allow enough time for marinading.
Check out this recipe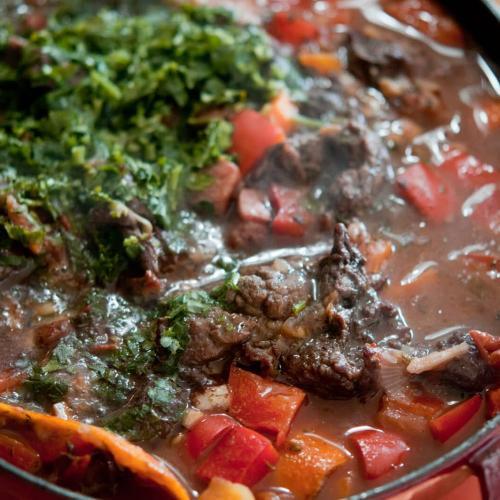 Slow Roasted Rib of Beef
Spend the day enjoying the wonderful aromas of what's to come at dinner with this delicious slow roasted beef rib with a tangy mustard sauce. Sunday dinner at it's finest.
Check out this recipe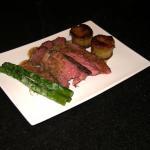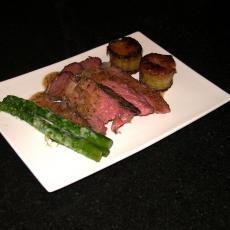 Barbecue Beef a la Provencal
Juicy tender ribbons of bbq steak drizzled in garlic and olive oil with fresh roasted cherry tomatoes. Quick easy, healthy, delicious and budget friendly.
Check out this recipe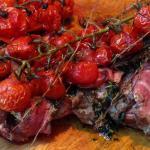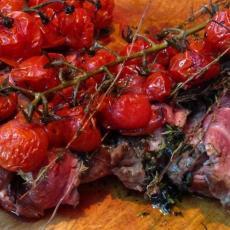 Provençal Fried Beef with Courgette on Little Gem Salad
Easy and quick, this appetizer takes a bit of Provencal liberty with Asian-style lettuce cups. Little Gem Lettuce is a perfect "holder" for the beef and courgette mixture, but if you cannot find these baby Romaine will work too.
Check out this recipe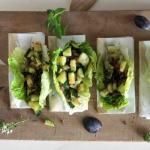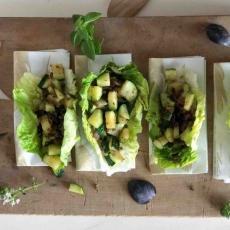 All rights reserved. Perfectly Provence articles and other content may not be published, broadcast, rewritten (including translations into other languages) or redistributed without written permission. For usage information, please contact us.
Syndication Information
Affiliate Information
As an Amazon Associate, this website earns from qualifying purchases. Some recipes, posts and pages may have affiliate links. If you purchase via these links, we receive a small commission that does not impact your price. Thank you in advance for supporting our work to maintain Perfectly Provence.